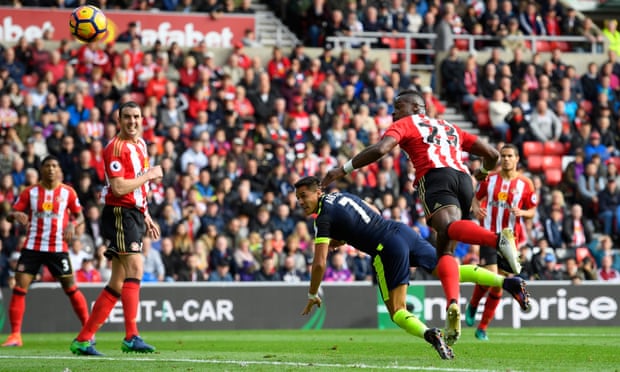 There have been so many games like this over the last, hell, 10 seasons or so. So many games where we dominate and dominate and dominate, one thing doesn't go our way, and we'd go to pieces. So many games where awful cloggers like Sunderland would get one or three points that they didn't remotely deserve, one bad bounce or bad refereeing decision causing our guys to gleefully rush to the self-destruct button.
This was not one of those games, this Arsenal team is not like those others, and I'm slowly (steady on now, Sean...) starting to believe that this isn't one of those seasons.
The cast of characters was slightly different today, which was a bit jarring given how settled our side has been in the league so far in this campaign. Injury forced Nacho Monreal and Theo Walcott out of the team, so in stepped Kieran Gibbs and Alex Oxlade-Chamberlain respectively. There was no change in our play though, as we easily maintained possession and looked threatening every time one of our guys bore down on Jordan Pickford's goal.
What I don't understand is why Sunderland didn't sit deep and defend in numbers, like most other clubs of their stature would normally do. Actually, come to think of it, I reckon that David Moyes knows his defenders by now, and opted for a much riskier high defensive line rather than wait for Papy Djilobodji (eight million pounds!) to pratfall all over himself. As it was, he did anyway, but we'll get to that in a bit.
That's the thing - Sunderland did try and play football, and for long stretches they played about as well as they could. People are going to look at this result - and the inevitable string of others just like it, and chat a bunch of shit about how Moyes has lost it, this that and the other. The simple truth is that this is a poor mishmash of a squad, put together by a string of failed managers. I believe that much like Newcastle United and Aston Villa before them, these guys are going to have to die to be reborn. Relegation will be a blessing.
Anyway, the only surprise about the opening goal was that it took 20 minutes to arrive. We continually tore apart their high line again and again, but often misplayed the final ball or had some poor touches in the penalty area. On this occasion, the excellent Oxlade-Chamberlain torched his man down the sideline, and whipped in a cross. Alexis Sanchez, who had spent most of the game to that point whining to the referee about something or another leapt like a salmon over the much taller Lamine Kone and headed the ball into the far corner. A real center-forward's goal, that. Olivier Giroud would have been proud of that one...wait, what's that?
FORESHADOWING!
That aside, it wouldn't quite be correct to say that Arsenal completely hung back after the goal went in, but they were missing a bit of killer instinct from that point on. Defensively, there was no let-up as they harried their opponents mercilessly. There was one bit in particular where the Ox motored 30, 40 yards down the sideline to break up one attack, and another where Gibbs made a fabulous interception at full stretch. We were playing well, but just not all-in really as the whistle went for halftime. The only chance in the interim was a Mesut Ozil chip that Pickford, in fairness, did spectacularly well to paw away to safety.
The home side were much better in the opening minutes of the second half, though they didn't do much to threaten Petr Cech. The Gunners still looked the more likely to score off the counter than anything else, as the clock made its way past the hour mark. Then, two big decisions threatened a complete polarity shift for the whole match. Alexis scampered into the penalty area, only for Kone to put a hand on his shoulder. Alexis went down, but no call came from Martin Atkinson. Up the other end, Shkrodan Mustafi's awful mistake allowed Duncan Watmore to go in alone on goal, only to be cleaned out by Cech. Atkinson immediately blew for the penalty, our old nemesis Jermain Defoe stepped up, 1-1.
Now, don't get me wrong. While Sanchez went down easy, it WAS a penalty. While theirs was a nailed-on peno as well, you'd be right to wonder why one was called and the other wasn't. All I can surmise, as the grizzled veteran of five high school 8-a-side matches refereed, is that Atkinson felt that Sanchez went down too easy too many times, barked at him too much for the same, and that the contact was sort of light. Or, maybe someone blocked his vision - it does happen, as much as you try for it not to. I don't know. Either way, the end result was that Sunderland were back in a game that should have been out of sight by this point, the home fans were roaring them on, and we were now in well-traveled territory down the path of perdition to two (or three) points squandered.
Oh, hello Ollie. Man, we sure missed you.
The big Frenchman came on for the anonymous Alex Iwobi right on the strike of 70 minutes, and by the 71st, Pickford was fishing the ball out of his net. Talk about rapid delivery. The play started with Alexis, who helped it on to the overlapping Gibbs. Gibbs, who by the way is a goddamn model professional and who had a storming game, crossed the ball in perfectly. Giroud got a yard on the utterly static Djilobodji, and somehow contorted himself to the side to sweetly volley past the keeper.
All of you who reckon that the man isn't top, top class can kindly shut your word-holes now.
That out of the way, I spent a lot of time earlier on talking about how we'd go to pieces in times like this, years ago. But, if you want to see a masterclass in the art, I mean, the real Picasso/Mozart/Frank Lloyd Wright stuff, go back and have another look at the last 20 minutes of this game. It's bad enough that they let Giroud have that much room for that volley right when they should have been at their highest point mentally - they then proceeded to let in two more in slapstick fashion, and it could have been more had we really cared to drive the shiv in deeper.
A minute or two after Ozil had just missed getting on the end of a nice cutback from Gibbs, we won a free kick in a dangerous central area when Adnan Januzaj (still in the league - who knew?) booted Francis Coquelin directly in the mush. Ozil bounced his kick off the wall, but on the ensuing corner, that man Giroud popped up again. Djilobodji looked like he had the old cement shoes as Ollie surged past him and hit a gorgeous arcing header over Pickford and in. It's hard to describe just how good that was - two inches lower and the keeper gets that.
Arsenal could have virtually named the final score from that point on, but I have to take a second to appreciate the Keystone Kops quality of the fourth goal. The Sunderland defense...I mean, my god. I have a Bachelor's in English and words still fail me. Gibbs found a yard in the penalty area and rattled the post with his shot, and it found its way to the substitute Aaron Ramsey (welcome back!) as the defenders ran around in the headless chicken style. He couldn't turn it in, so it was left to Alexis to humiliate Pickford by sending him one way, then shrugging the ball in the opposite direction, much like you'd flick something off of your shoe. Magic.
Job well and truly done, then, in a scenario where it wasn't always so easy. Sunderland, you can only expect, can look forward to their trips to Brentford and Cardiff next season. As for us? No big deal in the next two weeks, just minor games against Tottenham and Manchester United. Yawn.
What I worry about, of course, is an overreaction if we do drop a point or two in those ones. This is still an excellent squad, off to a great start, and still very much in the thick of things at the top end of the table. I do think we'll sort out both of them, to be honest, but if we don't let's not lose our heads here. It's a long season and it's looking more and more like we're equipped - FINALLY - to do some serious damage.
Man of the Match: There are serious arguments for both Alexis and Gibbo, hell, Ox too. But, Olivier Giroud changed the game when he came on. End of.