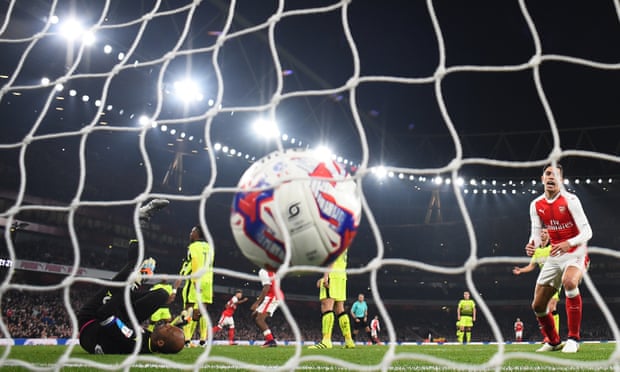 The thing is, despite the relative ease with which Arsenal found themselves into the quarterfinals of the League Cup, Reading weren't that bad today. The more this game went along, even though it was against our second and third-stringers, the more I thought to myself: "Are these guys really any worse than, say, Sunderland?" Whatever their relative merits, the Arsenal reserves/kids acquitted themselves well to put us deeper into the competition than we've been in ages.
Speaking of, I always say that this particular tournament is a Bizzaro Word facsimile of what we usually know to be true, and it wasn't any different here. There were things conspicuous by their appearance - such as a loud, boisterous crowd at the Grove - as well as those by their omission. Sure, the red-and-white shirts were there, but we have such a settled side these days that it's weird to not see Hector Bellerin's barnstorming runs down the right, or Petr Cech's calm assurance in the back, or Laurent Koscielny flying here and there with brilliant tackles, or Mesut Ozil's languid genius.
Given the game but limited opposition, it probably makes sense to simply give my thoughts about the stand-ins and understudies that made up today's
dramatis personae
:
Damian Martinez:
I have, in general, been supremely unfair to this guy over the last few seasons. I haven't rated him at all, mainly due to a horrid performance in the infamous 7-5 win over this same opposition in this very competition a few years back. The guy in between the sticks today was a mirror image of the shaky kid who played on that occasion. One save where he caught and held from a tough header springs to mind, as well as a fabulous save he made towards the end of the game to preserve his clean sheet. Calm and assured, he's probably unlucky that he's got two world-class keepers ahead of him. If he keeps improving at this rate, I'm not sure how much longer he'll be content to play third-string.
The Back Four:
Perfectly fine, though they weren't tested all that much over the course of the match. I don't know if I'll ever wrap my head around "Kieran Gibbs - battle-tested veteran captain", but I think it speaks volumes that Reading barely ventured down that side of the field. Partially, it had to be because they wanted to test the recovery of Carl Jenkinson, but Gibbo didn't put a foot wrong. As for LEEEEROY JENKINSON, I was utterly astonished at how well he played. He was irrepressible in attack, sharp in defense, and had far more pace than I thought he'd have after a long lay-off. Man, if Mathieu Debuchy wasn't expendable before, he sure is now. The center-halves were fine, for the little they had to do.
The Hyphenated Lads:
Of the two, I'd say that on this evidence, Jeff Reine-Adelaide is closer to being first-team ready than Ainsley Maitland-Niles is. They're both still kids, of course, which can be hard to keep in mind at times. Neither one of them looked completely out of place, but let's also remember that the opponents weren't exactly Barcelona, either. THE JEFF was neat and tidy, but never imposed himself on proceedings. Niles, well, he was game and energetic but definitely needs improvement to break into the first team. He lost the ball more than he should, was muscled off it a few times, and took a few witless hacks at goal when a pass would be better. But, the promise is there to see. Come the quarterfinals, especially if we end up with Chelsea or United or someone, I assume that Jeff might make the 18, but definitely not Niles.
The First-Teamers:
I honestly forgot that Mohamed Elneny was playing at times, which is more of a compliment than anything else given his job description. Alex Iwobi was a bit subdued, which isn't surprising given how much football he's been playing. Honestly, I'm not sure why he was in the starting 11, but either way he did well enough. Lucas Perez looked a bit off, which is unfortunate as this is the best chance he's had so far to make his case for more minutes. I get the issue, though...he surely trains with the first-team group, and here he's playing with the second string. I don't think you can draw too many conclusions from this, other than that hack who injured him should have at least been booked. Hopefully the Spaniard is OK.
As for Alex Oxlade-Chamberlain, what can you say? We all know his recent struggles, but there's been some visible green shoots of recovery over the last few weeks. Today, forget green shoots, he was the best player in a red shirt by some distance. You can nitpick about his set piece delivery or the finishing on one or two shots, and you wouldn't be wrong. But, he caused panic in the Reading defense virtually every time he touched the ball. He also gave us virtually all of the fluidity in our attack, switching wings and then alternating to the center to keep the other guys off-balance all day. The first goal was a bit opportunistic given the idiotic giveaway by the Reading defender, and the second goal benefited from the defender's deflection that wrong-footed Ali Al-Habsi in the Reading goal. But, that is secondary to the idea that he made things happen all day, took the initiative, and played a massive part in getting us to the last eight of the tournament.
The Substitutes:
The sight of Olivier Giroud making the bench after his injury lay-off meant that today was all about getting him 20 or 30 minutes to ease him back into the first-team picture. I'd be lying if I expected him to set the world on fire given that it was his first game back in a while, but that was about as good of a 20-minute cameo as you'll see. He gave us an added dimension from the moment he stepped onto the pitch, holding up the ball much better than Lucas had been able to. Soon after he came on, he directed a thunderous header on goal, only repelled by a brilliant save by Al-Habsi (speaking of, the Omani keeper made two or three other excellent stops to keep his team in the game far, far longer than they should have done). Not only that, but he was vital to the build-up to the second goal. He did well to keep the ball from going over the end line, then cut it back brilliantly for Ox to finish.
Chris Willock and Gedion Zelalem didn't get a ton of time to make a difference, but it was nice to see them all the same.
So, into the last eight, then. We already know that we'll be joined in the hat by Hull City, Leeds United, Liverpool and Newcastle. More than likely, tomorrow will see Southampton and Chelsea added to the list, as well as one of the Manchester sides. Quite a few tricky ties are possible, but if we can get the balance right between getting the kids some minutes and playing a side strong enough to win, why can't we take this thing down? It's kind of nuts that Arsene hasn't won it yet, and isn't it about time? I think so.
Man of the Match: Ali Al-Habsi