White Hart Lane, London
Wednesday, September 23
2:45 p.m. EDT, 19:45 BST
Match Officials

Referee: Andre Marriner
Assistants: David Bryan and Lee Betts
4th Official: Andy Woolmer

All-Time in All Competitions: 74 Arsenal wins, 55 Tottenham wins, 46 draws
All-Time in the League Cup: 6 Arsenal wins, 3 Tottenham wins, 3 draws
Arsenal's League Form: L-W-D-W-W-L
Tottenham's League Form: L-D-D-D-W-W
Diego Costa is the devil on Mike Dean's shoulder.
Santi Cazorla does not appear tall enough to be the angel on
the other side (which might have led to his red card...)
At halftime of Saturday's game at Chelsea, I was very angry. Since this is an Arsenal blog and I am assuming you, the reader, are an Arsenal fan, there's a very good chance you were pretty perturbed as well. Since that time, I've run the scenario over and over in my head, as the Internet's reaction was and remains, predictably, all over the place.
Here are my final thoughts. Some might prove to be wildly unpopular:
Diego Costa is an expert at agitating. He even kept an eye on referee Mike Dean to make sure he wasn't watching when he shoved Laurent Koscielny...
...which is why it's kind of funny that so many are blasting Dean for missing the incident. The incident that, you know, Costa made sure he didn't see. Even as the first replays were shown I thought, since it all happened behind the play, that it was the linesman's job to see what was happening. Especially since it's the linesman's job to stay in line with the last defender who was, of course, Koscielny.
Since none of the field officials saw the incident, Costa was, correctly, retroactively punished for the incident. That doesn't make the fact that it was missed any better, since it completely changed the game, but that leads to an argument about the use of replay which I don't intend to get into here.
The number of Chelsea fans who still believe Costa is unfairly treated is laughable. The Chelsea fans who think Costa was only retroactively banned because of the media uproar should go ahead and read the laws of the game. It's on page 40.
All of that said, I thought Dean was right to send off both Arsenal players, though it would've been less harsh for Gabriel's to have been a second yellow. Note that I said "less harsh" and not "more correct." By the letter of the law, Gabriel could have been sent off and was...
...but by that same law, then Costa should've been sent off for kicking out at Alex Oxlade-Chamberlain later. Consistency, please!
And speaking of consistency, the appeal of Gabriel's red card was upheld and his suspension has been rescinded. This was completely shocking to me, since, as I said above, what he did was at the least a second yellow. But hey, something in our favor!
A chart has been circulating on the Internet over the last few days showing that Arsenal has won just 6% of their games with Dean as referee since 2009/10. That was great analysis when it was accurate three years ago.
At the end of the day, Diego Costa should have been punished in the match (several times) and wasn't, and yes, that's frustrating. You have to think that one positive from all this is that Costa will have a very hard time getting away with that kind of shit moving forward. At the same time, Arsenal lost their heads in a critical derby and paid the price. That's all I'm going to say about that.
Arsenal will look to get back on the right foot with a League Cup tie against their North London rivals. If they lose here, it'll be three on the bounce for the first time in over five years, and they face a trip to Leicester City, the only remaining unbeaten side in the league, at the weekend.
The players have got to put Saturday behind them, even if the fans haven't.
Arsenal Squad News
Out:
Coquelin (knee,) Welbeck (knee,) Wilshere (ankle,) Rosicky (knee)
Suspended:
Cazorla (one match, two yellows)
Gabriel will serve the first of a three match ban for doing
this thing you can't do. Here is a picture of Gabriel.
I wrote all of this before Gabriel's suspension was reversed and I'll be damned if I'm going to rewrite significant portions. I think Per Mertesacker will start anyway.
Arsenal will be without
three
two of the players who made the starting XI against Chelsea (and Stoke before that, for that matter.) Of course, Santi Cazorla will serve a one match ban for his two yellow cards
while Gabriel will sit out the first of three
.
(That turned out to be very minimal editing; now I feel lazy.)
Francis Coquelin looked like he hyperextended his knee at one point during the first half at the weekend; he was subbed out at halftime and will miss out tonight, as his knee remains swollen. Until that swelling goes down, it's hard to know how serious the injury is. If it's particularly bad, it could be much more damaging to Arsenal's season than the red cards were on Saturday.
On the other hand, Per Mertesacker should return after missing what felt like 657 days for what I heard was a chest infection.
With this being a League Cup tie, you would expect Arsene Wenger to select some youngsters for the XI, but with this also being a North London derby along with Arsenal riding a two match losing streak, I can't see Wenger rotating as much as he did in Croatia last week. When he was asked if youngsters would feature, Wenger mentioned Alex Iwobi by name. After his Emirates Cup display, you would have expected Jeff Reine-Adelaide to make an appearance as well, but word trickled in Monday that he has suffered an injury which could see him miss a couple of months.
Predicted XI:
Ospina, Debuchy, Koscielny, Mertesacker, Gibbs, Arteta, Ramsey, Ozil, Oxlade-Chamberlain, Iwobi, Giroud.
Tottenham Squad News
Out:
Bentaleb (ankle,) Pritchard (ankle)
Doubts:
Mason (knee,) Dembele (ankle)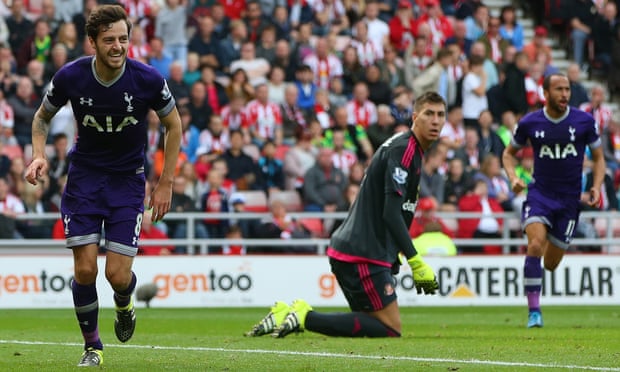 The ecstasy of scoring this winner against Sunderland was
lost on Ryan Mason just seconds after this picture, when he
realized his knee was injured in the preceding collision.
Spurs will definitely be without Nabil Bentaleb, as the Algerian international will remain out with an ankle problem. Ryan Mason is a doubt, having picked up a knee injury while scoring the winner against Sunderland two weeks ago. Now, that's both of Tottenham's usual deep-lying midfielders. That means Dele Alli and Eric Dier could both retain their places shielding the back four in the starting XI.
I'm not going to lie, I don't know enough about Spurs' academy to predict what youngsters they might rotate into the squad, though I should note that the aforementioned Alli is 19 years of age. As for rotation, Mauricio Pochettino has the most room to do so on the backline, where he might bring in Danny Rose and/or Kieran Trippier, purchased from Burnley this summer.
Predicted XI:
Lloris, Tripper, Alderweireld, Vertonghen, Rose, Alli, Dier, Eriksen, Lamela, Son, Kane.
Current Form
Arsenal's first 5-2 win over Spurs stopped a two-game losing skid.
Over the past few seasons, Tottenham have been very good at beating Arsenal when they're down, then doing absolutely nothing with the run of fixtures that follows. On that note, there is no denying that Arsenal is down right now, having lost their last two. Arsenal have not lost three straight competitive fixtures since April of 2010 (one of those three was against Spurs at the Lane, FYI.) Arsenal have followed two straight losses with a win or draw on each of their last 11 attempts. It happened only once last season, when Arsenal followed losses to Swansea and Manchester United with a win over Borussia Dortmund in November.
Spurs have tasted defeat only once this season, falling 1-0 to Manchester United at Old Trafford thanks to a Kyle Walker own goal on opening day. They didn't exactly rise from those depths meteorically, however, as they plodded their way to three consecutive draws leading into the September international break. At the time, they sat 15th in the table. Since the Interlull, Spurs have won three on the bounce, beating Sunderland and Crystal Palace in the league (both by 1-0 scorelines) and defeating reigning Azerbaijani champion Qarabag 3-1 in the Europa League.
Match Facts
Harry Kane steals Theo Walcott's goal celebration.
They can't all pretend to be airplanes!
Arsenal took just one of a possible six points from Spurs last year, drawing 1-1 at home and losing 2-1 at White Hart Lane. It was the first time since 2008/09 that Arsenal failed to beat Tottenham at all in a given season (though they did not beat Spurs in a Premier League match in 2010/11 either.)
The Gunners' record at White Hart Lane has been miserable in recent seasons, though they did win there in the winter of 2014, thanks to a Tomas Rosicky goal scored at the 72-second mark. Spurs had the lion's share of possession in that match, however, and could consider themselves unlucky to have not equalized. Of course, Tottenham won this fixture 2-1 last year; prior to this past weekend, it was Arsenal's most recent road loss. Since the Arsenal's 3-1 win in 2007, the Gunners have lost five times at the Lane, drawn twice, and won twice.
The other of those two wins came in these clubs' last League Cup meeting, in the 2010 third round, which Arsenal won 4-1 in extra time. The Gunners scored thrice in the first half of extra time, including twice from the penalty spot, after Henri Lansbury and Robbie Keane scored in regular time. Arsenal went on to lose the final horrendously that season.
Arsenal and Spurs have met for seven previous League Cup ties; Arsenal have won five of them (2010 as mentioned, 2007, famously in 1987, 1983, and 1968) while Spurs have advanced at the hands of their North London rivals twice (1980 and 2008.)
The Referee
God, I forgot how long that coat was...
The referee is West Midlands-based Andre Marriner. After Marriner sent off the wrong man in Arsenal's 6-0 loss at Chelsea two years ago, he was assigned to only two Arsenal matches last season, both home wins and both clean sheets: 1-0 over Southampton and 2-0 over Everton. Earlier this season, Marriner took charge of Arsenal's 1-0 win over Newcastle, in which he correctly sent off Aleksandar Mitrovic on 15 minutes and also showed the Magpies six additional yellow cards.
This will be the first time Spurs have seen Marriner this season; last year, Tottenham had a record of two wins and a loss with Marriner in the middle. The wins were both in the League Cup, incidentally: 3-1 over Nottingham Forest and 4-0 over Newcastle. The loss was 1-0 to Manchester City in early May.
Around the Third Round
Tuesday: Aston Villa 1 - 0 Birmingham City
Tuesday: Fulham 0 - 1 Stoke City
Tuesday: Hull City 1 - 0 Swansea City
Tuesday: Leicester City 2 - 1 West Ham United
Tuesday: Middlesbrough 3 - 0 Wolverhampton Wanderers
Tuesday: Preston North End 2 - 2 Bournemouth

Bournemouth wins 3-2 on penalties

Tuesday: Sunderland 1 - 4 Manchester City
Tuesday: Reading 1 - 2 Everton
Wednesday: Crystal Palace v. Charlton Athletic; Selhurst Park, London
Wednesday: Milton Keynes Dons v. Southampton; Stadium.mk, Milton Keynes
Wednesday: Newcastle United v. Sheffield Wednesday; St. James' Park, Newcastle upon Tyne
Wednesday: Norwich City v. West Bromwich Albion; Carrow Road, Norwich
Wednesday: Walsall v. Chelsea; Banks's Stadium, Walsall
Wednesday: Liverpool v. Carlisle United; Anfield, Liverpool
Wednesday: Manchester United v. Ipswich Town; Old Trafford, Manchester
John Painting is a contributing writer to the Modern Gooner and supervillain. You can follow him on Twitter @zorrocat if you dare.