King Power Stadium, Leicester
Saturday, September 26
10:00 a.m. EDT, 15:00 BST
Match Officials

Referee: Craig Pawson
Assistants: Michael Salisbury and Gary Beswick
4th Official: Robert Madley

This Match, Last Year: Leicester 1 - 1 Arsenal
All-Time in All Competitions: 61 Arsenal wins, 28 Leicester wins, 44 draws
Arsenal's League Form: L-W-D-W-W-L
Leicester's League Form: W-W-D-D-W-D
The Flammening is here, which I believe means all pictures
need to be of Flamini.
CRISIS OVER! Everyone relax. The Flammening is upon us.
God, could you imagine what the Internet would've been like if Arsenal had lost to Spurs on Wednesday, condemned to a third straight defeat and out of a competition? I... I can't even imagine it. I would've probably had to quit Twitter.
Anyway, Arsenal completes their four game road swing over land and sea to Leicester (and Leic... oh, I said that already.) The Foxes are unbeaten so far this season, something no other club can say right now. I imagine the number of people who would have predicted that is somewhere in the vicinity of the number of people who would have predicted Mathieu Flamini's midweek brace (plus, I guess, some Leicester fans...)
It's match number five out of seven over a 23 day span. Olympiacos and Manchester United will visit the Emirates on Tuesday and next Sunday, respectively, as we head into the next international break. A victory tomorrow is critical to prove that Arsenal is, indeed, back on the right track.
Arsenal Squad News
Out:
Welbeck (knee,) Wilshere (ankle,) Rosicky (knee)
Doubts:
Coquelin (knee)
Mathieu Flamini: Shirt owner.
It's "as you were" with Arsenal's long-term injured and I don't expect to have anything different to say about Danny Welbeck, Jack Wilshere, or Tomas Rosicky for a while.
That means the big question will surround the knee of Francis Coquelin. In advance of the cup tie two days ago, Arsene Wenger said that Coquelin's knee was still swollen, which meant that it was difficult to accurately assess the extent of the damage. Since then, it's been radio silence, so I assume he'll be absent. Maybe Mathieu Flamini will be rewarded for his brace with another start? I'm not fond of the idea of pairing Mikel Arteta and Santi Cazorla again in the holding roles after that failed in Croatia.
What I would do is drop Aaron Ramsey back and start Alex Oxlade-Chamberlain on the right. In fact, that's what I'm going to write in my predicted squad as a form of wishful thinking. I don't expect Wenger to do it, though.
Gabriel is not suspended, but I would expect the center back partnership of Laurent Koscielny and Per Mertesacker to return anyway.
Predicted XI:
Cech, Bellerin, Koscielny, Mertesacker, Monreal, Cazorla, Ramsey, Ozil, Alexis, Oxlade-Chamberlain, Walcott.
Leicester Squad News
Out:
James (knee)
Doubts:
Dyer (knee)
Mathieu Flamini: Pointing at things in Leicester.
Only two injury concerns for Claudio Ranieri's side as Nathan Dyer, on loan from Swansea, has missed the last two matches with a knee injury. Dyer actually injured the knee scoring the winner in Leicester's come from behind victory over Aston Villa. Dyer came on at halftime in that match, which has thus far been his only appearance for the Foxes.
Midfielder Matthew James is out until the New Year as he recovers from ACL surgery; James suffered the injury on May 9 against Southampton. He is now off crutches, but is not likely to return until around February.
Tactically, I believe the only question is in midfield, as to whether it'll be Marc Albrighton or summer signing Gokhan Inler. Both played in the League Cup on Tuesday, but Inler had been removed at halftime last weekend for Albrighton, at a time when Leicester was down 2-0. The Foxes, of course, came back to draw 2-2 (you already knew that, though, since I said they were unbeaten in the intro...)
Leicester play a 4-4-2 with Jamie Vardy and Shinji Okazaki starting up top, with the threat of Leonardo Ulloa on the bench; Ulloa has always had a knack for scoring against Arsenal. Riyad Mahrez has been the man pulling the strings for the attack in midfield.
Predicted XI:
Schmeichel, de Laet, Morgan, Huth, Schlupp, Kante, Drinkwater, Mahrez, Albrighton, Okazaki, Vardy.
Current Form
Mathieu Flamini: Wistful philosopher.
Arsenal's form has been all over the place this season, to the point where I'm not sure if there's a word to describe it. So, you know what? I'm gonna have to make one up. Let's see... what's German for roller coaster? ((goes to Google translate...)) It's Achterbahn, which apparently comes from "figure-eight route."
Arsenal's Achterbahnish season... no, I don't like that at all... How about Spanish... It's montaña rusa, which means Russian mountain? That makes even less sense! Oh, it turns out "Russian mountains" were the predecessors to roller coasters. I forgot why I brought all this up, but I hope you learned something here.
The North London Flaminis'
Arsenal's 2-1 win over Spurs in midweek snapped their losing streak at two, marking the 12th time the Gunners have successfully avoided a three-game losing streak since their last three-game skid in 2010. Arsenal have already dropped eight points through six games this season; they had also dropped eight points through six last year, though they achieved that through four draws.
As for Leicester City, they are now the only unbeaten team remaining in the Premier League, thanks to West Ham's win over Manchester City last weekend. The only other unbeaten teams in the Football League right now are Brighton and Portsmouth. However, Brighton lost to Walsall in the League Cup, while Pompey lost to Reading. That means the Foxes are the only team across the top four divisions to remain unbeaten in all competitions.
In each of their last four league games, Leicester have come from behind to get a result. Down 1-0 to Spurs, the Foxes equalized a minute later for a 1-1 draw. Down 1-0 to Bournemouth, Leicester equalized from the penalty spot four minutes from time for a 1-1 draw. Down 2-0 to Aston Villa, the Foxes stormed back to win 3-2. And last week, down 2-0 to Stoke, Leicester stormed back again to draw 2-2.
In midweek, Leicester advanced in the League Cup in extra time over West Ham, 2-1. It's the second time the Foxes have defeated the Hammers already this season.
Match Facts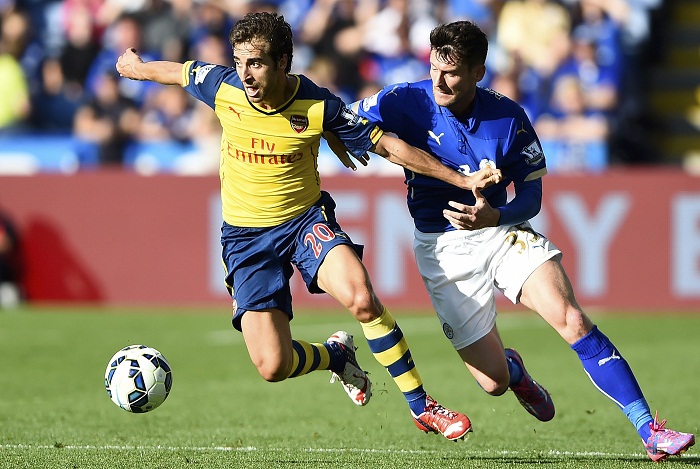 Mathieu Flamini: Flaminying (sp?) in this match last year.
Arsenal took four of a possible six points from Leicester last season, but it wasn't easy. These sides played out a 1-1 draw at the King Power Stadium in late August. It was Arsenal's first league match without the injured Olivier Giroud and the display of toothlessness up front could not have come at a better time; the club bought Danny Welbeck the following day as the transfer window closed. Alexis Sanchez had the opening goal, but Leonardo Ulloa pulled back an equalizer two minutes later by beating a dazed Laurent Koscielny, who had suffered a head injury earlier in the match. Koscielny was eventually pulled for Calum Chambers only four minutes after Ulloa's goal.
The sides met at the Emirates in February and Arsenal took a 2-0 lead through Laurent Koscielny and Theo Walcott. However, Andrej Kramaric pulled a goal back for the Foxes just after the hour mark, leading to what felt like a 30-minute siege on the Arsenal goal. At the time, Leicester City was five points from safety, bolted to the bottom of the Premier League table; over the final 13 matches that followed, Leicester picked up an astonishing 24 points, winning seven of their last nine.
Leicester have not beaten Arsenal in their last 19 tries, dating back to a 2-1 win on November 23, 1994. The Foxes did, however, advance past Arsenal via a penalty shootout in the 2000 FA Cup fourth round, after consecutive 0-0 draws.
The Referee
Mathieu Flamini: Hat wearer.
Not pictured: Craig Pawson as fourth official on this day.
The referee is South Yorkshire-based Craig Pawson. Arsenal saw Pawson only twice last year with mixed results, winning 3-0 over Burnley in October and losing 2-0 to Southampton on New Year's Day. In addition, Pawson was the fourth official for the FA Cup Final, which Arsenal won 4-0 over Aston Villa.
Leicester City only saw Pawson once last season, for a 2-1 loss to Aston Villa in which defender Paul Konchesky was sent off; Konchesky is now on loan at QPR. Overall, Leicester are winless in their last four with Pawson, losing three straight. The year before last, Leicester saw Pawson once in the Championship and lost 4-1 to Brighton & Hove Albion. Back in 2013, the first of the three losses came 2-1 against Watford. Leicester's last win with Pawson as the referee came in August of 2012, 2-0 over Peterborough.
Pawson was FIFA listed for the first time earlier this year; his first appointment came in last week's Europa League first matchday, for Braga's 1-0 win at Slovan Liberec.
Around the League
Saturday (early): Tottenham Hotspur v. Manchester City; White Hart Lane, London
Saturday: Liverpool v. Aston Villa; Anfield, Liverpool
Saturday: Manchester United v. Sunderland; Old Trafford, Manchester
Saturday: Southampton v. Swansea City; St. Mary's Stadium, Southampton
Saturday: Stoke City v. Bournemouth; Britannia Stadium, Stoke-on-Trent
Saturday: West Ham United v. Norwich City; Boleyn Ground, London
Saturday (late): Newcastle United v. Chelsea; St. James' Park, Newcastle upon Tyne
Sunday (late): Watford v. Crystal Palace; Vicarage Road, Watford
Monday (night): West Bromwich Albion v. Everton; The Hawthorns, West Bromwich
John Painting is a contributing writer to the Modern Gooner and is, sadly, not Mathieu Flamini. You can follow him on Twitter @zorrocat because I don't think Flamini is on Twitter.