Saturday, September 19
7:45 a.m. EDT, 12:45 BST
Match Officials

Referee: Mike Dean
Assistants: Simon Long and Stuart Burt
4th Official: Michael Oliver

This Match, Last Year: Chelsea 2 - 0 Arsenal
All-Time in All Competitions: 72 Arsenal wins, 59 Chelsea wins, 54 draws
Arsenal's League Form: W // L-W-D-W-W
Chelsea's League Form: W // D-L-W-L-L
Who's that team they call TEAM?
Who's that team we all adore?
Sports! Don't you just love being a sports fan? In all of its agonizing glory?
Generally speaking, we let sports take over such a large portion of our lives, it becomes ingrained in who we are. Our fanaticism defines us. We see it as a badge of honor from behind our rose-colored glasses, while others, fans of other teams and non-sports fans alike, see us oh so differently. I know I've side-eyed plenty of people wearing Spurs jerseys, who probably have no idea why I'm giving them such a nasty look. On the other hand, I over-analyze every glance I get when I'm wearing the red and white.
That's what makes things like Wednesday night so difficult. The thrill of victory can be so short-lived; I noticed this in a particularly poignant manner after the 2014 FA Cup win, after so many years of nothing, when I woke up the next morning and realized I had work all the same on Monday and nothing had really tangibly changed at all. But the pain of losses sticks with you for days and clouds your mind like a fog. The vitriol sits on social media and people argue ad nauseam. It's exhausting.
But that's what sports fandom is all about, in the end. It's about the experiences as much as it's about the results. It's about the friends you make watching the Arsenal and should not be about the people who use the comments sections on tabloid articles to prove their point in all capital letters.
We've all fell into supporting this football club one way or another. When things go wrong, take a minute to reflect on the camaraderie you feel when watching the sport, rather than pointing fingers and starting arguments.
Also, let's smash Chelsea. That would be fun. I would like that. At least up until work on Monday.
Arsenal Squad News
Out:
Welbeck (knee,) Wilshere (ankle,) Rosicky (knee)
Doubts:
Mertesacker (match fitness)
Another "sad Arsenal after conceding" stock photo.
First things first, I'm all for squad rotation. We all knew there would be changes to the starting XI on Wednesday night, with this monumental fixture coming up early on Saturday.
But six changes? Six?! When you bring in too many players in need of a run out, you lose your cohesion. Three changes to the back five. A holding midfield duo consisting of two Spaniards with a combined average height of 5' 7.5" (1.7 m.) I know height isn't the be-all-end-all at that position (Francis Coquelin is only 5'10" / 1.78 m himself) but it seems to me that Mikel Arteta and Santi Cazorla combined should not be your deepest lying midfielders in front of a back five where you've made three changes...
And don't get me started on Olivier Giroud. I spend so much time defending the guy's play and he puts in that shift. Perhaps I should know better. In any case, I had always figured Theo Walcott would be starting this weekend anyway.
As for the squad going forward, there are no real changes to player availability for tomorrow. The long-term injured are still long-term injured. The only real question is whether Per Mertesacker is fit to play; his experience could be useful, but not if his health isn't 100%.
Predicted XI:
Cech, Bellerin, Koscielny, Gabriel, Monreal, Coquelin, Cazorla, Ramsey, Alexis, Ozil, Walcott.
Chelsea Squad News
Out:
Willian (hamstring,) Courtois (knee)
Doubts:
Falcao (knee,) Pedro (thigh)
I couldn't figure out what was going on in this picture until
I realized those weren't Chelsea's road kits and that the team
in white is Crystal Palace.
There's a certain level of irony in the fact that Chelsea allowed Petr Cech to go to Arsenal this summer, with Thibault Courtois having usurped his starting role, only to have the Belgian now ruled out for at least three months with a meniscus tear. Asmir Begovic, acquired from Stoke in the summer to fill Cech's place, will deputize.
Chelsea's big summer acquisitions are both likely to miss out on the action this weekend, with Pedro nursing a thigh problem and Radamel Falcao having a knee issue. Willian is also expected to miss out with an injured hamstring.
Tactically, expect Chelsea to be even more park-the-bussy (that's a terrible term, I apologize) than usual, since they've been exposed defensively this season. No Premier League side has conceded more goals through five games (12) than Chelsea; the Blues conceded only 32 all of last year. This defensive quality could involve Kurt Zouma moving up into the holding role alongside Nemanja Matic, allowing Gary Cahill and John Terry to return as the central defense partnership.
Chelsea's right side versus Arsenal's left will be the key side to watch, as Alexis Sanchez will try to take advantage of Branislav Ivanovic's poor form to start the season. In fact, his form has been so poor, he could be dropped entirely, which would see Cesar Azpilicueta switch sides, as he did midweek. That would mean newcomer Baba Rahman would start on the left.
Without Willian, Jose Mourinho doesn't really have a natural right winger available to start. I would expect a midfield trio of Cesc Fabregas, Oscar, and Eden Hazard behind Diego Costa up top.
Predicted XI:
Begovic, Ivanovic, Cahill, Terry, Azpilicueta, Zouma, Matic, Fabregas, Oscar, Hazard, Costa.
Current Form
Well, Theo scored again. That's something, right?
I've already ranted about Arsenal making six changes in midweek, but there is one positive about that: for half of the starting squad, they're not the ones that put in
that
performance in Croatia, so the lingering mental effects might not be as devastating as we fear. Petr Cech didn't have a bad game. Neither did Hector Bellerin, or Nacho Monreal, or Aaron Ramsey, or even the guys who came in off the bench, Theo Walcott and Francis Coquelin. So, how much of an effect will really carry over?
The same can be said for Chelsea's comfortable 4-0 win on Wednesday over Maccabi Tel Aviv. How far will that result really go to overshadow the fact that the Blues currently sit 17th in the Premier League table after five matches, already losing the same number of games they lost all of last year?
Rest assured, the result from this fixture tomorrow will have a longer lasting effect on the form of both clubs than their Wednesday night results will.
Match Facts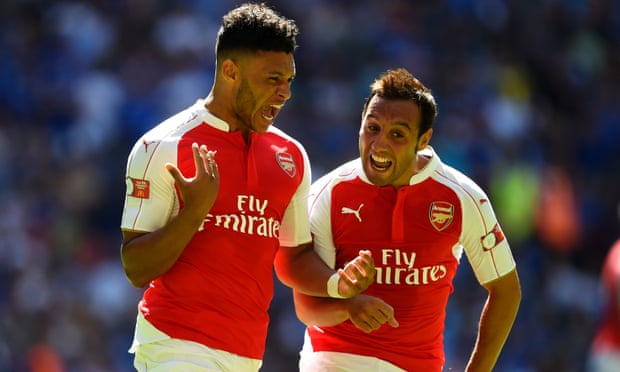 Arsenal have already beaten Chelsea once this year.
I'm going to say that as many times as I can.
Arsenal have already beaten Chelsea once this year, a sentence I haven't been able to say in over three years. That win, of course, came with some silverware attached, as Arsenal won the Community Shield 1-0 in early August. Alex Oxlade-Chamberlain scored the lone goal of the match.
Chelsea took four of a possible six points from Arsenal last season, winning 2-0 at Stamford Bridge in October and drawing 0-0 at the Emirates in April. At the Bridge, Arsenal had 53% of the possession and generated 10 shots to Chelsea's five, but managed none on target. A moment of brilliance from Eden Hazard produced a penalty from which Chelsea took the lead on 27 minutes; Diego Costa put the game to rest on a counterattack a dozen minutes from time. At the Emirates, Chelsea came for and produced a scoreless draw.

Since 2004, Arsenal and Chelsea have met 27 times across all competitions and Arsenal have won just five of them. As mentioned above, the Community Shield win in August was Wenger's first against Mourinho; before that, Arsenal had drawn six and lost seven in 13 tries against Mourinho. Arsenal have not beaten Chelsea in the league since that time John Terry fell down, in October of 2011.
The Referee
It was a Mike Dean awarded penalty that resigned Jose
Mourinho to his first ever league loss at Stamford Bridge,
at which point it appears that the training staff tried to fight him.
The referee is Wirral-based Mike Dean. Arsenal have lost only one of their last nine matches in which Dean was the referee; that was the 2-1 loss to Manchester United at the Emirates last November. Dean was in the middle for the reverse of that fixture as well, the 1-1 draw at Old Trafford in May. He also worked Arsenal's 2-0 win at Manchester City in January and the 1-0 win at Burnley in mid-April. So, while you may remember Arsenal as having a particularly bad record with Dean as the referee, please realize that that hasn't been true in about two years. It's Martin Atkinson you should currently fear.
Chelsea saw Mike Dean four times last year, winning two and drawing the other two. Dean was in the middle for Chelsea's 1-1 draw at Manchester City last September, in which Frank Lampard famously equalized against his former club. He also worked a 3-0 win over Tottenham in December, a 1-1 draw at Southampton in March, and a 1-0 win over Manchester United in April. Chelsea's last loss involving Mike Dean was actually Jose Mourinho's first league loss at Stamford Bridge, to Sunderland in April of 2014.
Around the League
Saturday: Aston Villa v. West Bromwich Albion; Villa Park, Birmingham
Saturday: Bournemouth v. Sunderland; Vitality Stadium, Bournemouth
Saturday: Newcastle United v. Watford; St. James' Park, Newcastle upon Tyne
Saturday: Stoke City v. Leicester City; Britannia Stadium, Stoke-on-Trent
Saturday: Swansea City v. Everton; Liberty Stadium, Swansea
Saturday (late): Manchester City v. West Ham United; Etihad Stadium, Manchester
Sunday (early): Tottenham Hotspur v. Crystal Palace; White Hart Lane, London
Sunday (late): Liverpool v. Norwich City; Anfield, Liverpool
Sunday (late): Southampton v. Manchester United; St. Mary's Stadium, Southampton
John Painting is a contributing writer to the Modern Gooner and an extinct species of bird. You can follow him on Twitter @zorrocat. Ca-caw! Ca-caw!