Saturday, September 12
10:00 a.m. EDT, 15:00 BST
Match Officials

Referee: Jonathan Moss
Assistants: Harry Lennard and Adrian Holmes
4th Official: James Linington

This Match, Last Year: Arsenal 3 - 0 Stoke City
All-Time in All Competitions: 53 Arsenal wins, 25 Stoke wins, 23 draws
Arsenal's League Form: D-W // L-W-D-W
Stoke City's League Form: D-W // L-D-D-L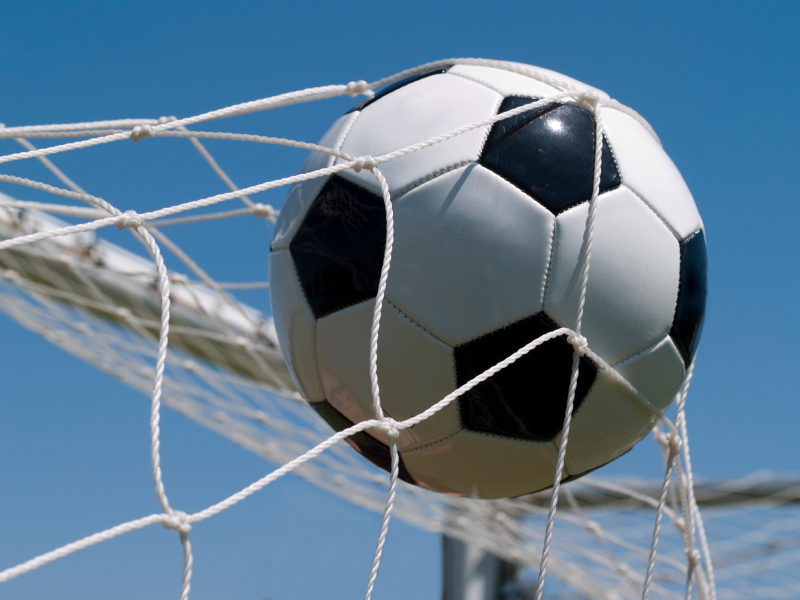 I forgot what goals looked like, so I did a Google search.
They look like this. Keep an eye out for this.
On Wednesday night, I had a dream that Arsenal was playing Valencia in some sort of two-legged Champions League tie. I suppose that could happen in the knockout phases this year, but in the dream, it was very specifically a qualifying play-off. In the first leg, played in Spain, Arsenal trailed 6-2 at halftime, but pulled three goals back in the second half to lose 6-5, thanks in part to an Olivier Giroud hat trick. The general tenor of the dream was that Arsenal was a disaster, but still had the home leg to contest.
When I woke up, all I could think was "Wow, five goals! And a Giroud hat trick! I'd bite your hand off for that right now." I could do without conceding six, though.
Goals for Arsenal are scarce right now. They can't score at home. They've scraped their way to two unconvincing road wins. Their depth striker is out for somewhere between three and three hundred months. Arsenal Twitter was impossible to deal with after the transfer deadline passed and nobody came in. I can't include the blinking panic graphic every week, people!
So, let's get back to brass tacks. Stoke come to the Emirates tomorrow. We hate them, right? Let's win, okay? Sound good to everyone? All right then.
Arsenal Squad News
Out:
Welbeck (explosion,) Wilshere (setback,) Rosicky (missing)
Doubts:
Mertesacker (match fitness)
Danny Welbeck stares wistfully into the distance, pondering
life's complexities and that weird feeling in his knee.
Let's talk about Danny Welbeck, shall we? In fact, let's find what I said about his injury for my last preview, in advance of Arsenal's trip to Newcastle two weeks ago. In fact, I quoted Arsene Wenger directly in saying "He 'should be back after the international break.'"
And oh, what an international break it was! Here's the timeline: Wenger said that before the Newcastle game, which Arsenal won 1-0. Then, the transfer window closed on Tuesday, September 1. Arsenal made no moves. Then, two days later, the club announced that Welbeck needed surgery on his knee, and is expected to be out for "a period of months," likely until at least Christmas.
FURTHER PANIC ENSUES and it's all over the place. The timing, just days after the window closed, was interesting because it had to come before Roy Hodgon's England press conference. I understand why the club wouldn't admit this during the transfer window itself; if Arsenal were in a last ditch quest for a striker (like the situation in which they purchased Welbeck last year after Giroud's injury,) then announcing the surgery would mean prospective sellers would jack up the price. Ultimately, the fact that Arsenal bought nobody, not even a token depth guy, sat sour in the stomach of a lot of Gooners, but we all know that Wenger almost never buys a player just because someone else is injured, because when that player is healthy again, you will end up with too many bodies.
Rosicky is in here somewhere...
But then, Roy Hodgson says that Welbeck is actually going to be out for six months (!!) He also said that Welbeck had been out since March, which was wrong. With that information, Wenger was asked in his presser yesterday about why he
lied
about the injury length, which is patently not what happened.
When it comes down to it, Arsenal was only going to buy a world-class striker this summer if one became available. There are so few "world-class strikers" out there that teams are almost never willing to sell one anyway. So, here we are.
Wow, that was a lot of words I wasted on that. In other news, Jack Wilshere has had a "setback" which can literally mean anything. He could be back midweek for Arsenal's Champions League match or he could be like Tomas Rosicky, who has disappeared into a fog somewhere around Upper Holloway.
As for tomorrow's team selection, Per Mertesacker has practiced again after missing 18 days with an illness. 18 days! He is most certainly not going to start. Laurent Koscielny had a midweek scare on international duty, but should be fine. Wenger has a bit of a selection headache up top as well, which I'm going to make a "safe guess" at.
Predicted XI:
Cech, Bellerin, Koscielny, Gabriel, Monreal, Coquelin, Cazorla, Ramsey, Ozil, Alexis, Giroud.
Stoke City Squad News
Out:
Shawcross (back,) Odemwingie (hamstring)
Suspended:
Afellay (first of two, violent conduct, reduced on appeal,) Adam (first of three, violent conduct)
Doubts:
Diouf (groin,) Johnson (hamstring,) Arnautovic (ankle)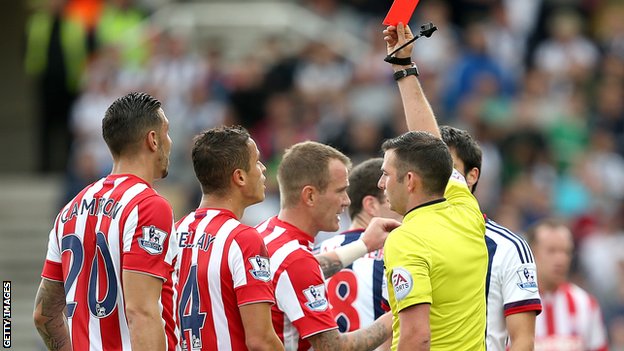 Stoke found themselves on 9 men in the first half of their
last match and I just realized Tony Pulis was the OTHER
manager.
There's a lot to cover here, so let's start with our dear friend Ryan Shawcross. Stoke's center back and captain, infamous in certain North London circles, will be out until October as he recovers from surgery on his back. In his absence, Arsenal fans will be too lazy to boo anyone in a visiting uniform.
Peter Odemwingie, who was born in Uzbekistan (did you know he was born in Uzbekistan?!), is technically a doubt (but it's a large doubt) with a hamstring injury.
Since Stoke ended their last match (and actually ended the first half of that match) on nine men, they will be without those two players through suspension. Charlie Adam will serve the first match of a three match ban for stamping on Craig Dawson (surprise!) and Ibrahim Afellay will serve the first match of a ban that was reduced to two matches after he slapped Craig Gardner. I'm not positive what the reasoning was behind the reduction, but Gardner was also booked for flicking his hand at Afellay first. I don't know why the fact that it's retaliation makes it any less of violent conduct, but hey, I'm not the FA.
Mame Biram Diouf (groin,) Glen Johnson (hamstring,) and Dean Arnautovic (ankle) are all listed as doubts; I've listed them there in the order they are likely to pass fit (from least likely to most likely.) In fact, I'm just going to predict all three of them to start...
Predicted XI:
Butland, Johnson, Cameron, Muniesa, Pieters, Whelan, van Ginkel, Walters, Shaqiri, Arnautovic, Diouf.
Current Form
Nobody has scored more goals for Arsenal this season than
their opposition into their own net.
Arsenal are, of course, off to a miserable start, one so horrible that they're in the disturbingly low table position of
5th
with 34 games still to play. On the one hand, it's easy to mock those who panic at this admittedly early stage in the game. On the other, there are serious issues with Arsenal's form that do need to be discussed, particularly their goal scoring record at home.
Going back to last season, Arsenal have scored in just one of their last six matches at the Emirates; that was a dead rubber against West Bromwich Albion. Chelsea, Swansea City, Sunderland, West Ham, and Liverpool have all kept Arsenal off the board within their home confines. Last year, 41 of Arsenal's 71 league goals came at home. This year, Arsenal's leading scorer is Own Goal, with Olivier Giroud's one coming in a very close second place. It's a worry, yes, but it's not like we're talking about a streak like Aston Villa's last year, where they went 934 days without scoring (or something...)
As for Stoke City, they are without a win so far this season, though they did advance in the League Cup, needing an eight-round penalty shootout to beat League Two Luton Town. For form purposes, as we've been through before, going to penalties counts as a draw, whether you win or lose.
The Potters are 18th in the league, one of three teams with just two points from four matches. Stoke have lost twice by a 1-0 score, to Liverpool and West Brom. They've earned draws with Tottenham, coming back from 2-0 down, and Norwich City.
Match Facts
Laurent Koscielny opened the scoring in this fixture last year
just six minutes in.
So far in my time writing this feature for The Modern Gooner (since 2011,) I've been able to copy and paste this paragraph for each and every preview. For all of Arsenal's struggles on the road in Stoke-on-Mordor, they have an incredible home record against the Potters. The last time Stoke won against Arsenal in North London, the #1 hit in the U.K. was Soft Cell's "Tainted Love." The date was August 29, 1981. Since then, Arsenal have won 13 straight against the Potters in North London. 10 of those have been league meetings, with three victories in cup ties coming during the time when Stoke was not in the top flight.
Despite a miserable loss at the Britannia last December, Arsenal earned a split of the season series with Stoke with a 3-0 win at the Emirates just a month after that wretched defeat. Laurent Koscielny scored in the sixth minute to give Arsenal the lead and Alexis Sanchez had a brace to seal the points. The one dark spot, because there usually is one against Stoke, is that Arsenal lost Mathieu Debuchy for the second time of the season after he was shoved by Marko Arnautovic.
The Referee
I still have yet to include an actual picture of Jonathan
Moss in any of my match previews.
The referee is West Yorkshire-based Jonathan Moss. Arsenal have seen Moss in 10 competitive fixtures all-time and they have won all 10 of them. Three of those matches were last season: the opening day 2-1 win over Crystal Palace, aided by an 89th minute Jason Puncheon red card, this very fixture back in January, in which he failed to sanction Marko Arnautovic for that aforementioned shove on Debuchy, and the FA Cup Final in May, a 4-0 win over Aston Villa.
Arsenal are not completely unbeaten with Moss in the middle, as he did take charge of a 2013 Emirates Cup match against Galatasaray, in which he awarded the visitors a dubious penalty following a Didier Drogba tumble, en route to their taking the title.
Stoke City saw Moss five times last season, drawing one and losing the other four. The draw came in the first of the five matches, 1-1 against Hull City last August. They then suffered losses to Southampton, Manchester City, Arsenal, and Chelsea, all away from the Britannia, with Moss in the middle. Stoke's last win with Moss as the referee came in December of 2013, against Chelsea, 3-2 at the Britannia.
Around the League
Saturday (early): Everton v. Chelsea; Goodison Park, Liverpool
Saturday: Crystal Palace v. Manchester City; Selhurst Park, London
Saturday: Norwich City v. Bournemouth; Carrow Road, Norwich
Saturday: Watford v. Swansea City; Vicarage Road, Watford
Saturday: West Bromwich Albion v. Southampton; The Hawthorns, West Bromwich
Saturday (late): Manchester United v. Liverpool; Old Trafford, Manchester
Sunday (early): Sunderland v. Tottenham Hotspur; Stadium of Light, Sunderland
Sunday (late): Leicester City v. Aston Villa; King Power Stadium, Leicester
Monday (night): West Ham United v. Newcastle United; Boleyn Ground, London
John Painting is a contributing writer to The Modern Gooner and king of the jungle. All of you trash talking lions upset about that can follow him on Twitter @zorrocat.