Wembley Stadium, London
Sunday, August 2
10:00 a.m. EDT, 15:00 BST
Match Officials

Referee: Anthony Taylor
Assistants: Gary Beswick and John Brooks
4th Official: Roger East

All-Time in All Competitions: 71 Arsenal wins, 59 Chelsea wins, 54 draws
All-Time in the Community Shield: 1 Chelsea win
Arsenal in the Community Shield: 13 wins (1 shared,) 7 losses
Chelsea in the Community Shield: 4 wins, 6 losses
Arsenal's Preseason Form: W-W-W-W
Chelsea's Preseason Form: L-W*-W*
"Once upon a time, there was a TRANSFER SAGA and then
MOURINHO SAID SOMETHING SNARKY"
This summer, I was hoping to take a little bit of a sabbatical from the lunacy of sports. It helped that Arsenal had a relatively quiet summer, transfer-wise: Petr Cech in, Lukas Podolski out, a bunch of other players released from their contract, and... yeah, that's it...
But, of course, the lunacy still manged to follow me through the U.S. domestic season, further proving that 1) soccer never really stops and 2) the media is always pushing a narrative that I don't agree with.
So, let's try to set all of that aside. One of the major things I try to accomplish with these preview pieces is to present information while not stirring any narrative. You don't need the media, or Twitter, or me to tell you what you should think or how you should feel about a team, a player, or the sport in general. You just need the right information to form your own opinions. That's how it should work.
Arsenal have had a quiet summer and a successful preseason. Something just feels different about they way they've approached their friendlies to date, a sort of "we've got unfinished business" quality to their attitude, and that's great. The question, of course, still lingers as to whether they have fully stepped out of the shadows of their "big game jitters." Wembley Stadium against Chelsea, even in a glorified friendly like the Community Shield, is as good a place as any to start trying to answer it.
About the Community Shield
The FA Community Shield (formerly the Charity Shield) has been played since 1908. It was called the Charity Shield until 2002 when the Charity Commission declared that it could no longer be legally called that, after the FA failed to specify what money from ticket sales went to charity. Whoops.
The match is, of course, 90 minutes, but if it is drawn, it will go straight to a penalty shootout without extra time. Clubs are allowed to make up to six substitutions instead of three. Yellow cards picked up will not accumulate towards a player's total for the season, but a red card will incur the appropriate one- or three-match ban.

Arsenal Squad News
Out:
Rosicky (knee,) Welbeck (knee)
Copa America Absentees:
Alexis, Ospina
Petr Cech poses for a horrifying photograph with millions
of copies of himself.
Arsenal enter the preseason with a relatively clean bill of health, which is a nice change of pace. If you missed the news this week, Abou Diaby, who spent more time being written about in this section than anyone else over the last four-and-a-half years, has signed with Marseille; we wish him good luck and good health.
David Ospina returned to training this week after his extended vacation, after he helped Colombia to the Copa America quarterfinal, where they lost on penalties to Argentina. Alexis Sanchez, on the other hand, helped Chile win the tournament, also on penalties against Argentina. He'll return to the squad on Monday, at which point he will likely write himself straight into the starting XI at all 11 positions.
Tomas Rosicky, who might now be the new club record holder for most time spent in the "Out" part of this section, is absent after picking up some sort of knock on international duty this summer. Danny Welbeck is still out with the knee injury that kept him out of the final month of last season.
The big squad news is that Petr Cech will likely make his first competitive appearance for Arsenal against his former club. That narrative writes itself! As for the rest of the squad, I've guessed Mathieu Debuchy instead of Hector Bellerin at right back, but I don't know if I could give a convincing explanation as to why.
There's no room for Jack Wilshere or Alex Oxlade-Chamberlain in the squad I've selected, either. And when Alexis comes back, oh boy, I have no idea who will drop...
Predicted XI:
Cech, Debuchy, Mertesacker, Koscielny, Monreal, Coquelin, Cazorla, Ramsey, Walcott, Ozil, Giroud.
Chelsea Squad News
Out:
None
Doubts:
Cahill (nose,) Costa (thigh)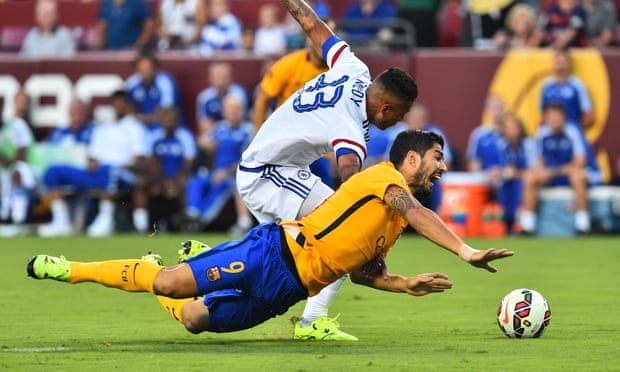 This photo isn't relevant here at all, but I just like imagining
that Suarez is trying to bite the ball.
Jose Mourinho's squad does not include anyone completely out of the running for selection, though there are doubts over Gary Cahill and Diego Costa, dealing with a broken nose and a thigh injury, respectively. Given the nature of this fixture, it is unlikely that Mourinho would risk any less-than-100% starters, aside from perhaps his personal desire to defeat Arsene Wenger.
Of course, with Diego Costa questionable, Chelsea now have Radamel Falcao waiting in the wings to start; the Colombian joined Chelsea this summer after a dreadful year at Old Trafford. It's worth noting that he is still technically on loan from Monaco, as he was last year. If Cahill cannot start, Kurt Zouma will likely deputize in the center of defense.
In terms of Chelsea's summer departures, Didier Drogba has landed in Montreal after a bizarre transfer saga that yet again saw the Chicago Fire fail to get their man (the same thing happened to them with Jermaine Jones last year.) Aside from Drogba and Cech, Chelsea's only other major departure was Felipe Luis's transfer to Atletico Madrid.
As for the rest of the XI, I have to assume that Chelsea will name their strongest available lineup, largely because I don't generally follow other teams closely enough to predict what rotation they might make in glorified friendlies.
Predicted XI:
Courtois, Ivanovic, Zouma, Terry, Azpilicueta, Fabregas, Matic, Oscar, Willian, Hazard, Falcao.
Preseason to Date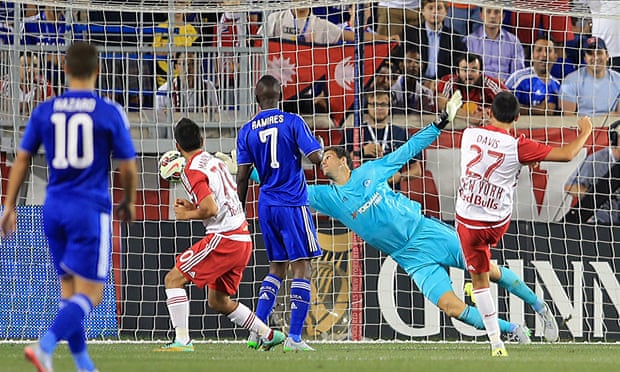 I hope there's no correlation between losing to the Red Bulls
in a friendly and winning the Community Shield.
Arsenal's preseason has gone just about as well as you could hope; the Gunners have won all four of their matches by a combined scored of 14-1. They've picked up two trophies in the process, so the septuple is still well and truly on! Of course, you could easily argue that you can't read into preseason results, but by the same token, there are thousands out there who would be jamming the panic button if they had lost all four.
Just to recap what we've seen through the month of July, Arsenal opened with a short jaunt to Southeast Asia, where a Chuba Akpom hat trick helped the club beat a Singapore Select XI squad, 4-0. In the final of that short Singaporean tournament, Arsenal comprehensively beat Everton, 3-1.
Back in London, Arsenal hosted their annual Emirates Cup and actually won the thing for the first time since 2010, smashing Lyon 6-0 and slipping past German Cup holders Wolfsburg, 1-0.
Chelsea, on the other hand, participated in a preseason tour of the United States as part of the International Champions Cup. However, they opened their preseason with a surprising loss to the New York Red Bulls, 4-2.
While you might recall Arsenal lost to the Red Bulls themselves last summer, Chelsea faced a significantly weaker New York squad thanks to fixture congestion. It is not surprising in the least that the Red Bulls' reserve squad beat Chelsea one day after the starters fell to 10-man Philadelphia in a cup tie, but that's the cynical Red Bulls season ticket holder in me talking.
The Blues rebounded from that loss by beating both Paris St. Germain and Barcelona on penalties, making that loss to Red Bull II appear even more surreal in full context.
Match Facts
Chelsea won the only Community Shield meeting between
these two clubs, back in 2005.
Chelsea took four of a possible six points from Arsenal last season, winning 2-0 at Stamford Bridge in October and drawing 0-0 at the Emirates in April. At the Bridge, Arsenal had 53% of the possession and generated 10 shots to Chelsea's five, but managed none on target. A moment of brilliance from Eden Hazard produced a penalty from which Chelsea took the lead on 27 minutes; Diego Costa put the game to rest on a counterattack a dozen minutes from time. At the Emirates, Chelsea came for and produced a scoreless draw.
Since 2004, Arsenal and Chelsea have met 26 times across all competitions and Arsenal have won just four of them. It's also well established that Wenger has never beaten Jose Mourinho, drawing six and losing seven. Arsenal have not beaten Chelsea since that time John Terry fell down, in October of 2011.
This will be Arsenal's 21st Charity/Community Shield match; the Gunners have won the glorified friendly on 13 previous occasions, though that number includes one year, 1991, in which they shared the trophy with Tottenham Hotspur. Ewww. That was the last occasion of a shared title; penalty shootouts were introduced in 1993. Arsenal's other wins in the competition came in 1930, 1931, 1933, 1934, 1938, 1948, 1953, 1998, 1999, 2002, 2004, and last year's 3-0 win over Manchester City. Arsenal lost the match in 1935, 1936, 1979, 1989, 1993, 2003, and 2005.
That loss in 2005 came against Chelsea, who are making their 11th appearance in the FA's curtain-raising event. The Blues have also won the Shield in 1955, 2000, and 2009. Their losses came in 1970, 1997, 2006, 2007, 2010, and 2012.
The 2005 meeting between these two sides ended 2-1 to the Blues, with Didier Drogba scoring twice at the Millennium Stadium in Cardiff. Current Chelsea midfielder Cesc Fabregas had Arsenal's goal to pull the scoreline back to 2-1 on 65 minutes. Current Arsenal goalkeeper Petr Cech made six saves.
The Referee
I had a feeling it would be you! Who designed that shirt?!
The referee is Chester-based Anthony Taylor. The season before last, Arsenal opened the year with Taylor as the referee against Aston Villa. If you don't recall that debacle, I won't remind you here; suffice it to say, Taylor didn't work another Arsenal game for the rest of that season.
Now, nearly two years removed from the unpleasantness, Arsenal's record with Taylor has smoothed out considerably. It didn't start off that way; during the end of 2014, Taylor took charge of Arsenal's 1-1 draw at Leicester and 3-2 loss at Stoke. In 2015, however, Arsenal are unbeaten with Taylor in the middle, winning 5-0 over Aston Villa and 4-1 over Liverpool, while also drawing 0-0 with Sunderland in the league season's penultimate match. He also stepped in for the injured Chris Foy during Arsenal's win over West Ham in March.
Chelsea had a record of two wins and a draw with Taylor last year, including their League Cup Final win over Tottenham and their 2-1 win at Anfield in November. He also worked the Blues' 1-1 draw at St. Mary's against Southampton on December 28.
John Painting is a contributing writer to the Modern Gooner and has no idea where the last two months have gone. You can follow him on Twitter @zorrocat, especially if you have any idea what happened to June and July.