KC Stadium, Kingston upon Hull
Monday, May 4
3:00 p.m. EDT, 20:00 BST
Match Officials

Referee: Lee Mason
Assistants: Andrew Halliday and Mick McDonough
4th Official: Mark Clattenburg

Reverse Fixture: Arsenal 2 - 2 Hull City
This Match, Last Year: Hull City 0 - 3 Arsenal
All-Time in All Competitions: 14 Arsenal wins, 3 Hull City wins, 4 draws
Arsenal's Current Form: W-W-W-W-W-D
Hull City's Current Form: D-L-L-L-W-W
The Daily Mail's caption for this photo reads, and I quote:
"Bournemouth's promotion means Arsenal will start
season in second place for the first time in 100 years."
Since they're listed as just "Bournemouth" and not "AFC
Bournemouth" in the table, this is completely wrong.
The news had been so slow; a massive winning streak will do that. But then, draw the league-leaders 0-0 and all a sudden, some weird dramatic shit starts to come out. Since it's not a full-fledged, catastrophic loss, however, the news truly has been weird. Let's investigate, shall we!
First, Arsenal fans were criticized for having the
audacity
to call Chelsea "boring" after they parked the bus at the Emirates last week. Better adjectives, apparently, would have been "routine," "tedious," or "insipid."
Then, Thierry Henry said that Arsenal could not win the league with Olivier Giroud, which doesn't make much statistical sense because the Gunners' record with Giroud is significantly worse than it is with him. I'm not really positive what point he was trying to make, but it's not like you must have a world class striker to win the league. For example, you can win the league with some boring 0-0 draws...
Meanwhile, Ivan Gazidis gave a presentation at an anti-discrimination conference in which he said that Arsenal was focused on making their fans proud of what the club does and how they do it. The media flipped that to say that Arsenal were not focused on winning the Champions League. Apples and oranges, people.
Theo Walcott talked about how everyone is playing so well that he can't find his way back into the side, which is fine, but the Internet exploded when he said that since the start of the calendar year, Arsenal have been the best club in Europe. People are quick to point out that the best team in Europe would not lose 3-1 to Monaco. Okay, point made. Move on.
Yesterday, there was word that Ainsley Maitland-Niles's mother hit Dick Law at an Under-21 match. Look at that screenshot from the
Daily Mail.
That's not a headline! That's just a sentence!
Let's get away from this circus (or, as the
Mail
's headline writers would say, "A circus is a large public entertainment, typically presented in a large tent, but can also be a situation that attracts a lot of attention") and focus on the league again. Mathematically, Arsenal can still win the league if they win all five of their remaining games and Chelsea lose all four of theirs. So, there's that.
More realistically, Arsenal need just four points (or three points plus the goal difference tiebreaker) to clinch a top four finish (and, thus, St. Totteringham's Day and also St. Liverpoolingham's Day which isn't going to catch on.) They will need any combination of 11 points earned or dropped by United to finish above the red side of Manchester, and the total is 13 to finish above the blue side (which would guarantee second place.)
Those numbers could change by Monday, since Arsenal and Hull play the last match of this round of fixtures, but of course, those numbers cannot increase. They're magic like that, or, as the
Mail
would say, "Magic numbers indicate how close a front-running team is to securing a specific spot in the table."
Arsenal Squad News
Out:
Oxlade-Chamberlain (groin)
Doubts:
Debuchy (hamstring,) Arteta (match fitness)
There have been some reports stating the Ox will not return
this season. That's unconfirmed, though...
Oh, interesting, Mathieu Debuchy is hurt again. The French international picked up a hamstring injury in training and might not be fit for Monday. Debuchy has made 15 competitive appearances for Arsenal, out of the Gunners' 50 total matches this season.
Aside from Debuchy, however, Arsene Wenger has said "the rest of the squad is in good shape." I'm not sure what that means for Alex Oxlade-Chamberlain, who picked up that groin injury while rehabbing the hamstring injury he picked up on March 9. This match will mark eight weeks since that FA Cup win at Old Trafford. Aside from the Ox, Mikel Arteta's match fitness is the only real question in terms of availability (though, I suppose Abou Diaby's is as well? Is that worth mentioning anymore?)
Predicted XI:
Ooooooooooooo-spina!, Bellerin, Mertesacker, Koscielny, Monreal, Coquelin, Cazorla, Alexis, Ramsey, Ozil, Giroud.
Hull City Squad News
Out:
Jelavic (knee,) Snodgrass (knee)
Doubts:
Davies (thigh,) Robertson (ankle,) Diame (knee)
Hull have won two straight despite being without striker
Nikica Jelavic.
Midfielder David Meyler returns from suspension, but might not slip back into the squad, as Steve Bruce could likely name an unchanged XI from the group that beat Liverpool midweek.
Croatian striker Nikica Jelavic is expected to miss out with a meniscus tear, while summer signing Robert Snodgrass has been out the entire season after dislocating his kneecap on opening day. There are doubts of captain Curtis Davies, who is dealing with a thigh strain, defender Andrew Robertson, who has an ankle injury, and midfielder Mohamed Diame, who has a knee problem.
Predicted XI:
Harper, Chester, McShane, Dawson, Brady, Huddlestone, Quinn, Livermore, Elmohamady, Aluko, N'Doye.
Current Form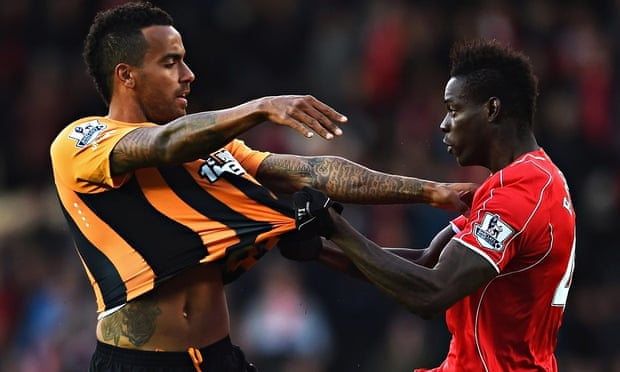 Mario Balotelli does thing.
The 0-0 draw with Chelsea last weekend snapped Arsenal's eight-match winning streak in the league and nine-match winning streak across all competitions, though it does now mean their unbeaten streak is, well, nine in the league and 10 across all competitions, so that's something. Arsenal last had a 10-match unbeaten streak across all matches last season, from late December to early February; that streak was snapped at Anfield. Earlier in the year, they had gone unbeaten in 12 before losing to Dortmund. As for the league, it's Arsenal's first nine-match unbeaten streak since last autumn (which came during that 12-match unbeaten run;) that streak was snapped at Old Trafford. The last time Arsenal had a 10-match unbeaten run in league play was at the end of the 2012/13 season.
Hull City have presently won consecutive matches for only the second time this season (the last stretch came with wins over Aston Villa and QPR in February.) The wins snapped a six-match winless run, helping the Tigers climb into 15th place. They are currently four points from safety, though 17th place Sunderland have a game in hand (which is against Arsenal.) After this match, Hull will play Burnley in a huge six-pointer, but they finish with Spurs at the Lane and United at home. As long as Hull beat Burnley, they should be relatively safe from the drop, unless Sunderland pull off some magic.
Match Facts
Danny Welbeck spares Arsenal's blushes back in October with
this injury time equalizer.
The reverse fixture of this match took place in mid-October, just after an international break. Arsenal led 1-0 through Alexis Sanchez, but Hull City equalized just four minutes later, then took a 2-1 lead within the first minute of the second half. Arsenal pressed and pressed but only found an equalizer of their own through Danny Welbeck in second half injury time and both sides settled for a 2-2. The draw ended an Arsenal seven match winning streak against Hull.
The two sides met again at the Emirates in the third round of the FA Cup, in a rematch of last season's final. Per Mertesacker opened the scoring from a corner in the 20th minute and Arsenal retained their 1-0 lead much of the way. Alexis Sanchez secured safe passage to the fourth round with a goal in the 82nd minute.
Hull's surprise 2-1 win at the Emirates in September of 2008 is the Tigers' only win against Arsenal in the modern era. Hull's other two wins against Arsenal came in 1908 and 1915.
The Referee
This is an old photo (OMG Heurelho Gomes,) but look at
how disgusted Mason looks. After some digging, I found that in
this picture, Gomes had broken his ribs, so that kind of
changed its humorousness a bit. Maybe I shouldn't have told
you that...
The referee is Lancashire-based Lee Mason. Surprisingly, Arsenal have seen Mason only once this season, for the 4-1 win over Newcastle in mid-December. Hull, on the other hand, have not seen Mason at all, so maybe we should talk about both clubs' records with Mason last season, then?
**goes back to preview of Newcastle game**
Oh, this is good: Arsenal are now unbeaten in their last 12 matches with Mason in the middle, with wins over Newcastle, Everton twice, Leyton Orient in an FA Cup replay, Blackpool, Stoke City, Cardiff City, and Norwich City on the season's final day last year, plus draws against Stoke at the Britannia (that's like a win...,) Aston Villa, West Bromwich Albion, and Southampton. Arsenal's last loss with Mason as the referee came at the end of the 2009/10 season when Lukasz Fabianski helped Wigan overcome a 2-0 deficit inside of ten minutes to win 3-2.
Last season, Hull saw Mason three times. First, they beat Southend United in the fourth round of the FA Cup, 2-0. Next, they lost 2-0 to Manchester City at home, despite City playing for 80 minutes on ten men after an early Vincent Kompany red card. Third and finally, they came from 2-0 down to draw Fulham 2-2 at Craven Cottage.
Around the League
Saturday (early): Leicester City v. Newcastle United; King Power Stadium, Leicester
Saturday: Aston Villa v. Everton; Villa Park, Birmingham
Saturday: Liverpool v. Queens Park Rangers; Anfield, Liverpool
Saturday: Sunderland v. Southampton; Stadium of Light, Sunderland
Saturday: Swansea City v. Stoke City; Liberty Stadium, Swansea
Saturday: West Ham United v. Burnley; Boleyn Ground, London
Saturday (late): Manchester United v. West Bromwich Albion; Old Trafford, Manchester
Sunday (early): Chelsea v. Crystal Palace; Stamford Bridge, London
Sunday (late): Tottenham Hotspur v. Manchester City; White Hart Lane, London
--
John Painting is a contributing writer to the Modern Gooner and is Batman. You can follow him on Twitter @zorrocat, which is just a cover for Batman. I'm Batman.