White Hart Lane, London
Saturday, February 7
7:45 a.m. EST, 12:45 GMT
Match Officials

Referee: Martin Atkinson
Assistants: Stephen Child and Harry Lennard
4th Official: Andre Marriner

Reverse Fixture: Arsenal 1 - 1 Tottenham
This Match, Last Year: Tottenham 0 - 1 Arsenal
All-Time in All Competitions: 74 Arsenal wins, 54 Tottenham wins, 46 draws
Arsenal's League Form: W-W-L-W-W-W
Tottenham's League Form: W-D-W-L-W-W
So, what you're saying is, we'll finish fourth?
Last Saturday, Chelsea and Manchester City met in a top-of-the-table clash that had tremendous ramifications. If City won, they'd be within two points of the first place Blues. If Chelsea won, they'd be eight points clear at the summit. So, with the match level at halftime, Chelsea shut it down in the second half and played out a boring 1-1 draw to maintain the status quo. It felt a lot like knockout round games in the World Cup do; there is so much on the line that both sides play cautiously, as to not make the first mistake (eight out of 15 knockout round games went to extra time this summer, not including the third place game, which did not.)
Which brings me to this North London derby. Arsenal enter the weekend two points clear of Tottenham. Arsenal are in fifth on goal difference behind Southampton, level on 42 points. Spurs are in sixth with 40. Spurs can leapfrog their local rivals with a win at home, but Arsenal can go five points clear of their nearest and dearest with a road victory. Both sides can play with swashbuckling abandon when they want to; they won by a combined 8-0 scoreline last weekend.
It has all the makings of a tightly contested and nervy 1-1 draw, which will ultimately decide nothing because when the match is over, there'll be 14 games to play and 42 available points remaining in the season.
No, this match won't decide anything officially, but momentum is an incredible force in the league table, provided that force is multiplied by time (because physics.) Both sides have a lot of momentum right now. A derby win could galvanize either of these clubs to a third place finish. This match is as big as it gets.
Arsenal Squad News
Out:
Alexis (hamstring,) Oxlade-Chamblerain (groin,) Debuchy (shoulder,) Arteta (calf,) Wilshere (ankle,) Diaby (calf,) Gnabry (knee)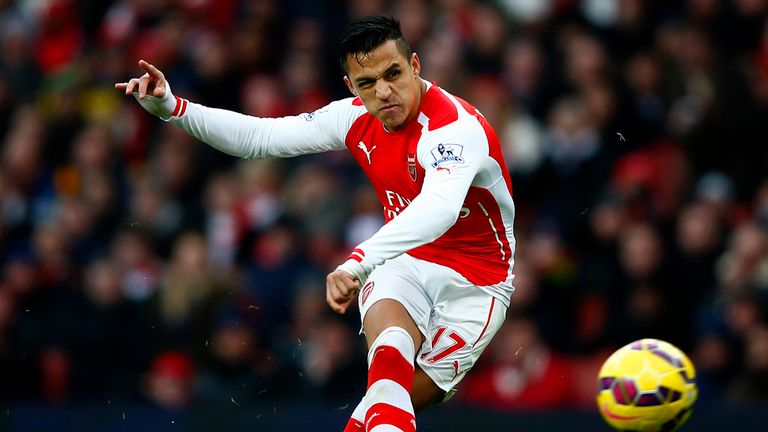 I miss Sanchez...
It's not who you play, it's when you play them. Every team plays everyone else twice during the course of the season, so the timing of your opponents' form and injuries can be critical. By this weekend's end, Alexis Sanchez will have started 20 of Arsenal's 24 Premier League fixtures, yet two of his four missed starts will have been against Tottenham. He did not start the reverse fixture, which followed a midweek League Cup tie, and he will not appear at all this week as he is still dealing with a hamstring problem. He should be good to go for Tuesday's league meeting with Leicester City. Meanwhile, Danny Welbeck will return to the squad after missing just over a month with a thigh injury.
Now, a Tottenham supporter might read that paragraph and think I'm already starting to make excuses, to which I should remind you that Arsenal beat Spurs three times last year without Alexis Sanchez at all. Sanchez's other two missed starts were against Aston Villa this year and Arsenal did quite nicely in those, thank you very much.
Elswhere, smoking aficionado Jack Wilshere returns to full training next week, while Alex Oxlade-Chamberlain is in light training. Serge Gnabry will get a run out with the Under-21 squad on Monday, as will new signing Krystian Bielik. Mathieu Debuchy and Mikel Arteta remain out until April, while Abou Diaby remains Abou Diaby.
With Alexis still unavailable, I don't predict any changes to the XI that beat Villa last week.
Predicted XI:
Ospina, Bellerin, Mertesacker, Koscielny, Monreal, Coquelin, Ramsey, Ozil, Walcott, Cazorla, Giroud.
Tottenham Squad News
Out:
None
Harry Kane used to wear my lucky number of 37.
He doesn't anymore.
Algeria's 3-1 loss to the Ivory Coast in the Africa Cup of Nations quarterfinal means that Nabil Bentaleb has returned to Tottenham from international duty and could be available to start. It also means that Spurs have a completely full squad; everyone on their roster is available for selection, which is something I've read about in fables but have never actually seen in following Arsenal. Apparently, it
is
possible.
Without any injury concerns, Mauricio Pochettino is not likely to shake-up his squad too much, considering they handily defeated West Bromwich Albion 3-0 a week ago. Bentaleb might slip in for Paulinho, in the only change I can envisage. It looks like the onus will be on Arsenal's midfield to keep the ball away from Christian Eriksen and Harry Kane. Kane has 20 goals across all competitions this year, 10 of which have come in the league.
Predicted XI:
Lloris, Walker, Fazio, Vertonghen, Rose, Mason, Bentaleb, Dembele, Lamela, Eriksen, Kane.
Current Form
I made this a long time ago. Seems relevant...
Two schools of thought here: one says form goes out the window in a derby (if you like cliches,) the other says both clubs are in such good form that they could cancel each other out. The Premier League "club form guide" is a table determined by points earned over clubs' six most recent fixtures. On that table, Liverpool are first (which surprised me) with 16 points over their last six (they're unbeaten in seven,) Arsenal are second with 15 points, and Tottenham are tied with Southampton for third with 13.
Arsenal have won three straight in the league for the first time this season and have extended their winning streak to five across all competitions. Their five-goal victory last weekend was their first league win by such a margin since the 6-1 win over Southampton in September of 2012. The last time Arsenal won by five or more goals while also keeping a clean sheet? 5-0 over Leyton Orient in an FA Cup replay in March of 2011.
Spurs' form would look better on paper if they had not lost to Crystal Palace on January 10. That loss is Tottenham's only loss over their last nine league fixtures, dating back to a 3-0 loss to Chelsea in early December. They have, however, complained of fixture congestion of late, which is a necessary consequence of competing in Europe and advancing to the League Cup Final. Their league form has not suffered, however; Spurs have climbed from 10th to 5th in the table since early December.
Match Facts
Tomas Rosicky scored two of Arsenal's four goals against
Spurs last year, including this thunderbolt from this
corresponding fixture.
Arsenal had the better of play in the reverse fixture, to the tune of 69% possession and a 16-6 advantage in shots taken, but it was Spurs who blew a 1-0 second half lead. Alex Oxlade-Chamberlain's goal a quarter of an hour from time canceled out Nacer Chadli's opener, as the rivals played out a 1-1 draw at the Emirates on September 27. Arsenal's rhythm had been heavily disrupted in the first half by injuries to Mikel Arteta and Aaron Ramsey.
The Gunners' record at White Hart Lane has been miserable in recent seasons, though they did win this fixture last year 1-0, thanks to a Tomas Rosicky goal scored at the 72-second mark. Spurs had 59% of the possession and outshot Arsenal 17-7, giving it a fairly similar vibe to this season's fixture with the teams switched. Only two of Spurs' 17 shots were on target.
Prior to last year's win, Arsenal had failed to win within 90 minutes in their last seven matches at the Lane. The Gunners did win in the League Cup in 2010, though it required extra time. Otherwise, Arsenal had drawn two and lost four in road games at Spurs dating back to a 3-1 win in the fall of 2007. Arsenal have won just two of their last nine league visits to White Hart Lane.
The Referee
Here's a good image of Spurs' fury with Atkinson and it's
not even from the FA Cup semifinal I mention...
The referee is West Yorkshire-based Martin Atkinson. Arsenal have seen Atkinson twice already this season, for the 2-0 loss at Chelsea in October and the 2-1 win over Queens Park Rangers on Boxing Day. His well-deserved red card to Olivier Giroud was one of three Atkinson has shown this season. The win over QPR snapped an Arsenal three-match losing streak with Atkinson in the middle.
Tottenham do not have a great history with Atkinson, punctuated by a 5-1 FA Cup semifinal loss to Chelsea in 2012; Chelsea went ahead 2-0 on a Juan Mata goal that did not cross the line. Spurs went on to implode from there. The following season, Spurs had a record of one win, one draw, and two losses with Atkinson in the middle. They only saw him once last year, for a 3-1 win at Swansea.
This will be his first Tottenham match of this season and his first match at White Hart Lane in 27 months.
Around the League
Saturday: Aston Villa v. Chelsea; Villa Park, Birmingham
Saturday: Leicester City v. Crystal Palace; King Power Stadium, Leicester
Saturday: Manchester City v. Hull City; Etihad Stadium, Manchester
Saturday: Queens Park Rangers v. Southampton; Loftus Road, London
Saturday: Swansea City v. Sunderland; Liberty Stadium, Swansea
Saturday (late): Everton v. Liverpool; Goodison Park, Liverpool
Sunday (early): Burnley v. West Bromwich Albion; Turf Moor, Burnley
Sunday: Newcastle United v. Stoke City; St. James' Park, Newcastle upon Tyne
Sunday (late): West Ham United v. Manchester United; Boleyn Ground, London
--
John Painting is a contributing writer to The Modern Gooner and he hates Tottenham and he hates Tottenham. You can follow him on Twitter @zorrocat if you also hate Tottenham and you hate Tottenham, as we are the Tottenham haters. You know, generally as a fan base. Rivalry and all that.