Sunday, February 15
11:00 a.m. EST, 16:00 GMT
Match Officials

Referee: Mike Dean
Assistants: Stuart Burt and Andy Garratt
4th Official: Oliver Langford

All-Time in All Competitions: 63 Arsenal wins, 33 Middlesbrough wins, 33 draws
All-Time in the FA Cup: 5 Arsenal wins, 2 Middlesbrough wins, 1 draw
Arsenal's Path Here

Third Round: Beat Hull City, 2-0
Fourth Round: Beat Brighton & Hove Albion, 3-2

Middlesbrough's Path Here

Third Round: Beat Barnsley, 2-0
Fourth Round: Beat Manchester City, 2-0

Arsenal's Premier League Form: L-W-W-W-L-W
Middlesbrough's Championship Form: D-W-W-W-W-W
Theo Walcott always does the "arms out like airplane wings"
celebration.
Arsenal rebounded from last weekend's derby loss with three points, though they were not exactly earned in the most comfortable fashion. Leicester City put up a strong fight in the second half and Arsenal looked devoid of confidence despite their 2-0 halftime lead.
Attention switches now to Arsenal's defense of the FA Cup as they play host to Championship leaders Middlesbrough on Sunday. If you look at a full table of English football, level-by-level, Middlesbrough occupy the spot directly beneath Leicester City, but facing off against last place in the Premier League is much different than first place in the Championship. The Boro are on fire, to the tune of six straight wins, including one over Manchester City in the previous round.
Arsenal will know they can take nothing for granted against an opponent that bounced City. Let's hope they can find their first half confidence from Tuesday and hold onto it for 90 minutes this time around.
Arsenal Squad News
Out: Ramsey (hamstring,) Oxlade-Chamberlain (groin,) Debuchy (shoulder,) Arteta (calf,) Diaby (calf)
Doubts: Alexis (knee,) Wilshere (ankle)
He looks grumpy.
When Aaron Ramsey pulled up injured on Tuesday, my immediately thought was, "April. He'll be back in April." It turns out, it is a recurrence of his hamstring injury and will see him out for at least four weeks. Factor in a slow return to training and, yeah, late March at best for the Welsh midfielder's return. The good news is that evidence of the bionic nature of Alexis Sanchez has returned; he should be available despite taking a heavy knock to the knee on Tuesday.
The question is, how much will Arsene Wenger rotate the squad? Boro are probably playing better football right now than Leicester City. Wojciech Szczesny is currently the cup keeper and should get the start. Calum Chambers and Kieran Gibbs could come into the back line, but I wouldn't start Gabriel just yet. Tomas Rosicky might retain his place, with Aaron Ramsey hurt and Jack Wilshere not yet 100%. Olivier Giroud should come back into the attack, while Danny Welbeck could come in for Theo Walcott.
Predicted XI: Szczesny, Chambers, Mertesacker, Koscielny, Gibbs, Coquelin, Rosicky, Ozil, Welbeck, Cazorla, Giroud.
Middlesbrough Squad News
Out:
Forshaw (cup tied,) Ayala (thigh,) Williams (Achilles,) Damia (knee,) Carayol (knee)
If you thought Arsenal players were unlucky with injuries,
Rhys Williams returned to the starting lineup
for literally two minutes.
Manager Aitor Karanka, who spent three years as Jose Mourinho's assistant at Real Madrid before taking the Boro job, made seven changes to the side that beat Charlton last weekend for their midweek win at Blackpool. In the process, however, the club lost center back Daniel Ayala to a thigh injury; the Spaniard could miss three to four weeks.
Boro, however, are secure at the position and will likely start Kenneth Omeruo and Ben Gibson. Tottenham loanee Ryan Fredericks should return to the right back position and George Friend should return on the left. In goal, Karanka is expected to continue to use his cup goalkeeper, Tomas Mejias.
Adam Clayton and Grant Leadbitter anchor the center of midfield, while a start could be in the cards for Patrick Bamford. Bamford, on loan from Chelsea, scored the opener in Boro's 2-0 win at Manchester City in the previous round.
Mustapha Carayol has been out since last March after suffering ligament damage in his knee. He's on the comeback trail now and was supposed to play in a reserve cup tie earlier this week, though that did not come to fruition. Right back Damia Abella has been out since September with an ACL injury of his own. Rhys Williams ruptured his Achilles in the FA Cup tie against Barnsley in January; it was his first start since sustaining a similar injury 11 months prior and he lasted all of two minutes. Adam Forshaw, purchased from Wigan on January 28, is cup tied.
Predicted XI:
Mejias, Fredericks, Omeruo, Gibson, Friend, Clayton, Leadbitter, Adomah, Vossen, Tomlin, Bamford
Current Form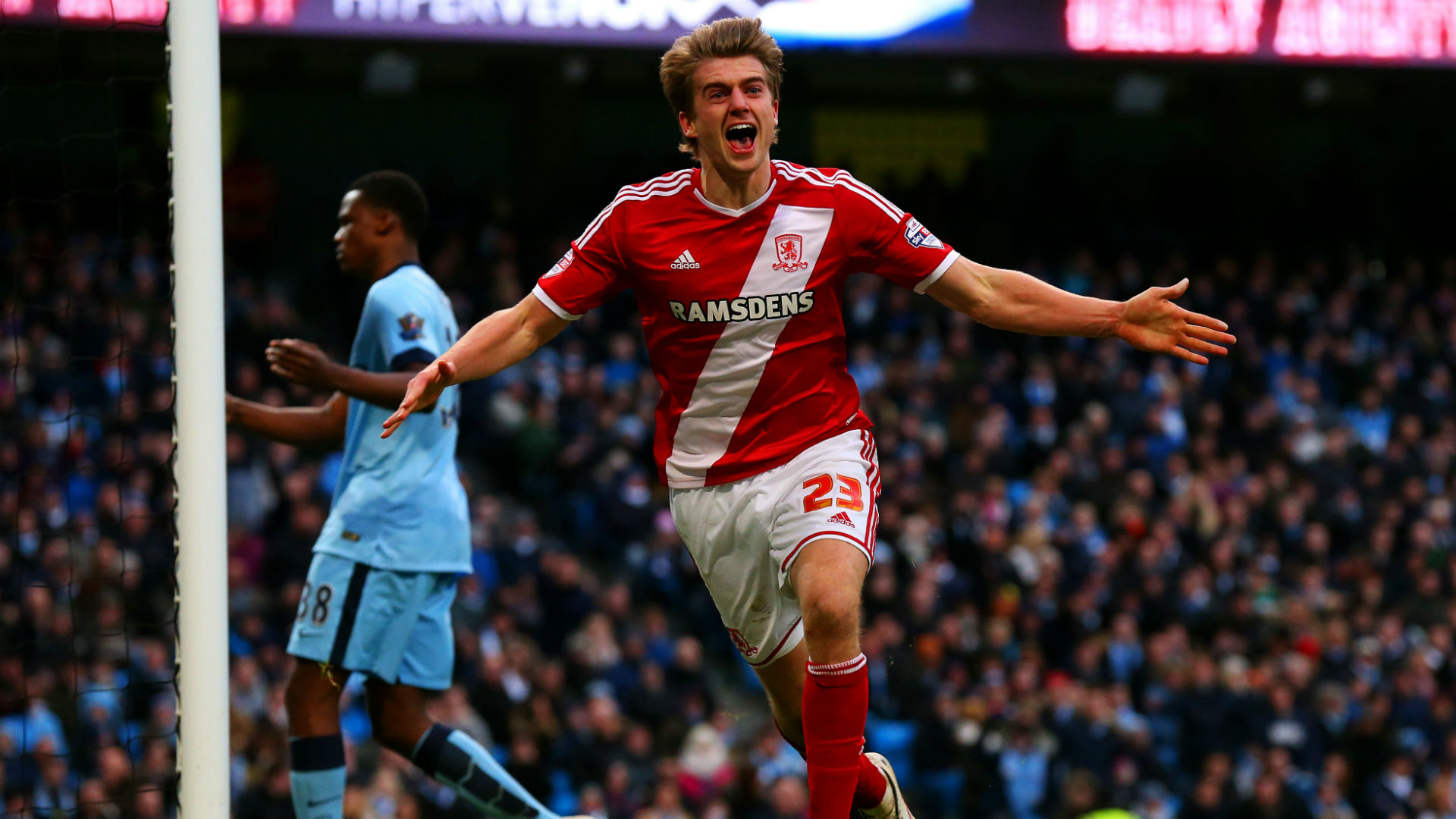 BAMford.
The puzzle that is Arsenal's form continues; Arsenal have lost eight matches across all competitions this season and, thanks to Tuesday's win over Leicester, have only once lost consecutive matches. Of more significance to this upcoming match, however, is Arsenal's home form: Arsenal have only lost twice at the Emirates this season in 18 home matches, to Southampton in the League Cup and to Manchester United in the league.
Arsenal are in an interesting string of fixture scheduling as well at the moment. Provided this cup tie does not require a replay, Arsenal will end up playing eight straight matches within the confines of London. That string could reach 10 if Arsenal win this match on Sunday and get drawn at home in the next round, before they travel to Monaco on March 17.
Across all competitions, Middlesbrough have lost only twice since August: 2-0 at Wolves on October 21 and 2-1 at Ipswich Town on December 20. They also lost to Liverpool in the League Cup, but that was in a penalty shootout, which is considered a draw for the purposes of discussing form. That's two losses in 29 matches, including 18 wins and nine draws. In the Championship, they have won five straight, including a 2-1 win on Tuesday at Blackpool. The Boro have climbed the table, from 16th on August 30, to first place as of now.
Match Facts
Boro equalizes against Almunia's bad hair.
Arsenal and Middlesbrough have not met since the Boro were relegated in 2008/09. The last time these two sides met was at the Emirates on April 26, 2009; Cesc Fabregas scored twice as Arsenal won 2-0. The reverse fixture at Riverside Stadium in December of 2008 was a damaging 1-1 draw, where ex-Arsenal striker Jeremie Aliadiere canceled out Emmanuel Adebayor's opener. At the time, the draw left Arsenal eight points adrift of the top spot in the league and while it would prove to be the third match in an 21-match unbeaten run in the league, Arsenal drew nine of those and never climbed higher than fourth.
The two clubs have met seven times in the FA Cup, with Arsenal winning five of the seven ties. Most recently, the clubs met in 2004, with Arsenal advancing by a 4-1 scoreline. Boro would exact revenge a week later, knocking Arsenal out of the League Cup semi-final. The sides also met in the 2002 FA Cup semi-final at Old Trafford, with Arsenal winning 2-0, en route to the "It's only Ray Parlour" win over Chelsea in the final. Arsenal also defeated Boro in 1930, 1983 (via a replay,) and 1998. Boro's FA Cup victories over Arsenal came in 1977 and 1984.
The Referee
Vincent Kompany thrusts his complaint at Dean regarding
the first half penalty that gave Arsenal a 1-0 lead.
The referee is Wirral-based Mike Dean. Arsenal's negative string of results with Dean in the middle feels like it's in the ancient past now, especially after Dean was in charge of Arsenal's 2-0 win over Manchester City at the Etihad last month. Dean was also in charge of Arsenal's 2-1 loss to Manchester United in November; that loss snapped an Arsenal five match unbeaten streak with Dean as the referee.
Dean has worked three matches this season involving Championship clubs (two Championship matches and last round's Aston Villa v. Bournemouth match.) Middlesbrough have yet to have him for one of their matches. The Boro have not seen Mike Dean since November 29, 2011 when he took charge of a 2-0 loss to West Ham United at Riverside Stadium.
Around the Fifth Round
Saturday (early): West Bromwich Albion v. West Ham United; The Hawthorns, West Bromwich
Saturday: Blackburn Rovers v. Stoke City; Ewood Park, Blackburn
Saturday: Derby County v. Reading; iPro Stadium, Derby
Saturday (late): Crystal Palace v. Liverpool; Selhurst Park, London
Sunday (early): Aston Villa v. Leicester City; Villa Park, Birmingham
Sunday: Bradford City v. Sunderland; Coral Windows Stadium, Bradford
Monday (night): Preston North End v. Manchester United; Deepdale, Preston
--
John Painting is a contributing writer to The Modern Gooner and the longest running sitcom in history. You can follow him on Twitter @zorrocat for all 10,247 episodes.