Wednesday, February 25
2:45 p.m. EST, 19:45 GMT
Match Officials from Germany

Referee: Deniz Aytekin
Assistants: Guido Kleve and Markus Häcker
4th Official: Christoph Bornhorst
Additional Assistants: Tobias Welz and Christian Dingert

All-Time in All Competitions: First competitive meeting
Arsenal's European Form: L-W-W-D-W-W
Monaco's European Form: W-D-D-L-W-W
Arsenal, represented by this faceless
yellow blob creature for some reason,
will have to juggle three competitions
at once for the coming weeks.
Last weekend, Manchester United, Southampton, and Tottenham Hotspur all dropped points, leaving the door open for Arsenal to take sole possession of third place in the table with 12 games remaining. That's great!
I'm here to tell you that, at this moment, that's totally irrelevant.
Welcome to the "multiple personalities" portion of the Arsenal season, as the Gunners resume fighting on three fronts: the league, the FA Cup, and the Champions League. When you try to look at the grand scheme of all of this while also adhering to the "one game at a time" cliche mantra, it gets a little complicated around this time of year. Arsenal are nicely poised for a good finish to the season if they can maintain their current form (or improve on it a bit; some of the matches have been getting a little dicey lately.)
First things first, Arsenal will attempt to put one foot in the Champions League quarterfinals with a good result in tonight's Round of 16 first leg against Monaco. The Gunners have not been to the last eight of this competition since 2010 and will be pleased to have drawn Monaco rather than some of the other big boys, though that doesn't mean it'll be a cakewalk. Monaco's defense is one of the stingiest in football. Arsenal's attack force will have to be at their creative best to set themselves up nicely for the second leg.
Snatch a goal or two and don't concede a critical away goal. That's the plan.
Arsenal Squad News
Out:
Wilshere (match fitness,) Ramsey (hamstring,) Oxlade-Chamberlain (groin,) Debuchy (shoulder,) Arteta (calf,) Diaby (calf)
Touchdown!
No new injuries to contend with after the weekend win in South London; the only change to the available squad is that Jack Wilshere, who did not make an appearance from the bench on Saturday, was held out of training this week and will be out due to a lack of match fitness. There were questions about the fitness of Hector Bellerin (ankle) and Mathieu Flamini (hamstring) going into the Palace match as well; the Spaniard made the bench while the Frenchman did not, so I suspect the former could slip back into the XI tonight.
At home against an opponent with a defense as vaunted as Monaco's, I would expect Arsene Wenger to continue with the attack-heavy midfield formation that has started the last two matches. The question of Theo Walcott or Danny Welbeck is likely left to how much defensive coverage Wenger will feel like he needs. I've read that David Ospina might have a back problem, but I cannot find that information corroborated anywhere; I am merely including it for the sake of leaving no stone left unturned.
Remember, Olivier Giroud is available again after he had not been registered with UEFA for the group stage.
In addition, both Mathieu Flamini and Nacho Monreal are one yellow card away from an accumulation suspension.
Predicted XI:
Ospina, Bellerin, Mertesacker, Koscielny, Monreal, Coquelin, Cazorla, Ozil, Alexis, Walcott, Giroud.
Monaco Squad News
Out:
Bakayoko (thigh,) Traore (broken leg)
Doubts:
Kurzawa (bruised leg,) Ferreira-Carrasco (thigh,) R. Carvalho (calf,) Raggi (knee)
Suspended:
Toulalan (one match, accumulation)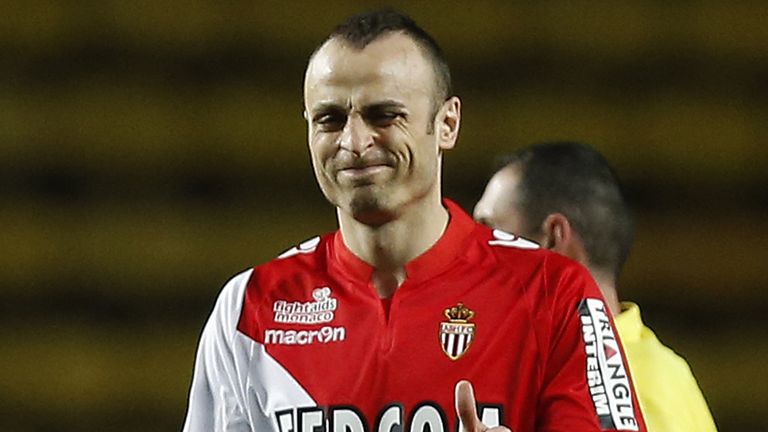 Dimitar Berbatov scrunch face.
Monaco could be without up to seven players for tonight's match, though only two of the injuries are long-term: midfielder Tiemoue Bakayoko is out with a thigh injury while striker Lacina Traore is out with a fractured tibia. The visitors will also be without their holding midfielder and captain, Jeremy Toulalan, who will serve a one match suspension for yellow card accumulation.
Speaking of yellow cards, both Yannick Ferreira-Carrasco and Layvin Kurzawa will incur a one match ban for their next booking, but both are doubts for this match themselves, with a thigh injury and a bruised leg, respectively. Ex-Chelsea center back (and 36-year-old) Ricardo Carvalho and Italian right back Andrea Raggi are both doubts due to a lack of match fitness as they return from calf and knee injuries, respectively.
Predicted XI:
Subasic, Fabinho, Abdennour, Wallace, Kurzawa, Moutinho, Kondogbia, Silva, Dirar, Ferreira-Carrasco, Berbatov.
Current Form
Bastia's Sebastien Squillaci (!) celebrates his penalty, which
eliminated Monaco from France's League Cup in the semis.
For the fourth time this season, Arsenal have won three straight matches across all competitions. Three of those four streaks have come over the course of the last 19 matches. Since Arsenal lost to Manchester United on November 22, the Gunners have won 15, drawn one, and lost three out of those 19 games. They are also a perfect nine-for-nine at home in that span.
While we're on the subject of "form since late November," since Monaco lost to Rennes on November 29, they have won 12, drawn four, and lost one of their 17 matches. During that span, they have conceded all of three goals: one to Lyon in the French League Cup (a goal which, itself, came in extra time and not the regular 90 minutes; Monaco won on penalties,) one to Guingamp on February 8 in a 1-0 loss, and one to Rennes in a French Cup win a few days later.
The loss to Guingamp constituted the end of a blip on the radar for Monaco, as they had played two consecutive scoreless draws before that. The second of those draws came in the League Cup semi-final against Bastia, which Monaco lost on penalties. Sebastien Squillaci scored the winning penalty for Bastia in the shootout.
With Radamel Falcao now at Manchester United on loan, Monaco struggle to score goals. Monaco won Group C with 11 points, winning four and drawing one despite only scoring four goals in six games. They conceded just once, in a 1-0 loss at Benfica.
Match Facts
Arsenal lost to Monaco 1-0 in the Emirates Cup because
Martin Atkinson decided that this happened outside the box.
Arsenal and Monaco have never met before in a competitive fixture. The two sides did meet this summer in the Emirates Cup, however, with Monaco winning 1-0 thanks to a Radamel Falcao goal. Of course, he's on loan at United now, so that point is pretty much moot.
This is Arsenal's 15th trip to the Round of 16 over the last 16 years, however, the Gunners have stumbled at this hurdle in each of the last four seasons. Arsenal have not advanced to the quarterfinals of the Champions League since 2010, when they defeated Porto 6-2 on aggregate; Arsenal won the second leg 5-0 at home after a 2-1 loss in Portugal.
All-time against French competition, Arsenal have a home record of five wins, three draws, and two losses; the Gunners lost to Auxerre in 2002 and Lens in 1998. They are unbeaten in their last six matches against French sides, taking six points from Marseille last year, six points from Montpellier the year before that, and four points from Marseille the year before that. Arsenal are unbeaten in four two-legged ties against French teams.
The last time Monaco played a competitive match in London, it was the second leg of the 2004 Champions League semifinal against Chelsea. Monaco held a 3-1 advantage after the first leg and came out of Stamford Bridge with a 2-2 draw and a 5-3 win on aggregate. Monaco went on to lose the final to Jose Mourinho's Porto, 3-0.
Monaco have an all-time record of two wins, two draws, and one loss on English soil. The loss came in their most recent match in England, 2-0 at Liverpool in the 2004 group stage.
The Referee
This is a good German referee face right here...
The match officials are from Germany; the referee is Deniz Aytekin. Because Arsenal have faced German competition so often in Europe, whether it was Bayern in the last two Rounds of 16, or Dortmund or Schalke in the group stages, this is the first time Arsenal have had a German referee since the 2010 group stage, when Wolfgang Stark took charge of Arsenal's 3-1 win at Partizan Belgrade.
Aytekin has never worked an Arsenal or Monaco match in his career. This will be his third Champions League match this season; earlier, he took charge of Barcelona's 1-0 win over APOEL on matchday one and Ludogorets' 1-0 win over Basel on matchday three.
Aytekin is German-born and of Turkish descent, so I expect Mesut Ozil to get all of the decisions.
Around Europe
Last Tuesday: Paris St. Germain 1 - 1 Chelsea
Last Tuesday: Shakhtar Donetsk 0 - 0 Bayern Munich
Last Wednesday: Basel 1 - 1 Porto
Last Wednesday: Schalke 0 - 2 Real Madrid
Yesterday: Manchester City 1 - 2 Barcelona
Yesterday: Juventus 2 - 1 Borussia Dortmund
Today: Bayer Leverkusen v. Atletico Madrid; BayArena, Leverkusen
--
John Painting is a contributing writer to The Modern Gooner and Circuit Judge for the Court of Appeals for the O'Hanlon's Circuit. You can follow him on Twitter @zorrocat for live coverage of The People v. Singing "Arsene Wenger's Red and White Army" In Close Matches.