Emirates Stadium, London
Sunday, March 1
9:05 a.m. EST, 14:05 GMT
Match Officials

Referee: Andre Marriner
Assistants: Scott Ledger and Darren Cann
4th Official: Robert Madley

Reverse Fixture: Everton 2 - 2 Arsenal
This Match, Last Year: Arsenal 1 - 1 Everton
All-Time in All Competitions: 99 Arsenal wins, 59 Everton wins, 45 draws
Arsenal's League Form: W-W-W-L-W-W
Everton's League Form: D-D-W-D-L-D
Arsenal's 3-1 loss to Monaco on Wednesday has left many questioning Arsene Wenger's tactics yet again. But, let me ask you: at home, in the first leg of a two-legged tie against a team with one of the stingiest defenses in the world, what are you supposed to do?
In my match preview, I suggested you have to attack. This is the game where you are more likely the score the precious few goals you need to win the tie.
Arsene Wenger's team selection and tactics did that. Monaco adapted, they knew it was coming. Of course they knew it was coming. And ultimately, the match was decided on three factors:
Arsenal created more scoring chances than expected, but wasted nearly all of them.
Arsenal's defense crumbled in "oh so Arsenal" fashion when under pressure.
Monaco executed their game plan well, though not perfectly (Arsenal would not have had so many chances to miss if they had played perfectly.)
That's it. Arsenal's tactics were not wrong, they just didn't work. If Olivier Giroud hadn't been an omnishambles, we'd be having a different conversation right now. That means it's mostly #2 that should keep you up at night. But that's a discussion for others to have. Also, I firmly believe that things like this should not keep you up at night.

Anyway, Arsenal return to the league against an Everton side that have struggled domestically this season but are now the only English side left in the Europa League knockout phase (which might be a bad thing.) The Gunners sit pretty in third and control their own destiny, but anything can happen in the remaining 12 games, especially now that Liverpool and Spurs have crashed out of Europe.

Back to basics and all that. I would love love love to see a defensively calm and controlled 1-0 win on Sunday.


Arsenal Squad News
Out:
Ramsey (hamstring,) Debuchy (shoulder,) Arteta (calf,) Diaby (calf)
Oh, I'm sorry, is this distracting?
As I'm typing this, it's only 24 hours or so after "The Unpleasantness," so there isn't much in the way of team news (and there isn't any updated news for Everton, who are literally about to kick-off in the Europa League as I'm typing this sentence.) So, these next two sections are going to be... worse... than usual.
Now I'm thinking of ways of distracting you so you don't notice how bad it is...
Anyway... Alex Oxlade-Chamberlain seems to be back! That was the only pleasant surprise of Wednesday. Jack Wilshere might make a cameo from the bench too. Aaron Ramsey will still be short and it's at least another month for Mathieu Debuchy, Mikel Arteta, and Abou Diaby. Possibly forever for the latter.
As for the squad, your guess is as good as mine. Was Wednesday's performance enough for David Ospina to be dropped again? I have no idea! Will there be some rotation? Probably! Arsenal do have another midweek match coming against QPR, a team that'll be well-rested after having the weekend off.
Predicted XI:
Hastily Constructed Brick Wall, Bellerin, Koscielny, A Rock, Monreal, Flamini's Sleeves, Coquelin, Three Alexis Sanchezes (Sanchi?), Omnishambles.
Everton Squad News
Out:
Oviedo (hamstring,) Hibbert (muscle)
Doubts:
Atsu (illness,) McGeady (knee,) Pienaar (match fitness)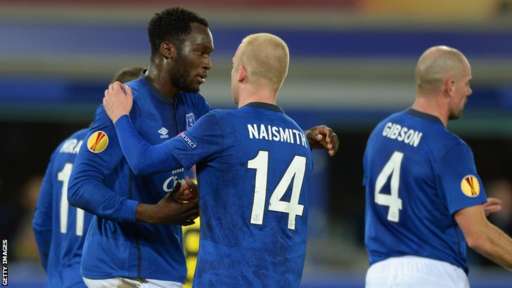 Romelu Lukaku celebrates his 43rd goal of the tie against
Young Boys.
In injury news building up to Everton's match yesterday against Young Boys, Steven Pienaar and Leon Osman both faced fitness tests as they returned from knee and ankle injuries, respectively. Osman made the bench, but Pienaar did not. Both featured for the reserves last week.
Christian Atsu missed out through illness and could miss Sunday as well. Aiden McGeady, whose name could only be more Irish if his middle name were Paddy (it's John, FYI,) did not play at all in the month of February with a knee injury.
Bryan Oviedo is expected to still be out with a hamstring injury, which he suffered in the first leg of the Europa League Round of 32 against Young Boys. Tony Hibbert is likely out with a muscle injury.
As you can see in the pictures, by this point of typing the preview I've gotten to where Lukaku scored eight more goals... After I typed that, he came out for the second half but limped off after three minutes... Hmmmmmmmm.
Predicted XI:
Howard, Jagielka, Coleman, Stones, Baines, McCarthy, Besic, Barkley, Naismith, Mirallas, Lukaku.
Current Form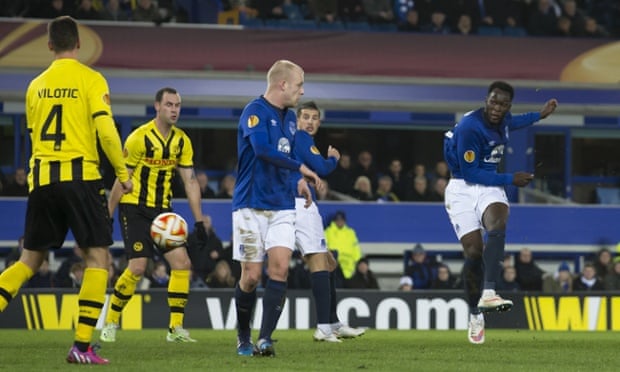 Young Boys clearly stole their kits from Dortmund.
This, by the way, was Lukaku's 44th goal of the tie.
Arsenal are having one of those seasons where every incremental gain they manage in terms of form over the course of a two- or three-game winning run gets canceled out by one disastrously abject performance, such as Wednesday night. Before Wednesday, Arsenal had won 15 of their last 19 matches across all competitions. Now, the general vibe is that they are a team of human garbage that have lost one of their last one and should be fired out of their own cannon into the Sun. Not that I'm exaggerating for comic effect or anything...
So, let's talk about Everton, shall we? Many of their fans may think they are a team of human garbage that have won once in the league in 2015 and should be fired out of the cannon I mentioned before into their own sticky, sticky toffee. I have totally gone too far with this joke. Better reel it in...
To be honest, of course I cannot actually speak on behalf of Everton supporters about their clubs form, but the Toffees are just six points clear of relegation. In 12th place, they have yet to win on the road this season against a team that is above them in the table. They have won just two of their last 14 league matches.
A large portion of Everton's struggles this season have come down to the ol' European hangover. The Toffees have taken eight of a possible 21 points (38%) from weekend matches that followed Thursday night Europa League matches, and six of those eight points were earned against Burnley and QPR. Compare that to Arsenal's 14 of a possible 24 points (58%) from their weekend matches following Champions League games; they've lost only two of the eight, both away from home.
Arsenal have earned 61.5% of possible points in the league overall this season, so their success rate following European matches is not significantly worse than their season average. Everton's season average is actually worse overall, at 36.8%, which could imply that the fixture congestion is having a lingering effect.
Match Facts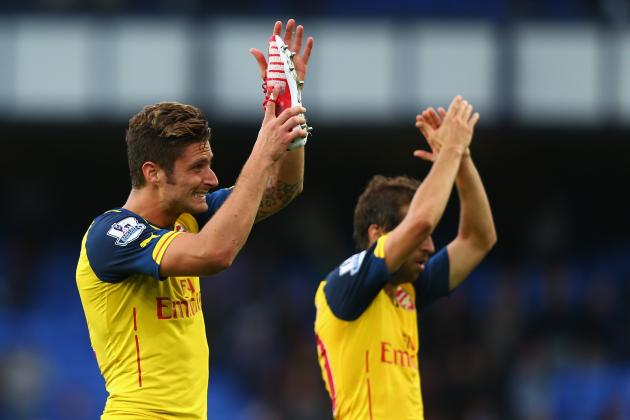 Olivier Giroud applauds the fans after the 2-2 draw in August.
You can see in his face that he's in pain, while he walks
around on a leg that's broken.
The reverse fixture, played back in August during the second week of the season, started out much like last season's match at Goodison Park, as the Toffees jumped out to a 2-0 lead through Seamus Coleman and Steven Naismith. Arsenal left it late, but an 83rd minute Aaron Ramsey goal and 90th minute Olivier Giroud goal earned Arsenal a gutsy point. The luster was lost a bit, however, as Giroud broke his leg on an innocuous attempt to block a clearance and the Frenchman went on to miss three months.
Last season, Arsenal and Everton played twice at the Emirates. In the league match, Arsenal led 1-0 through Mesut Ozil but conceded an equalizer just four minutes later and were resigned to a 1-1 draw. In the FA Cup, Arsenal won 4-1 with goals from Ozil, Mikel Arteta from a penalty he had to retake, and two from Giroud off the bench.
Everton are winless in their last 20 trips to the Emirates/Highbury, dating back to January 20, 1996. They have drawn each of the last two league meetings in North London, however, and four of the last eight.
The Referee
"Is that the right guy...??? Yeah, totally. Nailed it."
The referee is West Midlands-based Andre Marriner. Arsenal's recent history with Marriner is pretty well known after he sent off the wrong man in the 6-0 loss at Chelsea last season. Arsenal have seen Marriner once this year for the 1-0 win over Southampton in early December. Kieran Gibbs remained on the bench for that one, while Alex Oxlade-Chamberlain was removed for Olivier Giroud in the 65th minute.
Three days after that match at the Emirates, Marriner took charge of Everton's 1-0 loss at Manchester City, his second Toffees match of the season. In October, he was in the middle for their 3-1 win over Burnley at Turf Moor.
Around the League
Saturday (early): West Ham United v. Crystal Palace; Boleyn Ground, London
Saturday: Burnley v. Swansea City; Turf Moor, Burnley
Saturday: Manchester United v. Sunderland; Old Trafford, Manchester
Saturday: Newcastle United v. Aston Villa; St. James' Park, Newcastle upon Tyne
Saturday: Stoke City v. Hull City; Britannia Stadium, Stoke-on-Trent
Saturday: West Bromwich Albion v. Southampton; The Hawthorns, West Bromwich
Sunday (very early): Liverpool v. Manchester City; Anfield, Liverpool
Sunday (late): Chelsea v. Tottenham Hotspur; Wembley Stadium, London (League Cup Final)
Not Playing: Leicester City and Queens Park Rangers
John Painting is a contributing writer to The Modern Gooner and exhibits the properties of not only particles, but also waves. You can follow him on Twitter @zorrocat where he posts with a frequency of
[m0c2 / h] / sqrt (1 - [v2 / c2]), where c, of course, is the speed of light.