Turk Telekom Arena, Istanbul
Tuesday, December 9
2:45 p.m. EST, 19:45 GMT
Match Officials from Spain

Referee: David Fernandez Borbalan
Assistants: Raul Cabanero Martinez and Jose Miranda
4th Official: Teodoro Sobrino
Additional Assistants: Fernando Teixeira and Javier Estrada

Reverse Fixture: Arsenal 4 - 1 Galatasaray
All-Time in All Competitions: 1 Arsenal win, 1 draw
Arsenal's European Form: W-L-W-W-D-W
Galatasaray's European Form: L // D-L-L-L-L
Where's the forest? All I can see are trees.
Arsene Wenger always insists that his record per season should be judged in May and I think that's a pretty reasonable suggestion. If you judge a team wholly after every single match, then emotions are bound to sway you too far in one direction. You can't see the forest for the trees until the full picture comes into focus.
With all the talk of various "brigades" among Arsenal fans, I've always found myself more in line with Gingers for Limpar's humorous "Arsene Knows a Lot But Admittedly Has His Faults" brigade. Wenger's tactical decisions drive me mad sometimes, but I'm also convinced that Arsenal would be no better without him, at least over the remainder of this season. Let's not forget the man's strengths, either; it's hard to imagine we'd have Alexis Sanchez this season without Wenger's involvement in the transfer.
Anyway, that's an argument I really don't want to touch with a ten-foot pole; both extremes are so entrenched in their beliefs that the whole thing becomes a ridiculous shouting match. Let's get back to what this feature focuses on: the next upcoming fixture.
There's so little at stake here on matchday six that any result is not likely going to be a panacea for the Gunners' woes. There's some good news in the squad with the return of Mathieu Debuchy, so let's remember to leave this match alone as what it is: dead rubber.
Group D Scenarios
Arsenal can still win the group with a victory and a Dortmund loss to Anderlecht. If Dortmund and Anderlecht draw, Arsenal can only win the group if they defeat Galatasaray by six goals or more; the Turks have never lost by that wide of a margin at home in Europe.

Let's just remember that even if Arsenal win the group, they'll probably end up drawing whoever comes second between PSG and Barcelona anyway.
Arsenal Squad News
Out: Alexis (rest,) Cazorla (rest,) Koscielny (rest,) Gibbs (rest,) Welbeck (rest,) Giroud (unregistered,) Monreal (ankle,) Rosicky (hip,) Arteta (calf,) Wilshere (ankle,) Walcott (groin,) Diaby (???,) Ospina (thigh,) Ozil (knee)
Some people were pretty upset that Tomas Rosicky didn't even
make the bench on Saturday. I mean, it was because he
was hurt, but why let the facts get in the way of anger?
Arsenal have taken the unprecedented step of announcing who their starting XI is going to be a day in advance; this likely comes because 1) there are only 18 players on the plane and 2) the entire bench is made up of reserves. You probably could've picked the XI from the list with your eyes closed. With at least four first-team players being intentionally rested, that bloats the "out" list to 14 players.
The biggest surprise is the return of Mathieu Debuchy to the starting XI; the French right back has been out for almost three months. Wojciech Szczesny returns to the lineup as well as Emiliano Martinez will drop to the bench. Laurent Koscielny, Kieran Gibbs, and Nacho Monreal all will not make the trip.
A few news outlets tried to compound Arsenal's misery by announcing that Jack Wilshere will now be out until March. Considering that in
my West Brom preview
, dated November 28, Wilshere was going to be out for "three months," that means he was always set to be back in March. This is strongly reminiscent of the announcement in November that said that Mesut Ozil was going to be out six more weeks, even though that announcement came six weeks after Ozil was going to be out for 12 weeks. That's just subtraction.
The media banks on the (sadly accurate) belief that most people don't pay attention to the details, then compound their fears with information that isn't even news. Two weeks ago, it was news that Jack Wilshere could be out until March. Now it's just repetition.
The sheer number of injuries to the side means that Arsenal can't rotate that much in midfield. Tomas Rosicky trained yesterday, but is not fit to make the trip. Alexis Sanchez and Santi Cazorla will be rested. Olivier Giroud is ineligible and Danny Welbeck will not make the trip, meaning the forward trio will be Yaya Sanogo, Lukas Podolski, and Joel Campbell. I'd expect Alex Oxlade-Chamberlain to start centrally.
Expected XI:
Szczesny, Debuchy, Mertesacker, Chambers, Bellerin, Flamini, Ramsey, Oxlade-Chamberlain, Campbell, Podolski, Sanogo.
Galatasaray Squad News

Out: Dzemaili (hamstring)
Suspended: İnan (one match, two bookings)

Blerim Dzemaili is Cimbom's only player missing through injury; he picked up a hamstring injury in training with the Swiss national team during the last international break. In addition, new manager Hamza Hamzaoglu will be without Selcuk İnan in his first European match in charge of the club; İnan was sent off for two bookings on matchday five at Anderlecht.

Predicted XI: Muslera, Camdal, Kaya, Chedjou, Telles, Felipe Melo, Kurtulus, Altintop, Sneijder, Bulut, Burak Yılmaz.
Current Form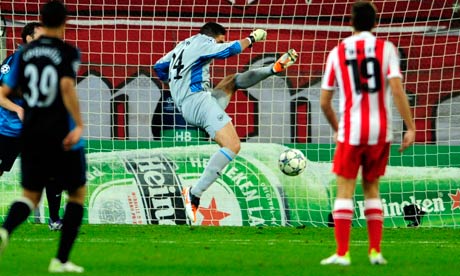 Vito Mannone shows off some skillz on a matchday six
long past...
Arsenal's day to forget at Stoke marked only the second time this season the Gunners have conceded three in a match; the other occasion was on Champions League group matchday four against Anderlecht. Both of those matches snapped Arsenal's two three-match winning streaks of the season.
It's now matchday six, so often dead rubber for the Gunners, to the point where they have lost three straight Champions League matches in the month of December. Arsenal's last matchday six victory came against Partizan Belgrade in 2010, a day when they still needed a result to advance. Arsenal lost 2-0 at Napoli on matchday six last year and lost in Olympiacos three times over the previous four year span in those final group fixtures. The last time Arsenal won on the road on matchday six was 1999, which was also the last time Arsenal did not progress from the group stage.
Galatasaray are second in the Turkish Super Lig despite an even goal difference on the season. They've won twice since losing to Anderlecht in Belgium on matchday five, a loss which eliminated them from further European competition this season. After that loss, manager Cesare Prandelli was sacked after just 148 days in charge. In Europe, Galatasaray are currently winless over their last seven matches.

Of Galatasaray's 18 goals scored this season across all competitions, Burak Yılmaz has scored half of them.
Match Facts
Danny Welbeck's matchday two hat trick was the first of
his senior career.
Arsenal ran rampant against Galatasaray at the Emirates on matchday two; Danny Welbeck had a hat trick as Arsenal built up a 4-0 lead against the Turks. Wojciech Szczesny's red card put a damper on the proceedings as the visitors scored from the ensuing penalty (one of Yılmaz's nine goals on the season.) David Ospina made his second appearance for the club in relief and re-injured his thigh in the process; he still hasn't returned.
These two clubs have only met once prior in terms of competitive matches, that coming in the 2000 UEFA Cup Final, which Galatasaray won on penalties after a 0-0 draw. The less said about that day, the better.
All-time, Arsenal have a record of six wins, four draws, and no losses (aside from that penalty shootout) against Turkish competition, including a record of two wins and a draw against Turkish sides this season alone. On Turkish soil, Arsenal have a record of two wins and two draws. At home against English sides, Galatasaray have a record of three wins, four draws, and two losses. Those losses came to West Bromwich Albion in 1978 and Chelsea in 1999.
The Referee
Finally! A ref who understands that bad hair is worthy
of a red card!
The match officials are from Spain; the referee is David Fernandez Borbalan. This will be his first match for either club. He's been working in La Liga since 2004 and in international competition since 2010.
He's worked 10 Champions League matches in his career, only one of which involved a Turkish or English side; that was Manchester City's 3-2 win at Bayern Munich during last year's group stage. He's worked two Champions League matches so far in this group stage: Roma's 5-1 win over CSKA Moscow and Benfica's 1-0 win over Monaco.
He also took charge of the second leg of this year's Spanish Super Cup, which saw Atletico Madrid beat Real Madrid 1-0 and 2-1 on aggregate. He sent off Luka Modric in the 91st minute for a second yellow; it's the only red card he's shown this season.
Around Europe
Group A: Atletico Madrid travel to Italy to face Juventus knowing that just a point will clinch first place in the group. Olympiacos host Malmo in the other match and the Greeks still have an outside shot at qualifying; since Olympiacos hold the tie-breaker over Juve, they'll be through with a win and a Juventus loss.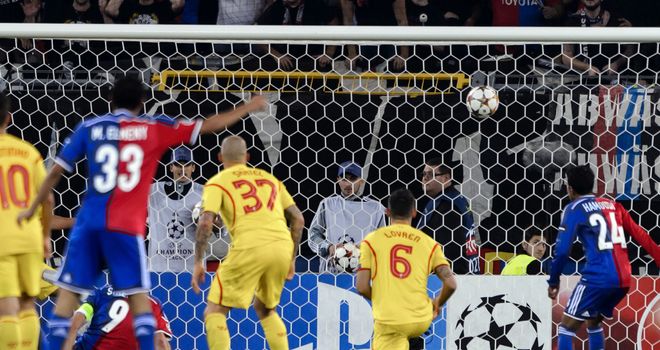 Liverpool lost to Basel in Switzerland on matchday two.
Group B:
Real Madrid have been perfect in the group and will look to take the full 18 points as they host Ludogorets Razgrad. Liverpool host Basel at Anfield; the Reds must win to advance. Even though the Bulgarian side are level on points with Liverpool, the fact that they do not hold a tie-breaker means they cannot qualify.
Group C: Bayer Leverkusen have qualified; they'll face an already eliminated Benfica in Portugal. Monaco lead Zenit St. Petersburg by a point for second place; they'll meet in Monaco where the home side are through with a win or tie. Zenit must win to advance.
Group D: In the other Group D match, Borussia Dortmund host an Anderlecht side that is guaranteed third place. Dortmund will likely win the group with a draw, unless Arsenal win by six.
Group E: Bayern Munich have won the group, even if their perfect record was snapped by Manchester City's brilliant comeback on matchday five. The German juggernaut will host CSKA Moscow, while the English champions visit Roma.
City will be without Sergio Aguero on Wednesday.
The potential tie-breakers here are complicated, because Roma, City, and CSKA all have five points. The only result that makes things less complicated is a Roma win; that would see the Italians take second place. CSKA need Roma to drop points to advance, even if they win in Germany. City will advance with a win only if CSKA doesn't win.
Roma would win a tie-breaker with CSKA Moscow, CSKA Moscow would beat Manchester City in a tie-breaker, and the winner of a Roma-Manchester City tie-breaker would depend on the score of their draw (Roma wins it with 0-0 or 1-1; Manchester City wins it with a score draw of 2-2 or higher.)
If the Roma-Manchester City and Bayern Munich-CSKA Moscow games both end in draws, leaving the three teams behind Bayern all on six points, Roma would advance from a three-team tiebreaker.
Group F: Paris St. Germain and Barcelona are both through and face each other for first place at Camp Nou; Barcelona must win to win the group, as they enter a point behind the French champions. Ajax hosts APOEL in the other match; APOEL need to win to take third.
Group G: Chelsea have already won their group; they'll host Sporting Lisbon at the Bridge. Maribor host Schalke in the other match. Sporting will take second with a win or draw in London, as they have the tie-breaker over the Germans. Schalke need a win and a Chelsea win to take second.
Group H: Porto have won the group; they host second place Shakhtar Donetsk, who are also through and can't finish anywhere other than second. Athletic Bilbao host BATE Borisov; the visiting Belarusian side need a win to finish in the Europa League place.
--
John Painting is a contributing writer to The Modern Gooner and is not very fond of brigades. You can follow him on Twitter @zorrocat,
if you like that kind of thing.