Emirates Stadium, London
Saturday, December 13
12:30 p.m. EST, 17:30 GMT
Match Officials

Referee: Lee Mason
Assistants: Stuart Burt and Andrew Halliday
4th Official: Neil Swarbrick

This Match, Last Year: Arsenal 3 - 0 Newcastle
All-Time in All Competitions: 70 Arsenal wins, 66 Newcastle wins, 38 draws
Arsenal's League Form: W-L-L-W-W-L
Newcastle's League Form: W-W-W-L-D-W
Alexis Sanchez has a tradition of going back to his hometown
with Christmas gifts every year. England's holiday fixture
list looks like it might prevent that this year.
I have a coworker from Chile whose favorite football club has always been "whoever Alexis Sanchez plays for"; I think they're actually from the same hometown. So, as you might have guessed, this is his very first season as an Arsenal supporter. It's fascinating to talk about upcoming matches with someone who doesn't spend every minute waiting for the other shoe to drop.
Anyway, in the midst of all of the fury surrounding the club after last week's loss in Stoke, he asked me how many games were left in the season and I told him 23. And he was like, "23! That's a ton! There's plenty of time! Why is everybody so pissed off?!" Again, it's that expectation that it might not get better, that the other shoe will indeed drop.
Arsenal went out on Tuesday and did what they had to do; they ripped a pretty poor Galatasaray side apart. No margin of victory would have completely turned the corner for Arsenal (it turns out, a margin of victory of six would have won the group, but if "ifs" and "buts" were candy and nuts, then something involving Christmas, or something.)
Newcastle come in riding high, after beating Chelsea 2-1 last week, but they've got a ton of injuries and suspensions to worry about. Arsenal come in riding low, but they've... got a ton of injuries and suspensions to worry about.
Let's start getting some wins together. Then we can talk about turning corners. Then we can talk about how there's plenty of time left in this season. Then maybe the other shoe won't drop.
Arsenal Squad News
Out:
Koscielny (Achilles,) Ramsey (hamstring,) Monreal (ankle,) Arteta (calf,) Wilshere (ankle,) Walcott (groin,) Diaby (???,) Ospina (thigh,) Ozil (knee)
Doubts:
Rosicky (thigh)
Suspended:
Chambers (one match, two yellows)
*Updated Below*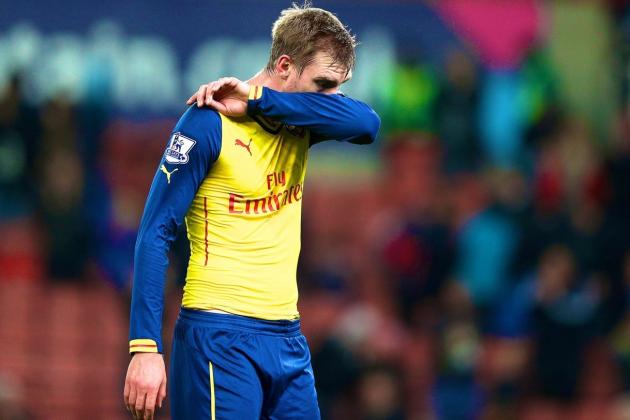 New strategy: One center back, two fullbacks...
...a ton of midfielders?
?????
Profit?
After resting a glut of players for the trip to Turkey midweek, Arsenal should be fresh as some moderately fresh daisies for this fixture. With a full week off before next weekend's match against Liverpool on the 21st, there's no excuse of fatigue.
Laurent Koscielny will hopefully come back in the squad; with his "chronic" Achilles problem, the Frenchman was rested against Stoke and Galatasaray. He's been called a "major doubt," which is less than comforting because Arsenal are running out of options; Nacho Monreal is out with an ankle problem, while Calum Chambers is suspended. At right back, Arsene Wenger has a choice to make: is Mathieu Debuchy ready for another start (and one against his old club) after playing his first 77 minutes since September midweek, or will he go with Hector Bellerin, who had a shocker at Stoke last weekend? In the middle, I have this sense that Koscielny is going to start. That might just be hope.
The midfield is full of some longer-range injuries: it's still January, at best, for Mikel Arteta and Mesut Ozil and late February or early March for Jack Wilshere. I still find it amusing that the media tried to say Jack had a "setback" while his ankle is still in a protective boot. There is no back from there! A setback from there is having surgery again.
Abou Diaby remains unavailable, but most Web sites that list injuries have completely stopped listing Diaby at all. I still don't know what he's hurt now! Theo Walcott remains out with a groin problem (remember when he played for like 10 minutes twice in November?) while Tomas Rosicky is still in the "doubtful" category with a thigh injury picked up in training last week.
Aside from what I've already discussed on the backline, I don't expect many changes to the midfield and forward corps. The Flamsey axis is the only option in the deep midfield. Aaron Ramsey appears to have shaken off the hamstring problem that saw him removed at halftime on Tuesday, while Mathieu Flamini was removed because he was on a booking (and it was 3-0...)
The only real question you can ask ahead of the defenders is Welbeck or Giroud up top? I'd personally go with the latter, but that's just a gut instinct.
Predicted XI:
Szczesny, Debuchy, Mertesacker, Koscielny, Gibbs, Flamini, Ramsey, Cazorla, Alexis, Oxlade-Chamberlain, Giroud.
UPDATE:
Well, Koscielny and Ramsey are actually out, sooooooooo.... can anybody out there play center back?
Newcastle Squad News
Out:
Elliot (thigh,) Krul (ankle,) R. Taylor (knee,) Aarons (hamstring,) Obertan (thigh,) de Jong (thigh,) Santon (knee,) Good (groin,) Gutierrez (match fitness)
Doubts:
Coloccini (calf,) Abeid (toe)
Suspended:
S. Taylor (one match, two yellows,) Sissoko (one match, accumulation)
Coloccini replaced David Luiz as "that guy with that hair"
in the Premier League this season.
Newcastle might be without as many as 13 players for this match. Let's start with the suspensions: Steven Taylor was sent off in the 81st minute of the win over Chelsea, meaning the fullback will serve a one match ban. Midfielder Moussa Sissoko had picked up his fifth yellow card of the year against West Ham two weeks ago, but the second yellow he picked up in that match means he served a one match suspension for a different reason. After getting booked again against Chelsea last weekend, Sissoko will now serve his one match ban for accumulation. Newcastle looked significantly worse without Sissoko in midfield against Burnley when he was suspended earlier, though they were also without Jack Colback in that match, as he was also suspended.
As for the doubts, captain Fabricio Coloccini has struggled for fitness lately with a thigh problem; he started against Chelsea after missing the previous three matches and remains a doubt for this one. Mehdi Abeid is on the way back from a broken toe; he was forced to play through the pain against Burnley on his return, as Sissoko and Colback were both banned. Abeid did not make the bench against Chelsea last week.
Between the poles, Newcastle are without both Tim Krul and Rob Elliot; 21-year-old Jak Alnwick deputized well in the second half against Chelsea. During that half, I couldn't find his own Wikipedia article, because apparently it had been
nominated for deletion three times
due to his lack of notability. That's not so true anymore.
The Magpies have seven (!) other absences of note, as they have been without Curtis Good, Davide Santon, and Jonas Gutierrez all season, the latter of whom may never play for Alan Pardew again despite overcoming cancer. Forward Siem de Jong has been out since August with a thigh injury. Gabriel Obertan is out until March after a thigh injury of his own. Ryan Taylor and Rolando Aarons are out with knee and hamstring injuries, respectively.
Predicted XI:
Alnwick, Janmaat, Coloccini, Dummett, Haidara, Tiote, Colback, Perez, Ameobi, Cabella, Cisse.
Current Form
Can Newcastle keep up their form with their third string
keeper between the sticks?
Arsenal really haven't had anything even closely resembling form this season. They went unbeaten in their first six, seven if you count the Community Shield, but drew four of them. Their two longest winning streaks of the year have been only three matches. They've lost six across all competitions, which, to be fair, matches how many they had lost across all matches through this weekend last year. It's the home games that have been hurting Arsenal in the table; the Gunners' home form is ninth in the league, with only three home victories.
Newcastle have won six of their last eight in the Premier League and certainly come in flying high, having become the first team this season to defeat Chelsea last weekend. The Magpies are level with Arsenal on points (23) and are behind the Gunners only on goal difference. They had won six straight across all competitions between October 18 and November 22, before a 1-0 loss to West Ham.
Match Facts
Laurent Koscielny prepares to start a really weird
celebration after opening the scoring in this fixture last year.
Arsenal took all six possible points from Newcastle last year. Just before New Year's, in the final match of the first half of the season, Olivier Giroud's second half goal stood up as the Gunners took a 1-0 win from St. James's Park. In the reverse fixture at the Emirates, Arsenal celebrated St. Totteringham's Day with a 3-0 win against a Newcastle side that was woefully out of form at the time; Laurent Koscielny, Mesut Ozil, and Olivier Giroud had the goals. On that day, the Gunners had 61% of the possession and took an astonishing 14 corners to Newcastle's zero.
Arsenal have won five straight against Newcastle and are unbeaten in their last seven against the Toon dating back to November of 2010, when an Andy Carroll header won this fixture for the visitors, 1-0. Arsenal then drew two straight visits to St. James's Park, the first of which in a rather ridiculous fashion I don't believe I really need to cover again, before winning five straight. The Gunners have kept three straight clean sheets against Newcastle as well; the Magpies have not scored against Arsenal since the 7-3 Arsenal win in December of 2012.
Newcastle were recently one of only three Premier League teams that had beaten Arsenal more times than Arsenal had beaten them, though Arsenal's run of five straight wins means the Gunners now have a 70-66 advantage. The remaining two teams in the list are Liverpool and Manchester United.
The Referee
Lee Mason sends off Mathieu Debuchy last season.
The referee is Lancashire-based Lee Mason. Arsenal are unbeaten in their last 11 matches with Mason in the middle, with wins over Everton twice, Leyton Orient in an FA Cup replay, Blackpool, Stoke City, Cardiff City, and Norwich City on the season's final day last year, plus draws against Stoke at the Britannia (that's like a win...,) Aston Villa, West Bromwich Albion, and Southampton. Arsenal's last loss with Mason as the referee came at the end of the 2009/10 season when Lukasz Fabianski helped Wigan overcome a 2-0 deficit inside of ten minutes to win 3-2.
Newcastle, unlike Arsenal, have already seen Mason once this season, for their 2-2 draw at Swansea in early October. Last year, Newcastle had Mason for their 2-0 win over Chelsea, as well as a 1-0 loss to West Brom and a 3-0 loss to Everton; it's worth noting that in the loss to West Brom, he sent off Mathieu Debuchy for what was an absolutely horrendous two-footed lunge. Incidentally, he also won the ball in the challenge at the feet of Claudio Yacob, making the challenge eerily similar to the way in which Yacob himself got sent off against Chelsea a few weeks ago... by Lee Mason!
Around the League
Saturday: Burnley v. Southampton (Turf Moor, Burnley)
The high flying Saints have gone four without a win, losing three straight as well, as they've tumbled from third to fifth. They'll hope a trip to Turf Moor cures what ails them; the Clarets are three without a win themselves, but last weekend's loss to QPR was their first since November 1 at the Emirates.
Saturday: Chelsea v. Hull City (Stamford Bridge, London)
Chelsea have not lost consecutive league fixtures since May of 2012, which came at a time when they were more focused on winning the Champions League than anything domestically. Still, for as long as their unbeaten run went this season, they are only three points clear of Manchester City. Hull come in without a win in their last eight; they're currently in the relegation zone.
Saturday: Crystal Palace v. Stoke City (Selhurst Park, London)
The Eagles have won once in their last nine, but that did come against Liverpool. Selhurst Park, like the Britannia, is not an easy place to play, though even Aston Villa and Sunderland have taken all three points there this season. Stoke have won only twice on their travels this season, though those wins came at City and Spurs.
Saturday: Leicester City v. Manchester City (King Power Stadium, Leicester)
The Foxes are bolted to the bottom of the table now that they've gone ten matches without a victory. To think, they were 7th when they beat United 5-3. A visit from Manchester City is not exactly welcome at any time for a relegation candidate; City have won six straight across all competitions since their draw at QPR.
Saturday: Sunderland v. West Ham United (Stadium of Light, Sunderland)
West Ham had a bit of a blip in November, but have since won three straight. They're still fourth in the table, and had briefly gone third when they beat Swansea at the weekend. Sunderland have climbed into 14th place after they got a point at Anfield last week. The Black Cats have lost once in their last six, but they've also only won once and drawn four.
Saturday: West Bromwich Albion v. Aston Villa (The Hawthorns, West Bromwich)
It's a West Midlands derby at the Hawthorns as 16th place West Brom host 11th place Aston Villa. Villa have been the streakiest team in the league this year; they opened the year unbeaten in four, then lost six straight, then drew three straight, and now have won two straight. Make up your mind! Meanwhile, the Baggies have just one win in their last nine.
Sunday (early): Manchester United v. Liverpool (Old Trafford, Manchester)
Manchester United have climbed to third in the table, having won five on the bounce. They'll host a Liverpool team that is unbeaten in their last five across all competitions, but also crashed into the Europa League this week and still sit ninth in the table.
Sunday (late): Swansea City v. Tottenham Hotspur (Liberty Stadium, Swansea)
Swansea, now eighth in the table, will be without the suspended Lukasz Fabianski as they host Spurs this weekend. Spurs, who are 10th, are just one point back of the Swans. I don't have much else to say about this match, except Spurs are going to have to wear some kind of change kit because Swansea also wear white. How's that for analysis?
Monday (night): Everton v. Queens Park Rangers (Goodison Park, Liverpool)
Everton are through to the knockout phase of the Europa League, though their domestic form has hurt badly this year. The Toffees enter the weekend 12th as they host QPR in the Monday night match. QPR's win over Burnley last weekend saw them move out of the bottom three for the first time since August.
--
John Painting is a contributing writer to The Modern Gooner and professional logician. You can follow him on Twitter @zorrocat, if you dare.