Emirates Stadium, London
Wednesday, November 26
2:45 p.m. EST, 19:45 GMT
Match Officials

Referee: Viktor Kassai
Assistants: Gyorgy Ring and Vencel Toth
4th Official: Robert Kispal
Additional Assistants: Tamas Bognar amd Mihaly Fabian

Reverse Fixture: Dortmund 2 - 0 Arsenal
All-Time in All Competitions: 3 Arsenal wins, 3 Dortmund wins, 1 draw
Arsenal's European Form: D-W-L-W-W-D
Dortmund's European Form: L-W // W-W-W-W
When you search for "draw
and tie," you get drawings of ties.
For future reference...
Pursuant to this section from last weekend's preview: yes, I would absolutely take a draw from this match.
Please.
Please, can we have a draw? I'm pretty sure we'd both be through to the knockout phase with a draw.
Please, please, please.
*looks up German word for please*
It's bitte?
Bitte means everything...
Arsenal Squad News
Out: Giroud (registration,) Szczesny (dead leg,) Wilshere (ankle,) Walcott (groin,) Ospina (thigh,) Ozil (knee,) Debuchy (ankle)
Doubts: Welbeck (hamstring,) Koscielny (Achilles)
I call this pose "the Arsenal."
Okay, where do I start? How about Olivier Giroud? Isn't it great that we have Olivier Giroud back? Wasn't his goal against United a beauty, even if it was too little too late?
What's that?
Oh, he's not available.
You see, when Arsenal thought that Giroud would be out until the end of December with his broken tibia, they decided to leave him off their European registration list to make room for an extra player who, you know, wasn't injured. It made sense, but now that Giroud is back faster than expected, well, that doesn't change the fact that he's not on the list. He's unavailable tonight and on matchday six in Turkey.
And now it turns out that Danny Welbeck didn't train yesterday with a hamstring problem! Well that's just great! It's a recurrence of the injury he picked up with the England squad. Theo Walcott didn't train either with his groin problem. Wojciech Szczesny is out too. At least Welbeck is supposedly in the 18-man squad.
As for Jack Wilshere, well, there could be ligament damage after the horrendous challenge he took on Saturday; he might be out for two months at worst. He has to "see a specialist" and that's never good. As Arseblog pointed out yesterday, he'd be back faster if he got sent off for the headbutt on Marouane Fellaini, stayed healthy, and got suspended three matches. I mean, Arsenal lost the match anyway. Also, he'd have been available tonight.
So, is there any good news? Well, Laurent Koscielny is back in training. Apparently he'll be in the 18-man squad, too. That's something!
Dear God, help us...
Predicted XI:
Martinez, Chambers, Mertesacker, Monreal, Gibbs, Arteta, Ramsey, Oxlade-Chamberlain, Cazorla, Alexis, Welbeck.
Dortmund Squad News
Out: Reus (ankle, Hummels (ankle,) Sokratis (calf)
Doubts: Bender (hip,) Kirch (thigh,) Blaszczykowski (thigh,) Sahin (knee,) Schmelzer (match fitness)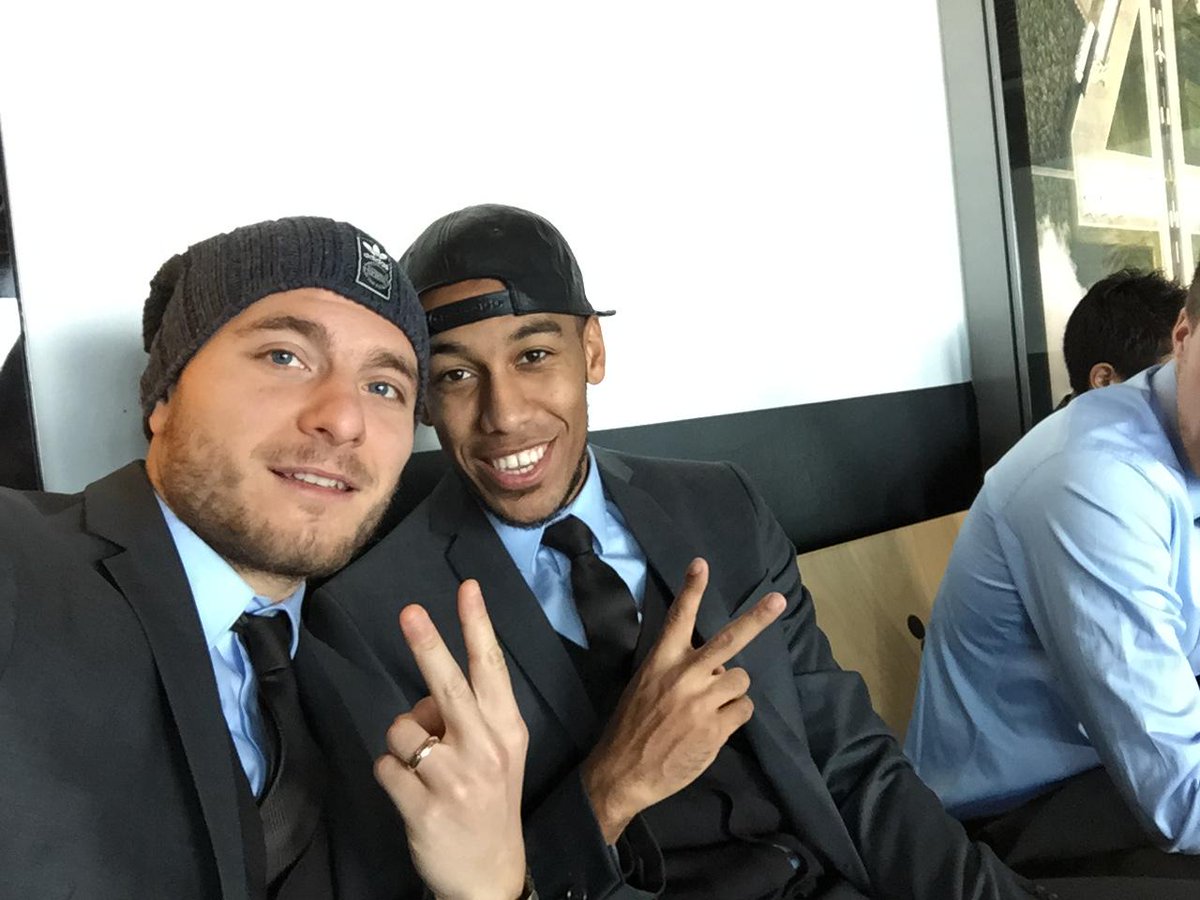 Dortmund players love selfies just as much as Arsenal.
Pictured here are BVB's not-injured goal scoring threats.
When Arsenal faced Dortmund on matchday one, I remarked that it was one of the only times Arsenal's opponent had a longer injury section than they did. That was probably also true last weekend against Manchester United. Of course, Arsenal lost both matches.
So, maybe it's good news that most of Dortmund's injuries have moved from "out" to "doubtful." The biggest injury is the new one to Marco Reus, who is out until at least the new year with ligament damage in his ankle (or, as I call it, the "Jack Wilshere.")
As many as eight first team players might miss out for Dortmund. Sven Bender missed Saturday's draw with Paderborn with a hip injury. Sokratis has not played since he picked up a calf injury against Monchengladbach before the international break. Mats Hummels resumed full training during the international break; the center back has been out since the first of the month with an ankle problem. Jakub Błaszczykowski also returned to training during the break; he's been out since September since a thigh injury suffered while on his way back from a knee injury suffered in January.
I believe Hummels and Sokratis did not make the trip to London; Sven Bender did. In terms of the long-term injured, Oliver Kirch (thigh) and former Arsenal loan-target Nuri Sahin (knee) both played a friendly against Dortmund's reserve squad during the last break. Both traveled with the club, but haven't played a competitive match for a while, so I doubt they'd start. Marcel Schmelzer, still on a long road back from multiple injuries, traveled with the team as well but may not be fit to start.
In bad news for Arsenal, Dortmund have no injury concerns on the attacking front, at least in terms of their potentially lethal strikers.
Predicted XI:
Weidenfeller, Piszczek, Ginter, Subotic, Durm, Kehl, Gundogan, Kagawa, Aubameyang, Mkhitaryan, Immobile.
Current Form
My search for images from Saturday's match were
dominated by Reus on a stretcher.
If I told you a team took a 2-0 lead before halftime against a recently promoted side, then told you that that team proceeded to have its star midfielder get hurt before they blew the lead and drew 2-2, you could probably assume I was talking about Arsenal, right? Well, that's exactly what happened to Dortmund on Saturday at Paderborn. You probably could've guessed that, since I already talked about Reus's injury.
Dortmund are now, astonishingly, 16th in the Bundesliga, with 11 points from 12 games. They are 19 points off table-topping Bayern Munich. However, that disastrous run of form has not carried over to Europe, where they've won five on the bounce going back to last year. It seems that clubs in Germany match up well against Dortmund, in terms of stifling Der BVB's strengths; on the other hand, the other clubs in Group D, Arsenal included, seem to fall right into Dortmund's strengths.

Arsenal have lost two straight now for the first time since last December; they are without a win in three for the first time since, well... September.
Match Facts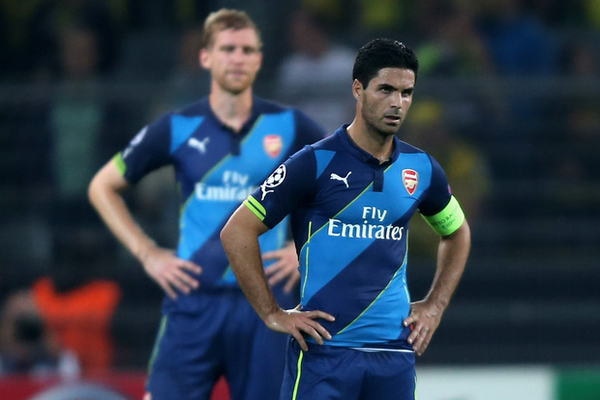 I call this pose "the Arsenal."
What do you mean I did that already?
Arsenal will look to get some measure of revenge after Dortmund annihilated them on matchday one; the scoreline was 2-0, but the match was not that close. Dortmund outshot Arsenal 23 to 5; the Germans had seven shots on target to Arsenal's one.
When these two clubs met in the Champions League group stage last year, the visitors won both matches. At the Emirates, Robert Lewandowski punished Arsenal as they pressed for a winner, burning the Gunners on the counterattack in the 82nd minute to give the visitors a 2-1 victory. Arsenal later won 1-0 in Germany via Aaron Ramsey.
In 2011, Dortmund came from behind to draw 1-1 with the Gunners in Germany on matchday one. Arsenal won at the Emirates 2-1 on matchday five. The clubs' previous meetings in the group stage came in 2002, as Arsenal won 2-0 at Highbury and Dortmund won 2-1 in Germany, through two goals from a young Tomas Rosicky.
Arsenal have a poor record at home against German competition over the last three seasons, losing to Bayern Munich twice, Borussia Dortmund once, and Schalke once. Their last result over a German side at home was against Dortmund in 2011, 2-1 on matchday five, as noted in the last paragraph.
The Referee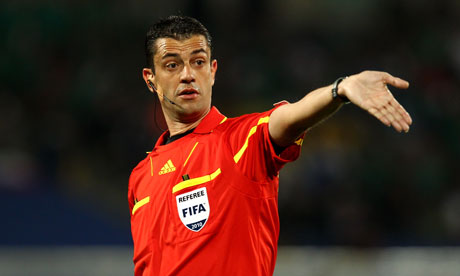 "Oh yeah? Well, can you do this with your hand?"
The match officials are from Hungary; the referee is Viktor Kassai. Arsenal have an abysmal record in matches with Kassai in the middle, to the tune of three losses in three matches. They lost 2-0 at Braga on matchday five in 2010, then 4-0 at AC Milan in the round of 16 in 2012, then 2-0 at Napoli on matchday six last year. Most of those matches included terrible calls going against the Gunners, including Mikel Arteta's controversial sending off from the match in Italy last December. Borussia Dortmund have had Kassai only once, for a 2-1 win over Real Madrid in the 2012 group stage.
Kassai, despite what Arsenal have seen from him, is one of Europe's top referees and has worked a large number of big matches in his career, including the 2008 Olympic gold medal game (where Argentina beat Nigeria,) a 2010 World Cup semi-final (where Spain beat Germany,) and the 2011 Champions League Final (where Barcelona beat Manchester United.)
Around Europe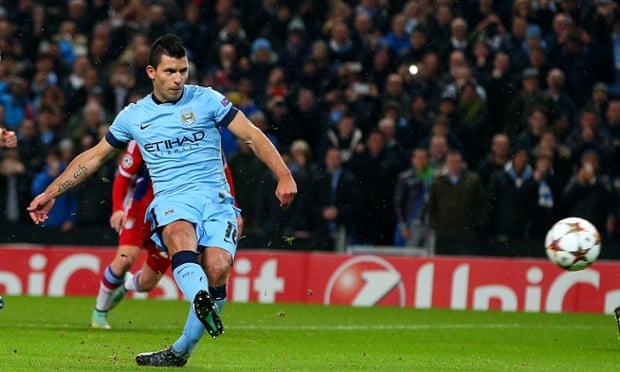 Aguero's first of three, when it all looked like it'd be easy...
Tuesday - Group E:
In Russia, Roma's 1-1 draw with CSKA Moscow in the early game did Manchester City a huge favor in their hopes to climb out of the group's basement. Then, everything got all bonkers at the Etihad. City led 1-0 through a penalty and red card and everything looked brilliant for the English side. Then, Bayern Munich scored twice before halftime, 10-men and all, to lead 2-1 for most of the way. Then, Sergio Aguero scored twice in the final minutes of the game to give City a ridiculous win. The result leaves City, Moscow, and Roma all on five points with one game to play. City will play in Rome, while Moscow travels to Munich.
Tuesday - Group F:
Even before Tuesday's matches began, Paris St. Germain and Barcelona had qualified for the knockout phases. But, just for good measure, Lionel Messi decided to grab a hat trick as Barcelona crushed APOEL. And, just to be sure, PSG beat Ajax in France as well to stay top of the group. Ajax and APOEL will now battle for third in the Netherlands on matchday six while Barcelona will try to climb to the top spot against PSG at Camp Nou.
Tuesday - Group G:
In Germany, Chelsea decided to show Schalke how many Premier League teams have felt of late, coasting into the knockout phase with a 5-0 thrashing of the home side. Sporting's 3-1 win over Maribor gives them a two point lead on Schalke for second in the group, but they'll travel to Stamford Bridge on matchday six for Chelsea's dead rubber.
Tuesday - Group H:
Both Porto and Shakhtar Donetsk have qualified for the last 16 of the tournament; the Portuguese side ran out 3-0 winners against BATE Borisov in Belarus while Athletic Bilbao picked up a surprise 1-0 win in Ukraine, clinching the group for Porto.
Wednesday - Group A:
Atletico Madrid have three wins and a loss in their group, but tonight face the side that beat them, second place Olympiacos, in Spain. Juventus currently sit third due to the tie-breaker with the Greeks; they visit Malmo in Sweden.
Liverpool are in danger, having dropped consecutive matches
to group leader Real Madrid.
Wednesday - Group B:
Real Madrid are running away with this group, six points clear of their opponent, second place Basel; the Spanish side can lock up the group with a win in Switzerland tonight. Such a result would help Liverpool, who are three points back of Basel as they travel to Bulgaria to face Ludogorets Razgrad, who nearly stole a point from Anfield on matchday one.
Wednesday - Group C:
Bayer Leverkusen is four points clear at the top of the group as they host second place Monaco in North Rhine-Westphalia. Meanwhile, Zenit St. Petersburg and Benfica are both one point behind the French side for second; they'll meet earlier in Russia, which could put Monaco under even more pressure. Unless they draw.
Wednesday - Group D:
The other match in Arsenal's group sees Anderlecht hosting Galatasaray in Belgium. The hosts will no doubt be buoyed by their comeback in London. An Anderlecht win combined with a Dortmund win in London would mean that on matchday six, Anderlecht would host a Dortmund side that has already won the group. If Anderlecht wins in that scenario, then Arsenal would need at least a point from their trip to Turkey. So let's hope Anderlecht and Galatasaray draw, which would guarantee second place for Arsenal.
--
John Painting is a contributing writer to the Modern Gooner and the secret sixth member of the '80s pop group Duran Duran. You can follow him on Twitter @zorrocat, because "zorro" means fox and "cat" means cat.