King Power Stadium, Leicester
Sunday, August 31
11:00 a.m. EDT, 16:00 BST
Match Officials

Referee: Anthony Taylor
Assistants: Gary Beswick and Darren Cann
4th Official: Roger East

This Match, Last Time: Leicester 1 - 1 Arsenal (December 6, 2003)
All-Time in All Competitions: 60 Arsenal wins, 28 Leicester wins, 43 draws
Arsenal's League Form: W-W-W-W // W-D
Leicester's League Form: W-W-W-W // D-L
Weather: Partly Cloudy, 18 C / 66 F
At times on Wednesday, Arsene Wenger looked like the
most nervous man in the world; apparently, so did I.
Leave it to Arsenal to make it as complicated as possible! Let's see, what have we gone through this year: it took 91 minutes to grab a winner against Crystal Palace, 83 minutes to get in gear against Everton, 135 minutes to put a goal past Besiktas, and then 45 more of hanging on, the final 15 of which were done with ten men. If that doesn't get your heart racing, I don't know what will. I was told by one of the bartenders at O'Hanlon's on Wednesday that I looked frozen in terror, clutching my practically empty pint of O'Hanlon's Lite, for much of the second half.
An international break looms on the horizon, but first a trip to Leicester, over which we all follow the Arsenal (see also: land, sea.) Let's all hope for two things: 1) Arsenal are able to pick up all three points in a less exhausting fashion and 2) some reinforcements before the close of the transfer window, maybe?
Don't forget to breathe.
Arsenal Squad News
Out:
Giroud (foot,) Arteta (ankle,) Gibbs (hamstring,) Ospina (thigh,) Walcott (knee,) Gnabry (knee)
Playing Mesut Ozil down the left hand side just makes it
easier for tabloids to write articles about his quality.
It's probably too soon to assess any potential new injuries after Wednesday night's match. The boys looked knackered after the 90 minutes, but that's to be expected after the heroic performance they put in.
This means, at the time of writing this, Arsenal's injury picture looks the same as it did before Wednesday's game. The picture is clearer on Olivier Giroud's foot; unfortunately, it is clear that he will miss several months. Meanwhile, as we knew, Mikel Arteta and Kieran Gibbs should both be available after the upcoming international break. Theo Walcott should be back in full training soon; I'm optimistic he could make an appearance against Southampton in the League Cup.
As for the squad itself, they'll have everyone available that they had to choose from on Wednesday plus Aaron Ramsey, who was serving a European suspension. You would suspect that means one change to the side with one of the midfielders coming out. Who that will be is anyone's guess after all of the midfielders produced performances on Wednesday. However, I do have to say that I am not at all a fan of this whole "deploying Mesut Ozil on the left wing" thing. If that's the way Arsene Wenger is leaning these days, though, I can't predict a formation against it.
Predicted XI:
Szczesny, Debuchy, Koscielny, Mertesacker, Monreal, Flamini, Ozil, Wilshere, Ramsey, Cazorla, Alexis.
Leicester Squad News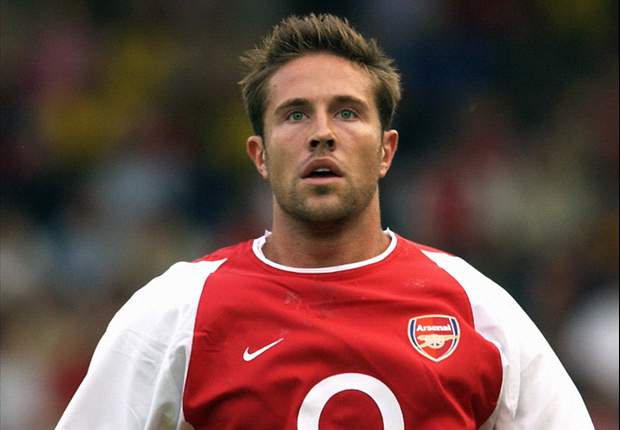 Remember when Matthew Upson was at Arsenal? No?
Out:
Upson (foot)
Doubts:
Drinkwater (hamstring,) James (shin,) Vardy (thigh,) Albrighton (groin)
Matthew Upson signed on a free with Leicester this summer and is out for an indeterminate amount of time with a foot injury. Marc Albrighton, who was released by Aston Villa this summer, returned from a groin injury off the bench at Stamford Bridge last week. There are also doubts for Leicester over Daniel Drinkwater, Matthew James, and Jamie Vardy.
With all of that in mind, it's highly likely Nigel Pearson will name an unchanged XI from the side that played Chelsea last week. Anthony Knockaert might start on the wing over Jeff Schlupp, however the latter is more versatile in his position.
Predicted XI:
Schmeichel, de Laet, Morgan, Moore, Konchesky, Mahrez, Hammond, King, Schlupp, Nugent, Ulloa.
Current Form
Shrewsbury Town celebrates their goal, an unlikely winner,
against Leicester on Tuesday.
While Arsenal have certainly not made it easy on themselves, they still have gone 12 competitive matches without a loss, dating back to the 3-0 reverse at Goodison Park last season. Last week's league game looked to be playing out exactly the same way as that Sunday in April, but Arsenal showed resolve they never seemed to have when down on the road last season to take a point. Arsenal's unbeaten run now spans seven league games (six wins and a draw,) two European matches (one win and one draw,) and three matches at Wembley (two of which required extra time to win.) This is Arsenal's longest unbeaten streak since last year's 12 match run that ended with a loss to Dortmund in the Champions League.
Leicester City have yet to grab a win this season, though they have been impressive in their two league fixtures so far. The Foxes came from behind twice to take a draw from Everton in their opening fixture, then Chelsea needed an hour to break them down before finally emerging with a 2-0 win at Stamford Bridge in the Blues' home opener. On the other hand, the Foxes now find themselves bounced from the League Cup after League Two Shrewsbury Town beat them 1-0 on Tuesday.
Match Facts
This is literally the best picture I could
find from that 1-1 draw in 2003.
Leicester's last season in the top flight was 2003/04, Arsenal's unbeaten year, and you may recall that the Invincibles season ended with a 2-1 Arsenal win over Leicester at Highbury. This will be the Gunners' first match in Leicester since December of 2003.
That match was one of Arsenal's 12 draws of the Invincibles season. It was the only league match of the year where Arsenal were without Thierry Henry; Arsenal were also without captain Patrick Vieira for what proved to be a difficult match. Arsenal led on the hour mark through a Gilberto Silva header, but Ashley Cole was sent off for a terrible two-footed challenge in the 73rd minute, and Leicester equalized at the death.
Leicester have not beaten Arsenal in their last 17 tries, dating back to a 2-1 win on November 23, 1994. The Foxes did, however, advance past Arsenal via a penalty shootout in the 2000 FA Cup fourth round, after consecutive 0-0 draws.
The Referee
BAH!
Arsenal have had a lot to complain about from referees as of late, from Aaron Ramsey's red card last week and Mathieu Debuchy's red card on Wednesday, both soft second yellows, not to mention Kevin Friend's whistling of every 50/50 challenge in favor of Everton for about an hour last weekend.
Well, the referee for Sunday is Cheshire-based Anthony Taylor. Taylor was the star of last season's opening day 3-1 debacle against Aston Villa. Villa were awarded two penalties in the match; Wojciech Szczesny saved the first but Christian Benteke banged in the rebound, while Benteke scored the second from 12 yards. Laurent Koscielny was sent off for two dubious yellow cards as well. While a neutral might think our reading of his performance is seen through shit-colored glasses, and that's true a bit, it does say something that Taylor was not assigned to another Arsenal match for the rest of the year. With a shrinking number of experienced match officials in the Select Group (Howard Webb has retired and both Andre Marriner and Lee Probert are carrying injuries,) the FA must feel that they can ease Taylor back into Arsenal matches by giving him a non-controversial road fixture.
Taylor took charge of one Leicester match last season, a 2-2 draw at Nottingham Forest in which Foxes defender Paul Konchesky was sent off on the hour mark with Leicester down 2-1. Riyad Mahrez scored an equalizer for Leicester in the 82nd after Kevin Phillips had a penalty saved. Forest converted an earlier chance from the penalty spot, so it sounds like that was nearly as "interesting" a match as Arsenal's one with Taylor.
Around the League
Saturday (early): Burnley v. Manchester United; Turf Moor, Burnley
Saturday: Manchester City v. Stoke City; Etihad Stadium, Manchester
Saturday: Newcastle United v. Crystal Palace; St. James' Park, Newcastle upon Tyne
Saturday: Queens Park Rangers v. Sunderland; Loftus Road, London
Saturday: Swansea City v. West Bromwich Albion; Liberty Stadium, Swansea
Saturday: West Ham United v. Southampton; Boleyn Ground, London
Saturday (late): Everton v. Chelsea; Goodison Park, Liverpool
Sunday (early): Aston Villa v. Hull City; Villa Park, Birmingham
Sunday (early): Tottenham Hotspur v. Liverpool; White Hart Lane, London