Wembley Stadium, London
Sunday, August 10
10:00 a.m. EDT, 15:00 BST
Match Officials

Referee: Michael Oliver
Assistants: Stuart Burt and Darren England
4th Official: Jonathan Moss

All-Time in All Competitions: 93 Arsenal wins, 49 Manchester City wins, 42 draws
All-Time in the Community Shield: 1 Arsenal win
Arsenal in the Community Shield: 12 wins (1 shared,) 7 losses
Manchester City in the Community Shield: 4 wins, 5 losses
Arsenal's Preseason Form: W-L-W-L
Manchester City's Preseason Form: L-W-W-W-D-D
Weather: Light Rain, 17 C / 63 F
Oh, it's a giant plate!
The Quintuple is on!
Welcome back, everybody. I hope you have all had a lovely summer. I think there was some sort of international tournament.
I think Latvia won
. Also, England won a trophy in a penalty shootout.
No, really
. Oh, and there was that other international tournament, I guess...
Arsenal have played a few games that don't really count already and have had mixed results so far. That brings us to this weekend, to a game that also doesn't really count but kinda counts more than the other ones have, but not really. Unless Arsenal wins. And if they do, then the Quintuple is certainly on!
About the Community Shield
The FA Community Shield (formerly the Charity Shield) has been played since 1908. It was called the Charity Shield until 2002 when the Charity Commission declared that it could no longer be legally called that, after the FA failed to specify what money from ticket sales went to charity. Whoops.
The match is, of course, 90 minutes, but if it is drawn, it will go straight to a penalty shootout without extra time. Clubs are allowed to make up to six substitutions instead of three. Yellow cards picked up will not accumulate towards a player's total for the season, but a red card will incur the appropriate one- or three-match ban.
Arsenal Squad News
Out:
Gnabry (knee,) Walcott (knee,) Miyaichi (hamstring,) Vermaelen (hamstring transfer pull)
World Cup Absentees:
Ozil, Podolski, Mertesacker
Doubts:
Ospina (thigh)
Did anyone else know Ozil had that lion tattoo?
Before diving in here, why not check out Sean's position-by-position preview, posted yesterday in two parts. Part one is
here
and part two is
here
.
Anyway, we'll start our first trip of the season through the walking wounded with the World Cup absences: the Germans, whom you may recall won the tournament, are due back from their summer holidays after this match. Per Mertesacker is expected to be the first one to return to the fold in terms of match fitness, followed by Lukas Podolski and then Mesut Ozil, who played the most minutes for the champions. Wenger confirmed yesterday that all three will miss next week's season opener.
Mertesacker's absence, coupled with Thomas Vermaelen looking for a transfer (though he did pick up an injury in the World Cup group stage) has left Arsenal hamstrung (pun certainly intended) at center back. Mathieu Debuchy, Laurent Koscielny, and Kieran Gibbs should be fit to start within the back three (provided Arsene Wenger picks his strongest XI.) As for Koscielny's partner in the middle, it will likely be a converted fullback, either Nacho Monreal or Calum Chambers.
Wojciech Szczesny has the #1 goalkeeper's job and it's his to lose; David Ospina has come in and, in true Arsenal fashion, picked up a thigh injury in training. He did not feature in last weekend's Emirates Cup and, as I have not heard anything to the contrary, remains a doubt.
The other injuries are moderately known quantities. Theo Walcott should be ready for first team football again in September. Two youngsters, Serge Gnabry and Ryo Miyaichi, picked up injuries at the end of last season (knee and hamstring, respectively) and have not yet trained this preseason.
Predicted XI:
Szczesny, Debuchy, Koscielny, Chambers, Gibbs, Arteta, Ramsey, Wilshere, Cazorla, Alexis, Giroud.
Manchester City Squad News
Out:
Negredo (foot)
World Cup Absentees:
Fernandinho, Zabaleta, Aguero, Demichelis, Kompany, Sagna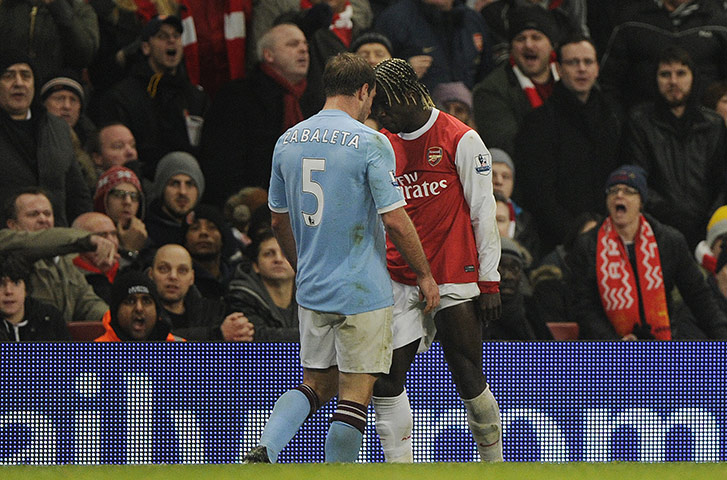 Bacary Sagna and Pablo Zabaleta will battle it out
for City's starting right back position, something they
started back in January of 2011 when they head-butted
each other and both got sent off...
Manchester City have just one injury concern as Alvaro Negredo is out until mid-October with a fracture to his fifth metatarsal, suffered in a friendly against Heart of Midlothian. However, City's extended tour of the United States means that many of their World Cup absentees (i.e. anyone who advanced to the quarterfinals) have only just returned to training with the club and are doubtful to feature at the weekend. That list of six players includes Bacary Sagna, whose first day at City was Wednesday. In addition to Sagna, City had a trio of players on Argentina's runner-up squad, while Vincent Kompany played through to the quarterfinals with Belgium, and Fernandinho came in fourth with Brazil, which certainly must have felt like last place.
I wouldn't say those "absentees" are definitely out; I really have no idea what City is up to. I think it's most likely that they'll use all of their available substitutions to get their returnees a run out. I'd bargain that Manuel Pellegrini will try to get Vincent Kompany and Martin Demichelis out there, having them each play a half paired with Matija Nastasic. City could very well start with two ex-Arsenal players in Sagna and Gael Clichy at fullback, though I would not expect Sagna to play very many minutes if he just started with the club this week. Aleksandar Kolarov should see time in the back line as well. I'll predict Sagna to come of the bench, then.
City have more options up top, because of course they do. Really, I could just start naming players they could throw out there: Fernando. James Milner. Samir Nasri. Edin Dzeko. Jesus Navas. David Silva. Stevan Jovetic. Yaya Toure.
Predicted XI:
Hart, Kolarov, Kompany, Nastasic, Clichy, Fernando, Toure, Navas, Milner, Jovetic, Dzeko. Sure, why not?
Preseason to Date
I couldn't actually watch the Emirates Cup, so I still
don't believe anyone about the Sanogo thing.
The World Cup was a mixed bag for Arsenal players; obviously the three Germans won the thing, but on the other side of the spectrum, the English players didn't win a game. Arsenal did make a splash this summer with four, count 'em, four signings (and it's not even August 31!) Alexis Sanchez, the Chilean international, signed first from Barcelona. Mathieu Debuchy, who took Bacary Sagna's spot with the French national team, was brought in to do the same at the club level. Goalkeeper David Ospina brought Colombia to the quarterfinals and will hopefully push Wojciech Szczesny to be the best he can be. And last but not least, Calum Chambers was signed from Southampton thanks to his youth and versatility on the back line. The signing of Debuchy and Chambers has, despite the loss of Bacary Sagna, allowed the club to loan Carl Jenkinson to West Ham, where he proceeded to concede a penalty and pick up a hamstring injury in his first match.
The existence of the World Cup and the staggered return of internationals has meant that preseason results have to be taken with even more of a grain of salt than usual. The youngsters started moderately well, though it took about an hour to finally break down Boreham Wood. Without a recognized striker, Arsenal struggled up top in America and fell 1-0 to the Red Bulls. They then pounded Benfica 5-1 in the opener of the Emirates Cup, thanks to a stunning four goal salvo from Yaya Sanogo. However, the next day against Monaco, the players seemed a little more physically jaded (this squad included more internationals returning from the World Cup,) and the Gunners fell 1-0.
Manchester City have brought in Sagna from Arsenal as the Frenchman left on a Bosman. They've also signed Brazilian midfielder Fernando from Porto. City let back-up goalkeeper Costel Pantilimon leave for Sunderland on a free, replacing him with Willy Caballero from Malaga. Other notable exits include Joleon Lescott, Gareth Barry, and Jack Rodwell, the latter of whom I entirely forgot was ever at City in the first place. Of course, the most interesting move was the loan capture of Frank Lampard from City's overseas club New York City FC, making the American club, who begin play in March, look more and more like a way to exploit numerous systems.
City's results have been mixed this pre-season, much like Arsenal's. In Scotland, they suffered defeat to Dundee before beating Hearts, then defeated Sporting Kansas City upon arriving in the United States. They then played in the International Champions Cup on US soil, beating AC Milan before losing on penalties to both Liverpool and Olympiacos.
Match Facts
Remember that time Arsenal beat City in that friendly
last year? I feel like we didn't mention that enough...
Manchester City took four of a possible six points from last year's league meetings. At the Etihad in December, Arsenal got the tactics wrong for one of many times last season. A wide open encounter played directly into City's hands, while a first half injury to Laurent Koscielny did not help the Gunners. Theo Walcott scored twice on his return from injury, but City walked away 6-3 winners. In the reverse fixture at the Emirates, City struck first through David Silva, but Mathieu Flamini's second goal of the season leveled for Arsenal. The match ended 1-1; it was one of just 10 points Arsenal earned when conceding the first goal (2 wins, 4 draws, 6 losses.)
Oddly enough, this will be the third consecutive year Arsenal and Manchester City meet in the preseason. In 2012 in Beijing, City ran out 2-0 winners, scoring twice in four minutes just before halftime through Pablo Zabaleta and Yaya Toure. Last August, the sides met in Helsinki with Arsenal winning 3-1; Theo Walcott, Aaron Ramsey, and Olivier Giroud gave the Gunners a 3-0 lead before Alvaro Negredo pulled one back in the 80th.
This will be Arsenal's 20th Charity/Community Shield match; the Gunners have won the glorified friendly on 12 previous occasions, though that number includes one year, 1991, in which they shared the trophy with Tottenham Hotspur. Ewww. That was the last occasion of a shared title; penalty shootouts were introduced in 1993. Arsenal's other wins in the competition came in 1930, 1931, 1933, 1934, 1938, 1948, 1953, 1998, 1999, 2002, and 2004. Arsenal lost the match in 1935, 1936, 1979, 1989, 1993, 2003, and 2005.
Manchester City have won the Charity/Community Shield on four occasions: 1937, 1968, 1972, and 2012. City lost the match in 1934, 1956, 1969, 1973, and 2011.
Arsenal and Manchester City have met only once in the fixture, with Arsenal winning 4-0 at Highbury in 1934.
The Referee
Presented without comment.
The referee is Northumberland-based Michael Oliver. Oliver took charge of four Arsenal matches last season, all with big name value. In early September, Oliver was in the middle for Arsenal's 1-0 win over Tottenham and in mid-April, he was the man in charge of the FA Cup semi-final penalty shootout win over Wigan. He was also in the middle of two disappointing road losses for the Gunners: 1-0 at Old Trafford in November and 5-1 at Anfield in February. Personally, this adds to my long-standing belief that Oliver is the best young referee in the game but at times can be influenced by home field advantage.
As for Manchester City, they won all three league fixtures they played with Oliver in the middle last year: 3-1 over West Ham, 3-0 over Manchester United, and 4-0 over Aston Villa. He was, however, the referee for City's 1-1 draw with Blackburn Rovers in the third round of the FA Cup, during which he sent off City defender Dedryck Boyata. That red card did not affect the result; it came in the 85th minute and the match was already level at 1-1.