Emirates Stadium, London
Wednesday, August 27
2:45 p.m. EDT, 19:45 BST
Match Officials from Portugal

Referee: Pedro Proenca
Assistants: Bertino Miranda and Paulo Soares
4th Official: Antonio Godinho
Additional Assistants: Hugo Miguel and Joao Capela

All-Time in All Competitions: 1 draw
Arsenal's European Form: W-W-L-L-D // D
Beskitas's European Form: L-L-L // L-W-D
Weather: Partly Cloudy, 18 C / 65 F
"I got this."
So, it has come to this. One match to rule them all... or, something.
Dramatic phrases aside, there is a lot riding on this one match. Well, one thing in particular: Champions League qualification. After a scoreless draw in Istanbul, Arsenal and Besiktas will square off in London in a winner qualifies battle (Besiktas would also qualify on away goals with a score draw, of course.) So yes, Arsenal need a win at the Emirates tonight.
Leave it to Arsenal to make things as dramatic as possible. Every season feels like a story being told by a lunatic novelist. After about 75 minutes on Saturday (or, at least before the comeback was on,) I talked about how narratives require the hero to face adversity near the beginning, otherwise the viewer might not be hooked. "For example, that movie where we won the FA Cup last year started with that ridiculous loss to Aston Villa," I said. The point is, it wouldn't be interesting if your protagonist had all the money in the world to spend on players and opened the season coasting past two sides that played in the second division last year. Who would read that?
Nights like this are what sports fandom is all about. Dizzying tension. Gut-wrenching twists of the plot. High anxiety. Colossal stakes. "The thrill of victory and the agony of defeat," as the old Wide World of Sports intro said. These matches build character, make you feel alive. May as well enjoy the ride.
Arsenal Squad News
Out: Giroud (foot,) Arteta (ankle,) Gibbs (hamstring,) Ospina (thigh,) Walcott (knee,) Gnabry (knee)
Doubts:
Sanogo (hamstring)
Suspended:
Ramsey (one match)
"POURQUOOOOOOOIIIII!!!!!"
All right, let's just start with who's
not
playing. Massively unlucky news for Olivier Giroud, whose innocuous blocked clearance late in Saturday's 2-2 draw has resulted in a suspected broken foot which could keep the Handsome French Bloke out until the New Year; better this happen six days before the close of the transfer window than one day after. The news means Arsenal are now unlikely to sell Lukas Podolski, as the Gunners are now desperate for any sort of scoring touch. Up top, Yaya Sanogo trained with the team but was not in the 18-man squad against Everton at the weekend; he's still recovering from a hamstring tweak after starting the first match of the season against Crystal Palace. I'll venture a guess and say that Alexis Sanchez gets another crack at the center forward spot.
Mikel Arteta and Kieran Gibbs should both be back in contention after the upcoming international break. Theo Walcott should be back in full training by then, too, though his return won't be for a couple more weeks. Without Aaron Ramsey, suspended after his second yellow card in the first leg, I would expect Mathieu Flamini and Jack Wilshere to play centrally in the holding roles, unless Arsene Wenger massively shakes up the formation (which should not be expected...)
Arsenal will be buoyed by the first appearance of the defense pairing of Per Mertesacker and Laurent Koscielny of the season; Mesut Ozil will hopefully provide the creative spark Arsenal need to nick a few goals. I'm predicting Santi Cazorla and Alex Oxlade-Chamberlain to start wide, though Lukas Podolski and/or Joel Campbell could be surprise inclusions.
Predicted XI:
Szczesny, Debuchy, Koscielny, Mertesacker, Monreal, Flamini, Wilshere, Ozil, Cazorla, Oxlade-Chamberlain, Alexis.
Besiktas Squad News
Out:
None
Doubts:
Hutchinson
Demba Ba remains a dangerous target man.
No changes for Beskitas from last week, in terms of player availability. Canadian Atiba Hutchinson remains a doubt, but a week of rest means he could be back in contention. With no reason to make any changes, I would not be surprised if Beskitas played the same XI as they started last week, which includes former Arsenal youngster Oguzhan Ozyakup.
It should be noted, however, that that XI was a more cautious 4-2-3-1 than the manager's usually preferred 4-4-2. Speaking of that manager, Slaven Bilic will be serving a one match touchline ban after being sent to the stands at the tail end of last week's 0-0 draw.
Predicted XI:
Zengin, Koybasi, Franco, Gulum, Ramon Motta, Uysal, Kavlak, Sahan, Ozyakup, Pektemek, Ba.
Current Form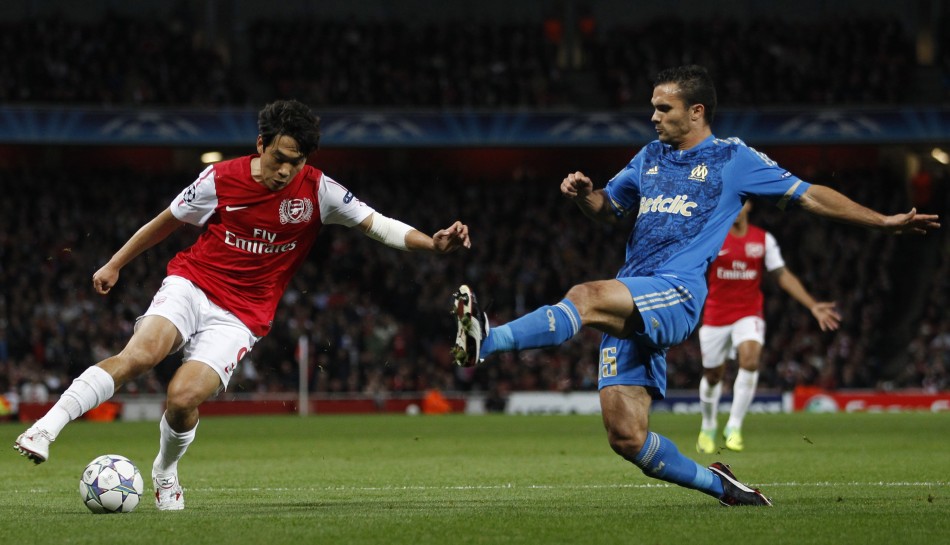 The last time Arsenal failed to win a European match at
home against a non-German side. That's Park on the left.
Park Chu-Young... the Korean... you know...
Arsenal's comeback against Everton at the weekend means they have extended their unbeaten run, across all competitive fixtures, to 11 matches (seven in the league, two in the FA Cup, one in Europe, and the Community Shield.)
At home in European competition, Arsenal have not dropped a match to a non-German opponent since a 0-0 draw with Marseille in 2011. You might not recall that Park Chu-Young started that game, so I included a picture of it. Not Photoshopped at all. Arsenal's results against German sides at the Emirates, however, has been poor since that time, including two losses to Bayern Munich, one to Borussia Dortmund, and one to Schalke 04. Good news, though, as Besiktas is not from Germany...
Nothing has changed for Besiktas in terms of their form; the Turkish Super Lig does not start until this weekend, when Besiktas will face Mersin Idmanyurdu, a side who yo-yo'ed back to the top flight after a year in the TFF First League, the Turkish second division.
Match Facts

Arsenal's streak of 12 consecutive Champions League play-off victories came to an end with last week's draw in Istanbul, though that means the club still has gone 13 unbeaten in such matches. Moreover, as the scene switches to London, it is of note that Arsenal have never conceded a goal at home to Turkish opposition.

This will be Besiktas's second visit to London in the club's history; they emerged victorious from their first, 2-0 over Chelsea at Stamford Bridge in 2003. Besiktas are also unbeaten in their last three away matches in the Champions League, a run which includes a 1-0 win at Old Trafford in 2009.
The Referee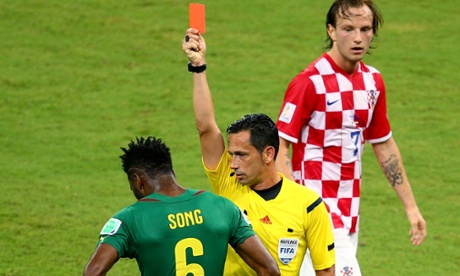 "No, I didn't see the elbow. This is for your hair."
Thus concludes another Alex Song hair joke in my
photo captions.
The match officials are from Portugal; the referee is Pedro Proenca. You'll most recently remember Proenca as the referee from the World Cup Round of 16 match between the Netherlands and Mexico, when he controversially awarded Holland an injury time penalty kick after a theatrical tumble from Arjen Robben. He's also the referee who sent off Alex Song for his absurd elbow-in-the-back.
Proenca has never worked an Arsenal match in his career. English sides have an all-time record of five wins and two draws, with no losses, in Champions League play with Proenca in the middle. One of those five wins I guess could technically be counted as a draw; it was Chelsea's 2012 penalty shootout Final victory over Bayern Munich.
Besiktas have seen Proenca twice in the Europa League, with a 1-1 draw to Standard Liege in the 2004 group stage (when, I suppose, it was still the UEFA Cup,) and a 4-1 loss to Dynamo Kyiv in the 2011 Round of 32. Turkish sides have a record of one win (Galatasaray over Juventus last year) and one draw (Trabzonspor with Lille in 2011) in the Champions League with Proenca as the referee
Around Europe
Tuesday: Zenit St. Petersburg 3 - 0 Standard Liege

Zenit St. Petersburg wins 4-0 on aggregate.

Tuesday: Celtic 0 - 1 Maribor

Maribor wins 2-1 on aggregate.

Tuesday: APOEL 4 - 1 AaB Fodbold

APOEL wins 5-1 on aggregate.

Tuesday: BATE Borisov 3 - 0 Slovan Bratislava

BATE Borisov wins 4-1 on aggregate.

Tuesday: Porto 2 - 0 Lille

Porto wins 3-0 on aggregate.

Wednesday: Malmo v. Red Bull Salzburg; Swedbank Stadion, Malmo

Red Bull Salzburg leads 2-1.

Wednesday: Ludogorets Razgrad v. Steaua Bucharest; Vasil Levski National Stadium, Sofia

Steaua Bucharest leads 1-0.

Wednesday: Bayer Leverkusen v. Copenhagen; BayArena, Leverkusen

Bayer Leverkusen leads 3-2.

Wednesday: Athletic Bilbao v. Napoli; San Mames, Bilbao