White Hart Lane, London
Sunday, March 16
12:00 p.m. EDT, 16:00 GMT
Match Officials

Referee: Mike Dean
Assistants: Jake Collin and Mick McDonough
4th Official: Andre Marriner

Reverse Fixture: Arsenal 1 - 0 Tottenham
This Match, Last Year: Tottenham 2 - 1 Arsenal
All-Time in All Competitions: 73 Arsenal wins, 54 Tottenham wins, 45 draws
Arsenal's League Form: D-W-L-D-W-L
Tottenham's League Form: D-W-W-L-W-L
Weather: Clear, 15 C / 59 F
With the book on European football closed for the season for Arsenal, attention's turn back to the domestic front, where Arsenal have 11 or 12 matches to play (depending on their FA Cup successes.) The matches come in two distinct phases, separated by the FA Cup Semi-Final, which I shall call "The Difficult Zone" and "The Probably Not a Difficult Zone on Paper But You Can't Take Anyone Lightly in This League Anymore." That title might need some work.
Arsenal's fixture list shakes out as such: North London derby on the road, Chelsea on the road, midweek make-up game against Swansea, Manchester City at the Emirates, Everton on the road, FA Cup Semi-Final against Wigan. That's "The Difficult Zone" or TDZ. That's followed by a make-up against West Ham somewhere, Hull City away, Newcastle at home, West Brom at home, Norwich away, and maybe (just maybe, if we all hope really hard) the FA Cup Final. That's TPNADZOPBYCTALITLA (or something.)
As I'll often remind everyone, you can't play all of those matches at once (imagine the injuries!) One game at a time, and all that cliche stuff, and when the next game on the list is the North London derby, it's cliches out the wazoo (which is generally from where cliches come.) So, something about form going out the window, something about one minute at a time, something something we don't like them something.
Come on, you Gunners.
Arsenal Squad News
Out:
Ozil (hamstring,) Wilshere (foot,) Ramsey (thigh,) Walcott (knee,) Diaby (knee)
Doubts:
Gibbs (ankle,) Monreal (ankle,) Bendtner (knee)
Look at him and his injured hamstring! Try harder!
Rabble rabble rabble rabble!
There is nothing like an injury setback to bring out the worst in Arsenal fans. News that Aaron Ramsey has had a "short-term setback" in his recovery from a thigh injury has set the Internet ablaze with "what is wrong with our medical team?" chatter. Muscle injuries, by nature, are tricky to create a timetable around, because setbacks can come at any point in rehabilitation. I don't know about you, but I'd rather have Ramsey back when he's fully fit rather than plug him in and hope for the best. Playing at any less than 100% with a muscle injury is like playing with fire; further aggravation of the injury in a match could end Ramsey's season. I think this is more about playing it safe, with a string of critical matches ahead, than a display of medical ineffectiveness.
As for Mesut Ozil, it's a hamstring injury, which Bayern and Germany team doctor (and most German sounding name ever) Hans-Wilhelm Muller-Wohlfahrt called "quite bad." If it were a grade two strain, there would have been immediate pain, which would explain Ozil's lackluster first half display more accurately than a
Daily Mail
character assassination piece. Grade one pulls (which do not necessarily come with immediate pain) usually mean at least three weeks out; grade two tends to mean four to six weeks. If you had to circle a game where you could, within reason, expect Ozil to return, I'd be looking at the Newcastle match on April 28.
So, who is available? Kim Kallstrom! The on-loan Swede finally joined full training yesterday; with Arsenal light in midfield now, it's "not impossible" Kallstrom could be in the squad. Meanwhile, Yaya Sanogo returned to training as well after he was unavailable for the trip to Germany. Both left backs, Kieran Gibbs and Nacho Monreal, face fitness tests on their injuries, but Arsene Wenger says both have "a good chance."
Due to the number of injuries in midfield, I hope Alex Oxlade-Chamberlain retains his place in the center of midfield; he had a stormer on Tuesday. Without Ozil, I think Wenger can shift Santi Cazorla into the center (he was pretty good in the same role last year, of course,) and play Lukas Podolski and Serge Gnabry on the wings. Tomas Rosicky remains an option in there as well.
Predicted XI:
Szczesny, Sagna, Koscielny, Mertesacker, Gibbs, Flamini, Oxlade-Chamberlain, Podolski, Cazorla, Gnabry, Giroud.
Tottenham Squad News
Michael Dawson would like you to stop, collaborate,
and listen.
Out:
Dawson (hamstring,) Lamela (back,) Chiriches (back)
Doubts:
Walker (knock,) Capoue (ankle,) Dembele (hamstring)
Since Spurs played Benfica yesterday (i.e. during the time I was researching and writing this preview,) it's highly likely that if someone picked up a knock during that match last night, there's no way for me to know the specifics. For example, Kyle Walker limped off on 76 minutes to be replaced by Danny Rose. Will he be out for Sunday? I have no idea!
Excuses aside, here's what we do know. Spurs are without captain Michael Dawson after he suffered a hamstring injury against Chelsea last weekend. Erik Lamela and Vlad Chiriches are both still sidelined by back injuries. Mousa Demeble and Etienne Capoue could both return, or maybe not.
Current Form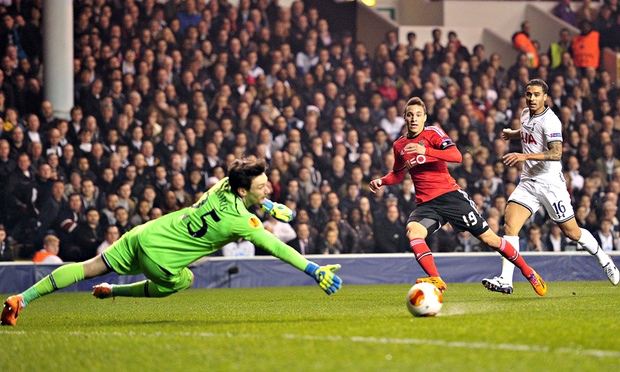 I hope another red team wins there this weekend...
Arsenal's road form is kind of strange, in that they have not won away from home since January 13 at Aston Villa. It's strange because Arsenal have only played away from home four times in those two months. They lost two (Liverpool and Stoke) and drew two (Southampton and Bayern Munich.) It's fairly unheard of to play twice as many home games as road games in a two month span, but you can thank the lottery that is the FA Cup draw for that. Arsenal, of course, have some big road games to follow after this week, including matches at Stamford Bridge and Goodison Park. Against other teams in the top seven of the table, Arsenal have lost all three road games they have played, with three still to play. Aside from that, though, Arsenal's away form remains second best in the league.
Tottenham are rocking at the moment after what has been a week of bad results. After a 4-0 hiding at the hands of Chelsea last weekend, manager Tim Sherwood called on his players to step up to the challenge. They started brightly against Benfica in the first leg of their Europa League Round of 16, but ultimately lost handily, 3-1. That means Spurs have lost four of their last six, across all competitions, but Thursday's loss was their first at home in that group.
Match Facts
Arsenal have beaten Spurs twice already this season, both times at the Emirates. In the league, Arsenal won 1-0 through Olivier Giroud back in early September, then splashed the cash for Mesut Ozil the following day. In the third round of the FA Cup, Arsenal won again at the Emirates, via the scoreline Theo Walcott can tell you at the left.
Arsenal have not won at White Hart Lane within 90 minutes since September 15, 2007, when they won 3-1. Emmanuel Adebayor scored twice for Arsenal in the match and Cesc Fabregas had the other after Gareth Bale gave Spurs the lead on a quarter of an hour. The Gunners did win a League Cup tie there in 2010 by a 4-1 scoreline, but that was 1-1 after 90 and required extra time (and was so much fun when Arsenal scored three in the first 15 minute extra frame.)
Since the 2007 win, Arsenal have lost four times at the Lane and drawn twice. In January of 2008, Spurs knocked Arsenal out of the League Cup with a storming 5-1 win in the second leg of the semi-final. The following season in the league, the clubs played a 0-0 draw in which Emmanuel Eboue was sent off for two yellow cards in 37 minutes by Mike Dean. In April of 2010, Spurs won 2-1, with Danny Rose's long range opener being the match's most famous moment. I still blame Almunia for that.
In 2011, also played in April, the match ended in a ridiculous 3-3 draw; Arsenal led 1-0 after five minutes before the match was level two minutes later, then led 3-1 by the 40th, but Spurs pinged one back before halftime, then equalized from the penalty spot in the 70th. In October of 2011, Arsenal lost the match 2-1 again, and in the process, fell to 15th place in the table after seven games. They rattled off five straight wins in the league after that. Last season, Arsenal lost 2-1 again, but followed with 10 league games unbeaten.
The Referee
The referee is Wirral-based Mike Dean. Arsenal's record with Dean is, of course, well documented. As you probably know, Arsenal are unbeaten in their last three matches with Dean: 0-0 with Chelsea in December, 3-1 over Stoke in September, and 4-1 over Wigan at the end of last season.
Oh, right, the bad results. Before this current run, Arsenal had a record of two wins from 21 matches across all competitions with Dean in the middle. But, one of those two wins was the first 5-2 over Spurs in February 2012. That's Arsenal's only win in five matches against Spurs with Dean in the middle; they've only lost one, though, and finished level in the other three, including the aforementioned match in which Eboue was sent off on 37 minutes, pictured here.
As for Spurs with Dean this season, it's two draws from two, against Chelsea and Manchester United.
Around the League
Saturday (early): Hull City v. Manchester City; KC Stadium, Kingston upon Hull
Saturday: Everton v. Cardiff City; Goodison Park, Liverpool
Saturday: Fulham v. Newcastle United; Craven Cottage, London
Saturday: Southampton v. Norwich City; St. Mary's Stadium, Southampton
Saturday: Stoke City v. West Ham United; Britannia Stadium, Stoke-on-Trent
Saturday: Sunderland v. Crystal Palace; Stadium of Light, Sunderland
Saturday: Swansea City v. West Bromwich Albion; Liberty Stadium, Swansea
Saturday (late): Aston Villa v. Chelsea; Villa Park, Birmingham
Sunday (early): Manchester United v. Liverpool; Old Trafford, Manchester