Emirates Stadium, London
Saturday, February 22
10:00 a.m. EST, 15:00 GMT
Match Officials

Referee: Andre Marriner
Assistants: Marc Perry and Peter Bankes
4th Official: Phil Dowd

Reverse Fixture: Sunderland 1 - 3 Arsenal
This Match, Last Year: Arsenal 0 - 0 Sunderland
All-Time in All Competitions: 56 Arsenal wins, 50 Sunderland wins, 39 draws
Arsenal's League Form: W-W-D-W-L-D
Sunderland's League Form: L-W-D-W-W-L
Weather: Partly Cloudy, 9 C / 49 F
Interesting story; I hope the ending
doesn't fall apart...
The narrative advances.

Every moment, a verse; every match, a chapter; every season, a novel. Plots and characters ebb and flow as the season ambles from autumn to winter to spring. Expectations change based on new evidence; what was once acceptable may now be unthinkable, what was once unthinkable may now be grim reality.

Twenty clubs write a new book every season in the Premier League. For some like Sunderland, the story is one of initial struggles followed by a thrilling fight for their top-flight lives. For comfortably mid-table clubs, the whole book is probably boring unless a scandal pops up somewhere. For Manchester United, well, their fans probably want to burn the book of this season before the ink dries.

Still others, like Arsenal, weave multiple narratives at once. Events in the rising action cast aside initial expectations set forth by the disastrous opening passages. Multiple false climaxes have come and gone; December's struggles gave way to newfound defensive solidarity in January. Wednesday's loss to Bayern made for uncomfortable reading, but its narrative only tangentially effects the Premier League story. February's "death run" has ended with a silverware conclusion still plausible without needing to introduce magic wizards. March's "death run" will serve to be the climax, with the structure of April's falling action and May's denouement in the balance.

And so, the narrative advances.
Arsenal Squad News
Out:
Gibbs (hamstring,) Kallstrom (back,) Vermaelen (knee,) Ramsey (thigh,) Walcott (knee,) Diaby (knee)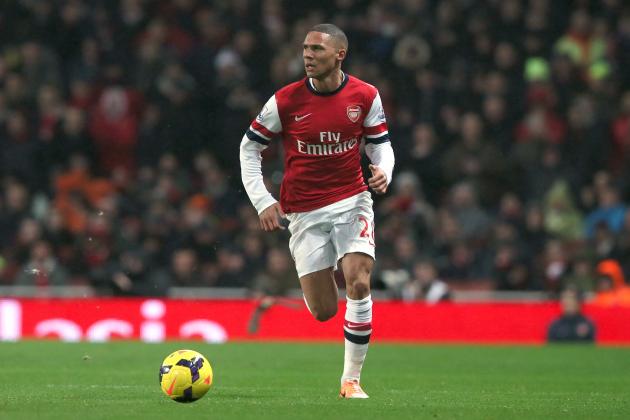 Can someone rebuild Gibbs's hamstrings from metal?
We need Robo-Gibbs.
And another casualty to the list, as Kieran Gibbs was removed from Wednesday's match on half an hour with a hamstring injury; what does Gibbs have to do to spend a season healthy? Nacho Monreal has been unconvincing in the last few fixtures, so hopefully a run of form can get him back in the right place. No change to the rest of Arsenal's injury list as Kim Kallstrom, Thomas Vermaelen, Aaron Ramsey, Abou Diaby, and Theo Walcott remain out.
Mikel Arteta should return to the side, serving a one match European ban on Wednesday. It would appear that Yaya Sanogo has pipped not only Nicklas Bendtner but also Olivier Giroud in the side, so I'll have to keep predicting the youngster to be in the XI now until Arsene Wenger decides otherwise.
Elsewhere in the side, I find it doubtful that Mesut Ozil will be given a rest any time soon, even though this is the type of match that clearly might call for it; with everyone getting on Ozil lately, benching him might not even do any good. I'd see no problem starting Jack Wilshere in an advanced midfield role with Arteta and Mathieu Flamini behind him, but I don't think that will happen. Meanwhile, Lukas Podolski is probably going to have to start thinking of ways to blackmail Wenger if he wants another start.
Predicted XI:
Szczesny, Sagna, Koscielny, Mertesacker, Monreal, Arteta, Flamini, Cazorla, Oxlade-Chamberlain, Ozil, Sanogo.
Sunderland Squad News
Out:
Westwood (shoulder)
Doubts:
Cuellar (hip,) Fletcher (Achilles)
Suspended:
Brown (second of two)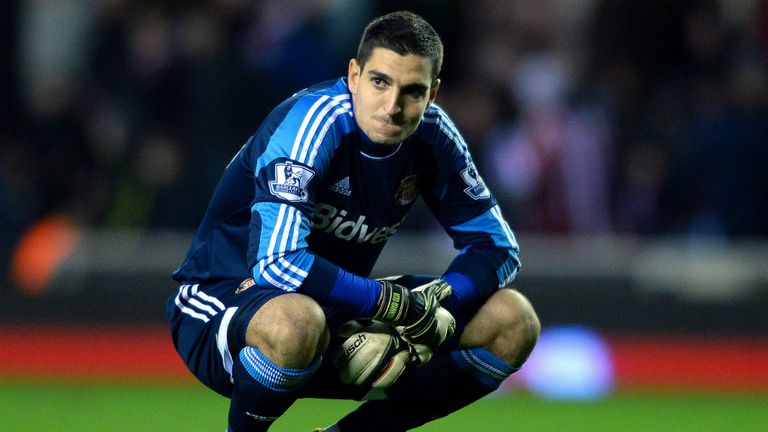 Did you know there was a Mannone to United rumor
during the transfer window?
Wes Brown picked up his third red card of the season in the 4th minute of Sunderland's 2-0 loss to Hull City on February 8; since Sunderland's match against Manchester City from February 12 was postponed, Brown remains unavailable.
Ex-Arsenal goalkeeper Vito Mannone will likely return to his position in goal, deputizing for the injured Kieren Westwood, who needed shoulder surgery in November. Oscar Ustari filled in for Sunderland's FA Cup tie last weekend. As for Sunderland's doubts, Carlos Cuellar is on his way back from a hip problem and Steven Fletcher could return from an Achilles injury.
Predicted XI:
Mannone, Bardsley, O'Shea, Vergini, Alonso, Ki, Bridcutt, Colback, Borini, Johnson, Altidore.
Current Form
Wes Brown's 4th minute red card gave Sunderland one
of their bigger set-backs in recent memory.
DEATHRUN1 has come to a close. Arsenal are into the last eight of the FA Cup, they sit in striking distance of top of the league, and their first leg deficit in Europe is not as bad as last year's first leg deficit. Judging by Arsenal's pre-red card display on Wednesday, there is still a legitimate belief in this season. If you told me this would be the scenario at this point before the season started, I would have been pleasantly surprised; unfortunately, Arsenal's strong autumn means that the last few weeks have looked worse. DEATHRUN2 approaches in just two weeks, as Arsenal's match with Swansea, not originally part of the DEATHRUN, has been postponed to make room for the FA Cup quarter-final with Everton. Arsenal will play Chelsea, Manchester City, Tottenham, Everton twice, and Bayern Munich in the month of March/early April.
As for Sunderland, you might be surprised to learn they have lost three of their last 16 matches, across all competitions. One of those three losses, to Manchester United, merely forced a penalty shootout which Sunderland went on to win. They've advanced to the last eight of the FA Cup as well, earning a tie with the winner of a replay between Hull City and Brighton & Hove Albion. Hull City, for your information, beat Sunderland in their last season match, 2-0. The Black Cats then had a match at Manchester City postponed due to high winds and dangerous conditions. It appears that Gus Poyet is the right kind of crazy to manage this team, rather than Paolo Di Canio. Recent results aside, Sunderland still sit in the relegation zone, sitting behind 17th place West Brom on goal difference, though the Black Cats have a game in hand.
Match Facts
Aaron Ramsey had a second half brace to give Arsenal
the win in Sunderland in October.
Though the match results might not necessarily show it, Arsenal have had a tricky time with Sunderland over the last several seasons. Earlier this year, Sunderland were aggrieved not to have equalized at 2-2 when referee Martin Atkinson failed to play advantage after a Bacary Sagna foul; Arsenal went on to win 3-1 through two goals from Aaron Ramsey and another from Olivier Giroud.
Last year, Arsenal were frustrated to a 0-0 draw in this fixture in the season's opening match, after Giroud, a 64th minute substitute, missed a number of chances. Arsenal won later in the season 1-0 at the Stadium of Light in a match made highly nervous by Carl Jenkinson's 62nd minute red card. The year before last Arsenal won both league meetings 2-1, needing a Thierry Henry injury time winner in the road match; the Black Cats got revenge a week later, knocking Arsenal out of the FA Cup, 2-0. Prior to that year, the previous time Arsenal took all six points from Sunderland was 2007/08.
Even though there are many draws in the mix, Arsenal have lost just one of their last 20 league meetings with Sunderland; that Sunderland win came by a 1-0 scoreline on November 21, 2009, via a Darren Bent 71st minute winner. The hangover I had after that match turned into an ear infection. I don't know why I always tell that story...
The Referee
I've previously promised to use this photo of Marriner
for every match he works for Arsenal.
The referee is West Midlands-based Andre Marriner. Arsenal have only had Marriner three times over this season and last, winning all three matches: 5-1 over West Ham, 1-0 over Fulham (in which both sides had players sent off,) and 2-0 over Hull City earlier this season. Sunderland have split three results with Marriner this season: they lost 1-0 to Hull City, drew West Ham 0-0, and beat Manchester United in the first leg of their League Cup semi-final, 2-1.
Speaking of red cards, as that's been the theme of this week,
this chart
shows all 100 red cards Arsenal have been shown during the Arsene Wenger era; Marriner has shown just one of those 100, to Olivier Giroud in the aforementioned Fulham match last season. That bit of information aside, Marriner has shown more red cards (10) this season than any other Select Group official. He showed three in one match between Sheffield Wednesday and Barnsley earlier this month, the first of which was a second yellow for Emmanuel Frimpong on just half an hour. He also showed two to Sunderland in one match, to Lee Cattermole and Andrea Dossena, in their 1-0 loss to Hull in November.
Around the League
Saturday (early): Chelsea v. Everton; Stamford Bridge, London

Reverse Fixture: Everton 1 - 0 Chelsea

Saturday: Cardiff City v. Hull City; Cardiff City Stadium, Cardiff

Reverse Fixture: Hull City 1 - 1 Cardiff City

Saturday: Manchester City v. Stoke City; Etihad Stadium, Manchester

Reverse Fixture: Stoke City 0 - 0 Manchester City

Saturday: West Bromwich Albion v. Fulham; The Hawthorns, West Bromwich

Reverse Fixture: Fulham 1 - 1 West Bromwich Albion

Saturday: West Ham United v. Southampton; Boleyn Ground, London

Reverse Fixture: Southampton 0 - 0 West Ham United

Saturday (late): Crystal Palace v. Manchester United; Selhurst Park, London

Reverse Fixture: Manchester United 2 - 0 Crystal Palace

Sunday (early): Liverpool v. Swansea City; Anfield, Liverpool

Reverse Fixture: Swansea City 2 - 2 Liverpool

Sunday (early): Newcastle United v. Aston Villa; St. James' Park, Newcastle upon Tyne

Reverse Fixture: Aston Villa 1 - 2 Newcastle United

Sunday (late): Norwich City v. Tottenham Hotspur; Carrow Road, Norwich

Reverse Fixture: Tottenham Hotspur 2 - 0 Norwich City