Selhurst Park, London
Saturday, October 26
7:45 a.m. EDT, 12:45 BST
Match Officials

Referee: Chris Foy
Assistants: Peter Kirkup and Matthew Wilkes
4th Official: Michael Oliver

This Match, Last Time: Palace 1 - 1 Arsenal (November 6, 2004)
All-Time in All Competitions: 20 Arsenal wins, 3 Palace wins, 10 draws
Arsenal's League Form: W-W-W-W-D-W
Palace's League Form: W-L-L-L-L-L
Weather: Partly Cloudy, 16 C / 60 F
Let's lead with the reminder that Arsenal did plenty of good
things on Tuesday night.
Well, the bubble has burst slightly; Arsenal's 12 match unbeaten run came to an end at the hands of Dortmund's lethal late match counter-attack. That aside, Arsenal are still two points clear at the top of the Premier League with a lot of football left to play. 30 games, to be exact.
There are two ways this could go: the Arsenal of years gone by would bounce back with aplomb, while the Arsenal of the last few years would struggle to regain their footing. Mental strength, etc. etc. etc.
Crystal Palace are a struggling side, 19th in the Premier League and now without the manager with which they started the season. It could either be the best time in the fixture list to be playing them (as they are without some direction,) or it could be the worst time to be playing them (rejuvenated by the transition while facing an Arsenal side trying to bounce back from a loss of their own.)
With a run of huge fixtures in the near future, it is paramount that Arsenal get back on the right foot tomorrow.
Arsenal Squad News
Out:
Walcott (stomach,) Sanogo (back,) Podolski (hamstring,) Oxlade-Chamberlain (knee,) Diaby (knee)
Doubts:
Wilshere (ankle,) Flamini (head)
Jack Wilshere ices his ankle and makes everyone all
nervous and stuff...
In terms of team news, none of the long-term injured will be back for this one. Mathieu Flamini could return to the side, having missed Dortmund midweek with a concussion. Jack Wilshere left Tuesday's game with a knock to the ankle, leaving him questionable for this match. Otherwise, that's about it in terms of
news
.
That means the big question in terms of Arsenal's starting XI starts with an R and rhymes with flotation. And yes, I did use a rhyming dictionary. With Chelsea to play this week in the League Cup, then Liverpool next weekend, Dortmund in Germany, and Manchester United at Old Trafford before the next international break, there's certainly no time like the present to rest a few guys. Arsene Wenger talked about how some players were physically jaded against the Germans on Tuesday, though to be fair, that is one of Wenger's buzzwords. But you have to think that 19th place Crystal Palace is your one good chance to rest the weary. Of course, if they don't go on to win, then you've got a few more difficult questions to answer...
Predicted XI, with rotation!:
Szczesny, Jenkinson, Koscielny, Vermaelen, Monreal, Arteta, Flamini, Cazorla, Ozil, Rosicky, Giroud.
That's probably
way off
base. Three changes to the back four? What am I thinking?! You should all be glad I'm not the manager.
Crystal Palace Squad News
Out:
McCarthy (match fitness,) Hunt (ankle,) Murray (knee,) Williams (ankle)
Remember me?
In terms of injuries, Paddy McCarthy has not played since the 2011/12 season with a groin injury; Mile Jedinak has taken over as interim captain in McCarthy's place. Jack Hunt, signed from Huddersfield Town this summer, is out until November with a broken ankle he suffered in training, Glenn Murray is out until December at the earliest after an ACL injury he suffered in May, and Jonathan Williams is out long-term with an ankle injury he picked up on international duty in September.
Palace have been playing a 4-3-3 formation this season, but with Ian Holloway out as manager, one wonders if they'll retain the same style. The Eagles line up with four at the back, three in the central of midfield, and two wingers playing advanced along with the central forward. The personnel playing at these positions, however, has fluctuated. Only three players, goalkeeper Julian Speroni, midfielder Mile Jedinak, and left back Dean Moxey have started all eight games for Palace in the league this season. Among the three forward positions, Jason Puncheon has started six of eight, Marouane Chamakh has started six of eight, and Dwight Gayle has started six of eight. Yannick Bolasie started Monday's match against Fulham on the left wing and very well may retain his place.
Predicted XI:
Speroni, Ward, Mariappa, Delaney, Moxey, Jedinak, O'Keefe, Campana, Puncheon, Bolasie, Chamakh.
Current Form
This image pretty much sums up Palace's season to date.
Even though both sides are now coming off losses, you have to say that these teams are on two very different runs at the moment. Arsenal's 2-1 loss to Borussia Dortmund on Tuesday night was their first since the season opening match against Aston Villa, snapping their unbeaten run at 12 matches. Surprisingly, the Gunners' two losses this season have both come at the Emirates Stadium, meaning Arsenal remain unbeaten away from home; that streak is currently at 13, dating back to the 2-1 loss at Spurs in March. Arsenal's road fixture list does get trickier after this match, as they'll go to Dortmund and Manchester United inside of a week in early November, then Napoli and Manchester City inside of a week in early December. Things are getting pretty serious now, aren't they?
As for Crystal Palace, they have lost seven of their eight matches in the league this season including five straight, and their only win was against cellar-dwelling Sunderland. That is their only win across all competitions as well, as Palace were booted from the League Cup by League One's Bristol City 2-1 in the second round. The scorelines are getting worse for Palace as well; their four straight league losses have been by scorelines of 2-0, 2-0, 2-0, 3-1, and 4-1. Even their win against Sunderland was a 1-1 draw before a last man foul, red card, and penalty gave Palace the decisive edge. The Eagles held firm and nearly looked like nicking a point in their opening match against Spurs (where they lost 1-0,) but it has been nothing but downhill from there.
Match Facts
Aki Riihilahti celebrates a goal, though this was not against
Arsenal. Do you know how hard it is to find good pictures of
matches from nine years ago?
There isn't that much to say in this section, as there is very little recent history between these two clubs. Arsenal and Crystal Palace have not met since Palace's last year in the top flight, 2004/05. Arsenal won 5-1 at Highbury on Valentine's Day, but the match at Selhurst Park in November ended in a 1-1 draw, with Thierry Henry's opener canceled out by Aki Riihilahti just two minutes later. At the time, Arsenal had won just once in their last five matches. Also, the referee that day was Mike Dean, so I'm sure that was part of it...
Crystal Palace have not beaten Arsenal at Selhurst Park since November 10, 1979, when they beat the Gunners 1-0. Since then, Arsenal have won five and drawn five in South London across all competitions. The last two league meetings at Selhurst Park have ended with both sides splitting the points (prior to the 1-1 in 2004, they drew 0-0 in 1997.)
Arsenal's last league win at Crystal Palace came on February 25, 1995 (I told you there was very little recent history;) the timing of that match is interesting, as it came at the end of the week in which George Graham was sacked. The day of his sacking, Arsenal beat Nottingham Forest 1-0 on a goal from one of Graham's final signings, Chris Kiwomya. Kiwomya then scored twice four days later in Arsenal's 3-0 win over Palace, but never scored again for the Gunners.
The Referee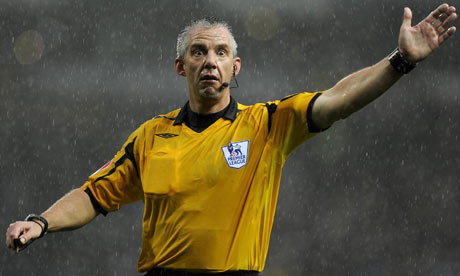 WHAT?
The referee is Merseyside-based Chris Foy. Arsenal saw Foy four times last season, all of them at the Emirates. Arsenal drew the first, 0-0 with Sunderland in the season opening, and won the next three: 7-3 over Newcastle, 1-0 over Stoke, and 4-1 over Reading. In a bit of a stunning statistic, no Arsenal players were booked by Foy over the four matches.
The last time Foy worked a Crystal Palace match, the Eagles won at Old Trafford. The date was November 30, 2011 and it was the fifth round of the League Cup. Glenn Murray had the 96th minute extra time winner as Palace won 2-1 over Manchester United. They went on to lose in the semifinal to Cardiff City on penalties
Foy only showed two red cards in 31 games last year. One was fairly controversial, when Norwich's goalkeeper Mark Bunn handled outside of the box and denying a goal scoring opportunity. The other was to Eden Hazard for kicking a ball boy. REMEMBER THAT?! Foy did show a red card last weekend while working in the Championship, to Sheffield Wednesday's Jose Semedo for a two-footed challenge. Wednesday filed an appeal but it was rejected by the FA.
Around the League
Saturday: Aston Villa v. Everton; Villa Park, Birmingham
Saturday: Liverpool v. West Bromwich Albion; Anfield, Liverpool
Saturday: Manchester United v. Stoke City; Old Trafford, Manchester
Saturday: Norwich City v. Cardiff City; Carrow Road, Norwich
Saturday (late): Southampton v. Fulham; St. Mary's Stadium, Southampton
Sunday (early): Sunderland v. Newcastle United; Stadium of Light, Sunderland
Sunday (late): Chelsea v. Manchester City; Stamford Bridge, London
Sunday (late): Swansea City v. West Ham United; Liberty Stadium, Swansea
Sunday (late): Tottenham Hotspur v. Hull City; White Hart Lane, London