The Hawthorns, West Bromwich
Wednesday, September 25
3:00 p.m. EDT, 20:00 BST
Match Officials

Referee: Robert Madley
Assistants: Stuart Burt and Simon Bennett
4th Official: Howard Webb

All-Time in All Competitions: 65 Arsenal wins, 36 West Brom wins, 29 draws
All-Time in the League Cup: 3 Arsenal wins
Arsenal's League Form: W // L-W-W-W-W
West Brom's League Form: D // L-D-L-D-W
Weather: Partly Cloudy, 16 C / 62 F
Well, this is confusing...
Ah, the League Cup... where I don't have anything interesting to say in this section. Arsenal are in a fine run of form right now, having won seven on the trot and ten straight on the road. The League Cup, however, offers a different kind of challenge.
Both of the sides will rue the fact that they have to face Premier League opposition right off the bat, and both have tricky road fixtures at the weekend: Arsenal are at Swansea, West Brom visit Old Trafford.
I have nothing else to add to this, so let's just get straight into the details...
Arsenal Squad News
Theo Walcott, shown here playing for the
planet Mars's national team, needs surgery
because Arsenal's not allowed to have
wide players available anymore.
Out:
Walcott (stomach,) Cazorla (ankle,) Rosicky (thigh,) Sanogo (back,) Podolski (hamstring,) Oxlade-Chamberlain (knee,) Diaby (knee)
Apparently, Arsenal are required to have at least seven players out injured at all times. Now that Mikel Arteta is back, Theo Walcott is out a fortnight with a stomach strain that requires minor surgery. Arsenal's complete lack of wide players is staggering, with Walcott, Santi Cazorla, Lukas Podolski, and Alex Oxlade-Chamberlain all unavailable.
That aside, it was unlikely Theo would have played tonight anyway. With fixture congestion and all, the squad does need to be rotated a bit. The good news is Arsenal have a number of players itching to get a start, including Arteta, Thomas Vermaelen, Nacho Monreal, Carl Jenkinson, and other youngsters. Ideally you want to have a mix of experience and youth in these cup ties.
I would expect a rest for many of the midfielders who have kept the team clicking lately, including Mesut Ozil, Aaron Ramsey, and Jack Wilshere.
Also, it seems like Nicklas Bendtner is going to start. So, you know, that should be fun. Arsene Wenger's wording seemed to indicate that Lukasz Fabianski will get the start over Emiliano Viviano.
Likely Hilariously Wrong Predicted XI:
Fabianski, Jenkinson, Mertesacker, Vermaelen, Monreal, Frimpong, Arteta, Midfielder Chosen at Random, Miyaichi, Gnabry, Bendtner.
West Brom Squad News
Out:
Gera (knee,) Thorne (knee,) Vydra (hamstring,) Foster (ankle)
Doubts:
Brunt (groin,) Long (knee,) Reid (calf)
I can see how he has a knee injury, cramped
in that tiny box.
Prior to the weekend, West Brom were the only team in the top flight to play a 4-4-2 formation in each of their league games; incidentally, they also hadn't won yet. They switched to the more en vogue 4-2-3-1 and beat Sunderland 3-0.
The biggest question about the Baggies is whether or not they'll rotate their squad. They face a trip to Old Trafford to face Manchester United this weekend. Manager Steve Clarke has alluded to the fact that he will make some changes to the squad.
The Baggies are boosted by the news that Shane Long and Steven Reid are both available for selection again, returning from knee and calf injuries, respectively. Chris Brunt could be in contention as well, as he tries to shake off a groin injury he picked up at the weekend.
Goalkeeper Ben Foster is out until November with an ankle injury and Boaz Myhill might get a rest; that means Luke Daniels may start in goal. West Brom will also be without Zoltan Gera, George Thorne, and Matej Vydra.
Current Form
I'm at a loss for pictures to use. Here's Arsene Wenger.
Arsenal have won seven straight matches across all competitions for the first time since October of 2009. What you might not have remembered about that particular streak is that six of those matches featured Vito Mannone in goal (the other was a League Cup tie, against West Brom, in which Wojciech Szczesny received his first start for the first team.) Arsenal have also won 10 straight road matches, which, as you probably know by this point, is a club record.
Ah, but form is a funny ol' thing when it comes to the League Cup. Does winning a game with a rotated squad of youth players and non-regulars contribute to the team's run of form in the same way as a win from the starters would? Probably not. Would a loss disrupt the club's streak? Again, if it's not the usual squad playing, probably not. Form is ultimately tied to the players who play, not the team as a whole. That's why these early round League Cup ties can feel like they exist in a different world. Of course, if you were to, say, lose on penalties to a lower division team with your starting XI in the fifth round, that's the kind of thing that affects you.
West Brom has had a bit of a sluggish start to their season, picking up their first league win of the season at the expense of last place Sunderland. Oddly enough, before this weekend, the Baggies had drawn both of their road games (to Everton and Fulham) and lost both of their home games (to Southampton and Swansea.) West Brom advanced to the third round by beating League Two newcomer Newport County 3-0 in the second round.
Match Facts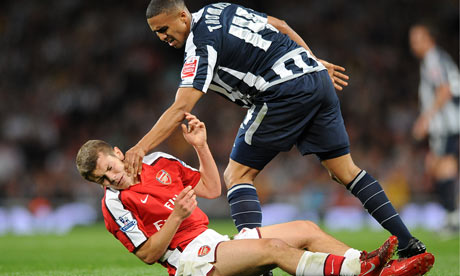 Touching Jack Wilshere used to be a red card offense.
Now you just get Flamini threatening to blind you.
In 2010/11, West Brom got away with facing Manuel Almunia twice and took four out of a possible six points from the Gunners. Since then, Arsenal have won all four league meetings. Last year, in the first meeting at the Emirates, Arsenal won 2-0 on the strength of two penalties; controversy surrounded Santi Cazorla's dive to win the first, but the Gunners still controlled the match from beginning to end and deserved the win. In the last meeting at the Hawthorns, Tomas Rosicky fired Arsenal to a 2-0 lead, but Per Mertesacker's red card set up James Morrison's penalty to make it 2-1 and 25 of the most nervous minutes of my life followed.
Of course, we can't talk about Arsenal at the Hawthorns and not mention the final day of the 2011/12 season, in which Marton Fulop's follies aided Arsenal to a 3-2 win and a third place finish. West Brom's last win over Arsenal at home came in October of 2005.
Arsenal and West Brom have met in the League Cup on three occasions, with Arsenal winning all three. Most recently, the sides met in the 2009 third round at the Emirates; as I mentioned earlier, that was Szczesny's first start for Arsenal's first team, a 2-0 win. Jerome Thomas was sent off for West Brom in that match for shoving Jack Wilshere; later, Sanchez Watt and Carlos Vela scored for Arsenal. Arsenal's previous League Cup wins over West Brom came in 2003 and 2006, both were also by 2-0 scorelines.
The Referee
"Well, I seem to have forgotten my yellow card in the hotel,
so I'm just going to send everyone off."
The referee is West Yorkshire-based Robert Madley, who is in his first season in the Select Group, having earned promotion this summer.
Incidentally, Madley's first career Premier League match was at the end of last season and it involved West Bromwich Albion; he showed three red cards in that 3-0 Baggies win over Southampton. While that might make it seem like Madley was caught out of his depth, all three decisions were arguably spot on: Gaston Ramirez was sent off in the 70th minute for catching Shane Long with an elbow to the face (one could debate whether it was accidental or not, however,) Marc-Andre Fortune was sent off for shoving Ramirez in the face during the ensuing melee (Madley consulted with the fourth official for that one,) and Daniel Fox was sent off 12 minutes later for a dreadful two-footed lunge on Steven Reid.
This will be Madley's first career match involving Arsenal.
Around the Third Round
Tuesday: Aston Villa 0 - 4 Tottenham Hotspur
Tuesday: Burnley 2 - 1 Nottingham Forest
Tuesday: Fulham 2 - 1 Everton
Tuesday: Hull City 1 - 0 Huddersfield Town
Tuesday: Leicester City 2 - 1 Derby County
Tuesday: Manchester City 5 - 0 Wigan Athletic
Tuesday: Southampton 2 - 0 Bristol City
Tuesday: Sunderland 2 - 0 Peterborough United
Tuesday: Swindon Town 0 - 2 Chelsea
Tuesday: Watford 2 - 3 Norwich City, after extra time
Tuesday: West Ham United 3 - 2 Cardiff City
Wednesday: Birmingham City v. Swansea City; St. Andrew's, Birmingham
Wednesday: Manchester United v. Liverpool; Old Trafford, Manchester
Wednesday: Newcastle United v. Leeds United; St. James' Park, Newcastle upon Tyne
Wednesday: Tranmere Rovers v. Stoke City; Prenton Park, Birkenhead