Emirates Stadium, London
Sunday, September 22
8:30 a.m. EDT, 13:30 BST
Match Officials

Assistants: Jake Collin and Gary Beswick

This Match, Last Year: Arsenal 1 - 0 Stoke
All-Time in All Competitions: 51 Arsenal wins, 23 Stoke wins, 23 draws
Arsenal's League Form: W-W // L-W-W-W
Stoke's League Form: L-D // L-W-W-D
Weather: Partly Cloudy, 19 C / 66 F
Who's up for some VENGEANCE?!?
Arsenal's first nine league matches this season are all fixtures they won last season: Aston Villa at home, Fulham away, Spurs at home, Sunderland away, Stoke at home, Swansea away, West Brom away, Norwich at home, and Crystal Palace away (in that Arsenal beat all three relegated teams twice last year.) Liverpool at home, on November 2, is the first match of this season in which Arsenal did not take all three points last year.
It's an odd quirk of scheduling that really makes you think. After losing to Villa the opening weekend of the season, there's no way Arsenal can be ahead of the pace they set last year until November, and that's if they continue their winning streak. Maybe this isn't a good way at looking at things, but it's something I just noticed as weird this week.
You can only play one game at a time, of course, so now it's time to focus on Stoke. It's always a tricky fixture, but Arsenal have a fantastic record at home against the Potters. Given Arsenal's positive run of form since the Villa debacle, I would say the expectation is for nothing less than three points.
Arsenal Squad News
Out:
Cazorla (ankle,) Rosicky (thigh,) Sanogo (back,) Podolski (hamstring,) Oxlade-Chamberlain (knee,) Arteta (thigh,) Diaby (knee)
Not this kind of magic square.
So, as far as I can tell, there are no updates and no changes. Arsenal will likely start the same XI they started at Marseille because they have to.
However,
Gunnerblog pointed out
that Arsenal's player availability has led to a shift in tactical set-up: the injuries to Santi Cazorla, Tomas Rosicky, Lukas Podolski, Alex Oxlade-Chamberlain, Mikel Arteta, and Abou Diaby has forced Arsenal to play with a midfield four of Mathieu Flamini, Aaron Ramsey, Jack Wilshere, and Mesut Ozil behind Theo Walcott and Olivier Giroud. The shift comes because none of Arsenal's available players are particularly suited for the left wing, save maybe Ozil, though he's certainly more of a threat as a number 10.
It's not really a 4-4-2; it's a "magic square," a 4-2-2-2, where Flamini and Ramsey sit in the back and Wilshere and Ozil push forward. The four in the square are permitted to move around the pitch freely, allowing them to find between passing angles. Meanwhile, the wingbacks are free to move up and down the lines as well.
I would not, under any circumstances, make any big changes to the back four; they're playing well together right now and you need that kind of understanding against a side that attacks like Stoke.
Predicted XI:
Szczesny, Sagna, Koscielny, Mertesacker, Gibbs, Flamini, Ramsey, Wilshere, Ozil, Walcott, Giroud.
Stoke Squad News
Out:
Ness (hip,) Shea (knee)
Doubts:
Muniesa (groin)
... ... ...The Aristocrats!
Sunday's visitors do not nearly have the same injury problems as the hosts. Stoke are without two players who have never made a Premier League appearance for the club: Jamie Ness with a hip problem and Brek Shea with a knee injury. Doubtful is Marc Muniesa with a groin injury; he's only appeared for Stoke in their recent League Cup tie.
Under Mark Hughes, Stoke plays a 4-4-1-1 with two banks of four playing behind two fowards, generally Jonathan Walters and Peter Crouch, with occasional exceptions. Last week, Kenwyne Jones started in place of Crouch. As they have been in the past, Stoke try to be very organized at the back, with Robert Huth and Ryan Shawcross at center back and Geoff Cameron and Erik Pieters at right and left back, respectively.
There's still a bit of long-ball smash-and-grab about Stoke though, even if their midfield is a little better with the ball than it was under Tony Pulis. The onus will not only be on Arsenal's "magic square" to retain most of the possession, but also on their back line to clear out any dangerous long balls.
Current Form
Theo Walcott always pretends he is an airplane.
What's with that?
Arsenal's win in Marseille on Wednesday was their tenth consecutive win away from home, which set a club record. An amazing accomplishment for the team, to say the least, especially when you consider the first of the ten wins was at Bayern Munich. Their upcoming road games include two against West Brom (League Cup and league,) one at Swansea, one at Crystal Palace, and possibly another League Cup tie (depending on how Wednesday's goes) before trips to Borussia Dortmund and Manchester United four days apart.
Now, this isn't a road game, so let's move on. In terms of form as a whole, Arsenal have now lost once in their last 18 matches: W-W-W-W-W-D-W-D-W-W-W-L-W-W-W-W-W-W. That's good stuff. Arsenal have now won six straight across all competitions, something they did not accomplish at any point last year. Arsenal's last streak of this length was kick-started by the first 5-2 over Spurs in February of 2012 and snapped, shockingly, by QPR (Mike Dean was the referee that day... more on him later.)
As for Stoke, they are 7th in the table and have lost only once this season. They would be unbeaten if they had converted the late penalty they were given at Anfield, but fell 1-0 to Liverpool. After a League Cup win over Walsall, Stoke went on to beat Crystal Palace and West Ham, then drew Manchester City (who were caught out resting too many starters ahead of the Champions League) at the Britannia last week.
Match Facts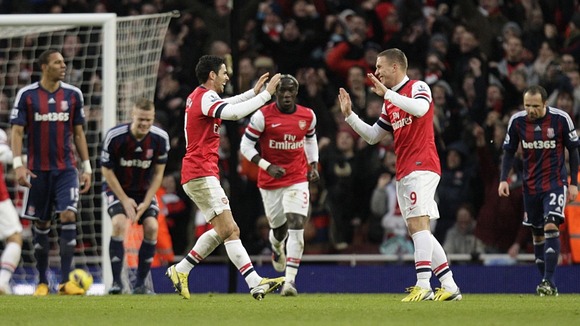 If you look very closely, you can see a very upset Ryan
Shawcross in the background.
Arsenal took four of a possible six points from Stoke City last year, and in 180 minutes of action only one goal was scored. That came in this fixture, played in February at the Emirates, from Lukas Podolski. The German scored in the 78th minute from a deflected free kick after coming off the bench just ten minutes prior. The goal looked to be initially ruled offside, but after a conference between the referee, Chris Foy, and his linesman, the goal was given. Arsenal had previously drawn 0-0 at the Britannia in August, in a match where they had two-thirds of the possession and 11 corners, but just two shots on target.
I mention this every time Arsenal plays Stoke at home, but the statistic still holds, so it's relevant: the last time Stoke won against Arsenal in North London, the #1 hit in the U.K. was Soft Cell's "Tainted Love." The date was August 29, 1981. Since then, Arsenal have won 11 straight against the Potters in North London. Eight of those have been league meetings, with three victories in cup ties coming during the time when Stoke was not top flight.
Additionally, this fixture in the 2010/11 season ended 1-0 to the Arsenal after an 8th minute Sebastien Squillaci goal. I like to throw that in there, too, just to remind everyone that that was a thing that happened. Of course, then Theo Walcott and Cesc Fabregas got hurt that day and missed the Carling Cup Final. When you look at it that way, it might have been one of the costlier victories in recent memory.
The Referee
Mike Dean illustrates his evil sorcery as he levitates the ball.
The referee is Wirral-based Mike Dean. Everyone groan loudly now. The last time Arsenal saw Mike Dean, it was the penultimate game of last season and Arsenal needed a win against recent FA Cup champion Wigan Athletic. Arsenal scored first, but Wigan were level at halftime on a goal scored straight from a dubiously given set piece. Arsenal, however, had the quality on the day to overcome Wigan and Dean, and picked up the three points as they sailed towards fourth place.
That means Arsenal's record with Dean is now three wins in their last 22 matches, including 11 losses and eight draws. Last year, aside from the Wigan victory, Dean was on hand for the cup exit to Bradford City, the cup exit to Blackburn Rovers (I'm sensing a trend,) the loss at Old Trafford, and the loss to Manchester City in which Laurent Koscielny was sent off within ten minutes. He also worked Arsenal's 1-1 draw at Manchester City, in which he wasn't too dreadful.
Last year for Stoke, Dean was in the middle for a 3-1 loss at Swansea in which nobody was even booked and a 0-0 draw with West Brom at the Britannia.
Around the League
Saturday (early): Norwich City v. Aston Villa; Carrow Road, Norwich
Saturday: Liverpool v. Southampton; Anfield, Liverpool
Saturday: Newcastle United v. Hull City; St. James' Park, Newcastle upon Tyne
Saturday: West Bromwich Albion v. Sunderland; The Hawthorns, West Bromwich
Saturday: West Ham United v. Everton; Boleyn Ground, London
Saturday (late): Chelsea v. Fulham; Stamford Bridge, London
Sunday (early): Crystal Palace v. Swansea City; Selhurst Park, London
Sunday (late): Cardiff City v. Tottenham Hotspur; Cardiff City Stadium, Cardiff
Sunday (late): Manchester City v. Manchester United; Etihad Stadium, Manchester