Craven Cottage, London
Saturday, August 24
7:45 a.m. EDT, 12:45 BST
Match Officials

Referee: Howard Webb
Assistants: Mike Mullarkey and Darren Cann
4th Official: Michael Oliver

This Match, Last Year: Fulham 0 - 1 Arsenal
All-Time in All Competitions: 35 Arsenal wins, 8 Fulham wins, 10 draws
Arsenal's League Form: W-D-W-W-W // L
Fulham's League Form: L-L-L-L-W // W
Weather: Rain, 20 C / 67 F
Oh. Happiness. I briefly forgot what that was like.
So, after Saturday, Arsenal was in a pretty bad state. It was full-on "worst case scenario" stuff: a bad loss, piling injuries, etc. etc.
Now, after Wednesday, where are things? The 3-0 win over Fenerbahce in Turkey gave Arsenal one (huge) foot in the Champions League group stage. But, a Saturday lunchtime match following a Wednesday night game is about as tough as it gets for a player's stamina, so let's hope Arsenal can keep it together and keep the good vibes flowing.
There's really not much more to say than that; Wednesday's win was a step back from the abyss, but there's plenty of work to be done and it starts in West London.
Arsenal Squad News
Out:
Oxlade-Chamberlain (knee,) Arteta (thigh,) Miyaichi (ribs,) Vermaelen (back,) Diaby (knee)
Suspended:
Koscielny (one match)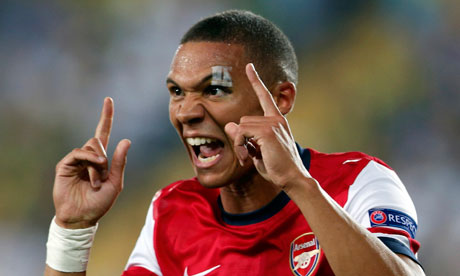 AHHHHHHHHHHHHH!!!!!!!
Arsenal's list of wounded grew one larger on Wednesday night, though Laurent Koscielny was already unavailable for this match. The gash on his head was, according to many sources, "horrendous," but we learned via Giroud's Instagram account that he was on the flight back after brief hospitalization, so that's some good news there.
As mentioned, Koscielny is out for the Fulham match anyway, after his red card last weekend. Arsenal's continued depth problems will mean more of Bacary Sagna filling in at center back.
As for the rest of the squad, there is of little note to talk about; nothing has changed, but there is not much depth (surprise!) to allow for any rotation, which is dicey given that, as I said, this is a Saturday lunchtime kick-off following a Wednesday night about 3,000 km (1800 miles) east in Asia (yes, Asia; Fenerbahce is east of the Bosphorus.) I don't know, maybe Lukas Podolski can finally get a start...
Let's hope their legs don't fall off at halftime.
Predicted XI:
Szczesny, Jenkinson, Sagna, Mertesacker, Gibbs, Ramsey, Wilshere, Cazorla, Podolski, Walcott, Giroud.
Fulham Squad News
Out:
Stekelenburg (shoulder,) Richardson (hamstring)
Doubts:
Amorebieta (knock,) Kacaniklic (hamstring)
Stekelenburg could miss out through a shoulder injury.
New signing, goalkeeper Maarten Stekelenburg, was forced off after 76 minutes last week with a shoulder injury. I haven't heard confirmation that he is definitely out, but one source indicates he could be out until at least mid-September. If the Dutchman does indeed miss out, David Stockdale will deputize in goal, after Mark Schwarzer left this summer on a free to Chelsea's bench. Additionally, Kieran Richardson left with a hamstring injury that could keep him out for an indeterminate amount of time.
There are doubts over center back Fernando Amorebieta (knock) and midfielder Alexander Kacaniklic (hamstring.)
Fulham have made two recent loan moves in acquiring the services of Darren Bent and Scott Parker.
Current Form
Please stop oscillating wildly. It's dizzying.
Trying to figure out how Arsenal will look tomorrow is kind of like spinning a roulette wheel; at this point early in the season, there's not much form to talk about. Arsenal have played twice and have had two results that lie at the opposite ends of the spectrum from each other: a brutal home loss and a comprehensive road victory. How can you make heads or tails of that? There's no real trend to speak of when the results are that far apart. If you take the average, I'd say this game will be exactly in the middle of the road. Of course, that's not how it works. Really, I'd just prefer if the team stopped oscillating so wildly.
As for Fulham, from April 7 to May 12, the Cottagers were winless in seven, gaining only one point via a draw with Aston Villa. They lost five straight to Chelsea, Arsenal, Everton, Reading, and Liverpool and fell in the table from 10th to 15th. Of course, they were never really in relegation danger, despite the plunge, and won their final match of the season 3-0 against a Swansea side that had also stopped trying after winning the Capital One Cup. Fulham have technically turned that into two straight victories, after beating Sunderland 1-0 to open the season last week at the Stadium of Light.
Match Facts
Mertesacker's three goals last year all came against
London sides that wear white.
Arsenal took four out of a possible six points from Fulham last year, while Fulham took four out of a possible six points from Arsenal the year before that. This match last year came as recently as four months ago, April 20. Steve Sidwell was sent off in the 12th minute for the Cottagers, but Arsenal found it hard to breakthrough against ten man Fulham. Per Mertesacker had the only goal in the 43rd minute and Olivier Giroud was sent off in injury time after going into a challenge studs up after slipping on the ball. Fulham earlier had an equalizer correctly ruled offside by the best linesman in the league, Sian Massey.
The year prior, Arsenal lost at the Cottage 2-1 just after New Year's. That was a case of a red card going against Arsenal, as Johan Djourou was sent off after two soft yellow cards, Sebastien Squillaci came off the bench to alleviate the damage, and a 1-0 lead became a 2-1 loss in injury time.
Before Arsenal's win in April, Fulham were unbeaten in four matches against the Gunners. Since August of 2008, Fulham have won this fixture twice, drawn once, and lost twice. They've also drawn their last two trips to the Emirates, but we'll talk more about that in January before the reverse fixture.
The Referee
Arseblog and I had a Twitter chat about whether or
not Howard Webb eats cats. Here is an alien dressed as
an American football referee, for reference.
The referee is
Melmac-based ALF
South Yorkshire-based Howard Webb. Arsenal saw Webb five times last year, won four, and drew the other. The wins included the 2-0 at Anfield last September, the 5-2 over Spurs at the Emirates in November, the 2-1 win at West Brom (in which Per Mertesacker was correctly sent off and then everything got all nervy,) and the match that was never 1-1 at Newcastle in May. The draw was the 2-2 at Swansea in the third round of the FA Cup. Arsenal are unbeaten in their last six with Howard Webb as the referee; the last loss came in the FA Cup to Sunderland in February of 2012.
Fulham only saw Howard Webb once last season, in a 0-0 draw with Norwich in February. The year prior, Fulham drew twice and lost once with Webb in charge: the draws were 1-1 at Norwich and 1-1 with Blackburn, the loss was 2-1 at Everton in the FA Cup.
So, incidentally, each club's most recent loss with Howard Webb as the referee came as they crashed out of the 2012 FA Cup.
Last week, Webb was in the middle for West Ham's 2-0 win over Cardiff City at Upton Park. He showed just one yellow card.
Around the League
Saturday: Everton v. West Bromwich Albion; Goodison Park, Liverpool
Saturday: Hull City v. Norwich City; KC Stadium, Kingston upon Hull
Saturday: Newcastle United v. West Ham United; St. James' Park, Newcastle upon Tyne
Saturday: Southampton v. Sunderland; St. Mary's Stadium, Southampton
Saturday: Stoke City v. Crystal Palace; Britannia Stadium, Stoke-on-Trent
Saturday (late): Aston Villa v. Liverpool; Villa Park, Birmingham
Sunday (late): Cardiff City v. Manchester City; Cardiff City Stadium, Cardiff
Sunday (late): Tottenham Hotspur v. Swansea City; White Hart Lane, London
Monday (night): Manchester United v. Chelsea; Old Trafford, Manchester
The reverse of these fixtures will be played the weekend of January 18-19.