Emirates Stadium, London
Sunday, September 1
11:00 a.m. EDT, 16:00 BST
Match Officials

Referee: Michael Oliver
Assistants: Simon Long and Jake Collin
4th Official: Jonathan Moss

This Match, Last Year: Arsenal 5 - 2 Tottenham
All-Time in All Competitions: 71 Arsenal wins, 54 Tottenham wins, 45 draws
Arsenal's League Form: D-W-W-W // L-W
Tottenham's League Form: W-D-W-W // W-W
Weather: Partly Cloudy, 19 C / 67 F
It's a little too early in the season to make sweeping generalizations about what this one individual match means for the season as a whole. These three points count the same as any other three points. Then again, it is the North London derby...
So, I'm going to keep this short:
I believe I can say, without hyperbole, that this is the
most critical football match in the history of humanity
.
Arsenal Squad News
Out:
Podolski (exploded hamstring,) Oxlade-Chamberlain (semi-exploded knee,) Arteta (garbled thigh,) Vermaelen (bent back,) Diaby (missing knee)
NOOOOOOO!!!! NOOOOOOOO!!!! WHYYYYYYY!!??!!
Well, Mathieu Flamini is available for selection. That's something, right? Right? As of press time, Arsenal have not signed anyone else, but there are still two days before the match to sign hahahaha, I'm sorry, I can't even say it with a straight face.
The news on Lukas Podolski is well and truly terrible, as the German international is set to miss 8 to 10 weeks (which, in Arsenal time, is about six months) with the hamstring injury he picked up against Fenerbahce. Add that to the list of already missing players and the squad looks even more light than the "incredibly light" it already was.
On Wednesday, when Fenerbahce were formally kicked out of European competition, the Internet was outraged, with many saying "why couldn't they have been kicked out before we lost Podolski to injury against them and before they kicked around Jack Wilshere and Aaron Ramsey?" Since the latter two are fine and will be available on Sunday, the point regarding Poldi holds no water; it's a hamstring injury, he could have picked it up against anybody. It's not like Arsenal would've been through without playing an opponent; Podolski could just have easily done his hamstring against Red Bull Salzburg. It's annoying, but it's part and parcel of the game.
Anyway, no, seriously, spend some fucking money.
Predicted XI:
Szczesny, Sagna, Koscielny, Mertesacker, Gibbs, Ramsey, Wilshere, Rosicky, Cazorla, Walcott, Giroud.
Tottenham Squad News
Out:
Assou-Ekotto ("knee,") Adebayor (unwanted,) Lennon (foot,) Bale (Real Madrid)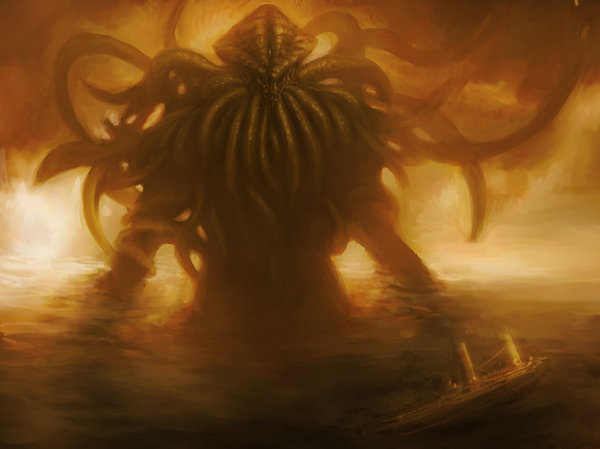 Tottenham's bids are getting really audacious now...
Spurs have a relatively clean bill of health, largely because God isn't punishing them for not spending this summer like a certain other North London club. Aaron Lennon missed training Wednesday with a foot injury, but Benoit Assou-Ekotto, Emmanuel Adebayor, and Gareth Bale are all absent as they are all likely on their way out of the club.
With regards to Spurs' summer moves, seriously, I went to the BBC Web site just now (I'm writing this at 7:30 p.m. Eastern time Thursday,) and saw a headline out of the corner of my eye that read "Tottenham to sign £8.5m Cthulhu." I thought, "Wow, they're even signing cosmic monsters now. That sounds about right." Apparently, it's actually center back Vlad Chiriches, though I have no evidence that says he's
not
a cosmic monster.
Tottenham's strategy has literally been "buy everyone," which is in stark contrast to Arsenal's strategy of "well, is he free? How about French?" Spurs have spent nearly £58 million on the likes of Paulinho, Nacer Chadli, Roberto Soldado, and Etienne Capoue. And yet, they are still linked with more and more names, including Erik Lamela for another £25.7 million, and also this Cthulhu guy.
Current Form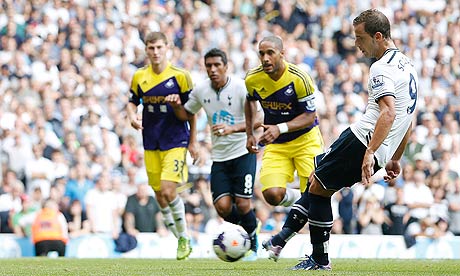 Spurs' have won both of their matches from the penalty
spot.
It's still early in the season, so "form" is a bit of an ethereal property (well, it always is, in a sense.) You could say Arsenal are in "good form" right now, as they have won their last three matches by a combined scoreline of 8-1. But, you should also take that information with a grain of salt because they haven't played any opponents of particular quality yet (sorry, Fulham.) On the other hand, you can't fault Arsenal for not having played any opponents of particular quality yet. Since the season opening debacle, the Gunners have done everything they have had to; what more could you ask for?
As for Spurs, well, they've been winning too. Both of their league wins have come by 1-0 scorelines and their only goals of the year have come from the penalty spot. Soooooo, "don't concede penalties" seems like a solid tactical plan, right? Spurs have also advanced to the group stage of the Europa League by beating Dinamo Tbilisi by 5-0 and 3-0 scorelines.
Match Facts
I'm not even sure which year this is from.
If history has a way of repeating itself (which seems apparent in the way Arsenal handles transfer windows,) then maybe that's good news for the Gunners in this individual match. I'm sure you're all aware that Arsenal won this fixture last year and the year before by identical 5-2 scorelines
As last year's story goes, Spurs were well and truly in control, up 1-0 in the early going (with an earlier goal disallowed) before Emmanuel Adebayor was shown a straight red card by Howard Webb. From there, Arsenal took over against 10-man Spurs: Per Mertesacker's first Arsenal goal equalized before Lukas Podolski and Olivier Giroud made it 3-1 at halftime. Santi Cazorla made it 4-1 at the hour mark before Gareth Bale pinged one back in the 71st. Things felt a little nervy for a bit, because as an Arsenal fan, I know no lead is safe. Theo Walcott scored in injury time to make the scoreline a duplicate of the previous season's.
Of course, Spurs did go on to win the rematch at the Lane in March in what was a pretty even affair throughout, though Arsenal were undone by two minutes of stupidity from Tom Vermaelen. Vermaelen has only started once since that game, and that was only because Mertesacker was banned for a match.
At Highbury/the Emirates in the Premier League era, Arsenal have a record of 12 wins, 2 losses, and 7 draws against Tottenham.
The Referee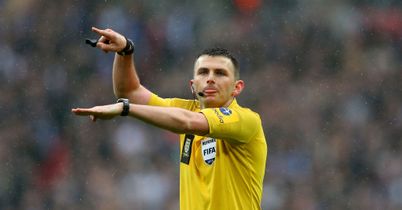 I think this is part of the Macarena.
The referee is Northumberland-based Michael Oliver. Arsenal saw Oliver twice last season, in their 1-1 draw with Everton at Goodison Park and their 3-2 win at Brighton & Hove Albion in the fourth round of the FA Cup. For Tottenham last season, Oliver was in charge of two matches, both Spurs losses: 2-1 at Manchester City last November and 3-2 at Liverpool in March. Spurs have actually lost three straight with Oliver (including a 2-1 loss at home to Norwich in April 2012,) dating back to a 3-1 win over Stevenage in an FA Cup replay.
Oliver, who turned 28 in February, is the youngest referee to ever work a Premier League game, a record he took from Stuart Attwell (who has since been demoted.) Oliver's biggest honor to date was to referee the FA Cup semi-final between Wigan and Millwall last year; he was also the fourth official at last year's League Cup final and this year's Community Shield. Oliver, who I once considered "out of his depth" in 2010/11, has come a very long way in the past two or so years.
Around the League
August 21: Chelsea 2 - 1 Aston Villa, played earlier, because:
Friday, UEFA Super Cup: Bayern Munich v. Chelsea; Eden Arena, Prague
Saturday (early): Manchester City v. Hull City; Etihad Stadium, Manchester
Saturday: Cardiff City v. Everton; Cardiff City Stadium, Cardiff
Saturday: Newcastle United v. Fulham; St. James' Park, Newcastle upon Tyne
Saturday: Norwich City v. Southampton; Carrow Road, Norwich
Saturday: West Ham United v. Stoke City; Boleyn Ground, London
Saturday (late): Crystal Palace v. Sunderland; Selhurst Park, London
Sunday (early): Liverpool v. Manchester United; Anfield, Liverpool
Sunday (early): West Bromwich Albion v. Swansea City; The Hawthorns, West Bromwich