Emirates Stadium, London
Saturday, August 17
10:00 a.m. EDT, 15:00 BST
Match Officials

Referee: Anthony Taylor
Assistants: Harry Lennard and Mick McDonough
4th Official: Andy D'Urso

This Match, Last Year: Arsenal 2 - 1 Aston Villa
All-Time in All Competitions: 76 Arsenal wins, 65 Aston Villa wins, 45 draws
Arsenal's End of Season Form: D-W-D-W-W-W
Aston Villa's End of Season Form: D-L-W-W-L-D
Weather: Mostly Cloudy with Drizzle Late, 20 C / 67 F
I made this last August; it still applies.
I have no idea what to say here; I really don't. This summer has been confusing to the utmost degree. Arsenal opened the window by informing the world that they had all of the money in the universe and were prepared to make a big splash. Then, they didn't do that.
Transfer saga after transfer saga went by; they had personal terms agreed with Gonzalo Higuain, but when the Emirates Cup rolled around, he was on the pitch for the other team. They entered a highly controversial and highly public saga involving known racist biter Luis Suarez, and even that hasn't panned out. Rumors come and rumors go, but one fact remains: Arsenal have spent zero money this summer.
On the face of things, you can point to the fact that last year's core remains intact (something you could not say about each of the previous two summers) and this is a squad that went 11 games unbeaten across all competitions to close out last year. Arsenal finally got rid of the deadwood on their wage bill, which is also good news. However, without new acquisitions and suddenly a host of injury worries, it suddenly looks like Arsenal have about eight players in the squad, total. Meanwhile, they play matches Saturday, Wednesday night, Saturday lunchtime, Tuesday night, and Sunday.
Make no mistake, this is a critical three week period, and the Gunners come into it unsteady at best. But, you can only play games 90 minutes at a time, and that means focusing on Aston Villa tomorrow. Villa had a rough season last year, but come into this year buoyed by their escape from relegation, with another year of experience tacked onto their exceedingly young roster. If Arsenal had done big business this summer, you'd think this would be an easy three points. The reality, however, is a little more sobering.
That being said, 10:00 a.m. Eastern time tomorrow, 3:00 p.m. in London, is not the time to bitch and moan about what happened this summer. It's the time to cheer on the boys in red and white. Leave the bitching for after the final whistle, when hopefully there won't be that much to bitch about.
Arsenal Squad News
Out:
Arteta (thigh,) Monreal (back,) Miyaichi (ribs,) Vermaelen (back,) Diaby (knee)
Doubts:
Sagna (ankle,) Walcott (knee,) Cazorla (jet lag, probably,) Sanogo (hamstring,) Ramsey (ankle)
Arsenal's newest prospect not only has
the same injury woes as everyone else,
but he also spends way too much time
at the tanning salon. And he has no face!
Well, will you look at that? Is there anyone available anymore? I mean, I played right back for my junior varsity team (and got torn to shreds at said position,) so count me available for selection.
So, where to begin? Bacary Sagna has picked up an ankle problem on international duty, calling his availability into doubt. With the likes of Sebastien Squillaci and Andre Santos out, Ignasi Miquel on loan, and Johan Djourou on loan with the option to buy, all coupled with injuries to Thomas Vermaelen (who likely won't be match fit until October) and Nacho Monreal (who has not played at all since the Confederations Cup,) it appears Arsenal will go into Saturday with exactly zero defensive options on the bench. Challenge accepted?
Meanwhile, Mikel Arteta picked up a thigh problem in training, because we're not allowed to have nice things. The scan was not good and the Spaniard could miss up to six weeks. So, you know, that's a disaster. Elsewhere in the midfield, Aaron Ramsey pulled out of the Wales squad this week with an ankle problem; it sounded like that was mostly precaution. Santi Cazorla played in Ecuador and will very likely be jet lagged, though to be fair, he started the first match of last season against Sunderland under similar circumstances. Without the Spaniards, you're looking at a midfield trio of Ramsey, Jack Wilshere, and Alex Oxlade-Chamberlain. Britain!!
Speaking of Britain, Theo Walcott played 75 minutes for England against Scotland on Wednesday, scored a goal, and left with swelling in his knee, so even he's a doubt! It's a good thing Arsenal bought (read: signed on a free) Yaya Sanogo... oh wait... even HE'S a doubt with a hamstring injury. At this point, I would like to remind you that I played right wing in the seventh grade, so again, count me available.
Maybe it's better the injury crisis hit now than in September when the window (ha!) is closed.
Predicted XI:
Szczesny, Jenkinson, Mertesacker, Koscielny, Gibbs, Ramsey, Wilshere, Oxlade-Chamberlain, Podolski, Walcott, Giroud.
Aston Villa Squad News
Out:
N'Zogbia (Achilles), Herd (calf)
Aston Villa survived last season in the Premier League by the skin of their teeth (see the "Last Season" section below.) Their biggest move of the summer, honestly, was not a move at all, but rather the new contract for Christian Benteke. Benteke scored 40% of Villa's Premier League goals last season.
In terms of their transfer window merry-go-round, Richard Dunne, Eric Lichaj, and Andy Marshall went to Championship sides after being released, Stiliyan Petrov retired, and Jean Makoun was sold to Rennes for an undisclosed fee. Darren Bent, meanwhile, has had a medical at Fulham, so Arsenal won't have to worry about him until... a week from now.
On the arrivals side, Villa bought Aleksandar Tonev from Lech Poznan, Jores Okore from Nordsjaelland, Leandro Bacuna from Groningen, Nicklas Helenius from Aalborg, and Antonio Luna from Sevilla. They also picked up 20 year old goalkeeper Jed Steer from Norwich on a free.
As far as I can tell (injury news is always scattered at the beginning of the year, unless you're Arsenal and half your team is doubtful,) Chris Herd and Charles N'Zogbia are both out, the former limping out of a friendly in July and the latter needing Achilles surgery in June.
Last Season
Arsenal celebrates their fourth place trophy at Newcastle
last year, where it was not 1-1.
Well, what is there to say about last season? I won't go into
too much
detail; you likely know most of it already. Consider this a refresher course. Things started moderately well, despite some last minute exits in August who shall remain nameless. A handful of losses through October raised some question marks. A three match winless streak including Michu's 2-0 win at the Emirates saw Arsenal drop as far as 10th. The Gunners rebounded to win four straight, then promptly forgot how to play again in January. But, after losses to Manchester City and Chelsea, Arsenal lost just once in their remaining 16 league matches (but fell out of the other competitions, often in dramatically ridiculous ways) to pip rival Tottenham Hotspur for fourth place and the right to play... ughhhh... Fenerbahce in the Champions League play-off.
Aston Villa, on the other hand, were never higher than 11th place in the table last season (that happened with a win on September 15.) That specific win, over Swansea, was their only win in their first nine league matches. Things picked up in late November to December, starting with their 0-0 draw with Arsenal, in which the Villans went unbeaten in five. Ah, but then they visited Stamford Bridge and lost 8-0, kicking off an eight match winless run that saw them drop to 19th. A win against West Ham offered brief respite before losses to Arsenal and Manchester City. At that point, the Villans sat in 18th place on March 4 with 10 games to play; they proceeded to win five and draw two of those, and eventually finished in 15th, five points clear of relegation. In the domestic cups, Villa were bounced by Millwall in the FA Cup's fourth round (remember, Millwall went to Wembley?) and by Bradford City in the League Cup (one round after the Bantams shamed Arsenal.)
Match Facts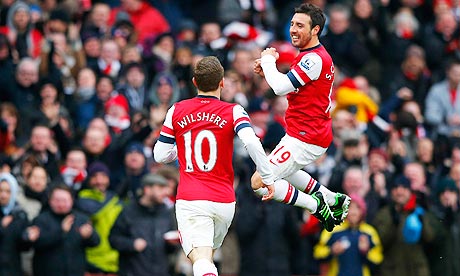 Santi Cazorla suspends himself in midair to celebrate a goal
in this fixture last year.
Arsenal took four out of a possible six points from the Villans last year. The first meeting, in late November at Villa Park, was played in horrible rainy conditions; neither side could break the deadlock in the pitch-turned-bog and my dreams are still haunted by Olivier Giroud being removed for Francis Coquelin late in the 0-0 draw. The Gunners won the reverse fixture at the Emirates 2-1 in late February; Santi Cazorla opened the scoring in the sixth minute, Andreas Weimann equalized in the 68th, and Cazorla picked up the late winner in the 85th.
Arsenal won three meetings with Villa the year prior: 2-1 in Birmingham, 3-2 in the FA Cup (coming back from 2-0 down at halftime,) and 3-0 at the Emirates. Arsenal have only lost two of their last 29 league meetings with Aston Villa, though one of those came moderately recently, in May of 2011.
In season opening matches, Arsenal are unbeaten in 12, dating back to a 1-0 loss at Sunderland in 2000. Since then, the Gunners have won eight and drawn four of their curtain raisers, though they have drawn their last three to the likes of Sunderland, Newcastle, and Liverpool. You can't really find similar trends with Villa; they lost last year's opener 1-0 to West Ham, drew Fulham 0-0 the year before that, and beat West Ham 3-0 the year before that. In their last seven league openers, the Villans have won two, drawn two, and lost three.
The Referee
Taylor was involved in the testing of goal line technology
at the Emirates earlier this month, meaning I expect several
dubious goals in this match.
The referee is Cheshire-based Anthony Taylor. Arsenal saw Taylor three times last season and won all three: 1-0 over QPR in October (in which he sent off Stephane Mbia late in the match, just before Mikel Arteta's winner,) 5-2 over Reading at the Madejski (in which Santi Cazorla had a hat trick,) and 1-0 over Sunderland (in which Carl Jenkinson was rightly sent off for... exuberance, Aaron Ramsey played right back, and I had eleven consecutive heart attacks.)
For Villa last season, Taylor worked two matches. He was in the middle of a 1-1 draw at West Brom (Darren Bent had a late equalizer for the Villans) and a 3-0 loss at Manchester United the day United clinched the title.
Around the League
Saturday (early): Liverpool v. Stoke City; Anfield, Liverpool
Saturday: Norwich City v. Everton; Carrow Road, Norwich
Saturday: Sunderland v. Fulham; Stadium of Light, Sunderland
Saturday: West Bromwich Albion v. Southampton; The Hawthorns, West Bromwich
Saturday: West Ham United v. Cardiff City; Boleyn Ground, London
Saturday (late): Swansea City v. Manchester United; Liberty Stadium, Swansea
Sunday (early): Crystal Palace v. Tottenham Hotspur; Selhurst Park, London
Sunday (late): Chelsea v. Hull City; Stamford Bridge, London
Monday (night): Manchester City v. Newcastle United; Etihad Stadium, Manchester
The reverse of these fixtures will be played the weekend of January 11-12.