Loftus Road, London
Saturday, May 4
12:30 p.m. EDT, 17:30 BST
Match Officials

Referee: Jonathan Moss
Assistants: Simon Beck and Ceri Richards
4th Official: James Linington

Reverse Fixture: Arsenal 1 - 0 QPR
This Match, Last Year: QPR 2 - 1 Arsenal
All-Time in All Competitions: 21 Arsenal wins, 15 QPR wins, 14 draws
Arsenal's League Form: W-W-W-D-W-D
QPR's League Form: L-L-D-L-L-D
Weather: Partly Cloudy, 16 C / 61 F
Arsenal no longer controls their own destiny. As good as a point against the Champions might have been, it also means Arsenal can still finish fifth even if they win their remaining games: if Tottenham wins all of their remaining games and Chelsea wins the rest of theirs (aside from the game with Spurs,) then Arsenal will finish fifth.
You can see that in the fancy-pants chart I made to the left. Even if Arsenal wins all three games (which they should,) Arsenal's odds at finishing in the top four is not 100%.
Arsenal can't worry about that though; it's out of their hands. If 73 points is not enough for a top four finish, well, what is there to say about that? The last time 73 points would not have been enough to finish in the top four was five years ago, when fourth place Liverpool, on 76 points, finished 11 points better than fifth place Everton.
This week's opponent is Queens Park Rangers, who are already relegated. The good news is that they are not fighting tooth and nail for their lives (like Wigan will be in a week and a half.) The bad news is they'll be playing without pressure anymore.
All of the pressure is on Arsenal to win this game. So, let's do it.
Arsenal Squad News
Out:
Fabianski (ribs), Diaby (knee)
Suspended:
Giroud (second of three)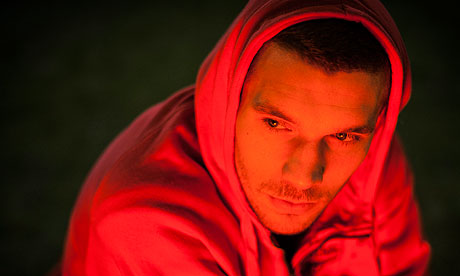 We'll see if Arsenal continue to use Angsty Podolski up top.
So, no news is good news? There are no fresh injury concerns for Arsenal, meaning the only absences remain Lukasz Fabianski with cracked ribs, Abou Diaby with being Abou Diaby, and the banned Olivier Giroud.
That doesn't mean there aren't any questions about player selection, though: do you stick with Bacary Sagna at right back after his lackluster display? Kieran Gibbs or Nacho Monreal at left back? Does Jack Wilshere start or do you keep Tomas Rosicky in the middle? Lukas Podolski up front? Gervinho somewhere?
Personally, my answers to those questions would be: No, Gibbs, keep Rosicky, yes, and bench. But, those are just my answers; I would not be surprised to see Sagna retain his place.
QPR Squad News
Out:
Wright-Phillips (ankle), Campbell (foot), Johnson (knee)
Doubts:
Samba (knee), Townsend (hamstring)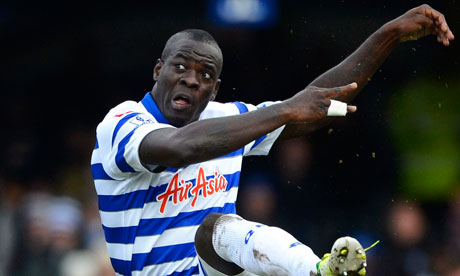 It's a good thing QPR got Samba for such a bargain...
Christopher Samba, who cost QPR a billion dollars in the transfer window, was dropped from the line-up last weekend (and did not even make the bench.) He's listed as a doubt with a knee injury, though I am not positive if he does indeed have a knock or if he was just dropped for the sake of being dropped. Samba has admitted this week that he was not ready for the rigors of Premier League football when he returned in January.
Meanwhile, Andros Townsend is a doubt with a hamstring problem, while long term injuries include Shaun Wright-Phillips, D.J. Campbell, and Andrew Johnson. Bobby Zamora returns from suspension.
Current Form
"See you in the Championship next year!"
Since losing to Tottenham, Arsenal are unbeaten in their last eight games, with six victories (including the 2-0 win at Bayern Munich, a team which just beat Barcelona by eighty bazillion.) So, that pretty much boils down to "Arsenal Form = Quite Good, Thank You."
QPR Form = Hello Championship. The Hoops have won four league games all season; most recently, they won two straight in early March. Since then, four losses and two draws. Among teams in the top six, however, QPR have held four of them (Chelsea, Manchester City, Tottenham, and Everton) to draws at Loftus Road this season. So, you know, they have that going for them...
Match Facts
It took 84 minutes for Arsenal to break the deadlock with
QPR in October.
Arsenal won the reverse fixture 1-0 at the Emirates in late October, although they left it very uncomfortably late. Arsenal had 70% of the possession over 96 minutes but Julio Cesar made 10 saves for QPR. Stephane Mbia was sent off in the 80th minute and four minutes later Mikel Arteta finally bundled a shot across the goal line, though the Spaniard was arguably offside when he did so. QPR had two solid chances to equalize in injury time, but both went begging.
QPR won this fixture last year 2-1; Adel Taarabt opened the scoring by darting past Thomas Vermaelen in the 22nd minute, but Theo Walcott pegged back an equalizer in the 37th. QPR won it thanks to a Samba Diakite goal in the 66th, converting a pass from Jamie Mackie. The loss for Arsenal snapped a seven match winning streak at the time. I should note that Mike Dean was the referee that day and we all know by now that Arsenal does not win when Dean is involved.
Over their last 13 league meetings, Arsenal have just three wins against QPR, and all three have come at home: earlier this season and last season at the Emirates and in 1995 at Highbury. This stat is largely meaningless since before last year, QPR's most recent season in the top flight was 1995/96. Arsenal did win an FA Cup tie 6-0 in West London in 2001, but their last league win at Loftus Road was in 1990, by a 3-1 scoreline. Four of the six meetings at Loftus Road since then have been draws, with QPR winning once last year and the other 3-1 in April of 1995.
The Referee
Sorry, wrong Moss again...
The referee is West Yorkshire-based Jonathan Moss. Arsenal have seen Moss twice this season, both in road contests, and won both games. Those contests include the 1-0 win at Wigan in December and the 2-0 win at Swansea in March. Arsenal have seen Moss only one other time; last year, they won 2-1 at Aston Villa with Moss in the middle. Three matches, all on the road, all wins for the Gunners.
As for QPR, they have seen Moss twice this year, both in home contests, and drew both games. In October, they drew 1-1 with Everton (on the strength of an own goal each,) in which Steven Pienaar was sent off for two yellow cards around the hour mark; that is the only red card Moss has shown this season. The other draw was a 0-0 with Norwich in early February.
Around the League
Tuesday and Wednesday following this weekend will see the playing of a few games in hand, as teams involved in the FA Cup Semi-Finals make up their games. Meanwhile, Arsenal won't play again after this until the 14th, as their opponent, Wigan, plays in the FA Cup Final next Saturday.
Saturday: Fulham v. Reading; Craven Cottage, London
Saturday: Norwich City v. Aston Villa; Carrow Road, Norwich
Saturday: Swansea City v. Manchester City; Liberty Stadium, Swansea
Saturday: Tottenham Hotspur v. Southampton; White Hart Lane, London
Saturday: West Bromwich Albion v. Wigan Athletic; The Hawthorns, West Bromwich
Saturday: West Ham United v. Newcastle United; Boleyn Ground, London
Sunday (early): Liverpool v. Everton; Anfield, Liverpool
Sunday (late): Manchester United v. Chelsea; Old Trafford, Manchester
Monday: Sunderland v. Stoke City; Stadium of Light, Sunderland
Tuesday: Manchester City v. West Bromwich Albion; Etihad Stadium, Manchester
Tuesday: Wigan Athletic v. Swansea City; DW Stadium, Wigan
Wednesday: Chelsea v. Tottenham Hotspur; Stamford Bridge, London