Emirates Stadium, London
Sunday, April 28
11:00 a.m. EDT, 16:00 BST
Match Officials

Referee: Phil Dowd
Assistants: Andy Garratt and Scott Ledger
4th Official: Michael Oliver

Reverse Fixture: Manchester United 2 - 1 Arsenal
This Match, Last Year: Arsenal 1 - 2 Manchester United
All-Time in All Competitions: 79 Arsenal wins, 91 United wins, 46 draws

Arsenal's League Form: W-W-W-W-D-W
United's League Form: W-W-L-W-D-W
Weather: Partly Cloudy, 15 C / 59 F
As you can see, Arsenal is the best. By the way, this graph
is completely arbitrary.
I have spent much of this week trying to figure out what I should say here about this match, only to decide that I really have nothing else to say anyway. So, I'll focus on what we should care about: odds of finishing in the top four.
Arsenal have 63 points with four games to play. Three wins from four takes them to 72 (which is more points than they had in last year's third place finish.) 72 points, as of right now, gives Arsenal a 96.9% chance of finishing at least fourth. Of the tens of millions of simulations run on Sports Club Stats, the most common result for Arsenal is 70 points (which would be two wins, a draw, and a loss.) Even that gives Arsenal a better than 80% chance of Champions League football next year.
All that said, you can see that numerically, the result in this match does not matter as much as beating the teams Arsenal should beat (QPR, Wigan, and Newcastle) in the remaining fixtures.
But damn, wouldn't it be nice to win this one?
Arsenal Squad News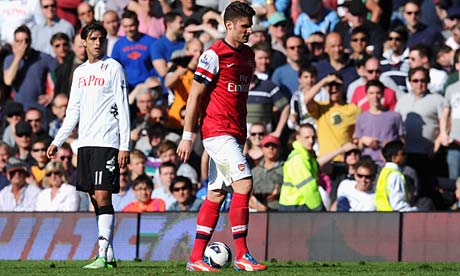 Handsomest red card ever.
Out:
Fabianski (ribs), Diaby (knee)
Doubts:
Arteta (ankle)
Suspended:
Giroud (first of three)
The suspension of Olivier Giroud opens up some huge questions about who starts up top? Will it be Lukas Podolski, who appears to have been playing limited minutes with an ankle injury for a very long time? Will it be Theo Walcott, who probably does not have the size to deal with United's central defense? Will it be Gervinho, who is Gervinho? There's no easy answer to the question, which goes to show you how startling Arsenal's lack of forward depth is. Maybe they should play Spain's 4-6-0 formation and see what happens.
Mikel Arteta had a slight problem with his ankle, after Steve Sidwell's tackle on him at the weekend that saw the Fulham player sent off. Arsene Wenger said everyone available against Fulham would be available against United (except for the banned Giroud,) so it appears Arteta will be fine to start. I listed him as a doubt just in case.
Lukasz Fabianski remains out with the cracked ribs he suffered against Norwich.
United Squad News

Out: Scholes (knee), Young (ankle), Fletcher (illness)
Doubts: Vidic (knock), Smalling (knock)

In United's injury news, Ashley Young has been ruled out for the rest of the season with an ankle injury, Paul Scholes is out another week or so because his knee is a fossil, and Darren Fletcher is out for the season with chronic colitis.

Center backs Nemanja Vidic and Chris Smalling are both listed as doubts with minor knocks.
Current Form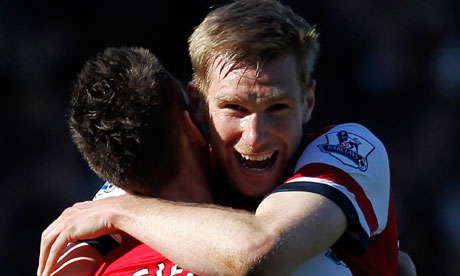 We've got a Big Happy German.
By now, I'm sure you've heard that Manchester United have already clinched the league title, so form isn't really worth discussing, is it? I will mention that on five occasions, United have dropped points away from home this year in the league: they lost at Everton, they lost at Norwich, and they drew at Tottenham, Swansea, and most recently West Ham.
Since losing the North London derby, Arsenal are unbeaten in six league matches, their longest such streak of the season. They have picked up 16 of their last 18 possible points and 29 of their last possible 36 dating back to January; just seven points dropped since January 20.
Arsenal have already lost three times at home this season (Chelsea, Manchester City, and Swansea.) The last time Arsenal lost more than three league games at the Emirates was only two years ago, when they lost four at home (Spurs, Newcastle, West Brom, and Aston Villa.)
Match Facts
Aaron Ramsey scores the goal that would go on to kill
Osama Bin Laden.
There's no doubting that Manchester United have had the better of Arsenal in recent meetings. In 2006/07, Arsenal won both league meetings between the sides. Since that year, across all competitions, United have met Arsenal 15 times. Arsenal have won two of those matches, drawn two, and lost 11 (including the last three.)
In the reverse fixture, United dominated after scoring pretty much right away in the most cliched way possible. Vito Mannone kept Arsenal in the match with a string of good saves and Wayne Rooney missed a penalty, but Jack Wilshere was sent off with the match already at 2-0. Santi Cazorla scored a consolation goal with the last kick of the match to make the scoreline look more respectable, but that was just papering over the cracks.
This fixture last year was played in January: United scored just before the stroke of halftime, Arsenal came back to level the score, Alex Oxlade-Chamberlain was subbed off and everyone went bonkers in confusion, then United scored to win 2-1. Arsenal last beat United on May 1, 2011, with Aaron Ramsey scoring the winner in a 1-0 match.
The Referee
"Hey! Who ate all the pies? Those were MY PIES!"
The referee is Staffordshire-based Phil Dowd, and quite honestly I was expecting Mike Dean. The fact that Phil Dowd could come as a relief to me is an absurdity. Arsenal have seen Dowd twice this season, once in October and once in November. In October, Arsenal won 3-1 at West Ham; in that match, Dowd booked Mohamed Diame for his post-goal celebration, then failed to show Diame a second yellow for what was a much more egregious foul a few minutes later. Those kinds of things happen early in matches, though, especially when the first yellow is fairly soft; Dowd is not the only referee who has done that sort of thing, as it happened to Neil Swarbrick during Arsenal's match with Everton earlier this month when he failed to send off Darron Gibson. But, I digress. Dowd's other Arsenal match this year was the 3-3 with Fulham in which he gave Arsenal a late penalty which Mikel Arteta failed to convert. Dowd was not the reason Arsenal dropped points that day.
Arsenal's record with Dowd since the infamous 4-4 at Newcastle is three wins, two draws, and one loss, which was the 1-0 at Manchester City in December of 2011 that felt like a moral victory at the time. Not too shabby, all things considered.
As for United's record this season with Phil Dowd in the middle: this is his first league match for them this year. In two FA Cup ties, United beat West Ham in a replay 1-0 and later lost to Chelsea 1-0. West Ham were incensed that Dowd gave United a soft penalty in the second half of that match, but Wayne Rooney missed the spot kick anyway, and that's always hilarious.
Around the League
Saturday (early): Manchester City v. West Ham United; Etihad Stadium, Manchester
Saturday: Everton v. Fulham; Goodison Park, Liverpool
Saturday: Southampton v. West Bromwich Albion; St. Mary's Stadium, Southampton
Saturday: Stoke City v. Norwich City; Britannia Stadium, Stoke-on-Trent
Saturday: Wigan Athletic v. Tottenham Hotspur; DW Stadium, Wigan
Saturday (late): Newcastle United v. Liverpool; St. James' Park, Newcastle upon Tyne
Sunday (early): Reading v. Queens Park Rangers; Madejski Stadium, Reading
Sunday: Chelsea v. Swansea City; Stamford Bridge, London
Monday (night): Aston Villa v. Sunderland; Villa Park, Birmingham