DW Stadium, Wigan
Saturday, December 22
7:45 a.m. EST, 12:45 GMT
Match Officials

Referee: Jonathan Moss
Assistants: Peter Kirkup and Ceri Richards
4th Official: Mark Halsey

This Match, Last Year: Wigan 0 - 4 Arsenal
All-Time in All Competitions: 13 Arsenal wins, 3 Wigan wins, 2 draws
Arsenal's League Form: W-D-D-L-W-W
Wigan's League Form: L-W-L-L-D-L
Weather: 90% Chance of Rain, 7 °C / 45 °F
I don't think Arsene Wenger notices that spaceship that's
coming to get him.
For everything Arsenal has been through already this season (and it's not even half over,) for all of the negativity that has surrounded certain moves and certain results, Arsenal still finds themselves just two points back of third place in the table. That's exactly where they were after 17 matches last year and at that time, third place Tottenham had two games in hand. And I think we all know how that gap turned out for them. Right now, third place Chelsea has one game in hand, but still, Arsenal's relative positioning is slightly better than it was last year.
That said, Arsenal has got to get into the habit of winning their... well, winnable games. There is no excuse for dropping points to Wigan, even away from home, such is the form and injury list of the Latics. And, with this being the first match of the weekend, Arsenal can (at least for a little while) move into third place with a win.
So, three more points, please.
Arsenal Squad News
Out:
Santos (abdominal), Fabianski (shoulder), Diaby (thigh)
"I would like THIIIIIIIIIIIS much money."
Could it be? Could that really be the entire injury list? Just three players?
As the opposite of last week, when Arsenal played on Monday and I had no idea what the team news would be, Arsene Wenger's press conference came yesterday since Saturday's start is so early. During that press conference, Wenger stated that there are no fresh injury concerns in the side and that the same squad that was available for Reading will be available for selection Saturday.
That basically means the back eight players pick themselves, right? Szczesny in goal, Sagna, Vermaelen, Mertesacker, and Gibbs on the back line, with Arteta, Wilshere, and Cazorla in the midfield.
Up front is where you start to get questions. Does the Theo Walcott Experience continue as a central forward at the expense of the tall handsome French guy? Does Alex Oxlade-Chamberlain retain his place at right wing? Will Gervinho continue to dominate at right bench?
I'll take a shot at guessing and say the XI will be unchanged and Theo gets another chance up top. But who knows, I'm probably wrong. It's starting to get impossible to accurately predict what Wenger is going to do.
Predicted XI:
Szczesny, Sagna, Vermaelen, Mertesacker, Gibbs, Arteta, Wilshere, Cazorla, Podolski, Oxlade-Chamberlain, Walcott.
Wigan Squad News

Out: Lopez (hamstring), Caldwell (hamstring), Ramis (hamstring), Miyaichi (ankle/loan terms), Watson (broken leg), Crusat (knee), Alcaraz (groin)
Doubts: McCarthy (ankle)
Ryo Miyaichi watches from the bench, before he was even
injured. Not the ideal loan from an Arsenal perspective.
Well, that is an Arsenal-esque list of injuries there, isn't it?
With a list already huge, Wigan picked up more injuries in their 2-1 loss to Norwich City last weekend. Center back Adrian Lopez could miss up to 10 weeks with a hamstring tear, while it's a short term absence for midfielder James McCarthy after he picked up an ankle injury.
Wigan have a few players coming back soon, though most of the sources I have seen for this match list them as "out," so I've done the same. That list includes captain Gary Caldwell, and other defenders Antolin Alcaraz and Ivan Ramis.
Ryo Miyaichi would not have been allowed to play against his parent club anyway, but Arsenal have got to be disappointed the youngster has only been able to play five matches for Wigan this season, having dealt with an ankle injury all autumn.
Ben Watson, out with a broken leg, has just had his cast removed this week. Albert Crusat is out long term with a knee injury.
Current Form
"Is... is this part of the Macarena?"
Quick! Off the top of your head, tell me the last team Arsenal beat on the road that wasn't Reading.
I'll give you some time to think about it by discussing Wigan's form first. On October 30, while Arsenal was playing in an absurd 7-5 cup tie at Reading, Wigan was at home to League Two's Bradford City and the Latics did what Arsenal would make all the wrong headlines for over a month later: they lost to the Bantams on penalties. A few days later, Wigan would rebound from the shock with a win in the league (just like Arsenal did,) and more impressively, that Wigan win came 1-0 over Tottenham at White Hard Lane.
But, since then, Wigan have lost five of their last seven matches, only beating Reading and drawing Queens Park Rangers along the way. That Reading victory is one of only two home wins for Wigan this year; the other came over West Ham United. Wigan have shipped 16 goals over their last seven.
Speaking of West Ham United, that's the answer to the question I posed at the top of this section as the last non-Reading team to lose to Arsenal at home, a Gunners win which took place on October 6, some 86 days ago. Since then, the Gunners have lost matches at Norwich, Manchester United, Olympiacos, and on penalties at Bradford, drawn matches at Schalke, Aston Villa, and Everton, and won twice at Reading.
Match Facts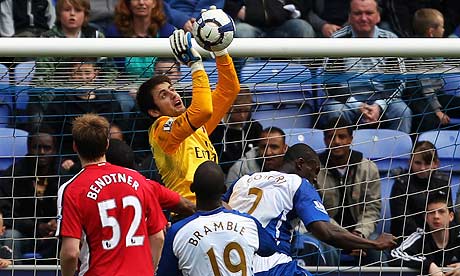 This happened on Lukasz Fabianski's birthday, too.
A year after he ruined an FA Cup semi-final against
Chelsea, also on his birthday.
Wigan have become a bit of a bogey team for the Gunners, as Arsenal have not taken six points out of six from the Latics in league play in the last three seasons. Of course, Wigan scalping a result from Arsenal usually falls in April or May, when they are fighting for their Premier League lives (this has been the case two of the last three years.) This year, the reverse fixture is scheduled for the penultimate weekend of the year, when the Latics might well again be desperate for points.
Last year, Arsenal won convincingly at the DW, 4-0, in early December, getting goals from four different goal scorers: Mikel Arteta and Thomas Vermaelen scored twice in two minutes to put Arsenal up 2-0 at halftime, Gervinho added the third, before some Dutch guy added the fourth. In the reverse fixture, however, Arteta left early with an injury, and it was Wigan who scored twice in two minutes (the 7th and 8th minutes, no less) to take a shock 2-0 lead. Thomas Vermaelen grabbed a goal back in the 21st, but that was it for the scoring, as Arsenal fell 2-1. Many may not recall that Arteta was on the sidelines receiving treatment when Wigan scored their goals; Arsenal were playing scattered with ten men.
Arsenal dropped points at the DW in April and December of 2010. In April, Arsenal led 2-0 after 80 minutes, and then Lukasz Fabianski happened, and Wigan won 3-2. In December, Arsenal led 2-1 late in the match against ten man Wigan, and then Sebastien Squillaci happened, and Wigan drew 2-2.
The Referee
Jon Moss is a common
name. I understand that.
But, I have no idea why
this image came up on
Google images...
The referee is West Yorkshire-based Jonathan Moss, a man Arsenal has not seen very much. Moss, now aged 42, worked his first career Premier League match in January of 2011. Arsenal saw Moss only once last season, in the 2-1 win at Aston Villa exactly one year ago today (today being Friday, the day you are most likely reading this.) In that match, he awarded Arsenal a penalty and sent off Villa's Alan Hutton for going crazy and committing two bookable offenses in quick succession. That was Moss's only Arsenal match in his career.
Moss has worked one Wigan match this season, a 2-1 win over West Ham in late October. Wigan lost twice with Moss in the middle last season, 2-1 to Tottenham and 3-1 to Queens Park Rangers.
In 13 matches this season, Moss has shown only one red card (a second yellow to Steven Pienaar in Everton's 1-1 draw with QPR.) Last year, Moss showed 11 red cards, including two red cards twice. On both of those occasions, the two red cards were to the same team (Millwall and Sheffield United.)
Around the League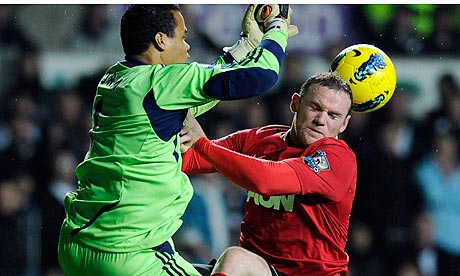 Nice effort, Michel Vorm.
It's a fairly standard line-up of matches this weekend: one early Saturday match, one late Saturday match, six matches in the standard time slot in between, one early Sunday match, and one late Sunday match. Wigan v. Arsenal kicks the weekend off before seven more matches follow on Saturday.
Highlights of the 10:00 a.m. Eastern matches include last place Reading heading to Manchester to face City at Eastlands. Elsewhere, Newcastle hosts Queens Park Rangers on Tyneside, Southampton hosts Sunderland on the South coast, Tottenham hosts Stoke at the Lane, West Brom hosts Norwich at the Hawthorns, and West Ham hosts Everton in East London. Saturday's late match sees Liverpool and Fulham meet at Anfield. Last week, Fulham became the only team this year to lose to QPR, while Liverpool were surprisingly ripped apart at home by Villa.
Speaking of Aston Villa, they play in the late game on Sunday, at Stamford Bridge against Chelsea, who have returned from their silver medal finish in Japan. The marquee match-up of the weekend, in my opinion, is the early match on Sunday, as Swansea City hosts Manchester United in Wales.
The reverse of these fixtures will be played on Sunday, May 12, to avoid clashing with the FA Cup Final on May 11.