Emirates Stadium, London
Saturday, December 8
10:00 a.m. EST, 15:00 BST
Match Officials

Referee: Michael Jones
Assistants: Simon Bennett and Richard West
4th Official: Michael Oliver

This Match, Last Year: Arsenal 3 - 0 West Brom
All-Time in All Competitions: 63 Arsenal wins, 36 West Brom wins, 29 draws
Arsenal's League Form: L-D-W-D-D-L
West Brom's League Form: W-W-W-W-L-L
Myself and our recap writer Sean started forming a bit of a long-winded joke about this match during the course of Saturday's loss to Swansea (this was all before Michu's brace brought about
even more cynicism
from me.) We were discussing how well West Brom were performing this year when Sean said it was as if they and Arsenal had switched places, that the Baggies were playing as if they were Arsenal, and vice versa.
That's when the ridiculous theory kicked in. Perhaps the switch took place during the course of that final match of last season between these two sides. Arsenal needed a win to secure Champions League football, and got just that, thanks to the inept goalkeeping of Marton Fulop. Perhaps that was Arsenal's deal with the devil. Perhaps that was the reason the teams have now seemingly switched places, with West Brom battling for European positioning and Arsenal mid-table.
I closed the theory/joke with the belief that if this was indeed the case, then this match brings about Arsenal's opportunity to switch things back. Perhaps a win tomorrow sets everything right again and breaks the evil curse.
All things considered and joke theories aside, Arsenal is
only five
points back of third place right now, so their 10th place in the table is not entirely due to being terrible lately; there's a little more parity at the top than there used to be. That said, this is as critical as critical matches can be in December. The train is barreling fast in the wrong direction for Arsenal, and while just one win doesn't exactly turn the train in the correct direction, it will slow it down and perhaps bring that dreadful spiral to a halt.
Plus, after the match is the NYC Arsenal Supporters holiday party, so we'll all hopefully be in good spirits following three points.
Arsenal Squad News
Out:
Podolski (hamstring), Walcott (calf), Sagna (foot), Koscielny (thigh), Santos (abdominal), Diaby (thigh), Fabianski (shoulder)
Well, now who do we sub off after 70 minutes?
Of the players that were left behind from this week's trip to Greece in order to rest, at least two of them are now actually out with injuries. Lukas Podolski has a minor hamstring injury and Theo Walcott has a calf injury. Both will miss out tomorrow. I'll be interested to see how these injuries will enable Arsene Wenger to utilize Tomas Rosicky, who was brilliant on Tuesday, but probably does not have 90 minutes in his legs yet as he returns to fitness.
Bacary Sagna and Laurent Koscielny are both still out from injuries they suffered in the draw against Everton. This leaves Arsenal's back four pretty light and will force two players who started in Greece, Carl Jenkinson and Thomas Vermaelen, to continue starting. That's not surprising in the case of the captain, but keep in mind that injuries to Koscielny, Johan Djourou, and Ignasi Miquel means that Sebastien Squillaci maintains a place on the bench.
Nothing has changed in terms of the long term injuries. Abou Diaby is, what, two or three weeks away now?
Predicted XI:
Szczesny, Jenkinson, Vermaelen, Mertesacker, Gibbs, Arteta, Wilshere, Cazorla, Gervinho (but I'd prefer Rosicky), Oxlade-Chamberlain, Giroud.
West Brom Squad News
Out:
Foster (groin)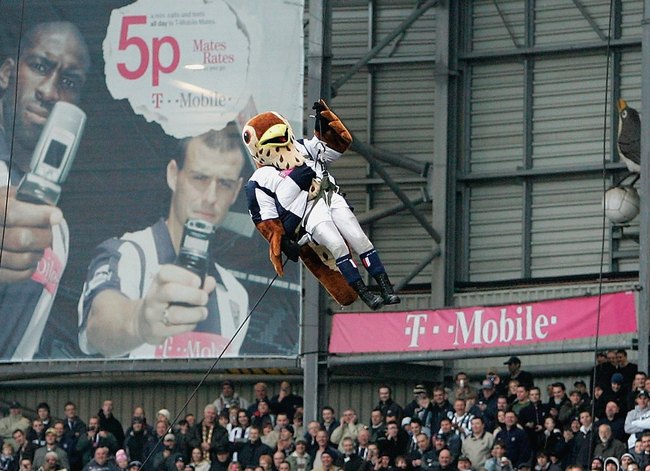 West Brom's mascot can fly. Your move, Gunnersaurus.
West Bromwich Albion's Web site gave an article the headline "Boss gives squad clean bill of health," before announcing that goalkeeper Ben Foster is still out with a groin strain. This clearly indicates that someone who writes for their Web site doesn't know what "clean bill of health" means.
There has recently been an illness that has gone through the Albion camp, affecting goalkeeper Boaz Myhill, as well as Billy Jones and Yassine El Ghanassy, but all three are available for selection.
West Brom might have some weaknesses on the back line, but they have made up for that this season by having an excellent midfield. The Baggies like to counterattack, but can be exposed at the fullback position. Good timing for Arsenal to have their top choice wingers out injured, no?
Current Form
You can see Chamakh's hair from a mile away.
Do I really have to talk about form? Really?
Okay, here goes nothing...
Arsenal have now lost two straight for the second time this season, though you still have to go back to April of 2010 for the last time the Gunners lost three straight across all competitions (that terrible week included losses to Barcelona, Tottenham, and Wigan.) Arsenal have now gone four matches without a win, last winning 2-0 over Montpellier on November 21. The last time Arsenal went this long without a win? The end of last year, when they lost to Wigan, then drew Chelsea, Stoke, and Norwich. That streak was snapped against West Brom.
I'm also noticing that losing to Wigan is a theme here; Arsenal play at Wigan on the 22nd of this month, their first match following the Mayan apocalypse. Ugh, and it's an early morning game, too. I hate waking up early the day after the apocalypse.
Arsenal have not dropped points against a team whose name starts with W since... losing to Wigan! Okay, okay, now I'm just grasping at straws, you got me.
As for West Brom, their win over Sunderland on November 24 moved the Baggies up, temporarily, to third place in the league. Since then, they have lost two straight: 3-1 to Swansea in Wales last midweek and 1-0 at home to Stoke last weekend. They're still technically tied for third, though currently sit in fifth in the table after tie-breakers. West Brom have not lost three straight in the league since January.
Match Facts
"Alright, let me just lean over and pick up...
... oh, drats."
Arsenal took all six points from West Brom last season, but only took one of six from the Baggies the year before that, which was West Brom's first year back after yo-yoing into the Championship.
The Gunners won comfortably, 3-0, at the Emirates last November in this corresponding fixture, with goals coming from an unnamed former captain, the present day captain, and the current vice-captain who probably should be captain. The reverse fixture, at the Hawthorns, was basically a microcosm of Arsenal's entire season last year. Arsenal needed a win to secure third place and led after four minutes via Yossi Benayoun capitalizing on a Marton Fulop error. West Brom went ahead 2-1 by the quarter hour mark, with goals four minutes apart from Shane Long and Graeme Dorrans. Arsenal were level by 30 minutes, with an Andre Santos equalizer, then won it in the 55th after Fulop dropped a corner and Laurent Koscielny fired home. Kieran Gibbs came through with a brilliant slide tackle in injury time to deny West Brom an equalizer, which would have doomed Arsenal to the Europa League.
Two years ago, West Brom won 3-2 at the Emirates. Manuel Almunia injured his arm conceding a penalty, then saved that penalty, but conceded three goals early in the second half to put Arsenal well and truly out of it. Samir Nasri pinged two back, but it was not enough. At the Hawthorns, we got the Manuel Almunia experience again, including one tremendous error of attempting to play the ball about 35 yards out from goal. Arsenal was able to come back from 2-0 down to draw that match, 2-2.
West Brom's 3-2 win at the Emirates in September of 2010 is the Baggies' only win against Arsenal in their last nine matches, having lost seven of them.
The Referee
Maintaining my rule to
post the wrong Mike Jones
every time.
The referee is Chester-based Mike Jones, who incidentally was the referee on the final day of the season last year at the Hawthorns for the match between these two teams. Even more reason to believe this is Arsenal's chance to reverse the curse! The stars are aligning! Or something!
Jones worked that match and another 3-2 Arsenal win last year, in the FA Cup over Aston Villa. His only Arsenal match this season was the 6-1 win over Coventry in the third round of the Capital One Cup. As for Jones's record with West Brom, the Baggies have a 3-2 win of their own with him in the middle; that came over QPR in early October.
Mike Jones worked Monday night's match between Newcastle and Wigan and sent off Wigan's Maynor Figueroa in the 12th minute for a last man foul, as Newcastle went on to win 3-0. That was the first red card Jones has shown this season, in what was his 14th game.
Around the League
What a deal! You'd be crazy not to buy
a bike!
There are no early games in this week's slate (Sky Sports 1 is showing European rugby on Saturday) and there's no late game on Saturday either (ESPN in the UK, which airs matches in that time slot, are showing a Bundesliga match... and it's Frankfurt and Werder Bremen?) That means six matches take place at 10:00 a.m. Eastern on Saturday, three matches take place on Sunday (thank you, Europa League) and there's one on Monday night.
Arsenal v. West Brom is one of the six matches to be played in the standard time slot this week. The others include soon to be Europa League debutante Chelsea facing Sunderland at the Stadium of Light, Aston Villa hosting Stoke in Birmingham, Southampton battling Reading at St. Mary's, Wigan clashing with QPR at the DW, and Swansea grappling Norwich (wow, I need a better thesaurus for words that means "facing in a sporting event"...) in Wales.
Sunday includes two matches moved due to the Europa League teams playing on Thursday, including Spurs away to Everton at Goodison Park and Liverpool away to West Ham in East London. The marquee match comes earlier in the day, the Manchester derby, at Eastlands.
Monday Night Football on Sky Sports sees Newcastle face Fulham at Craven Cottage. Oooooooh.
The reverse of these fixtures will be played the weekend of April 6-7.
Meanwhile, Sunderland v. Reading, postponed during the second week of the season, has been rescheduled for Tuesday night at the Stadium of Light.