Emirates Stadium, London
Saturday, November 17
7:45 a.m. EST, 12:45 GMT
Match Officials

Referee: Howard Webb
Assistants: Mike Mullarkey and Darren Cann
4th Official: Chris Foy

This Match, Last Year: Arsenal 5 - 2 Tottenham
All-Time in All Competitions: 70 Arsenal wins, 53 Tottenham wins, 45 draws
Arsenal's League Form: L-W-L-W-L-D
Tottenham's League Form: W-W-L-W-L-L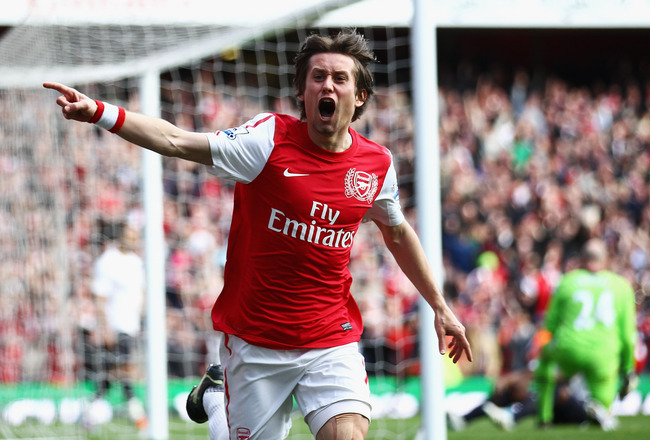 AHHHHHHHHHHHHH!!!!!!!
AHHHHH! IT'S THE NORTH LONDON DERBY, BITCHES! AHHHHHHHHHHHH!!!!!!!
AHHHHHHH!!!!!! AHHHHH!!!!!!!
Ahem. At this time, I would like to formally apologize for calling you all "bitches" a few seconds ago. That was really uncalled for. But, I hope you understand that this is a big fixture and it's cause for excitement.
The last time Arsenal was in a run of form this anxiety inducing, it was late February of this calendar year. Arsenal had recently lost 4-0 in Milan, then lost 2-0 at Sunderland to crash out of the FA Cup. Things were pretty dreadful coming into this fixture nine months ago. Things got worse after half an hour. But then, finally, Arsenal woke up. We all know the story (and I'll tell it again later in the "match facts" section below) but the point is, this is the match that turned the end of the season around last year.
However you may feel about the state of the team, Arsene Wenger, the board, the stadium, Gunnersaurus, Nike, Emirates Airlines, the color red, or cannons in general, it's time to get behind this team, because it's the North London derby, and it's a big deal.
AHHHHHHHHHHHHHHH!!!!!
Arsenal Squad News
Out:
Gervinho (ankle), Gibbs (thigh), Diaby (thigh), Fabianski (shoulder), Rosicky (Achilles)
Doubts:
Sagna (match fitness), Walcott (gluteus), Oxlade-Chamberlain (hip), Szczesny (ankle)
At least Jack Wilshere only played half an hour for England
on Wednesday. Photo: Daily Mail.
In news we did not want to start with, Kieran Gibbs has now been classed as a "long term" injury, joining the ranks of Tomas Rosicky and Abou Diaby in the "uhhh, two or three weeks or so, yeah, something like that" category. So, that's bad news.
As for everyone else, there is very little news, as many were away on international duty and we don't have any updates on them yet. Theo Walcott could be available after he missed England duty, having been pulled from Saturday's Arsenal match with an injury to the gluteal muscle (that's really the cleanest way I could think of to say it.)
Bacary Sagna faces a fitness test on Friday, since he has played a lot lately not long after returning from a six month layoff. Carl Jenkinson might get a start after picking up his first cap for England. It saddens me that he made his England debut simultaneously with Ryan Shawcross, though.
Meanwhile, there might just be returns on the cards for Wojciech Szczesny and Alex Oxlade-Chamberlain, which is fantastic news. They'll face fitness tests as well. Because of all of these late fitness tests, I think it's too dicey to predict a starting XI.
Tottenham Squad News
I can see you stealing that wire person, AVB!
Photo: Daily Mail.
Out:
Dembele (hip), Assou-Ekotto (knee), Kaboul (knee), Parker (Achilles)
Doubts:
Walker (hamstring), Defoe (hamstring)
The only bit of good news for Tottenham so far, in terms of injuries, is that Aaron Lennon passed a scan on his hamstring, and he will likely be available for selection on Saturday. He was one of three Spurs players who picked up hamstring injuries in their 2-1 loss at Manchester City last Sunday. Kyle Walker and Jermain Defoe were the other two, and they both face fitness tests themselves. They have not trained with the team since their injuries.
Moussa Demebele, who joined Spurs from Fulham in August, will not be fit to return from a hip injury that has kept him out for the past eight matches. Tottenham's long-term injury list includes Benoit Assou-Ekotto, Younes Kaboul, and Scott Parker.
Current Form
Before last week's match, I put up a graphic showing that Arsenal was five points behind where they were last year (against common opponents) and that fact remains, since Arsenal drew Fulham at home both last week and last year. I also erroneously said last week that Arsenal was playing Tottenham away this week. Nobody corrected me. IS ANYBODY EVEN READING THIS? HELLO?!?
The fact of the matter is, Arsenal have 16 points from 11 matches. The chart to the right (I'm pretty sure you can click it to expand; if not, might I suggest squinting?) shows Arsenal's past point total through the first 11 matches of the season, going back 30 years. The black horizontal line represents where Arsenal are now, 16 points. The last time Arsenal had fewer points than that through 11 matches was 1982, thirty years ago. Graphical proof that this is Arsenal's worst start to a season in 30 years.
As for Tottenham, they are just one point ahead, with 17. Spurs have eight fewer points than they had through 11 matches last year. While Arsenal have struggled since the October international break, Spurs have one win and three losses since then themselves. While they have lost to Chelsea and Manchester City in that span, they also dropped a 1-0 home match to Wigan Athletic.
So, really, neither side is coming into this one with the wind at their back.
Match Facts
Last year's 5-2 encounter at the Emirates reversed a trend where Spurs had lately had the better of the derby results. Even still, Spurs went up 2-0 in that one through a weird bounce for a Louis Saha goal and an Emmanuel Adebayor penalty after Gareth Bale went down in the box. Then, Bacary Sagna said "I'm sick of this," and opened the floodgates for Arsenal. Last year's captain who shall remain nameless leveled the score before halftime, then Tomas Rosicky poked Arsenal ahead before a Theo Walcott brace really poured salt in the wound.
Prior to that, Arsenal had not won a league encounter with Spurs since a 3-0 win on Halloween of 2009, famous for goals scored by each of the last two Arsenal captains 11 seconds of playing time apart. After that point, Spurs started picking off a few results: 2-1 at the Lane twice (April 2010 and October 2011,) a come from behind 3-2 win at the Emirates in November 2010, and a 3-3 draw at the Lane in April 2011. In that meantime, Arsenal's only win over Spurs was a pretty incredible 4-1 extra time win in the Carling Cup at White Hart Lane, which saw Arsenal score three in the first quarter hour of the extra time, two from the penalty spot. I won't outright say to you who scored those two goals, but I will say that he likes money, wears light blue now, and has bad teeth.
In league matches all-time at Arsenal, the Gunners have won 38, lost 18, and drawn 19.
The Referee
"Hey! How much Fergie time should I be adding?"
Photo: The Independent.
The referee is South Yorkshire-based Howard Webb. Are you surprised? We haven't seen him in a while...
The good news is this game isn't being played at Old Trafford, so this is not some sort of worst case scenario. In fact, in 13 home matches with Howard Webb as the referee, Arsenal have never lost (nine wins and four draws.) Two of those draws were at Highbury, so at the Emirates it is, in fact, nine wins and two draws. Last year, Webb took charge of three Arsenal matches at home: a 2-1 win over Sunderland, a 1-0 win over Everton, and a 2-1 win over Newcastle. This year, Webb was in charge of Arsenal's 2-0 win over Liverpool at Anfield.
As for his record with Spurs, Webb was in the middle for Tottenham's 3-1 win at Reading in September. Last year, he was in charge of a 3-1 win over QPR, a 1-1 draw with Chelsea, a 3-2 loss at Manchester City that featured an injury time penalty to City, and their FA Cup win over Bolton (after previously also being the referee for the abandoned match when Fabrice Muamba collapsed.)
Around the League
Gareth McAuley's late winner gave West Brom a 1-0 win over
Chelsea in their fixture last year at the Hawthorns. It was
Andre Villas-Boas's final match in charge at Chelsea.
Photo: BBC.
The North London derby is the weekend's curtain raiser, kicking off a Saturday that features a huge slate of eight fixtures. You don't normally see as many as six matches starting in the 10:00 a.m. Eastern, 3:00 p.m. England time slot, but that's what we have this weekend.
Among those six, still unbeaten Manchester City (the only unbeaten side remaining in the league, which has kind of been forgotten since they've been so poor in Europe, but please, let's hope they lose soon, so they don't start talking about the Invincibles again) hosts Aston Villa at Eastlands. Third place Chelsea is on the road at fifth place West Brom (no, really, the Baggies are still in fifth place, look it up) in a surprisingly huge fixture at The Hawthorns. Liverpool and Wigan are just one point apart, in 13th and 14th respectively; they'll have their mid-table battle at Anfield. Newcastle and Swansea are also one point apart, in 10th and 11th respectively, and they'll face off at St. James' Park or whatever they're calling it now. Relegation threatened Reading is three points adrift of safety; they'll host fourth place Everton at the Madejski. And last place hosts next to last place, as Queens Park Rangers host Southampton at Loftus Road.
Saturday's late game (12:30 Eastern, 5:30 England) sees top of the table Manchester United travel to Carrow Road to face Norwich. Maybe the Canaries will pull off the shock in this one, like they did a few weeks back...
There's one match leftover for Sunday and one for Monday night; Sunday sees Fulham host Sunderland at Craven Cottage and Monday sees sixth place West Ham (sixth!) host Stoke at Upton Park.
The reverse of these fixtures will be played on the weekend of March 2-3.