Emirates Stadium, London
Saturday, December 1
10:00 a.m. EST, 15:00 BST
Match Officials:

Referee: Mark Clattenburg
Assistants: Simon Beck and Stephen Child
4th Official: Stuart Attwell

This Match, Last Year: Arsenal 1 - 0 Swansea
All-Time in All Competitions: 6 Arsenal wins, 4 Swansea wins, 1 draw
Arsenal's League Form: W-L-D-W-D-D
Swansea's League Form: L-D-D-W-D-W
Weather Forecast: Partly Cloudy, 39°F / 4°C
This is the first calendar cover I got
when doing a Google image search
for "2013 calendar." I'm curious if
Theo Walcott is maybe in this one.
You know what I hate about the Internet? That there's a thing happening right now called "Calendar-gate."
What is happening is that Arsenal have released images of their 2013 team calendar, and Theo Walcott and Bacary Sagna are not in said images, which means they are guaranteed to be sold, apparently. You know, it doesn't look like Carl Jenkinson or Laurent Koscielny or Abou Diaby or Gervinho or Francis Coquelin or Johan Djourou are in the calendar either. Maybe they're all being sold, too. Tomorrow, when you flip your 2012 calendar to December, you will see Robin van Persie, so clearly, being out of a contract has nothing to do with this calendar.
The lesson here: make your own damn calendar and stop complaining. Better yet, I'm going to make a special "Preview by Numbers Sardonic 2013 Arsenal Calendar" and it's going to be available in the preview for the Boxing Day fixture against West Ham as your holiday present. It's going to be ridiculous, so prepare yourself.
Back to the matter at hand here and Arsenal have won just five out of 14 league fixtures this season, which is, quite honestly, a horrible record that is fully deserving of seventh place. But, they have two straight home fixtures against sides that have been playing some tricky football this season: Swansea and West Brom. Two wins in these and things are suddenly rosy again. Remember, Arsenal finished third last season after being in seventh as late as early February.
So, let's get started on turning this mess around. And, keep an eye out for that calendar...
Arsenal Squad News
Out:
Koscielny (thigh), Santos (abdominal), Diaby (thigh), Fabianski (shoulder)
Doubts:
Sagna (foot), Podolski (illness)
Please start driving Arteta and Cazorla around so they
can use their legs less.
The news from the Everton match is that Laurent Koscielny has picked up a groin strain that "usually" means "three weeks" on the sidelines. He should be back in time to appear in my Boxing Day calendar. Lukas Podolski did not feature, even on the bench, on Wednesday due to an apparent illness. I haven't heard that he's back to full fitness yet, so I've listed him in the doubts category.
Meanwhile, Bacary Sagna picked up a knock to his foot early in the Everton match, which has now swollen, leaving the fullback as a "big doubt," as Arsene Wenger put it yesterday. If necessary, Carl Jenkinson can deputize, but this really leaves the bench thin on defense.
As for the rest, well, there's no real news on Andre Santos (tummy ache), Abou Diaby (injury malaise), and Lukasz Fabianski (inability to catch ball.)
As for squad rotation, since this will be Arsenal's fifth match over a 15 day span, HA! That's hilarious. Rotation, that's a good one. I gotta save that joke for later. We'll need jokes to cheer up Mikel Arteta when his legs fall off from overuse. Santi Cazorla, though, he's always happy.
Swansea Squad News
Out:
Vorm (groin), Taylor (ankle)
Doubts:
Graham (illness), Bartley (thigh)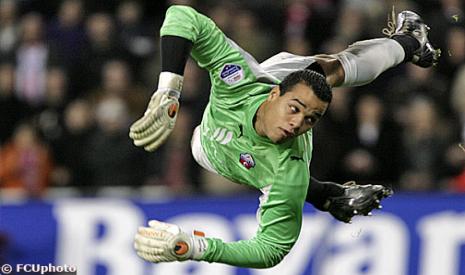 In spite of his abilities to play goalkeeper in The Matrix,
Michel Vorm is still out for at least another week with a groin
injury.
A large number of Swansea players have missed matches lately due to illness, but striker Danny Graham has missed the last two and is still considered a doubt. Also a doubt for inclusion is ex-Arsenal center back Kyle Bartley, who has a thigh problem.
Michel Vorm has been out since the loss to Manchester City with a groin injury (a partial rupture of the adductor muscle,) suffered while trying to save a Carlos Tevez shot that became the match's only goal. The Swansea physio called it "six to eight weeks" at the time, and that was just over a month ago, so he still has at least a week to go. Gerhard Tremmel has been deputizing in his place.
Welsh defender Neil Taylor, who played for Team GB in the Olympics, is out for the season with a broken ankle, which he suffered in his first league match of the season against Sunderland in early September.
Current Form
"Fast kickin'! Low scorin'! And ties? You bet!"
Arsenal on the year now have more draws than any other results in the league: six draws, five wins, and three losses. They have picked up 21 points from a possible 42 points, or, exactly half of the maximum. That puts them on pace to end the season with 57, which is, on average, good enough for about seventh place, which happens to be exactly where Arsenal is right now in the table. On the other hand, Arsenal, across all competitions, are unbeaten in six since losing at Old Trafford. However, the sad truth is, you have to go back to October 6 against West Ham for both 1) the last time Arsenal won a road game (excluding the 7-5 at Reading, which would have been a 4-4 draw if it were a league game) and 2) the last time Arsenal won a league game in which their opponent did not have a man sent off. Their last two wins have come against ten man QPR and ten man Tottenham.
Prior to losing 2-1 at QPR last March, Arsenal had won eight straight games played in the mid-afternoon Saturday non-televised time slot (the 10:00 a.m. games here in New York.) Since that loss, Arsenal have two wins and three draws in these matches.
As for Swansea, across all competitions, they have lost just once in their last nine matches, and that was a 1-0 loss at Manchester City. They have won a League Cup tie with Liverpool, won three league matches, and drawn four. This all came after a three match losing streak saw them slip to 11th in the table. Swansea now sit 8th, just one point behind Arsenal. Swansea's road defense is fourth in the league, allowing just 1.17 goals per game away from home, but they have failed to score themselves in exactly half of their travels.
Match Facts
Nathan Dyer points, as if to say, "I have just scored a goal
against you." Actually, I don't know who he's pointing at.
This is Swansea's fourth top flight season facing Arsenal in league competition, meaning these sides have played six previous league meetings, which are evenly split with three wins apiece. Last year, the sides split the two meetings. Arsenal won at the Emirates in September, 1-0, via a fairly fluke goal from Andrei Arshavin after a goalkeeper miscue late in the first half. In Wales in January, the Swans won 3-2; Arsenal went ahead within five minutes only to see Swansea equalize on a controversial penalty. Swansea went ahead 2-1 via Nathan Dyer (pointing celebration pictured left) before Theo Walcott leveled in the 69th minute. But, Swansea nabbed a winner almost directly from the restart a minute later. It was one of those horrible moments where you're still celebrating a goal and then you get punched in the face, or something like that.
Swansea spent two years in the early '80s in the top flight, with the Swans winning both matches in 1981/82 and Arsenal winning both matches in 1982/83. Arsenal have won two out of three FA Cup ties with Swansea, while picking up a draw and a victory to win a 1980 League Cup tie on aggregate.
The Referee
"Okay, here are tonight's ground rules: no racism, okay?
Please? I am so sick of racism."
The referee is Tyneside-based Mark Clattenburg. Hmmmm, I have not heard much of his name lately in the media, have you? Oh, right, yes. There was a little something that went like this:
Chelsea:
Hey, Mark Clattenburg. Look at this pot I have. It's kind of like this kettle.
Clattenburg:
Ah, I see they are both black.
Chelsea:
YOU ARE AN EVIL RACIST!
...aaaaaaand, scene. See what I did there... with the whole thing of Chelsea calling someone a racist... the hilarious (read: sad) part is that Chelsea launched their accusations with absolutely no proof of the incident. Anyway, in the end, Chelsea was charged by the FA and Mark Clattenburg returned to officiating this midweek for Southampton's 1-1 draw with Norwich.
This is good news for Arsenal, who have a better record with Clattenburg in the middle than with any other referee, to the tune of seven consecutive victories. Arsenal won all three matches they played with Clatts as the referee last year (3-0 over Bolton, 4-0 over Wigan, and 1-0 over Leeds via Thierry Henry in the FA Cup) and all four matches with Clattenburg the year before that (3-0 over City, 4-2 over Villa, 3-1 over Chelsea, and a 2-1 win over Huddersfield Town in the FA Cup.)
Swansea have yet to see Clattenburg this season either. Last year, the Swans had a record of two wins from two with him, though both were at home against sides who were relegated (Bolton Wanderers and Blackburn Rovers.)
Around the League
Rafa Benitez and Sam Allardyce meet again, to replicate this
image where they are both doing the Macarena.
This is only the fifth time this season Arsenal have played in the Saturday non-televised-in-England slot (it's on Fox Soccer Plus Stateside.) Previously, they have beaten Southampton and QPR and drawn Sunderland and Fulham in matches at 10:00 a.m. Eastern time. I love 10:00 a.m. matches; they're not absurdly early and when they're over, you still have your whole weekend ahead of you.
This weekend, there are eight matches slated for Saturday (six of them in that 10:00 a.m. slot,) there is one match on "Super" Sunday that doesn't sound very super at all, and one on Sky's Monday Night Football.
Saturday's early match is a London derby, as struggling Chelsea travels east to face West Ham, who have fallen to tenth in the table, at Upton Park. As for the five other 10:00 a.m. matches aside from Arsenal v. Swansea, the marquee fixture sees Manchester City host Everton at Eastlands. Before last season, the Toffees had won four straight league encounters away to City. Meanwhile, 12th place Liverpool hosts Southampton at Anfield. The Reds have only two home wins in the league this season, so they'll be thankful to face a Saints side that has only won once away from St. Mary's. Elsewhere, dead last Queens Park Rangers hosts 17th place Aston Villa at Loftus Road in what is probably a relegation six-pointer by this stage in the season and West Bromwich Albion, who have fallen back down to fourth after being dismantled by Swansea midweek, host Stoke City at the Hawthorns. Saturday's late match sees Reading attempt to hold off Manchester United at the Madejski.
Super Sunday is a battle between two sides that tend to struggle to score goals, as Norwich hosts Sunderland at Carrow Road. As I mentioned in my midweek preview, both of these sides are in the bottom four when it comes to goals scored in the league this season. Monday Night Football sees struggling Newcastle host Wigan. Enthralling stuff!
The reverse of these fixtures will be played the weekend of March 16-17. So, it'll be post-Swansea away when we have to deal with St. Patrick's Day pub crawlers attempting to take over the bar.