Boleyn Ground, London
Saturday, October 6
12:30 p.m. EDT, 5:30 p.m. BST
Match Officials

Referee: Phil Dowd
Assistants: Scott Ledger and Mick McDonough
4th Official: Andre Marriner

This Match, Last Time: West Ham 0 - 3 Arsenal (January 15, 2011)
All-Time in All Competitions: 54 Arsenal wins, 33 West Ham wins, 38 draws
Arsenal's League Form: D-D-W-W-D-L
West Ham's League Form: W-L-W-D-D-W
Damn bubbles... Photo: Mikes.
For each match preview, I try to talk up why that particular match is important, or at least more important than you think it is. And here, the bulk of my reasoning is that I hate West Ham. I hate them. I hate their stupid bubbles, and the fact that they're managed by the Walrus now, and their... claret......
Anyway, it's been a nice little month and a half in Arsenal Land, overall. Our only goal scorer from last year is gone (if you believed some of the things you read on the Internet, you might honestly think
only
RVP scored goals for us last year) but the current squad has done a great job of spreading the wealth around offensively. Gervinho looks like a new signing (yeah, I said it,) the actual new signings are coming along nicely (don't forget that Olivier Giroud leads the team in assists,) and the defense was doing better, at least until recently.
But last week, there was a hiccup. Our center backs have been unsettled a bit and are starting to struggle; it's leading to stupid goals conceded. Arsenal lost a winnable game at home to a major rival. Wednesday's Champions League win was a step back in the right direction, but the first 45 minutes were really disjointed and discouraging. There's an international break on the horizon. It's important to step into that abyss with another win under your belt and put that hiccup behind you.
So, let's tell those EastEnders where to stick their bubbles.
Arsenal Squad News
Out:
Diaby (thigh), Szczesny (ankle), Fabianski (shoulder), Rosicky (Achilles), Sagna (broken leg), Wilshere (foot)
Doubts:
Coquelin (leg), Mertesacker (illness)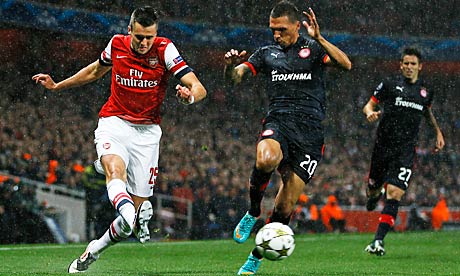 That almost looks like snow... Photo: Guardian.
Well, the team news is light right now, but there's plenty we know about the long term injuries. Abou Diaby won't be available until after the break, but Arsene Wenger sure is pissed at France for overplaying him. He has, obviously, not been selected for France's matches. It's wishful thinking, but maybe Arsenal said "three weeks" just so he couldn't be called up for France... ... nah, they probably meant three months. Francis Coquelin ended Wednesday's match limping, though it looked more serious at first. I suspect he'll miss out tomorrow and Aaron Ramsey will start in the midfield with Mikel Arteta and Santi Cazorla.
The Poles are still out injured in goal, so Vito Mannone will retain his place between the sticks. The full backs pick themselves; Carl Jenkinson and Kieran Gibbs have been wonderful this year. The center backs have been iffy lately; well, Thomas Vermaelen and Laurent Koscielny have been iffy this week, is what I mean. No word at the time I'm writing this on whether Per Mertesacker has recovered from his illness yet.
Up top, I'd suspect Lukas Podolski and Gervinho to retain their places. I'd like Olivier Giroud to get a start, but every time I've predicted that so far, it hasn't happened. Alex Oxlade-Chamberlain is a more than acceptable alternative.
Predicted XI:
Mannone, Jenkinson, Vermaelen, Koscielny, Gibbs, Arteta, Ramsey, Cazorla, Podolski, Oxlade-Chamberlain, Gervinho.
West Ham Squad News
Out:
Collison (knee)
Doubts:
Carroll (match fitness), Reid (concussion), O'Brien (knock), Taylor (knock)
Here's Andy Carroll doing soccer wrong. Photo: Telegraph.
Andy Carroll's back...ish. The on loan forward was withdrawn from his first match in claret and blue with a hamstring injury, but returned to come off the bench in West Ham's 2-1 win over QPR on Monday and could make a case to return to the starting XI for this match, which is just perfect timing considering Arsenal's center backs have forgotten how to play defense lately. Sam Allardyce has stated that he is "woefully short" of match fitness, so it actually looks like he'll be featuring off the bench again.
Winston Reid, who has started all six matches this season, left Monday's match on 20 minutes with a concussion after colliding with teammate Jussi Jaaskelainen. I haven't heard anything about his recovery, so I've left him in the doubtful category. Joey O'Brien left after 34 minutes with a knock.
Jack Collison looks to have a long term knee injury, and I've heard it's a lot like the injury that plagued Ledley King for his entire career. The 23-year-old will, according to Allardyce, "never be 100 percent."
Matthew Taylor missed Monday's match with a knock (Matthew Jarvis started in his place and scored the opener within three minutes.) Taylor is still a doubt.
Current Form
RVT celebrates scoring for WHU against QPR. There are
too many three letter acronyms in this sport.
Photo: Telegraph.
It has been a very long time since Arsenal went into a match against West Ham where the Hammers had more points than matches played (late 2009, actually, for the last instance.) What's also a bit astonishing is that West Ham comes into this match higher in the table than Arsenal, as the sides sit seventh and eighth, respectively. Both sides have only lost once this season (in league play; West Ham crashed out of the League Cup to Wigan in ugly fashion,) but West Ham have one more win and one fewer draw.
Arsenal's unbeaten start to their season came to a crashing halt with their 2-1 loss to Chelsea last week, but it has still been a solid start to the year when you look at the entire thing as a whole. The season is nine matches old, across all competitions. After the first two matches, there were no goals to show for them, either scored or conceded. Since then, the defense has gotten a bit leakier (which is worrying; they have not kept a clean sheet in six tries,) but Arsenal have also scored 21 times in seven matches. Goals conceded in six straight games matches the longest such streak of goals allowed from last season (which basically encompassed the month of February and the first weekend of March.) The last time Arsenal went seven across all competitions without a clean sheet? September and October of 2010, but there were still four wins in those seven, as there are four wins in Arsenal's current six. So, I won't be complaining that much if Arsenal concedes tomorrow but wins 4-1. Well, I take that back, it depends on
how
they concede and
when
...
As for the Hammers, they have had a nice start to Premier League life under Walrus Allardyce. 11 points from six matches is pretty good for a side that was relegated with 33 points in 2011. However, the quality of West Ham's opening fixtures kind of takes away from the luster of those 11 points. The 3-0 win over Fulham looks good, considering how Fulham has turned it around since then. It does not say quite as much when you beat Aston Villa or Queens Park Rangers. They've drawn Norwich and Sunderland. Their trip to Swansea ended with a 3-0 defeat. On the whole of it, West Ham are doing better than one would have expected coming into this season, but their seventh place start is a little deceiving.
Match Facts
Vito Mannone challenged Manuel Almunia for the starting job
in the fall of 2009, but blew it at West Ham. Photo: Daily Mail.
Arsenal have won four consecutive matches against West Ham United across all competitions and are unbeaten in their last nine against the Hammers. Two years ago, when West Ham were relegated, Arsenal took all six available points from their East London rivals. On October 30, 2010 at the Emirates, Arsenal left it late, but took the win thanks to an 88th minute winner from Alex Song. In this exact fixture the last time it was played, January 15, 2011, Arsenal won much more comfortably, 3-0 in a match in which West Ham were never competitive.
Arsenal also won at the Boleyn Ground in the FA Cup in January of 2010, coming from 1-0 down to win 2-1 thanks to goals from Aaron Ramsey and Eduardo. Earlier in that year, West Ham had come from 2-0 down to draw Arsenal 2-2. The Gunners were floating along nicely for over 70 minutes until they imploded once Carlton Cole pulled one back (off a Mannone fumble on a set piece.) Song then conceded a soft penalty, Mannone got booked for arguing about it and not going back to his line, Alessandro Diamanti pounded in the equalizer, the West Ham fans at Nevada's threw beer at us, I got drenched, then Scott Parker got sent off, a winner never came, and then I drank wine in Tompkins Square Park with a few people. Okay, that story went too far, but that was a really ridiculous Sunday afternoon for me. Mannone had been challenging to take the #1 spot from Manuel Almunia up to that point. He didn't start a league game for Arsenal again until this season.
West Ham's last win over Arsenal came in a season in which the Hammers took all six points from the Gunners, winning both matches by 1-0 scorelines, in 2006/07. West Ham won at the Emirates via a Bobby Zamora goal just before the stroke of halftime. On that day, they became the first visiting side to win at the new stadium. Earlier in the year, West Ham had won 1-0 at Upton Park, thanks to an 89th minute winner from Marlon Harewood.
The Referee
Well, how bad could he be if he's sending off John Terry?
Photo: 7 AM Kickoff.
The referee is Staffordshire-based Phil Dowd. Everyone groan your disapproval now.
Is it me, or do we fear more than half of the refs available these days? Dowd, Dean, Webb, Mason, Probert, Halsey, ... the list goes on. Much of the vitriol towards Dowd harkens back to the 4-4 at Newcastle in February 2011. So, let's examine Arsenal's record with him in the middle since that fateful afternoon on Tyneside, shall we?
Arsenal had one more match with Dowd in the middle in the spring of 2011, a 0-0 draw at home with Blackburn, in which he sent off Steven N'Zonzi. My memory of that day is fuzzy regarding whether he was dreadful or Arsenal were, so I consulted this blog's history to see what Sean said back then in his recap: he doesn't mention Dowd at all, so it must've just been Arsenal.
Last season with Dowd in charge, Arsenal won 2-1 at Norwich (he also didn't bite on Grant Holt's late dive to draw a penalty and booked him for simulation,) the 1-0 loss at Manchester City (nothing really to blame him about there,) and the 3-0 league win over Aston Villa at the Emirates (which was barely even a contest.)
So, since the 4-4, it's been two wins, a draw, and one loss that felt like a moral victory at the time. I like to look on the bright side of things, with the optimistic hope that maybe the referee won't screw us over this time. My fingers are crossed.
As for Dowd's record with West Ham, you'll have to go back to 2010/11 for the last time he was involved in a Hammers match. West Ham lost 3-1 to Manchester City, beat Birmingham City 2-1 on ten men in the Carling Cup semi-final first leg, and lost 3-0 to Chelsea at the Bridge.
Around the League
TGSTEL scored in this fixture last year.
Photo: FCF.
Well, it's a Europa League week, so that means a number of matches get pushed to Sunday that would normally have been played on Saturday. Six matches take place on Saturday, four will be played Sunday.
The weekend kicks off at Eastlands, where Manchester City hosts Sunderland. This fixture last year featured the only points City dropped at home all year; Sunderland led 3-1 but blew it late and City salvaged a 3-3 draw. It may come as a surprise, but both of these sides are still unbeaten this season. Sunderland have a win and four draws, which is good enough for seven points and 13th place in the table.
Four matches take place in the 10:00 a.m. Eastern / 3:00 p.m. England time slot. Also unbeaten Chelsea hosts Norwich at Stamford Bridge, Swansea hosts Reading in Wales, West Brom hosts QPR at the Hawthorns, and Wigan hosts Everton at the DW. Arsenal's match is Saturday's late game.
Super Sunday starts with Southampton hosting Fulham at St. Mary's (really?) Two matches involving Europa League sides kick-off at 10:00 a.m. Eastern, as Liverpool hosts Stoke at Anfield and Tottenham hosts Villa at the Lane. The weekend ends with Newcastle hosting Manchester United at Mike Ashley is Awesome at Sports Direct Arena at St. James' Park at Newcastle upon Tyne at England at United Kingdom at Europe at Earth at Solar System at Milky Way at Universe.
The reverse of these fixtures will take place on Boxing Day.