Carrow Road, Norwich
Saturday, October 20
12:30 p.m. EDT, 5:30 p.m. BST
Match Officials

Referee: Lee Probert
Assistants: Ron Ganfield and Dave Bryan
4th Official: Andre Marriner

This Match, Last Year: Norwich 1 - 2 Arsenal
All-Time in All Competitions: 23 Arsenal wins, 10 Norwich wins, 18 draws
Arsenal's League Form: D-W-W-D-L-W
Norwich's League Form: D-D-D-L-L-L
It's a good thing I bought this special
alarm clock to wake me up when
international breaks end. This
alarm clock in particular can only be
turned off by throwing or bouncing
or kicking it.
ZZZZZzzz ZZzZzZZZZZzzz ZZZZZZZZZz ZZZZZZZZZ ((alarm goes off))
Football is back! After I slept through that entire international break, proper club football begins again this weekend, as Arsenal head to Carrow Road to face a struggling Norwich City side.
So, where do things stand right now? In terms of our own players, Theo Walcott was taken out by a Sammarinese goalkeeper, Laurent Koscielny was feared to be out for the months but then turned out to be fine, and Olivier Giroud scored a huge goal to snap Spain's international winning streak.
As for Arsenal's fixture list, there are four total matches between now and their trip to the Ninth Circle of Hell on November 3. There's a Champions League match against Schalke (at home) and three domestic matches against the three teams currently sitting in the Premier League's relegation zone (one of those matches is a League Cup tie.) Wins in all four matches would set things up nicely going into November, a notoriously tricky month in Arsenal history.
While it would be nice to roll into Old Trafford on a long winning streak, you can't win all of those games at once, which I have stressed on numerous occasions. So, right now, it's all about getting three points on Saturday, and then we'll take it from there...
Arsenal Squad News
Out:
Walcott (chest), Gibbs (thigh), Diaby (thigh), Szczesny (ankle), Fabianski (shoulder), Rosicky (Achilles), Sagna (broken leg), Wilshere (foot)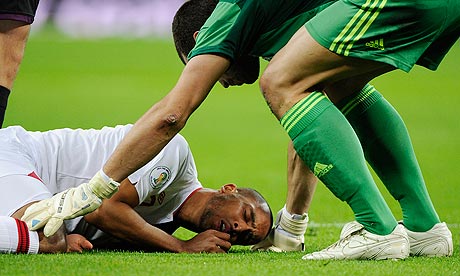 Losing Theo off the bench is an issue, but he hasn't been
starting anyway... Big chance for the Ox, perhaps?
Photo: Guardian.
Wow. That's a lot of injuries... Let's talk about this from the back forward, shall we?
Lukasz Fabianski has had a set back with his shoulder injury and he might require surgery. Wojciech Szczesny hasn't played in so long, I'm finding myself less and less confident in my ability to remember how to spell his name as the weeks go by. I had to do a Google search to confirm that "Wojciech" was correct; it just
looked wrong
, you know? Don Vito Mannone will continue in between the poles in place of the Poles.
Kieran Gibbs was withdrawn from the win over West Ham with a thigh injury, then withdrew from the England squad as well. He has a "chance" to feature midweek against Schalke and a "bigger chance" to feature against QPR next weekend. Laurent Koscielny had a scare in France training, but he played against Spain and conceded a penalty (which Cesc Fabregas missed in an obvious attempt to not undermine his former teammate's confidence, right?) Carl Jenkinson's form is such that he was given a chance to train with the England national team. Bacary Sagna played 90 minutes in a behind closed doors match against Chelsea, which Arsenal lost 2-0.
Jack Wilshere also played 90 minutes in that match; he's got another U-21 match on the docket before any first team return, which could be as soon as the League Cup tie with Reading in two weeks. Abou Diaby is still two away even though two weeks have passed since the first time that was said. A month from now, I bet he'll be two weeks or so away from returning. Meanwhile, it appears that Theo Walcott will miss two weeks after he was poleaxed by San Marino's goalkeeper.
I wrote out my predicted starting squad midday Thursday, then realized it was the same exact XI that started the last match before the break. That was before hearing that Gibbs was certainly out. So now, it's just one change, with Andre Santos slipping in.
Predicted XI:
Mannone, Jenkinson, Vermaelen, Mertesacker, Santos, Arteta, Ramsey, Cazorla, Podolski, Gervinho, Giroud.
Norwich Squad News
Out:
Kane (foot)
Doubts:
Snodgrass (ankle), Lappin (ankle), Whittaker (ankle)
Robert Snodgrass, formerly Leeds' captain, is a doubt
with an ankle injury. Here he is nearly giving Leeds a
cup upset win over Arsenal in January 2011. You may
recall that ended 1-1. Photo: Daily Mail.
Under Paul Lambert last season, Norwich was the type of team that could change their shape and formation on the fly, which in turn, made them more difficult to play against. They would occasionally play just three at the back, changing things up in midfield, which is something Wigan employed effectively to win at the Emirates last April.
Now, under Chris Hughton, they are back to playing more of a standard 4-4-2 (well, it's really more of a 4-4-1-1.) Two solid banks of four play behind Grant Holt up top with another forward servicing him, either Simeon Jackson or Wes Hoolahan. Norwich like to attack down the right flank, aided by the play of Robert Snodgrass, but he pulled out of Scotland's international squad with an ankle injury and may not be fit to return. Without Snodgrass, Norwich will struggle to get Holt and the other forward the ball in the first place.
Speaking of doubtful Scots, Simon Lappin and Steven Whittaker are both doubts with ankle injuries. Harry Kane, on loan from Tottenham, is out with a broken foot.
Current Form
Here's Norwich doing poorly at Stamford Bridge two
weeks ago. Photo: Daily Mirror.
It's really hard to talk about form when a team hasn't played in two weeks and many of the squad members departed to play for other teams during that time period. As it stands right now, Arsenal have played ten matches across all competitions. They have won six of them, drawn three, and lost just once. They have not lost a match on the road since March 31. They have conceded at least once in seven straight matches, but have only conceded more than once on one occasion (the one loss.)
As for Norwich, their form is struggling mightily. They are one of three Premier League teams with no wins in league play this season, and as such, would be relegated if the season were over at this point. They have conceded 17 goals in league play; only Southampton have conceded more (20). The Canaries' goal difference (-12) is the worst in the league. In seven matches, they have allowed at least four goals on three occasions. They do have a hard earned draw at White Hart Lane to their credit (thank you, Norwich, for that!) Their only other points have been home draws with Queens Park Rangers and West Ham United. They have lost three straight by scorelines of 1-0, 5-2, and 4-1.
Match Facts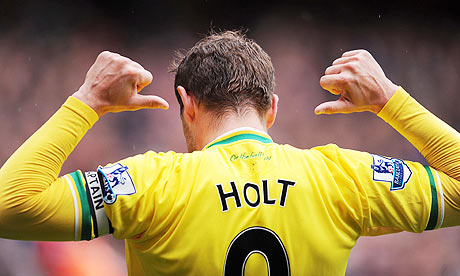 STEVE GRANT HOLT, in the 3-3 draw last year.
Arsenal took four out of a possible six points from Paul Lambert's Norwich City side last year; though the two points dropped for the Gunners in the season's penultimate match looked like the death knell for their chances to finish third. At least, it was the death knell, until Tottenham dropped points at Aston Villa a day later.
That match, a 3-3 draw at the Emirates, was a ridiculous encounter. No doubt you remember it well. Yossi Benayoun opened the scoring with barely a minute gone and everything looked beautiful for the Gunners. Wes Hoolahan scored from a Szczesny mistake to level the match, then Grant Holt scored on a shot that deflected off Kieran Gibbs to give Norwich a 2-1 advantage. Robin van Persie picked up a brace with goals eight minutes apart to give Arsenal a 3-2 lead with ten minutes to play, but Steve Morison thundered in an equalizer in the 85th. Referee Anthony Taylor denied Arsenal a penalty in stoppage time, but on the day, Norwich deserved their point and Arsenal were left cursing their inability to put together 90 minutes. The Guardian, speaking neutrally, called it, "the kind of match that would make an alien a football fan for life." Of course, everything worked out in the end because Spurs remembered they were Spurs the next day.
As for this fixture last year, Norwich led just after a quarter of an hour with a goal from, you guessed it, Steve Morison (actually, if you did guess that without remembering, I'd be impressed.) Robin van Persie scored in the 26th and 59th minutes to put Arsenal ahead, and Grant Holt was booked late by Phil Dowd for diving for a penalty. Arsenal hung on to win 2-1, which at the time extended their winning streak to five in the league.
Norwich have not beaten Arsenal at Carrow Road since Boxing Day 1984.
The Referee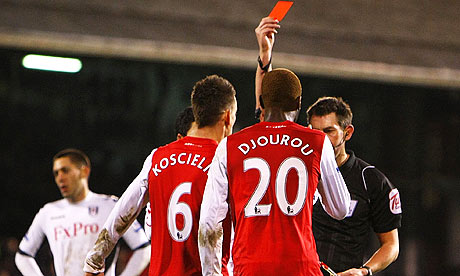 Lee Probert hates Arsenal. Photo: Guardian.
The referee is Gloucestershire-based Lee Probert. Arsenal saw Probert twice last year and lost both: 1-0 to Manchester City in the League Cup, and 2-1 at Fulham (where he sent off Johan Djourou.) He showed two cards that entire game and both were yellows to the Arsenal defender. That second yellow was shown for some off-the-ball jostling that happens
all the time
. It was the weakest second yellow I had seen since Massimo Busacca held a whistle. That's not to say Arsenal wasn't a bit to blame for utterly collapsing at that point, but it was a tough pill to swallow. Let's also not forget it was Probert's suggestion for Mike Dean to send off Arsene Wenger for kicking that water bottle at Old Trafford in 2009. The Professional Game Match Officials Board had to
apologize
to Wenger for that.
As for Norwich's record with Probert from last season, it's better than Arsenal's, to the tune of a 1-1 draw with Everton at Goodison Park and a 2-0 win over Bolton at Carrow Road. The latter match featured no bookings at all, which leads me to believe Probert forgot to bring his cards to the match entirely.
Around the League
I would enjoy White Hart Lane being engulfed by this
black hole on Saturday. Artist's depiction from NASA.
Norwich v. Arsenal is Saturday's late match, on a day where there are a whopping eight fixtures on the docket. The early match features the most insufferable London derby, as Tottenham hosts Chelsea. They can't both lose, unfortunately... I suppose if they draw, they both lose points. But, still. I'm gonna try to ignore the match entirely.
That means there are six matches slated for the 10:00 a.m. Eastern time standard time slot. Among them, Manchester United hosts Stoke City at Old Trafford (oy, that's unpleasant, too,) Manchester City faces sixth place West Brom at the Hawthorns, where the Baggies have four wins from four in the league this year, Liverpool hosts Reading at Anfield, where the Reds still have just two league wins this calendar year (Arsenal also has two league wins at Anfield in 2012,) Fulham hosts Aston Villa at the Cottage, Swansea hosts Wigan in Wales, and West Ham hosts Southampton in a battle between promoted sides.
Two matches close off the weekend on Sunday. The early match is the always vitriolic North East derby, as Sunderland hosts Newcastle at the Stadium of Light. The late match sees QPR host Everton at Loftus Road.
The reverse of these fixtures will be played the weekend of April 13-14.