Emirates Stadium, London
Wednesday, October 24
2:45 p.m. EDT, 19:45 BST
Match Officials from Sweden

Referee: Jonas Eriksson
Assistants: Mathias Klasenius and Daniel Warnmark
4th Official: Stefan Wittberg
Additional Assistants: Stefan Johannesson and Martin Strombergsson

All-Time in All Competitions: 1 Arsenal win, 1 Schalke win
Arsenal's European Form: W-L-L-W // W-W
Schalke's European Form: L-W-L-D // W-D
There's nothing I could say here about the Norwich match that you haven't already read in ten million different places across the Internet, so I'm not going to say anything at all. The point of this post is to preview what to expect tonight as Arsenal hosts Schalke in Champions League group play.
No denying it, the loss on Saturday adds more magnitude to what was already a huge match. Three points for Arsenal means they'll have nine points out of nine possible through the first half of group play, and you can't do better than that. Three points would also effectively wash the bad taste of last weekend out of everyone's mouths. You've got to win your home games in Europe, and this is a big test, so you can bet there will be serious questions if Arsenal comes out as complacent as they did against the Canaries. A win would put the Gunners five points clear at the top of the Group B table.
Come on, you Gunners.
Arsenal Squad News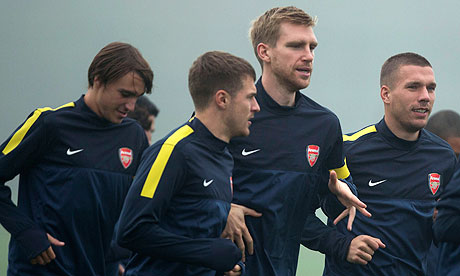 Some Germans prepare to face some Germans. Also, Ramsey.
And Miquel. Photo: Guardian.
Out:
Oxlade-Chamberlain (hip), Walcott (chest), Gibbs (thigh), Diaby (thigh), Szczesny (ankle), Fabianski (shoulder), Rosicky (Achilles)
Only one return from injury for this match and that's Laurent Koscielny, who returns from what was called a "back problem." I suspect he'll be on the bench, with Per Mertesacker and Thomas Vermaelen starting. Alex Oxlade-Chamberlain departed Saturday's match with a hip injury and will likely miss out on this one. It's still too soon for returns from Kieran Gibbs and Theo Walcott as well.
Jack Wilshere, Bacary Sagna, and Emmanuel Frimpong all completed 90 minutes in the reserves against Everton on Monday. They could all be in contention for the weekend. They've all been removed from the injury list above, though!
Lukas Podolski should still start, though I think he's still nursing a knock to the ankle.
Schalke Squad News
Doubts:
Draxler (wrist), Papadopolous (match fitness)
Olympiacos isn't the only team in this group with a Greek guy named Papadopolous! While Olympiacos have Avraam, Schalke have Kyriakos, and he is just returning from a two week absence with chicken pox and is short of match fitness. Meanwhile, attacking midfielder Julian Draxler may still be out, having suffered a broken wrist in their 2-2 draw with Montpellier on Matchday 2.
Current Form
Schalke picked up a huge win over reigning champion
Dortmund at the weekend. Well, damn it.
Photo: Daily Mirror.
After Saturday, I'm not going to talk about Arsenal's form. One hopes that result was just a blip on the radar and not the start of a downswing.
Arsenal's record at home in Europe, however, is astounding. Since losing to Inter Milan in 2003, the Gunners have lost just twice in 43 home games in the Champions League, and both of those losses were to English sides.
Schalke, so far this season, are clear in third place in the Bundesliga. Bayern Munich is first with 24 points, recently promoted Eintracht Frankfurt are second (!) with 19, and Schalke is third with 17. Schalke is now five points clear of fourth place Dortmund, after beating Jurgen Klopp's bee-colored army 2-1 in Dortmund at the weekend. In eight league matches this year, Schalke have five wins, two draws, and just one loss, to Bayern Munich, 2-0 on September 22, at home.
In Europe, Schalke have four points from two matches, having beaten Olympiacos on Matchday 1 and drawn Montpellier (at home) on Matchday 2. Montpellier's equalizer came in the 90th minute in a 2-2 match.
Match Facts
Arsenal and Schalke have faced each other before in this competition, in the group stage in 2001/02. Arsenal won at Highbury, 3-2, but lost 3-1 in Gelsenkirchen. In the win in London, Arsenal had a brace from Thierry Henry (including one from the penalty spot) after Freddie Ljungberg opened the scoring. Schalke scored the first three goals in the reverse fixture in Germany before Sylvain Wiltord pulled back a consolation goal. That was back in the day where the first group stage was followed by the second group stage. Arsenal crashed out in that second group stage in 2002, but won the Double domestically.
All time against German competition, Arsenal has a record of 12 wins, six losses, and four draws. At home against German sides, they have nine wins, one loss (to Borussia Monchengladbach in 1996,) and one draw (to Bayern Munich in 2000.)
All time against English competition, Schalke has a record of three wins, six losses, and two draws. On English soil, they have no wins, one draw, and four losses. That draw was in 1958 with Wolves.
The Referee
Eriksson calls a foul in a match
earlier this season.
The crew of officials is from Sweden; the referee is Jonas Eriksson. He has never worked an Arsenal match in his career, but his first UEFA appointment was as the fourth official in a UEFA Cup match involving Arsenal Kyiv, so that has to count for something, right? No? Okay then.
Eriksson has worked two Champions League matches involving English teams. In 2009, he was in the middle for Chelsea's 1-0 win over Porto. Last year, he worked Manchester City's 1-1 draw with Napoli at Eastlands on Matchday 1.
Eriksson has worked one Schalke match in the past, in the 2011 knockout-phase, as they defeated Valencia 3-1 in Gelsenkirchen. Two different German sides lost matches with Eriksson in the middle last year, including Dortmund's 3-0 loss to Marseille in Arsenal's group. The other was Bayer Leverkusen's 3-1 loss to Valencia.
Around Europe
Uuuguuguggggghhhhhh... Photo: UEFA.
Last night was a crushing time to be a Celtic supporter. Seconds away from a famous draw, Jordi Alba scored to give Barcelona a 2-1 win over the Scottish side. Then again, Barcelona apparently had 1,000,000% possession. Manchester United went behind 2-0 before clawing back for a 3-2 win at Old Trafford over Braga. At least Chelsea lost! That scoreline was 2-1 at Shakhtar Donetsk.
In other matches, Juventus had to come from behind to draw Nordsjaelland, 1-1. Spartak Moscow beat Benfica in the early match, 2-1. Valencia pounded BATE Borisov 3-0 in Belarus. Galatasaray and CFR Cluj played out a 1-1 draw in Turkey and Bayern Munich beat Lille 1-0 in France.
Elsewhere today, the other Group B match sees Montpellier (third, with one point) host Olympiacos (last, with no points.) In Group A, group leading Porto hosts Dynamo Kyiv, who are third on goal difference. Ahead of them on that same goal difference, second place Paris St-Germain host last place Dinamo Zagreb.
Malaga currently leads Group C, but hosts AC Milan tonight. Meanwhile, last place Zenit St. Petersburg hosts Anderlecht. In the D is for Death group, Manchester City (in third) is at Ajax (in last) and group leading Real Madrid hosts Dortmund.