Stade de la Mosson, Montpellier
Tuesday, September 18
2:45 p.m. EDT, 7:45 p.m. BST
Match Officials (from Spain)

Referee: Carlos Velasco Carballo
Assistants: Roberto Alonso Fernandez and Juan Carlos Yuste Jimenez
4th Official: Roberto Diaz Perez del Palomar
Additional Assistants: Carlos Gomez and Carlos Del Cerro Grande

All-Time in All Competitions: First competitive meeting
Arsenal's Champions League Form: W-D-W-L-L-W
Montpellier's European Form: W-D-L-L // W-L (2000 UEFA Cup // 2010 Europa League qualifying)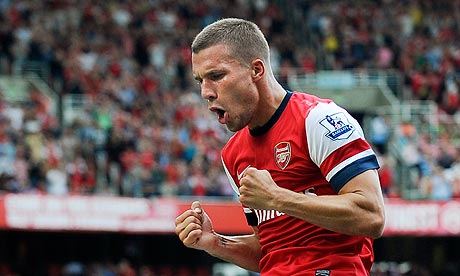 YEEEEEEEEEAAAAAHHHHHHHH! Photo: Guardian.
I missed the match against Southampton on Saturday due to a wedding, but thanks to the YES Network re-airing games on Mondays, I'm just sitting down to watch it unfold, and I have to say, I've got a pretty good feeling about what I'm going to see.
The fixture list gets serious now, though, as Arsenal starts another Champions League campaign. This year, they begin in the south of France against the reigning French champion, Montpellier. Arsenal have a trip to Manchester City coming up at the weekend, but they have to take care this of business now. Three points to start group play in Europe would be very welcome to keep this team on the right foot, with a difficult schedule on the horizon.
Arsenal Squad News
Out:
Szczesny (ankle), Fabianski (shoulder), Rosicky (Achilles), Sagna (broken leg), Frimpong (knee), Wilshere (foot)
Suspended:
Wenger (first of three)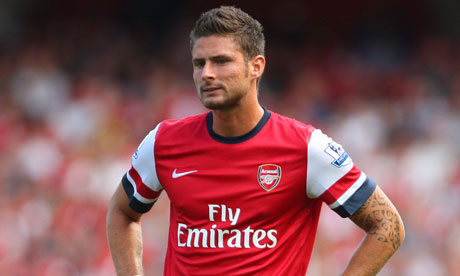 "Now, where did I leave those goals...?"
Photo: Guardian.
My favorite part of writing previews for road matches in the Champions League is that by the time I'm finishing the post, it's usually well known exactly who the 18 players on the plane are.
And, thanks to that, we know Wojciech Szczesny is out, having sustained an ankle injury which he played through in the Southampton match on Saturday (you can see him grab his right ankle as Danny Fox is scoring in the 45th minute after his howler.) With Lukasz Fabianski still out and Damian Martinez not registered for the competition, it's Vito Mannone to start with James Shea on the bench.
Abou Diaby has been deemed fit to travel with the side, though it remains a question as to whether or not he is fit to start, or if he'll be rested to be prepared for City at the weekend. There will be changes to the XI, though they won't be wholesale replacements. Maybe three or four. You have to think Olivier Giroud will get the chance to start, and hopefully score his first goal as a Gunner, in his old stomping ground.
Arsene Wenger serves the first of a three match ban for daring to question the authority of a referee for calling Arsenal for eight million fouls. Steve Bould will run things from the touchline.
Dartboard Predicted XI:
Mannone, Jenkinson, Koscielny, Vermaelen, Santos, Arteta, Ramsey, Cazorla, Walcott, Podolski, Giroud.
Montpellier Squad News

Out: Utaka (groin)
Suspended: Pitau (first of two)

Injury news for Montpellier has been a bit hard to come by on the Internet (and there is none mentioned in UEFA's press kit, like there normally is.) What I have been able to find is that former Portsmouth striker John Utaka will miss out with a groin injury and Romain Pitau is suspended for a red card he picked up the last time Montpellier played in UEFA competition, Europa League qualifying two years ago. Holding midfielder Jamel Saihi returns to the squad after sitting out last weekend's loss to Reims through illness.
Current Form
"Ooooooooooh, we're struggling this season."
Photo: Yahoo.
Arsenal's big test starts now, as this trip to France kicks off a period of fixture congestion. The Gunners will face Manchester City on Sunday, followed by a League Cup match with Coventry, and then Chelsea on the 29th. With that in mind, it's so far so good for the Gunners this season. Two 0-0 draws might not have been the best way to start the season, but a 2-0 win at Liverpool and a 6-1 win over Southampton have washed that sour taste out of everyone's mouths. Maximum points to start group play would be perfect in keeping things going smoothly.
In European competition, Arsenal have struggled on the road as of late, winning just three of their last 13 Champions League matches away from the Emirates (UEFA will cite that it's two wins from their last 12, but that doesn't include winning at Udinese in the qualifying round last year.) In that 13 match span, they have lost twice at Olympiacos (neither mattered,) twice at Barcelona (both of those mattered just a bit,) and once each at Milan, Braga, Shakhtar, and Porto, with draws at Dortmund and AZ Alkmaar.
As for Montpellier, things are not going so well; they have just one win from five matches to start their defense of the Ligue 1 title and sit 16th in the table. They opened with a 1-1 home draw with Toulouse before losing 2-1 at Lorient, losing 1-0 at home to Marseille (who have five wins from five to lead the league,) winning 3-1 at Sochaux (who are 19th,) then losing 3-1 at Reims at the weekend. Montpellier, of course, won the title last year on the strength of the goalscoring of Olivier Giroud, which is probably not going to come in handy for them today.
Match Facts
Aaron Ramsey had a match winner in France last season,
then had to run away from Laurent Koscielny and Andre
Santos. Photo: Daily Mirror.
Arsenal and Montpellier have never met before in a competitive fixture, so all we can really talk about here is Arsenal's history against French sides and Montpellier's limited history against English sides (well, side, singular, and that was over 20 years ago.)
The Gunners faced French competition in last year's group stage, beating Marseille 1-0 in France, on a 92nd minute goal from Aaron Ramsey, before drawing 0-0 at the Emirates a few weeks later. In eight matches in France against French competition, Arsenal have won five matches and drawn three. I say "against French competition" because Arsenal have lost in Paris twice, though that was to Barcelona in the 2006 final and Real Zaragoza in the 1995 Cup Winners' Cup final.
The only English competition Montpellier has ever faced is Manchester United, whom they played in March of 1991 in the quarterfinals of the Cup Winners' Cup. Both sides drew 1-1 at Old Trafford before United won the tie with a 2-0 win in France (Steve Bruce, Mrs. Doubtfire himself, scored United's second, from the penalty spot.)
The Referee
The last time Szczesny saw this referee, he also saw red.
Hopefully Mannone fairs better. Photo: Yahoo.
The crew of officials is from Spain; the referee is Carlos Velasco Carballo. He has worked one Arsenal match in his career, the Matchday 2 win over Olympiacos at the Emirates last season, which came by a 2-1 scoreline. In 2011, Carballo took charge of the Europa League Final between Porto and Braga (remember when Andre Villas-Boas won things?) English sides have a record of four wins, one draw, and one loss in UEFA Champions League matches with Velasco Carballo in charge. The one loss was suffered by Chelsea in the first leg of their Round of 16 tie with Napoli, a disadvantage they overturned at Stamford Bridge in the return on their way to the title.
Velasco Carballo has taken charge of one UEFA Champions League match involving a French side, last year's 2-0 Marseille home loss to Bayern Munich in the quarterfinal.
He took charge of a few matches in the Euro tournament this summer, including the tournament opener between Poland and Greece, in which he sent of Wojciech Szczesny.
Around Europe
Sure, City and Real Madrid might be the bigger match,
but for as long as Dortmund is in the tournament and as
long as Jurgen Klopp makes faces like this, it's hard to
pass up that kind of opportunity. Photo: Sabotage Times.
Arsenal is in Group B this season; Groups A through D start on Tuesday this week and Groups E through H start on Wednesday. The other match in Arsenal's group sees Olympiacos host Schalke in Athens.
Group D stands for Death and Manchester City travels to the Bernabeu to face Real Madrid today. Meanwhile, Dortmund hosts Ajax in Germany. In Group A, Dinamo Zagreb hosts Porto and PSG hosts Dynamo Kyiv. In Group C, Malaga hosts Zenit and AC Milan hosts Anderlecht.
The remaining groups start tomorrow, which includes Manchester United and title-holders Chelsea. United is in Group H; they will host Galatasaray tomorrow (Eboue!) while Chelsea, in Group E, hosts Juventus. The other matches in those groups see Braga host Cluj (Group H) and Shakhtar Donetsk host Nordsjaelland (Group E.)
In Group F, Lille hosts BATE Borisov and Bayern Munich hosts Valencia. In Group G, Barcelona welcomes Spartak Moscow to Camp Nou, while Celtic hosts Benfica in Scotland.