Etihad Stadium, Manchester
Sunday, September 23
11:00 a.m. EDT, 4:00 p.m. BST
Match Officials

Referee: Mike Dean
Assistants: Jake Collin and John Brooks
4th Official: Andre Marriner

This Match, Last Year: Manchester City 1 - 0 Arsenal
All-Time in All Competitions: 93 Arsenal wins, 47 Manchester City wins, 40 draws
Arsenal's League Form: D-W // D-D-W-W
Manchester City's League Form: W-W // W-D-W-D
So. This game's pretty important, eh?
Three straight wins after two scoreless draws and suddenly everyone in the media is on the Arsenal bandwagon again, and honestly, that freaks me out.
The Guardian match report
from the Southampton game talks about the "good vibes" surrounding the team. STOP TALKING! YOU'RE GOING TO SCARE THE GOOD VIBES AWAY!
City away is Arsenal's biggest test of the season so far and three points on Sunday would propel this team from "solid" form to "excellent" form. A loss would feel like falling back to square one.
This will be our first real look at what this team is made of. Let's hope come Sunday evening we like what we've seen.
Arsenal Squad News
Who the hell is that? Is he like a new signing?
Photo: Arsenal.
Out:
Fabianski (knee), Rosicky (Achilles), Sagna (broken leg), Frimpong (knee), Wilshere (foot)
Doubts:
Szczesny (ankle)
SOUND THE KLAXON!
JACK WILSHERE IS BACK IN FULL TRAINING! REPEAT: JACK WILSHERE IS BACK IN FULL TRAINING! ALSO FRIMPONG!
While that's all well and good, they're both still a ways away from returning to the squad, so let's get down to business and talk about who's ready for Sunday and who's not. This could likely be outdated by the time you read this, considering this was posted at midnight Friday morning (in New York) and Arsene Wenger's weekly press conference is likely about six hours later.
Since there was very little squad rotation between Southampton and Montpellier (with two days rest,) I can't imagine there being any between Montpellier and Manchester City (with four days rest.)
There are plenty of conflicting rumors about Wojciech Szczesny's ankle injury. There was a Twitter rumor on Wednesday that said he could be out for up to three months with ligament damage, but I have seen that confirmed by approximately zero sources.
Other than that, I can't see many changes. The back four has been solid; why change it now? The midfield is getting the job done. There might be some shifting around up top; that's about it.
Predicted XI:
Mannone, Jenkinson, Mertesacker, Vermaelen, Gibbs, Arteta, Diaby, Cazorla, Podolski, Oxlade-Chamberlain, Gervinho.
Manchester City Squad News
Out:
Nasri (hamstring), Richards (ankle)
Doubts:
Barry (groin)
Samir Nasri's attempt at Blue Steel is just terrible. Also, this
came from a Web site called "The Richest."
I read a Manchester City forum's pre-match discussion to put together this team news. From what I can tell, they have some doubts about themselves, yet seem certain that because of that, they'll win handily to get back on track. The logic is "the Real Madrid result was tough, and we've been struggling lately, so we need a convincing performance; Arsenal had better watch out!" That's not sound logic; it's wishful thinking.
Many of the posters did recognize that Arsenal is in good form, so cheers to them for giving credit where it's due.
Roberto Mancini has called Samir Nasri a "doubt" for this match after he sustained a hamstring injury against Real Madrid on Tuesday. Every other source in the world says he's out three to four weeks with a suspected tear. All things considered, he could rush back from the injury just for the sake of playing against Arsenal, but that would likely re-aggravate the injury and cause him to miss more time. Overall, I just don't want to see his face. Also, that aforementioned forum seems to think Nasri's injury is a blessing in disguise, as it forces Yaya Toure farther up the pitch.
Micah Richards remains out with an ankle injury. Gareth Barry has returned from a groin problem, but is not 100%, and is therefore listed as a doubt.
Current Form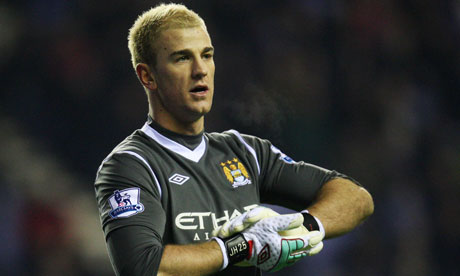 Well, Joe Hart may be largely to blame for the two goals that
gave Real Madrid the win on Tuesday, but since he's English,
he's not going to face as much criticism as other keepers
would have. Photo: Guardian.
Both sides come into this match sitting third and fourth in the table, level on points with eight, with Arsenal sitting above City on goal difference. The astonishing thing about this is that over the course of only four games, these two sides have three of those past fixtures in common. Both sides have hosted Southampton, while visiting Liverpool and Stoke City.
Arsenal has the better results over those three common fixtures. Both sides drew at Stoke (Arsenal's was 0-0, City's was 1-1,) Arsenal won at Liverpool while City drew there, and Arsenal's home win over Southampton was by a larger margin (6-1) than City's (3-2.) Arsenal's other result was the 0-0 draw with Sunderland, while City's other result was a win over QPR.
Manchester City haven't lost at home since forever ago. Well, maybe not exactly, but since Arsenal won 3-0 at Eastlands in October of 2010, City has lost there just three times. They lost to Everton in December of that same year, then lost to United there in the FA Cup this past January, and Liverpool in the Carling Cup as well that month.. That's it. Three losses at home in about 23 months. They have won five straight at home; the last side to earn a point at Eastlands was Sunderland, 3-3, on March 31. City came back from 3-1 down in that match, with goals in the 85th and 86th minutes. Prior to that, they had won 20 straight league games at home. So, that's 25 wins from their last 26 league home matches.
(Editor's note: My apologies for originally saying City had lost just twice since 2010, as I had glossed over the Carling Cup loss.)
Arsenal's last road loss came at Loftus Road to QPR at the end of March. Since then, they have won four and drawn two away from the Emirates. Those two draws were both at Stoke and the win total includes Tuesday's win in France.
Match Facts
Mikel Arteta appears to have scored his winner against City
in some sort of Instagram bubble. Photo: Foot and Ball.
Arsenal and City split the points in their two league meetings last year, with both sides winning 1-0 at home. The Gunners put in a valiant effort at Eastlands last December, but City's goal came during a period when Arsenal were forced to re-shuffle their back four after an injury to Johan Djourou. David Silva had the goal in the 53rd minute. Arsenal outplayed City at the Emirates in April, getting the winner late, courtesy Mikel Arteta. At the time, City had been in such poor form that it was thought this loss had basically clinched the title for Manchester United. Then, City did not drop a single point for the rest of the season to claim the title.
There was a third 1-0 match between the two sides last year, as City knocked Arsenal out of the League Cup by that same scoreline in November at the Emirates. Considering the strength of squad for City vs. Arsenal, even that loss was taken as a slight moral victory for Arsenal's youngsters.
Arsenal's last win at Eastlands came in October of 2010, as mentioned above. That was by a 3-0 scoreline, aided by the fifth minute red card shown to Dedryck Boyata. None of Arsenal's three goal scorers that day remain with the club this year: Samir Nasri, Alex Song, and Nicklas Bendtner, though I guess technically the world's greatest striker is still Arsenal property.
Actually, let's take a look at Arsenal's starting XI that day, because it's kind of ridiculous: Fabianski, Sagna, Squillaci, Djourou, Clichy, Song, Fabregas, Denilson, Nasri, Arshavin, Chamakh. Arsenal kept a clean sheet against City with Fabianski in goal and a center back combo of Squillaci and Djourou. That happened.
The Referee
I love the Wenger sass-face in this photo. Also, I found this
image via Google Image search from this blog. So, I got
it from myself 11 months ago. How meta!
The referee is Wirral-based Mike Dean; you have no idea how bothered I am by this. I haven't actually run all of the numbers, but I have the sense that Arsenal's record with Mike Dean in the middle is worse than their record with any other referee, and that includes Phil Dowd.
Arsenal's form with Dean dating back to 2009 is D-D-L-D-L-D-L-L-W-L-L-D-L-W-L-D. Two wins. Six draws. Eight losses. Two wins from 16! That's ridiculous!
If you haven't seen this list game-by-game, it goes a little something like this: 0-0 draw at Spurs (when Emmanuel Eboue managed two yellow cards in 37 minutes,) 0-0 draw at Old Trafford (which won the title for United,) 2-1 loss at Old Trafford (conceding from a dubious Wayne Rooney penalty and Diaby's inexplicable own goal,) 1-1 draw at Burnley (the Clarets equalizer was from a penalty,) 2-0 loss at Chelsea (that game was over after about 20 minutes,) a 0-0 bore draw with City, another 2-0 loss at Chelsea, a 1-0 loss at home to Newcastle (Koscielny was sent off late for a last man foul,) a 3-1 WIN! but it was at Leeds in an FA Cup replay, the 2011 Carling Cup Final, a 2-1 loss to Tottenham last October, a 1-1 draw with Fulham (snapped a five match winning streak,) a 2-1 loss at home to United in January, the 5-2 WIN! over Spurs (well, that's something,) the 1-0 loss at QPR (Arsenal's most recent road loss,) and the 0-0 bore draw with Chelsea at the Emirates in April. Now, that is a horrible list of matches, many of which I'd love to forget.
Manchester City saw Mike Dean five times last year and won all five, including their title winner, 3-2, over QPR. Prior to that, they had wins over Swansea, Stoke, Fulham, and Chelsea. City have won seven straight matches with Dean in the middle.

But... but... law of averages... all trends have to end sometime, yadda yadda yadda...
Around the League
Who will Luis Suarez racially abuse this time?!?
Photo.
This weekend, six matches are slated for Saturday and a whopping four are slated for Sunday (largely thanks to three teams' involvement in the Europa League, though Liverpool v. Manchester United would likely have been moved to Sunday regardless.)
Let's start with Saturday, which features an early match, five matches in the standard time-slot, and no late game. The early match sees fifth place Swansea City host seventh place Everton. Arsenal could use a draw from that one. Among the five 10:00 a.m. Eastern time games, top of the table Chelsea hosts a Stoke City side that have played nothing but draws this year, West Brom hosts Reading at the Hawthorns, Southampton hosts Aston Villa at St. Mary's, West Ham hosts Sunderland at Upton Park, and Wigan hosts Fulham at the DW.
The big matches come on Sunday, and that includes Arsenal's trip to Manchester City, which closes off the slate. Three matches were moved to Sunday because of Thursday Europa League matches (though one would likely have been moved anyway,) as Spurs host QPR and Newcastle host Norwich. The early match on Sunday sees Liverpool host Manchester United at Anfield; always a huge fixture. That match was a 1-1 draw last year. United's last win at Anfield was in December of 2007.
The reverse of these fixtures will be played the weekend of January 12-13.