Emirates Stadium, London
Saturday, September 29
7:45 a.m. EDT, 12:45 p.m. BST
Match Officials

Referee: Martin Atkinson
Assistants: Simon Beck and Stuart Burt
4th Official: Phil Dowd

This Match, Last Year: Arsenal 0 - 0 Chelsea
All-Time in All Competitions: 71 Arsenal wins, 54 Chelsea wins, 52 draws
Arsenal's League Form: W // D-D-W-W-D
Chelsea's League Form: W // W-W-W-D-W
The Arsenal Live Text of the Coventry match called Ignasi
Miquel "Iggy." I hope that's actually his nickname. It's much
better than the nickname we gave him when he started against
Leyton Orient in the FA Cup a few years ago: "New Guy!"
Photo: Daily Mail.
Big game.
You thought last week's match was a big game (and it was,) but this match here is the one that is going to dictate the conversation going forward.
After this match, Arsenal plays six times between then and their trip to Old Trafford to face Satan's Minions F.C. on November 3; three of them are league matches (against West Ham, Norwich, and QPR.) Those three matches fall into the category of "matches you have to win if you expect to win something." If Arsenal drops points against Chelsea, those three all become must win to get their heads back above water. If Arsenal wins against Chelsea, then whispers of the phrase "title contender" start to get louder, I start to panic about jinxing things, and then they really have to win all three. The tone of the October conversation about this team is going to be decided by tomorrow's result.
It's still early going in this season. Arsenal still have fewer points than West Brom and Everton. Titles are not won or lost in September. But if you're on the negative end, it can sure feel like it.
Arsenal Squad News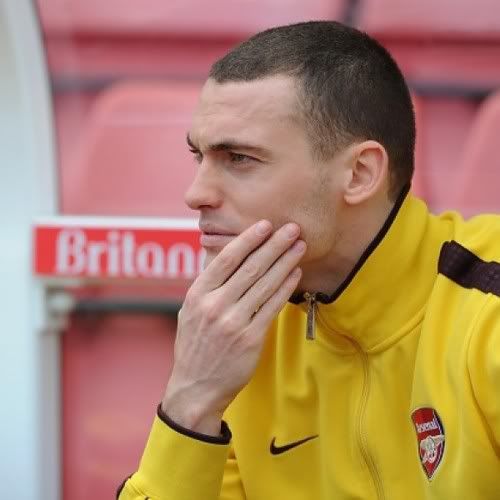 I'm not really sure how a robot could
get the flu in the first place, but said
robot will be available again this week
anyway, so let's not think too hard
about that question.
Out:
Szczesny (ankle), Fabianski (knee), Rosicky (Achilles), Sagna (broken leg), Wilshere (foot)
Thomas Vermaelen returns from a one-week absence and is available for selection at center back. Laurent Koscielny did quite well deputizing in his place, scoring the equalizing goal in Manchester. All of a sudden, Arsenal have a glut of center backs available (where was that two years ago?) so there are serious questions over which two will get to start. In response to the situation, during his press conference yesterday, Arsene Wenger said, "I have selection solutions, not selection problems." That's bad-ass.
There are some more selection
problems
solutions up front this week. Does Theo Walcott return to starting XI after his brace against Coventry? (Note that for all his talk about wanting to be a central forward then scoring twice in the League Cup, his goals still came from the wings.) Does Gervinho retain his place despite struggling a bit against City? Does Olivier Giroud breaking his duck earn him a spot in the starting squad? What about Aaron Ramsey, who had probably his best game in ages last weekend? Wenger says he has solutions to these questions, and many more, probably!
Back to the injury topic, and there's more good news about Jack Wilshere as he'll play against West Bromwich Albion for the Under-21 team on Monday for about an hour. Also, Bacary Sagna is back in training as well!
In terms of players still out "long term," Tomas Rosicky is two weeks away from returning to training and Wojciech Szczesny is two to three weeks away.
Predicted XI: Mannone, Jenkinson, Vermaelen, Mertesacker, Gibbs, Arteta, Diaby, Cazorla, Podolski, Walcott, Gervinho.
Chelsea Squad News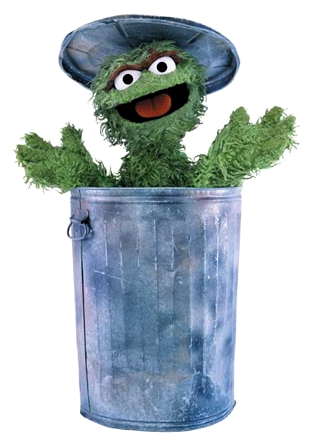 Oscar has two goals for
Chelsea already in his
young career.
Photo: Muppet Wikia.
Out:
None
Doubts:
Sturridge (hamstring), Terry (
racism
match fitness)
John Terry has not been in training this week, as he has been at the disciplinary hearings being held over the charge that he used racially abusive language on the pitch. He's been hit with a four match ban, but the ban is suspended "until after the outcome of any appeal, or the time for appealing expires, or should Mr. Terry decide not to appeal." His ability to appeal is on the grounds that he was cleared of the charge at Westminster magistrates' court in July, meaning England's
Brave and Loyal
National Team Quitting center back will be available for Chelsea tomorrow. I've listed him as a doubt due to match fitness, since he hasn't been in training, but he played just fine in the Capital One Cup on Tuesday. You know he'll play. Maybe he'll fall over again, too.
Daniel Sturridge has been out for a few weeks with a hamstring problem, but is on course to be available again this weekend, though that's still doubtful. Other than that, there are no major injury concerns in the Chelsea squad.
Current Form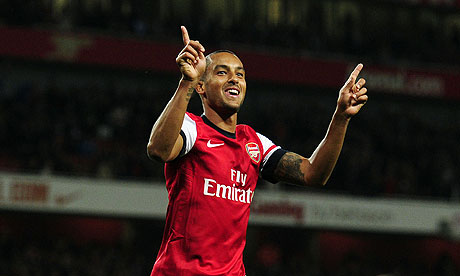 Not-Central-Forward Theo Walcott celebrates one of the
two goals he scored from the wing on Wednesday.
Photo: Guardian.
The last time either of these two teams lost a match in the four main competitions was May 8, when Chelsea got thrashed by Liverpool, 4-1. It's kind of hard to even remember that happened (Liverpool winning by three?!?,) but Chelsea's end of season was so bizarre last year, as they threw everything they had into winning the FA Cup and Champions League and succeeded. Chelsea have lost twice this season, but that was in the Community Shield and UEFA Super Cup. Chelsea are unbeaten in nine matches across the four main competitions (Premier League / FA Cup / League Cup / Champions League.) Arsenal is unbeaten in 11. That's 20 unbeaten matches combined between the two (so, does that mean they'll draw?) Arsenal's last loss was on April 16 to Wigan Athletic. Since then, yes, they have drawn a lot. They've drawn six of those 11 in the unbeaten run, actually.
Chelsea currently sit on top of the Premier League table with 13 points, four wins and a draw. Arsenal are in fifth with nine points, two wins and three draws. You could argue that Arsenal has had the better results so far (and I will make that argument, because this is an Arsenal blog) even though they are four points out of first place. Arsenal have picked up single points on two difficult travels (at Stoke and at City,) they've won at Anfield fairly comfortably, and they thrashed Southampton at home. Chelsea won their opening match comfortably at Wigan, then took longer than expected to unlock Reading at the Bridge, beat Newcastle at home (their toughest league fixture on paper to date,) were held to a draw at QPR, then left it late to beat Stoke at home (though, to be fair, Arsenal never found an opening at Stoke, but that was away.) Chelsea have conceded goals in only two of their seven matches this season: the 4-2 win over Reading and the 2-2 draw with Juventus.
Match Facts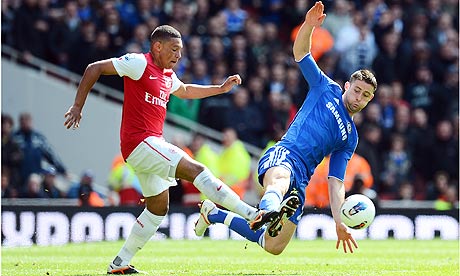 This game is sooooo boring. Better try to liven it up by both
missing the ball, or something... Photo: Guardian.
Arsenal are unbeaten in their last three matches against the Blues, winning at Stamford Bridge last year and drawing at the Emirates. It has been almost two calendar years since Chelsea's last win over the Gunners. Prior to these three matches, Chelsea had won five straight against Arsenal.
Arsenal won 5-3 at Stamford Bridge in late October in a classic. You may recall John Terry falling over at one point. A certain former Arsenal striker that shall remain nameless had a hat trick. Theo Walcott and Andre Santos had the other goals. In this fixture last year, at the Emirates in April, both sides played a torpid 0-0 draw that I just wanted to be over by midway through the second half.
A significant factor in those two matches last year was the absence of Didier Drogba from Chelsea's line-up in both games. Drogba was always well established as an Arsenal killer and he had the opening goal and winner in Chelsea's last win over Arsenal on October 3, 2010. Drogba had 13 goals over a 12 match span against Arsenal. In addition, before Arsenal's 3-1 Boxing Day (well, December 27th) win over Chelsea in 2010, the Blues had won their last two matches at the Emirates each by an astonishing three clear goals. But, that's all in the past now.
The Referee
Ruh-roh. This mock-up is from a
United blog, by the way.
The referee is West Yorkshire-based Martin Atkinson. Atkinson worked three Arsenal matches last year: the 2-0 loss to Liverpool last August, the 1-0 win over QPR on New Year's Eve, and the 1-0 win over Manchester City on Easter Sunday.
Red cards are a familiar sight in games where Atkinson has access to showing them, though he has yet to show one this year. There were two red cards in the three Arsenal matches involving him last season: the first was to Emmanuel Frimpong against Liverpool and the second was to Mario Balotelli for being a lunatic. A year prior, Atkinson showed red cards to both Laurent Koscielny and Jack Wilshere (he also sent off two Arsenal opponents that year.) In 2009/10, Thomas Vermaelen received the club's only red card of the season, shown by Atkinson, for a last man foul against West Ham. Let's hope Chelsea gets the red card this time, like Manchester City did in April.
With regards to Chelsea's record with Atkinson last year, he took charge of their 1-1 draw at Wigan, a 1-1 draw with Birmingham City in the FA Cup, a 0-0 draw in the league with Tottenham, and their 5-1 FA Cup semi-final win over Tottenham three weeks after the draw. Chelsea's win in that semi-final was, of course, controversial, as Juan Mata's goal which gave Chelsea a 2-0 lead never fully crossed the line but was allowed.
Around the League
Please, someone, just make it stop.
This London derby starts a full slate of Saturday games; there is a total of eight matches being held in the Premier League on the 29th, which means six of them are being played in the 10:00 a.m. Eastern, 3:00 p.m. England time slot. Manchester City is in West London to face Fulham at the Cottage, Liverpool is at Carrow Road to face Norwich, Everton hosts Southampton at Goodison Park, Newcastle is at the Madejski to face Reading, Stoke hosts Swansea at the Britannia, and Sunderland hosts Wigan at the Stadium of Light.
Saturday's late game features Tottenham Hotspur in Manchester to face United at Old Trafford. That really doesn't sound like something I want to subject myself to watching, so 12:30 p.m. Eastern sounds like as good a time as any for me to do laundry.
There's one match scheduled for Sunday and one more for Monday. Aston Villa hosts West Bromwich Albion in a West Midlands derby on the 30th, while the weekend closes with another London derby, with Queens Park Rangers hosting West Ham United at Loftus Road on the night of October 1.
The reverse of these fixtures will be held the weekend of January 19-20.