Britannia Stadium, Stoke-on-Trent
Sunday, August 26
8:30 a.m. EDT, 1:30 p.m. BST
Match Officials

Referee: Lee Mason
Assistants: Simon Long and Ron Ganfield
4th Official: Howard Webb

This Match, Last Year: Stoke City 1 - 1 Arsenal
All-Time in All Competitions: 50 Arsenal wins, 23 Stoke wins, 22 draws
Arsenal's League Form: L-D-D-D-W // D
Stoke's League Form: L-D-D-L-D // D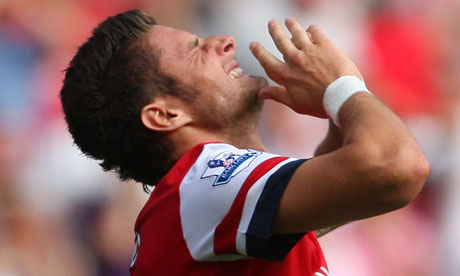 "Ahhhh, I locked my keys in the car!"
Photo: Guardian.
As Fulham and Swansea both ran up the score against Norwich and QPR respectively on Saturday morning, we joked at the pub that the title race between those two sides looked like it was going to be interesting. In fact, both sides play each other in the final fixture of the season, on May 19, in Wales. That's on pace to be a title decider.
The moral of that anecdote is that there is almost nothing you can glean about the final Premier League table after just the first round of fixtures. Arsenal is currently 10th after their 0-0 draw with Sunderland; West Bromwich Albion was 3rd (before Chelsea played an extra game,) Tottenham Hotspur is 14th, Manchester United is 16th, and Liverpool is 18th. After one round of fixtures last year, Bolton was first and Wolves were fourth; both are now in the Championship. There's still a lot of football to be played.
A goalless draw against Sunderland is obviously not the best case scenario in terms of starting the season on the right foot, but it's also no cause for panic. That said, more points dropped on Sunday would prove to be a bigger annoyance. Arsenal do not have a positive history of results at the Britannia. It sure would be nice to get three points.
Arsenal Squad News
Out:
Koscielny (calf), Rosicky (Achilles), Sagna (broken leg), Frimpong (knee), Wilshere (foot)
Koscielny might have been out of training with a calf
problem lately, but he's got plenty of practice making
weird faces. Photo: The N5 Blog.
Sunderland nearly broke through Arsenal's back four twice in the opening quarter of an hour last week; afterwards, the fullbacks held back as the Gunners moved forward. The lack of overlapping runs meant less offensive penetration, and ultimately, a 0-0 draw. Finding the proper balance is going to be a work in progress for Arsenal; this makes sense given the personnel flux of the front six this summer.
As for those on the comeback trail from injury, everyone available for selection last week remains available. Alex Oxlade-Chamberlain should be back in contention as well. Lukasz Fabianski should return to the bench in place of Vito Mannone (did you know he was there?)
Laurent Koscielny is still bothered by a calf problem and looks to miss out. To put a positive spin on the fact that the Frenchman is going to miss another start, there are worse things in the world than having Per Mertesacker's height against Stoke City. I would suspect that if Carl Jenkinson started at right back last week, he'll start there again this week.
The midfield trio will likely remain (it'll be nice to have Abou Diaby's height against Stoke, too.) Up front is another judgment call, so my predicted XI will just keep the same players as last week. I'm being cautious; the season is too young to be able to make wild decisions without any real insight.
Predicted XI:
Szczesny, Jenkinson, Mertesacker, Vermaelen, Gibbs, Arteta, Diaby, Cazorla, Gervinho, Walcott, Podolski.
Stoke Squad News
Out:
None
Doubts:
Pennant (thigh)
Suspended:
Whitehead (one match, two yellow cards)
Stoke have some newly available players, as they've signed constantly injured Tom Huddlestone on loan from Tottenham (at least, they hope to have that deal done by Sunday; it has been held up a bit) and have completed the visa for Geoff Cameron from Houston Dynamo. He should help in their midfield, where Dean Whitehead serves a one match ban after collecting two yellow cards against Reading at the weekend.
Robert Huth has fully recovered from his hospitalization from viral meningitis which he picked up in the United States; he played against Reading. You know, Daniel Sturridge also contracted meningitis during Chelsea's U.S. tour this summer. Should we all be afraid of contracting meningitis now?
Ex-Gunner Jermaine Pennant is a doubt with a thigh injury.
Current Form
I don't know what to put here, so here's
a drawing of Gunnersaurus for you to print
out and color in yourselves.
It's really hard to write about form when the season is only a week old. With such a drastic swing of players in and out, it's hard to compare Arsenal's 0-0 draw last week with the three straight draws they picked up in late April to early May of this calendar year. How many parallels can you make between last week's match and the 3-3 draw against Norwich in May, or even the 1-1 at Stoke a week before that?
As for Stoke, they drew 1-1 last week against Reading after conceding a penalty just before second half injury time, which canceled out new signing Michael Kightly's first goal for the club. Stoke have not won since April 7 against Wolves, a stretch that has now reached seven games. The Potters are also unbeaten in their last seven at home (three wins and four draws,) though they have drawn the last three, the first of which was this fixture in April.
Match Facts
While Arsenal have no problems beating Stoke at the Emirates, the same cannot be said about their trips to the Britannia. Since Stoke earned promotion to the Premier League, Arsenal have won just once on their travels to the Potteries.
Aaron Ramsey is routinely booed at the Britannia, because
of that time his leg got in the way. Stay classy, Stoke.
Photo: Daily Mail.
Arsenal lost their first trip to the Britannia in November of 2008 by a 2-1 score. Gael Clichy pulled a consolation goal back late in that one, but Arsenal were down 2-0 and the damage was mostly done by the time Robin van Persie was sent off for head-butting Thomas Sorensen. Their next trip was in the FA Cup in January of 2010, which saw Arsenal concede early from a set piece, draw level at halftime, only to fall 3-1. A month later was Arsenal's only win at the Britannia, 3-1, though that was the match which saw Aaron Ramsey's leg broken by Ryan Shawcross.
In their first visit to the Britannia after the Shawcross/Ramsey incident, Arsenal was already in "we've totally stopped trying mode" in May of 2011 and Stoke won 3-1. Last year, Arsenal picked up a result in late April, taking a frustrating single point after a 1-1 draw.
In all five of these matches, Stoke scored first and on four of those occasions, that first goal came within the first 11 minutes. I distinctly remember in the Aaron Ramsey game at Nevada Smith's, a friend of mine arrived shortly after kick-off when it was 0-0, went up to the crowded bar to get his first pint, came back, looked at the screen, saw it was already 1-0, and asked "Wait, what the hell happened?" My memory is fuzzy on the specifics, but I'm pretty sure that goal came from a Rory Delap throw-in.
Arsenal won 3-1 at the Emirates against Stoke last season, in October. Peter Crouch scored in both matches for Stoke last year and now has seven career goals against the Gunners. Also, he's really weird looking, still.
I hate matches at the Britannia.
The Referee
The referee is Lancashire-based Lee Mason, who often makes shockingly bad calls when Arsenal is involved. His first match and only other match this season was Wednesday's 4-2 Chelsea win over Reading, during which Fernando Torres was arguably offside before scoring the goal that put Chelsea ahead for good.
As for his track record with Arsenal last year, he worked two victories: the 3-1 over Stoke at the Emirates in October and the 1-0 at Everton in March. As for Stoke, he worked that loss to Arsenal, a 1-0 win at Everton in December, and a 2-1 win at Blackburn in January.
Two years ago, Lee Mason allowed a very controversial offside goal for Everton at the Emirates, which gave the Toffees a 1-0 lead at halftime. Captain Cesc Fabregas argued with him in the tunnel about it, leading David Moyes to later say that Fabregas should have been sent off for his remarks. All of this involved a cat somehow, according to
this picture I found
(right.) Arsenal won 2-1.
In his most recent controversy, in April of last year, Mason was strongly criticized for sending off QPR's Shaun Derry in the 14th minute at Old Trafford for a professional foul, when there was minimal contact between Derry and Ashley Young, the latter of whom was in an offside position before receiving the ball. United won 2-0.
Around the League

Stoke v. Arsenal is one of two Sunday fixtures this week; it will be followed by the weekend's showcase game as Liverpool hosts Manchester City at Anfield. City had a player sent off in both of their league meetings last year, and Liverpool beat them over two legs in the League Cup semi-final. They drew 1-1 in the league meeting at Anfield last year.

That means there are eight matches to be played on Saturday. The first early match of the season sees Swansea City host West Ham at the Liberty Stadium. That's gonna get some ratings on ESPN2, for sure. Saturday's late game has Chelsea host Newcastle at the Bridge. Six matches kick-off in the 10:00 a.m. Eastern / 3:00 p.m. England time slot: United hosts Fulham at Old Trafford (another 5-0 for the Cottagers, please?), Spurs host West Brom, Villa welcomes Everton to Birmingham, Norwich hosts QPR at Carrow Road, Southampton's first home match of the season sees them host Wigan at St. Mary's, and Reading is away to Sunderland at the Stadium of Light.

All in all, not a particularly enthralling Saturday followed by two intriguing match-ups on Sunday.

The reverse of these fixtures will be played the weekend of February 2-3.