Emirates Stadium, London
Saturday, August 18
10:00 a.m. EDT, 3:00 p.m. BST
Match Officials

Referee: Chris Foy
Assistants: Simon Beck and Stephen Child
4th Official: Trevor Kettle

This Match, Last Year: Arsenal 2 - 1 Sunderland
All-Time in All Competitions: 54 Arsenal wins, 50 Sunderland wins, 38 draws
Arsenal's End of 2011/12 Form: W-L-D-D-D-W
Sunderland's End of 2011/12 Form: L-D-D-D-L-L
Let's blow some stuff up this year... or something...
Photo: Wikipedia.
Sure has been a quiet summer, hasn't it?
Three new signings to be excited about, one departure that's going to take some time to get over, and by all accounts, more work to be done. Even with that aforementioned departure, I'm more excited for this season than I have been about others in the recent past.
We can continue debating about that work to be done until the cows come home, about Theo's contract, about the reports that Barcelona want Alex Song, about buying more midfield cover or another striker or blah blah blah. I won't waste your time with that here; this is a match preview, not a state of the union address.
That means this post is dedicated to discussing only the 90 minutes Arsenal will play against Sunderland tomorrow. The vibes around this club at the start of this season are significantly more positive than they were a year ago, all things considered. It's crucial for the club to start 2012/13 on the right foot. Sunderland at home is a good way to get the ball rolling.
So, let's get the first three of hopefully many many points tomorrow!
Arsenal Squad News
Out:
Rosicky (Achilles), Sagna (broken leg), Frimpong (knee), Wilshere (he might have actually disappeared, I'm not sure anymore)
Doubts:
Walcott, Oxlade-Chamberlain, Koscielny (international break-itis), Cazorla (jet lag), Arteta (knock)
I'm sorry, is Santi Cazorla shorter than Arshavin?
He's five foot threeeee, we've got Cazorla. Fuck Van Persieeeee.
Photo: Arsenal, via Facebook.
The injury list above is a bit wonky, so bear with me. Since there was this annoying international break for friendlies just three days before the season opener, there are a lot of players who have "knocks" that kept them out of playing for their national team, yet they may all likely be available again, magically healed, by tomorrow. In addition, for all we know, everyone who went off to foreign lands to play meaningless games may still come back broken after the posting of this preview. So, I'm doing the best with what I have, also assuming Arsenal will be playing the same formation.
We do know that Mikel Arteta was held out of the Cologne friendly with a knock he picked up in training. Also, there's the fact that Santi Cazorla's friendly was played in Puerto Rico (at least he scored a goal,) and Arsene Wenger does not like to select players who might be suffering from jet lag.
As for the players we know are injured: Tomas Rosicky had Achilles surgery after the Euros and will be out until October, it's September, at best, for Bacary Sagna after breaking his leg against Norwich in May, Emmanuel Frimpong is still a couple of months away, and now that he's not on Twitter anymore, I can't even be sure if Jack Wilshere is still a person. I'm starting to fear that he was a figment of my imagination that entire time.
So, what will the squad look like tomorrow? Here are my best guesses: I don't see the starting XI being very different from the Cologne friendly, with the following exceptions:
Wojciech Szczesny in goal, obviously.
I can see Francis Coquelin shifted in at right back, instead of Nico Yennaris or Carl Jenkinson. This is probably the toughest call in the line-up, because none of these players are at the level of Bacary Sagna, but you can't make a major signing to cover a player who will only be out for another month or so.
Laurent Koscielny starting in place of Mertesacker. Vermaelen and Gibbs should remain.
Alex Song, still an Arsenal player at the time I'm writing this, starts in midfield (Coquelin started there Sunday.)
Arteta and Cazorla are listed as doubts, but both could likely still start. If they don't, your options here would include Alex Oxlade-Chamberlain and/or Abou Diaby. I don't think Aaron Ramsey returned to Arsenal training soon enough after the Olympics to warrant inclusion.
Front three unchanged, now that Robin's gone. Podolski, Walcott, Giroud.
Watch that be not even close, now.
Dartboard Predicted Arsenal XI:
Szczesny, Coquelin, Koscielny, Vermaelen, Gibbs, Song, Arteta, Cazorla, Podolski, Walcott, Giroud.
Sunderland Squad News
Out:
Brown (knee), Vaughan (hernia), Bardsley (ankle)
Doubts:
Sessegnon (ankle)
Stephane Sessegnon is a key player in Sunderland's attack.
Arsenal might be very lucky to avoid facing him, if he's unable
to return from an ankle injury. Photo: Sky Sports.
The Steve Bruce era at Sunderland was marked by a heavy churn of players. Bruce signed 30 players, either to full deals or loans in, during his two and a half years at the Stadium of Light. This summer, the Black Cats have made two signings, Carlos Cuellar from Villa and Louis Saha, both on a free (the latter having been released by Spurs this summer.) Meanwhile, they no longer have The Greatest Striker Who Ever Lived, plus Asamoah Gyan has officially moved on to Al-Ain. The Black Cats are trying to sign Steven Fletcher from Wolves, but the Midlands club want a bajillion pounds for him.
Matters are made a bit worse this week by the fact that Stephane Sessegnon, Sunderland's biggest playmaking threat, could be short with an ankle injury. Even if he is ready (some reports state he returned to training this week,) he has not featured at all in the pre-season and could be held out as a result.
Chronically injured Wes Brown is on his way back from a knee injury, but will be well short of featuring tomorrow. David Vaughan had a hernia operation and has not yet returned to training. Phil Bardsley picked up an ankle injury earlier in the pre-season, which recently required surgery.
Sunderland play a 4-3-3 formation that becomes a 4-5-1 without the ball. The key for them will be closing down Arsenal in midfield; if the Gunners' midfield trio are allowed to pass the ball around with ease, it could be a long day for the visitors. In addition, even if Sessegnon is available, he's not 100% and Sunderland are so light on strikers, their attack will likely be anemic, even with the Saha deal completed yesterday. Remember, Saha is a guy that was excess to requirements at Tottenham, a club who still got rid of a number of forwards this summer.
Last Year's Form
This picture isn't from last year, but it could be.
Photo: Arsenal Action.
Last season... oh boy, last season... a dreadful start, a difficult middle, and a tumultuous ending, with two fantastic runs of form sandwiched in between. Just like they drew it up, right?
Arsenal completed the month of August on the wrong side of a 48-2 scoreline at Manchester United (or, something like that. Maybe it was 38 or 58, my mind kind of blanked out the specifics.) The close of the transfer window brought about an air of desperation and five new signings. The squad still struggled and sat 15th in the table in early October. Then, they went unbeaten in eight league games to climb to fourth. Then, all of the fullbacks got hurt, and Arsenal plummeted to as low as seventh on February 1st. At this point, Tottenham remembered who they were, got thrashed 5-2 at the Emirates at the end of the month, Arsenal won seven straight in the league, and it looked like third would be easy. And then, it wasn't so easy, but Spurs did such a good job of falling apart that Arsenal finished third... difficultly, with a tip of the cap to the super awesome ball catching skills of Marton Fulop. Ultimately, from the point they hit seventh place after a draw in Bolton, Arsenal lost just twice in the league in their final 15 matches, and that stat looks even weirder when you consider that those losses were to QPR and Wigan.
As for their other trophy ambitions last year, their Carling Cup campaign was halted by a particularly strong Manchester City line-up in the quarterfinals, their FA Cup campaign was halted in Sunderland, and the Champions League campaign saw them dig a hole too deep to crawl out of against A.C. Milan in the Round of 16.
Let's talk a bit about Sunderland, then. The Black Cats finished 13th, nine points clear of the drop zone. Sunderland were in the relegation discussion through the beginning of the season (they fell to 17th on December 4,) leading to the sacking of
Mrs. Doubtfire
Steve Bruce as manager. In came high school science teacher look-alike Martin O'Neill and Sunderland improved, climbing as high as eighth in late March. With safety secured and exhaustion setting in, the Black Cats then failed to win over their final eight matches, drawing five and losing three.
Match Facts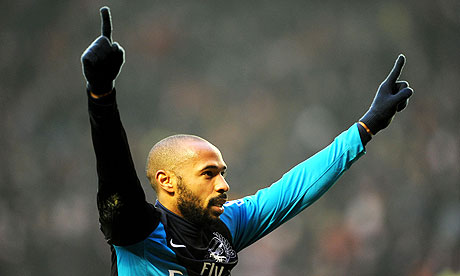 "Yes, I am the greatest. Take that, Sunderland!"
Photo: Guardian.
Arsenal played Sunderland three times last year, including twice in consecutive weeks on Wearside, due to the teams meeting in the FA Cup. Arsenal won both league meetings 2-1, but lost in the domestic cup competition 2-0 in the final meeting of the three.
The first meeting between the two sides was in mid-October, just after an international break, that saw Arsenal enter the weekend in 15th place, one point ahead of 16th place Sunderland. Robin van Persie opened the scoring inside of the first 30 seconds, but his goal was canceled out by a perfect Sebastien Larsson free kick. Four minutes later, Szczesny made a fabulous diving save to keep the scoreline level. RVP netted the winner for Arsenal in the 83rd, also from a free kick.
In February at the Stadium of Light, Per Mertesacker injured his ankle on the pitch in the build-up to Sunderland's opening goal in the 70th minute, scored by James McClean. Aaron Ramsey came in for the BFG with Arsenal needing an equalizer, and the Welshman provided it in the 75th, which went off both posts and in. The winner for Arsenal came in injury time, from Thierry Henry, in his final appearance for the club. What a moment.
The following week, in the FA Cup, left back Francis Coquelin pulled his hamstring in the opening minutes, forcing on Sebastien Squillaci. Kieran Richardson opened the scoring for Sunderland in the 40th and in the 77th, Sunderland scored on the break via an Alex Oxlade-Chamberlain own goal to seal a 2-0 win.
Sunderland's last win against Arsenal in North London was in the League Cup in 2002. Their last league win in North London was on May 7, 1983. Two of the last four league meetings at the Emirates between these two sides have ended 0-0.
The Referee
Who will you blame if there's a controversial call tomorrow?
Photo: BBC.
The referee is Merseyside-based Chris Foy, who is not Edinburgh-based Olympic gold medalist Chris Hoy. He's also not soccer blog
KCKRS
editor-in-chief Chris Toy. He's not
motorcycle racer
Chris Boy. He's not
actor
Chris Coy. He's not
Twitter user with 3 followers
Chris Doy. He is certainly not
Palo Alto dentist
Chris Joy. Nor is he Chris Moy,
former member of Menudo
. But, some sort of new Menudo from like five years ago, not even the one you're thinking of. He is Chris Foy. Get it right, Spurs fans.
Hoy
Foy took charge of only two Arsenal matches last year, and both were draws: 0-0 at Bolton in February and 1-1 at Stoke in April. In the former, he failed to give Bolton a penalty they probably should have been given in the 87th minute. Foy also denied Arsenal a stonewall penalty in the Stoke match. So, I guess we're going to see a penalty shout go ignored in this one.
For Sunderland, Foy worked a 2-1 loss at Norwich, a 2-2 draw with Aston Villa, a 2-0 win over Swansea, a 4-0 loss at West Brom, and a 0-0 draw with Tottenham. The two losses were road matches for the Black Cats; the two draws and win came at the Stadium of Light.
Around the League
West Ham hosts Villa this weekend.
Everyone in attendance will be
wearing a scarf similar to this one.
Arsenal v. Sunderland will air on
The Tim Tebow Channel
ESPN here in the United States, instead of ESPN2, which normally carries Premier League coverage. It's the first time ESPN's flagship station has picked up a match since Manchester City and Manchester United squared off in a match that basically decided the title, in what one Twitter user believed was
"an intrasquad scrimmage."
For more idiotic reactions to that game being on ESPN, check out
this post over at Deadspin
.
There's no early match this year, as there wasn't last year, which means that Arsenal v. Sunderland is one of six simultaneous matches to start off the season. Elsewhere, newly promoted West Ham host Aston Villa in East London. I think the claret and blue team will win. Meanwhile, Fulham hosts Norwich City in West London and Queens Park Rangers host Swansea in West London. Wait, seriously? Are all of these games in London? They just had the Olympics...
Well, no, they aren't. Newly promoted Reading hosts Stoke at the Madejski and Liverpool is at West Brom to round out the 10:00 a.m. games. The late match sees Tottenham travel to Newcastle, in what sounds like an early season battle for Europa League positioning.
On Sunday, Chelsea travels north to face Wigan in a match that will be watched by five people, then Manchester City starts their title defense against newly promoted Southampton. Monday ends the first round of fixtures, as Manchester United faces Everton at Goodison Park in what should be an engaging encounter where Tim Howard shuts down Robin van Persie.
The reverse of this round of fixtures will be played on the weekend of February 9-10, so you can be sure the Stadium of Light pitch will be a disaster by then.
Wednesday will see Chelsea face Reading at Stamford Bridge, a match that would have been played in the third round of fixtures (September 1) but was moved up due to Chelsea's UEFA Super Cup commitment that weekend.