The Hawthorns, West Bromwich
Sunday, May 13
10:00 a.m. EDT, 3:00 p.m. BST
Match Officials

Referee: Mike Jones
Assistants: Mick McDonough and Richard West
4th Official: Anthony D'Urso

Reverse Fixture: Arsenal 3 - 0 West Brom
This Match, Last Year: West Brom 2 -2 Arsenal
All-Time in All Competitions: 62 Arsenal wins, 36 West Brom wins, 29 draws
Arsenal's League Form: W-W-L-D-D-D
West Brom's League Form: W-L-W-W-D-D
It's chance number ten million for Arsenal to claim third place with a win. There really isn't any more that needs to be said on the topic. A win in this game is worth something to the tune of
£
40 million. There may not be a piece of silverware at the end, but this should have all the pressure of a cup final, when you think about it monetarily like that.
90 minutes to decide their European fate for next season. No time for complacency. It's time to go all in.
Arsenal Squad News
Out:
Sagna (broken leg), Diaby (calf), Arteta (ankle), Mertesacker (ankle), Frimpong (knee), Wilshere (ankle)
Doubts:
Walcott (hamstring), Santos, Park, Squillaci
It's nice that the players made Pat Rice this retirement
collage. It's like a first grade arts and crafts project.
Photo: @Persie_Official.
There are two big questions in the injury department this week: 1) Will Theo Walcott actually be able to make a return, just two week after tweaking his hamstring? and 2) Who will replace Bacary Sagna at right back in the starting XI?
With regards to the first question, Arsene Wenger said in yesterday's presser that Theo Walcott will take part in training on Friday. I suppose his inclusion in the squad will depend on how well that training session goes. If he comes through clear, he might even start, but if he struggles a bit, I think the wingers stay the same, and we see Gervinho and Yossi Benayoun again.
As for the second question, I did some analysis on what the line-up looked like when Sagna missed October through January. Carl Jenkinson started the first four before his own injuries became a problem. Laurent Koscielny started four times at right back, but that's no longer an option with Per Mertesacker hurt. Johan Djourou made the most starts, with nine, and Francis Coquelin started twice. These numbers exclude matches where there was intentional squad rotation (Carling Cup ties, the UCL match at Olympiacos, and the FA Cup tie with Leeds.) The most telling sign towards this answer, though, is that Coquelin came off the bench to replace Sagna last week, while Djourou remained on the bench. So, I would think that logic would carry forward, and we'll see the Coq again.
Notice how I left Alex Oxlade-Chamberlain out of the discussion in the paragraph about Theo above? That brings about question number three: Does the Ox start somewhere, either on the wing or in midfield in place of Aaron Ramsey? This is where things get tricky. Most of the Internet Arsenal-o-sphere seems to want the Ox to start; his presence going forward seems to be better than the Welshman's at the moment. But, do you risk having the Ox play 90 minutes in midfield in a game where Arsenal needs to be more solid defensively, coupled with the fact that Alex Song has been woefully out of form without Mikel Arteta next to him? It's honestly dangerous either way. Without the Ox, Arsenal don't have enough creativity going forward. With him, they might not have enough to protect going backward. Pick your poison.
There are also doubts about Andre Santos, Park Chu-Young, and Sebastien Squillaci, according to Wenger, but really, only the first on that list has a real effect on the squad.
West Brom Squad News
Out:
Brunt (tonsils), Reid (ankle), Gera (knee)
Doubts:
Thomas (illness), Odemwingie (hamstring)
Too many teams have birds sitting on balls. This is flat
out unacceptable. Photo: ISI Photos.
West Bromwich Albion captain Chris Brunt has taken himself out of contention to play at the weekend, after having his tonsils removed now. This was done so that he is recovered in time to play in the Olympics. Bizarre that that couldn't wait another few days, but I suppose it's a break for Arsenal and that we should accept that.
Speaking of breaks for Arsenal, there are two injury doubts that could further hamper West Brom's line-up on Sunday. Peter Odemwingie could miss out with a lingering hamstring injury that kept him out of last week's 2-2 draw at Bolton. The Nigerian forward missed the reverse fixture in November with a knee injury. He scored twice against Arsenal last year. In addition, Jerome Thomas could be short of match fitness due to a virus. Thomas, who was formerly in the Arsenal system, also scored against the Gunners last year.
In terms of long term injuries, the Baggies are without Irish defender Steven Reid due to ligament damage in his ankles, and Hungarian midfielder Zoltan Gera due to a knee injury.
Current Form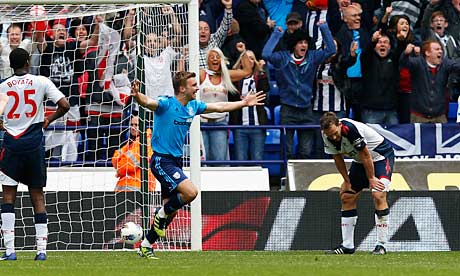 James Morison hit Bolton for a painful late equalizer last
week at the Reebok. Photo: Guardian.
When it all comes down to 90 minutes to decide your Champions League fate, one could easily make the argument that form and history goes out the window. And you'd be right, Arsenal's history against West Brom and their recent run of games means nothing as long as they turn up on Sunday and put in a proper shift. But, for the sake of completeness of this blog post, here is that information anyway.
The Gunners come into this match in fairly poor form, having dropped points in four consecutive matches for the first time since they didn't have fullbacks in January. They have drawn three straight league matches for the first time since last March-early April. Those three draws included a 2-2 match at The Hawthorns. Arsenal's road form, on the whole, is solid. They have 13 points on their travels out of a possible 18 in their last six road matches, which is tops in the league.
West Brom have, as expected, floated comfortably in mid-table all season long, and have nothing to play for in this match, in terms of their standing in the table. They will, however, be playing their final match under Roy Hodgson, and will want to send him off to the England job with a win. The Baggies are currently unbeaten in their last four league games, and came back from 2-0 down against Bolton last week to salvage a draw. They have not lost at home since March 25 against Newcastle. They have picked up two home results this season against teams with European aspirations: they drew Manchester City on Boxing Day and beat Chelsea in Andre Villas-Boas's final match in charge of the Blues.
Match Facts
Not only did Almunia put in a poor performance in this
match last year, he also got trapped in the net for five
minutes. Photo: Daily Mail.
Arsenal won the reverse fixture 3-0 at the Emirates in early November. At that stage of the season, it was likely Arsenal's most comfortably win of the year up to that point. Robin van Persie scored before the half hour mark, Thomas Vermaelen added his first goal since February of 2010 in the 39th, and Mikel Arteta added the third.
Meanwhile, last year, West Brom took four points out of six from Arsenal. However, I should remind you that both of those matches came with Manuel Almunia in goal. At The Hawthorns in March of 2011, West Brom scored early from a corner, then later took advantage of a brutal error by Almunia to make it 2-0. Goals from van Persie and Andrei Arshavin brought Arsenal back level.
Arsenal had won five straight against West Brom prior to last year. West Brom's last win over Arsenal at the Hawthorns was in 2005.
The Referee
That's a tough question...
The referee is Chester-based Mike Jones. This is Jones's second Arsenal match of the season. In the first, Arsenal came from 2-0 down at the Emirates to beat Aston Villa 3-2 in the fourth round of the FA Cup. Arsenal's comeback was aided by two penalties awarded by Jones. Jones worked four Arsenal matches last year, though those are ancient history by now: a 6-0 win over Blackpool, a 1-0 win over West Ham, a 0-0 draw with Manchester City, and a 2-1 loss at Bolton on Easter Sunday 2011.
As for West Brom, Jones has taken charge of just one match this year, as well. Incidentally, that was their first match of the season, and was also a home match against a top side. West Brom lost that to Manchester United, 2-1.
In 32 matches this season, Jones has shown 111 yellow cards and 9 red cards.
Around the League
Wait, so for City to lose the title, I have to root for Joey
Barton? Oh... dear... God... Photo: Daily Mail.
As we enter the final weekend of the season, there are six fixtures on the list that still carry meaning for the title/European qualification/relegation discussions. Four fixtures will carry no impact at all. Also, for the first time ever, Fox Sports in the U.S. is taking the bold step of showing all of these games live
somewhere
, though, since they don't have enough networks, three games have been pushed to their Internet streams.
ESPN2 gets to carry one of the games as well, and incidentally, they got the first choice, selecting Manchester City v. Queens Park Rangers from Eastlands. A City win gives them the title, unless United win by nine more goals than City does. The City v. QPR game also carries much weight in the relegation battle, as QPR enter the weekend safe by two points above Bolton with far superior goal difference. As for the United match, they are at Sunderland at the Stadium of Light, and that will air on FX (which is on more cable systems than Fox Soccer) and Fox Deportes.
Arsenal's match airs on the regional Fox Sports Net (which, in New York City, means MSG Plus.) As for their opponents for third place, Tottenham Hotspur host Fulham at the Lane (on FSC) and Newcastle faces Everton at Goodison Park (one of the three matches ludicrously moved to the Internet, on FOXSoccer.com. Why a match like this gets moved and not one of the four meaningless ones is beyond me. Meanwhile, Liverpool is on a cable network because Fox wants to push their reality show.)
Speaking of Bolton earlier, they need a win and a QPR loss to stay alive, and the Trotters will try to pick up that win at the Britannia against Stoke City. That'll air on Fox Soccer Plus.
So, that's the six matches that have meaning. The other four matches see locked-into-6th Chelsea host Championship-bound Blackburn Rovers (on SPEED, which is a channel, apparently,) Swansea hosts Liverpool (on Fuel, because Fox owns two racing channels?,) and the other two get moved to Fox Soccer 2Go (which will online stream all of the matches that aren't Spurs v. Fulham on FSC.) Those two are Norwich v. Aston Villa and already safe Wigan Athletic v. already relegated Wolves.
These are the reverse fixtures of those played the weekend of November 5-6.