Molineux, Wolverhampton
Wednesday, April 11
2:45 p.m. EDT, 7:45 p.m. GMT
RSVP on Facebook!
Match Officials

Referee: Neil Swarbrick
Assistants: Andy Garratt and Mike Mullarkey
4th Official: Mike Jones

Reverse Fixture: Arsenal 1 -1 Wolves
This Match, Last Year: Wolves 0 - 2 Arsenal
All-Time in All Competitions: 56 Arsenal wins, 28 Wolves wins, 26 draws
Wolves' Recent Form: L-L-L-L-L-L
Arsenal's Recent Form: W-W-W-W-L-W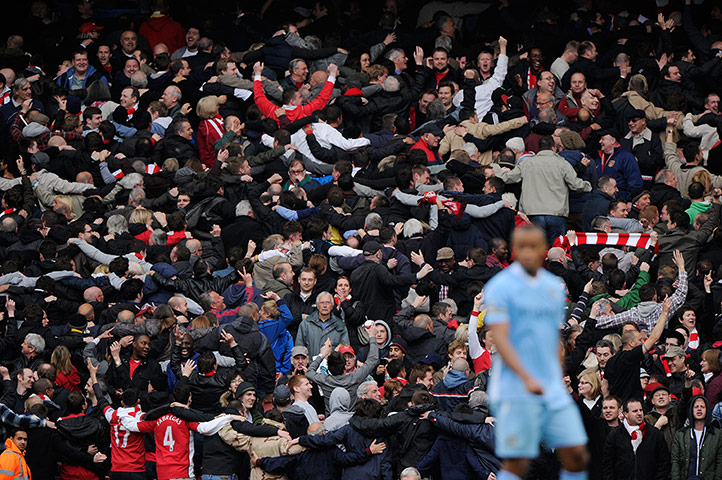 I loved the Arsenal supporters doing the Poznan after
Arteta's goal. Loved it. Photo: Guardian.
Midweek posts always have to be shorter than normal (apologies!) since I have less time to write them. But, it's so much easier to write when you're basking in the glow of a nice victory. Combine that with Tottenham's loss and Chelsea's draw on Monday and you have a pretty nice situation right now.
But, don't get too comfortable. Every game is three points, regardless of the opponent. Three points against Wolves today will count just the same as the three points against City at the weekend. We've already seen at Loftus Road what happens if a team goes out on the pitch and plays to the level of their opponent, thinking it'll be a cakewalk. Arsenal have already been burned by complacency in the past fortnight; now is not the time to let that happen again.
Wolves are in a tailspin, no doubt about it, and are deservedly in last place. They have not won a match since they sacked Mick McCarthy. Now is not the time to let them get back into the fight to avoid relegation just because you're looking past them.
Arsenal could go five points clear of Tottenham with a win today; that would be nice, considering Spurs' next three matches are against relegation candidates (QPR, Blackburn, and Bolton) and then the fourth is against pseudo-relegation candidate Aston Villa. So, going five points clear into third place is paramount. Hey, if Arsenal win and City lose, the Gunners will be just as far behind City as Chelsea would be behind them.
You can't drop points in a game like this and expect to finish third.
Arsenal Squad News
Laurent Koscielny will miss this match
and Monday's visit of Wigan.
Photo: Wikipedia.
Out:
Gervinho (ankle), Gibbs (groin), Diaby (hamstring), Coquelin (hamstring), Mertesacker (ankle), Frimpong (knee), Wilshere (ankle)
Suspended:
Koscielny (first of two, accumulation)
I'm just going to say straight away that I will be very upset if there's a lot of squad rotation for this game. There will, of course, be mandatory rotation at center back, as Laurent Koscielny serves the first of a two match ban for accumulating yellow cards. He would have had the slate wiped clean if he avoided a booking on Sunday, but fully deserved to go in the book on the challenge that saw him cautioned. Koscielny will miss this match and Wigan's visit to the Emirates on Monday, but will be available for Chelsea on the 21st. This means Johan Djourou will likely get two starts.
Speaking of center backs, there are reports that Per Mertesacker is way ahead of schedule and will be returning to full first team training next week. There may still be a game or two for him in an Arsenal uniform yet this year, though I would advise against breaking up the Vermaelen/Koscielny pairing when both are available for selection.
Gervinho was not on the bench on Sunday; he's nursing an ankle injury and he'll be short for this one, as well. Kieran Gibbs was subbed off after 56 minutes and will be rested today. Koscielny's suspension means Sebastien Squillaci could be on the bench. Gibbs's rest means Andre Santos will start.
Abou Diaby and Francis Coquelin may return to training this week; both are out with hamstring injuries. Emmanuel Frimpong is still off somewhere talking about DENCH. Jack Wilshere is progressing "normally but slowly." Remember, if Wilshere doesn't play in the Euro tournament, then he's likely going to have to play in the Olympics, which would be worse from an Arsenal standpoint in terms of training for next season.
As I said at the top, I'm worried with this match coming three days after such a hard fought game on Sunday, that there might be players rested. With Spurs and Chelsea dropping points on Monday, now is not the time to relax, lest we have a repeat of what happened at Loftus Road. I want our best available XI playing. They won't have to play again until Monday.
Predicted XI:
Szczesny, Sagna, Vermaelen, Djourou, Santos, Song, Arteta, Rosicky, Ramsey, Walcott, van Persie.
Subs from:
Fabianski, Jenkinson, Squillaci, Benayoun, Oxlade-Chamberlain, Park, Chamakh.
Wolves Squad News
This wolf is out with a thigh strain. Photo: Wikipedia.
Out:
Hunt (groin), Craddock (hamstring), O'Hara (groin)
Wolves have three injuries to contend with in their squad. Stephen Hunt underwent surgery on his groin injury as on April 5 and is expected to return by the end of the month. Joey Craddock and Jamie O'Hara have both undergone minor surgery on their hamstring and groin injuries, respectively, and could possibly miss the rest of the season.
I have nothing else to say about the team, and this section looks a little thin, so here's some scientific information about actual wolves that I got from Wikipedia:
Wolves' heads are large and heavy, with wide foreheads, strong jaws and long, blunt muzzles.
Gray wolves have very dense and fluffy winter fur, with short underfur and long, coarse guard hairs.
Wolves' coat color ranges from almost pure white through various shades of blond, cream, and ochre to grays, browns, and blacks.
Wolves howl to assemble the pack, to pass on an alarm, to locate each other during a storm or unfamiliar territory, and to communicate across great distances.
Dances with Wolves was first released on Laserdisc on November 15, 1991.
I hope you learned something.
Current Form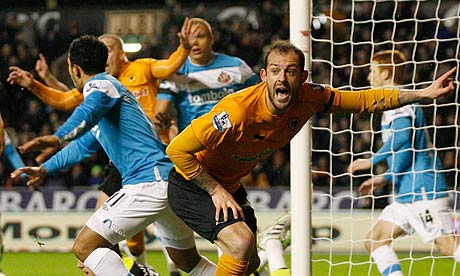 Wolves have not won at Molineux since Martin O'Neill's
first match as Sunderland manager. Photo: Guardian.
Arsenal got the bounce back from their lackluster performance at Loftus Road with Sunday's 1-0 home win over Manchester City, in which they were dominant for much of the 90 minutes. But now, we take a look at Arsenal's road form, which obviously, is not as good as their overall run of eight league wins from nine games. Arsenal have won seven straight at home across all competitions, but on their travels, they have two wins from their last five and four wins and a draw from their last 12. That streak started with a Champions League loss for the B-team at Olympiacos, which was then followed by the league loss to City. That was followed by a win at Aston Villa before consecutive losses to Fulham and Swansea, the 0-0 draw with Bolton, the 2-1 win at Sunderland, then consecutive losses to Milan and Sunderland in the FA Cup. Then, they won two league games on Merseyside before the loss at QPR. All four of their wins in this stretch came by one goal margins, three of them being 2-1. The winner in all three of those games came in the 87th minute or later.
If the word of Arsenal's tricky travels worries you, take solace in the fact that Wolves, on the other hand, can't seem to win anywhere lately. Manager Mick McCarthy was sacked after Wolves' 5-1 home loss to West Brom on February 12. They then had a week off, since they were out of the FA Cup. Their next match was a 2-2 draw with Newcastle. From there, they've lost 5-0 at Fulham, 2-0 to Blackburn, 5-0 to Manchester United, 2-1 at Norwich, 3-2 to Bolton, and 2-1 at Stoke. In each of their last three matches, Wolves actually scored first. It took Norwich only a minute to pull level, it took Bolton 10 minutes to pull level, and it took Stoke 11 minutes to pull level. Wolves have not won since they beat QPR at Loftus Road on February 4. They are winless in eight.
In addition, Wolves have not won a league game at home since December 4 and have lost seven straight games at Molineux in the Premier League. Throw in an FA Cup replay loss to Championship side Birmingham, and Wolves have lost eight straight at Molineux in all competitions.
Match Facts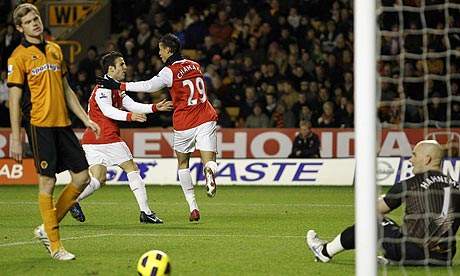 If this fixture from last year is any indication, I expect big
things from this Chamakh guy. Photo: Guardian.
Wolves took a shock point at the Emirates in the reverse fixture the day after Boxing Day. Gervinho opened the scoring in the eighth minute, but Steven Fletcher pulled Wolves level in the 38th, then Wayne Hennessey slammed the door shut as Arsenal threw everything including the kitchen sink at them in the second half. Arsenal had 73% of the possession and 27 goal attempts, 11 of them on target. Wolves had just one effort on target, and it went in. The match was marred by some terrible officiating from Stuart Attwell, who has since been demoted from the Select Group of officials.
Last year, Arsenal beat Wolves twice by 2-0 margins, with two different Arsenal players picking up braces. At Molineux in November of 2010, it was Marouane Chamakh with both goals, scoring in the first minute and in the last minute to give Arsenal the win. Through the entire middle of that game, Wolves were the side on the attack, and Lukasz Fabianski had a man of the match performance to keep the door shut. At the Emirates in February of 2011, it was a comfortable win for Arsenal, one week after their capitulation at Newcastle and days before their Champions League win over Barcelona. Robin van Persie had the brace.
The day after Boxing Day draw at the Emirates was Wolves' first result against Arsenal since 1982. The Gunners had won 12 straight, dating back to a 1-1 draw at Molineux on April 3, 1982. Wolves' last win over Arsenal came at Highbury, 3-2, on September 29, 1979.
The Referee
The referee is Lancashire-based Neil Swarbrick. This is his second Arsenal match of the season and the second Arsenal match of his career. The first was Arsenal's 2-1 win at Sunderland in February; the one where Thierry Henry scored in injury time. In the first half of the match, he denied Sunderland a penalty when Per Mertsacker handled in the area, though did so under no pressure while losing his balance. With clearly no intent in the handball, Swarbrick said play on. Swarbrick was also the fourth official for two Arsenal matches against Aston Villa this year (the win in Birmingham before Christmas and the FA Cup win at the Emirates in January.)
For Wolves, Swarbrick has worked only one match this year, and it was the match that saw them crash out of the Carling Cup to Manchester City, 5-2 at Molineux. He also worked a Premier League match at Molineux last year; a 4-0 Wolves win over Blackpool in which he sent off DJ Campbell.
Around the League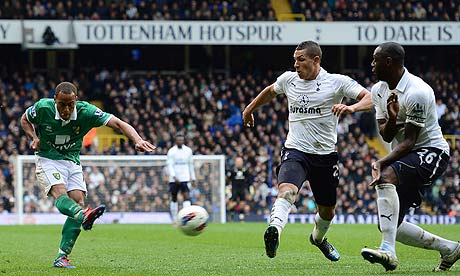 Let's all laugh at Tottenham. Photo: Guardian.
With a bank holiday in England this week, this round of fixtures began on Monday and concludes today.
And wasn't Monday a lovely day for the Arsenal? Still basking in the glow of Mikel Arteta's goal against Manchester City, we got to watch Tottenham lose at home to Norwich City, 2-1, then later in the day, saw Clint Dempsey's 82nd minute goal snatch a point from Chelsea for Fulham in a 1-1 draw at Craven Cottage. Elsewhere Monday, Everton thumped Sunderland 4-0 at Goodison Park, Hatem Ben Arfa apparently scored the greatest goal in history that I thought was nothing special as Newcastle beat Bolton 2-0, and Aston Villa and Stoke played a 1-1 draw.
Yesterday, Liverpool finally broke their winless streak at Ewood Park in a wild 3-2 win over Blackburn Rovers. Andy Carroll truly earned his contract with an injury time goal that has now assured the Reds will not be relegated this year. Earlier in the match, back-up goalkeeper Doni was sent off, meaning third string Brad Jones came in, then saved a Yakubu penalty. With Pepe Reina still banned for his red card against Newcastle, Jones will have to start the Merseyside derby on Saturday at Wembley in an FA Cup Semi-Final. No pressure.
Elsewhere today, Manchester City could fall as many as 11 points back of the top spot. Manchester United are at the DW Stadium to face a Wigan side that has twice as many points over the last eight league games as Tottenham has. City, meanwhile, host West Brom at Eastlands. The other match today sees QPR host Swansea, and somehow
that's
the game on Sky Sports 1 in England.