Emirates Stadium, London
Sunday, April 8
11:00 a.m. EDT, 4:00 p.m. GMT
Match Officials

Referee: Martin Atkinson
Assistants: Peter Kirkup and Darren Cann
4th Official: Mike Jones

Reverse Fixture: Manchester City 1 - 0 Arsenal
This Match, Last Year: Arsenal 0 - 0 Manchester City
All-Time in All Competitions: 92 Arsenal wins, 47 Manchester City wins, 40 draws
Arsenal's League Form: W-W-W-W-W-L
Manchester City's League Form: W-W-L-W-D-D
Their Moroccan appears to be better than our Moroccan.
Photo: Telegraph.
Well, all good things must come to an end, and last week, a complacent Arsenal side let their seven game winning streak get snapped by a Queens Park Rangers side that wanted the three points more. The infuriating thing about that is that there is no reason any side should so obviously want to win more than Arsenal, especially when every point is so precious in the race for Champions League football.
As it stands now, Arsenal is still in third, but only by goal difference, ahead of Tottenham Hotspur, while Chelsea and Newcastle both sit five points behind.
The good news is that if Arsenal is going to continue playing to the level of their opponents, in this match, that's a good thing. There is absolutely no reason why Arsenal should not be able to get their heads into a match like this. There is no way for them to underestimate Manchester City, even if City have stumbled a bit lately. There is a lot of pride on the line, in addition to three crucial points in the race for Europe. City could enter the match eight points behind United in the battle for the title if United win Sunday, so there is everything to play for, on both sides.
It's a huge match. Please leave your complacency at the door.
Arsenal Squad News
Out:
Coquelin (hamstring), Mertesacker (ankle), Frimpong (knee), Wilshere (ankle)
Doubts:
Diaby (hamstring)
As far as I can tell, absolutely nothing has changed in terms of the team's injury news this week. Which, I guess, is largely a good thing.
Is Francis Coquelin training again? He should be coming back the fastest, but I have not heard a thing about his hamstring injury in two-and-a-half weeks. As for Per Mertesacker and Emmanuel Frimpong, we know they're out for the rest of the season. Abou Diaby had a little pain in training before last week's game and is still likely not going to be risked, but what else is new?
So now, we come to the Jack Wilshere situation. According to Arseblog, he was going to play in a training friendly against Birmingham City behind closed doors. Then, the game happened, and Wilshere didn't play at all, because he still wasn't ready, it seems. There were appearances from the B-team, just as there were against the Reading XI last week. The list of those that did play: Lukasz Fabianski, Sebastien Squillaci, Carl Jenkinson, Johan Djourou, Andre Santos, Alex Oxlade-Chamberlain, Yossi Benayoun, Park Chu-Young (who scored again), Marouane Chamakh, Gervinho, and Oguzhan Ozyakup. The match ended 1-1.
Given that list of players, who all played about a half of football, I would not be surprised to see no changes to the XI that lost at QPR, even though I don't like Aaron Ramsey playing left wing over Gervinho or the Ox.
Manchester City Squad News
Out:
None
Doubts:
Aguero (foot), Lescott (groin), Richards (head)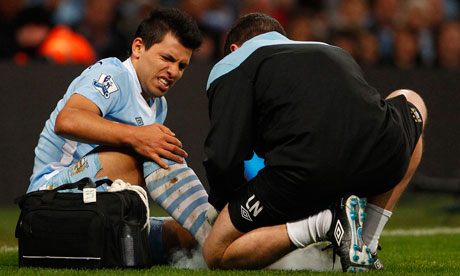 Aguero deals with the evil magic spray.
Photo: Guardian.
Well, file this under the "just Arsenal's luck" category. Sergio Aguero says he's ready to return to the starting line-up after missing two weeks with what amounted to a very bizarre injury. Against Chelsea last month, Aguero took a knock on the ankle. When the trainer was assessing the injury, he sprayed a topical anesthetic on the injury, which then managed to burn the top part of Aguero's foot.
Aguero's potential return means that there are no Manchester City players 100% ruled out through injury.
There are rumors that Carlos Tevez could make his first start since September in this match. Some bench warmer named Samir Nasri returns to City having missed last week's match due to, according to Roberto Mancini, a family issue, though other web sites and his own Twitter have said it was a niggling injury. Joleon Lescott is expected to return from a groin injury that has kept him out for five games. Micah Richards left last week's game after a clash of heads, though I have not seem him ruled out for this match.
Current Form
Nick "I don't leave the house" Bendtner scored in
Sunderland's draw at Eastlands last week.
Photo: Daily Mail.
After last week's talk of jinxes and Arsenal having their seven game league winning streak snapped, I've decided I'm just not going to talk about Arsenal's form this week. You probably already have a good idea about what it is. Their current streak is "one loss," and that's about all you need to know.
Instead, let's talk about crumbling City! They've drawn two straight in the league and have just one win from their last four Premier League fixtures (that was, however, against Chelsea.) Since beating the Blues 2-1 on March 21, City needed to come from behind to pull out draws from two matches. On March 24 at the Britannia, City fell behind Stoke 1-0 thanks to a wonder goal from Peter Crouch (God, it sucks just to write that sentence.) They equalized on a goal from Yaya Toure, which took a huge deflection off Ryan Shawcross. Last week, City trailed 3-1 to Sunderland at Eastlands before getting the goals back in the 85th and 86th minutes to draw. City's first goal in the game came from a dubious Phil Dowd penalty.
Match Facts
This fixture ended 0-0 last year. Arsenal hit the post three
times. Photo: Daily Mail.


Arsenal have already lost twice to Manchester City this season and both results came by 1-0 scorelines. The first meeting came in the quarterfinals of the Carling Cup in late November. Arsenal's B-team put in a valiant effort, but Sergio Aguero's 83rd minute goal put City into the semifinals, where they would lose to eventual champion Liverpool. Two-and-a-half weeks later, the sides met in the league at Eastlands where City again won on a second half goal. This one came in the 53rd minute from David Silva. In both matches, Arsenal were commended for their performance against the league's top team at the time, despite not coming away with anything from either game. This time around, I don't think it's the same feeling. Some points are necessary.
Arsenal and Manchester City's last two league meetings at the Emirates have been 0-0 draws. Arsenal had the better of the attacks in the opening ten minutes of last year's match, hit the woodwork on three occasions, but could not find the goal, and after that, City parked the bus. The year prior, neither side was really up for it, and the game was abysmal. City's last league win at Arsenal in North London was on October 4, 1975, by a 3-2 margin.
This will be Arsenal's fifth ever game played on Easter Sunday, and the second consecutive year they will play on that holiday. They have one win, one draw, and have lost two straight on Easter, though this year will be the first Easter match they play at home. Arsenal's first Easter match was a 3-2 win at Watford in 2000. The Invincibles played on Easter Sunday in 2004 and drew 0-0 at Newcastle. In 2008, Easter was early (March 23,) and Arsenal lost at Stamford Bridge, 2-1. Last year, they lost by that same scoreline on Easter, at the Reebok against Bolton Wanderers.
The Referee
Laurent Koscielny is sent off by Martin
Atkinson in his Arsenal debut.
Photo: Zimbio.
The referee is West Yorkshire-based Martin Atkinson, working his third Arsenal match of the season. Both others were at the Emirates. They were the 2-0 loss to Liverpool in August and the 1-0 win over QPR on New Year's Eve.
Atkinson has a history of showing Arsenal players red cards. He sent off Emmanuel Frimpong in that Liverpool game. He sent of Jack Wilshere for an admittedly reckless tackle against Birmingham City last October. He sent off Laurent Koscielny for two yellows in quick succession at Anfield in last season's opener. The year before that, his last man foul red card to Thomas Vermaelen against West Ham was the only red card Arsenal received in 2009/10.
As for Manchester City, Atkinson has taken charge of their 3-0 win over Wigan in September, their 3-2 win at QPR in November, the 1-1 draw at Liverpool in late November (in which Mario Balotelli was sent off,) and the 1-0 win at Wigan in January.
Atkinson has shown ten red cards this season across all matches and competitions. Of the Select Group referees, only Jonathan Moss has shown more.
Around the League
Pepe Reina was sent off by Martin Atkinson last week.
Can you even name Liverpool's back-up goalkeeper?
Photo: IB Times.
Arsenal and City is the final match of the weekend, as a new round of fixtures begins on Monday. Seven matches are on Saturday's docket, two are on Sunday, and one will be played today.
You don't see many Friday matches in the Premier League, but today, Swansea City hosts Newcastle in Wales. Newcastle sit level with Chelsea for fifth with 53 points, though they are 13 back on goal difference.
Saturday's early match sees Spurs look to take third place over again for at least a little while; they'll face a tricky ninth place Sunderland side at the Stadium of Light. Five matches kick-off in the usual 3:00 p.m. England time slot: Chelsea hosts Wigan at the Bridge, Liverpool, in dire need of a win and without the banned Pepe Reina for three matches (after he was sent off by the aforementioned red card machine Atkinson,) hosts a struggling Aston Villa at Anfield, Bolton hosts Fulham at the Reebok, West Brom hosts Blackburn at the Hawthorns, and Norwich hosts Everton at Carrow Road. The late game sees Stoke host Wolves at the Britannia.
Sunday's early match has Manchester United host QPR at Old Trafford. United can open up an eight point gap on City at the top of the table before the match at the Emirates kicks off.
These are the reverse of fixtures played the weekend of December 17-18. Winners in that round were Stoke City, Fulham, West Brom, Manchester United, Liverpool, Tottenham, and Manchester City. Everton v. Norwich, Newcastle v. Swansea, and Wigan v. Chelsea were draws.