Emirates Stadium, London
Saturday, February 4
Match Officials

Referee: Andre Marriner
Assistants: John Flynn and Sian Massey
4th Official: Paul Tierney

Reverse Fixture: Blackburn 4 - 3 Arsenal
This Match, Last Year: Arsenal 0 - 0 Blackburn
All-Time in All Competitions: 57 Arsenal wins, 30 Blackburn wins, 31 draws
Arsenal's League Form: D-W-L-L-L-D
Blackburn's League Form: D-W-L-W-D-L
Look at that. The last two bullet points just above this sentence. The current league form statistic. Arsenal: one win from six with two draws. Blackburn: two wins from six with two draws. Blackburn Rovers are currently in better form than Arsenal Football Club. And that's worrying.
Yes, the comeback against Aston Villa on Sunday was great, but it sort of prolonged the inevitable. All of those negative feelings we had at halftime are back after Wednesday's 0-0 draw at Bolton. There are huge things for this club to worry about in the league. It's February 3 and this team has won zero league games in this calendar year. They have gone without a win in four. This is unacceptable. It has to change now, otherwise, I'm not even sure this team can qualify for the Europa League. They are currently in seventh. SEVENTH. And with the transfer window closed, from where does the change come?
I try not to resort to profanity in this blog piece, but this status quo is bullshit.
Arsenal Squad News
Out:
Gibbs (groin), Diaby (hamstring), Jenkinson (back), Santos (ankle), Wilshere (ankle)
Africa Cup:
Gervinho, Chamakh
While Arsenal drew 0-0 at Bolton, Jack Wilshere made
steak. He really spends a lot of time on Twitter.
The time period between a Wednesday night fixture and an early Saturday clash is as small as possible going into a weekend of games. The last time Arsenal played on a Saturday after a Wednesday game, they drew Fulham. Of course, given the fact that Arsenal
have
to win this game to restore any sense of sanity around the club, this is no time for rotation. Arsene Wenger must selected his strongest possible line-up, otherwise the questions will just continue. I think it has to be the same XI that started at Bolton, though I'm concerned Bacary Sagna, just back from a broken leg, might not be able to complete a full 90 minutes again after playing Wednesday.
As for the injuries, there's nothing new to report. Kieran Gibbs is probably about a week away. Abou Diaby is supposed to return this month, maybe if the stars align properly. Carl Jenkinson was running again, so he should be due back within a month (I've never actually heard a time frame on him.) It should be late March to early April for Andre Santos, and we're all keeping our fingers and toes and eyes crossed that we see Jack Wilshere play a competitive game this season.
As for those away on international duty, Morocco is out of the Africa Cup of Nations, so Marouane Chamakh will return soon, but the Ivory Coast and Gervinho have advanced.
Predicted XI:
Szczesny, Sagna, Koscielny, Mertesacker, Vermaelen, Song, Ramsey, Arteta, Oxlade-Chamberlain, Walcott, van Persie.
Blackburn Squad News
Chris Samba wanted out. He didn't get his way.
Photo: Caught Offside.
Out:
Grella (knee)
Doubts:
Samba (stomach)
Suspended:
Yakubu (third of three)
Well, the transfer window has come and gone and team captain Chris Samba, who wanted out of Ewood Park, is still there. Blackburn twice turned down his request for a transfer. Now Steve Kean, who has had so much to deal with during this tumultuous season, has to deal with his captain not wanting to play for his team. Samba, who has been dealing with a stomach ailment as well, has not featured for Blackburn since the middle of January.
Meanwhile, Blackburn canceled the contract of 34-year-old defender Ryan Nelsen, who has been dealing with injuries for the better part of the last year. This allowed Spurs to sign him as a free agent.
Yakubu, he of 13 goals this season including a brace against Arsenal in the reverse fixture, will serve the third match of his suspension after his red card against Fulham on January 14. New signing Anthony Modeste started up front on Wednesday in Yakubu's place and the Frenchman is likely to start again Saturday.
Blackburn have two players out with long term injuries who do not have a time frame for return: Michel Salgado's rib injury has cost him his place in Blackburn's 25-man squad, meaning he has likely already played his final game for the club. Vince Grella remains out with a knee injury.
Current Form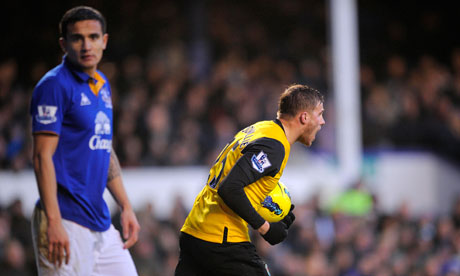 Blackburn got a point at Everton last weekend, after
some guy named Goodwillie scored. Photo: Guardian.
Ha, that's a good one. There's no denying how badly Arsenal needed a win and not just a draw on Wednesday. No wins in four league fixtures for the first time since a six match run that spanned the end of last season and the beginning of this one. And, to go through a second stretch like this in the span of one calendar year is depressing.
On the plus side, Arsenal is at home for this match, and their home form has been okay. This season at the Emirates, Arsenal have lost three, drawn three, and won 14 across all competitions. But, since beating Dortmund at the end of November, Arsenal have won exactly half of their eight total home games and two of those wins were in the FA Cup (Everton, QPR, Leeds, and Aston Villa.) In the other four matches, they've drawn Fulham, lost to City in the Carling Cup, drawn Wolves, and lost to United.
There is no use beating a dead horse, we all know how poor Arsenal's form has been, so let's just move right on to Blackburn. Rovers crashed out of the FA Cup in the third round by losing to Newcastle, something they did again on Wednesday night (though, at home this week and away in the Cup.) The good news for Arsenal about that is had Blackburn played a replay or a fourth round tie, Yakubu would be returning from his suspension for this match instead of the next.
Starting with Boxing Day, Blackburn drew Liverpool (at Anfield) and beat United (at Old Trafford,) so that's worrying from an Arsenal perspective as those were both road games for the Rovers. Then they lost at home to Stoke and lost to Newcastle in the Cup. This was followed by a home win over Fulham (which was when Yakubu was sent off,) a draw at Goodison Park against Everton, and then Wednesday's loss at home to Newcastle. Still, that's better form than Arsenal's since the same point. Blackburn have scored a goal in each of their last 12 away league fixtures.
Match Facts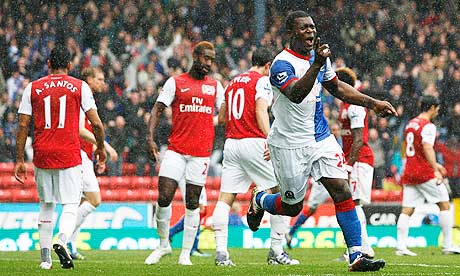 Arsenal fed the Yak twice in September. Good thing he's
banned tomorrow. Photo: Guardian.
You may recall in years past that Bolton was always a bogey team for Arsenal, especially under Sam Allardyce. In a way, even though Big Sam isn't at Blackburn anymore either, the Rovers have become a bit of a bogey team too. Arsenal has already lost to Blackburn this season, they dropped points at home to Blackburn last year, and also lost at Ewood Park the year before that. And two of those matches have already been post-Walrus.
I hate to relive that match, but this is where I have to. Arsenal led early, 1-0, through Gervinho's first Arsenal goal in the 10th minute. Yakubu equalized in the 25th, but Mikel Arteta's first Arsenal goal in the 34th gave the Gunners a 2-1 lead at the half. Then, the wheels fell off. Alex Song's own goal leveled the game in the 50th, which came directly from a free kick that probably should not have been given in the first place. Then, Bacary Sagna left injured, forcing Johan Djourou on at right back, which was a totally alien position to him at the time (funny how much he's been forced to play there since.) Yakubu put Blackburn ahead in the 59th (from an offside position, according to recaps... funny how I forgot that myself,) then a Koscielny own goal made it 4-2. Marouane Chamakh, off the bench for Arsenal, pulled one back in the 85th, but it was not enough, after Arsenal missed three chances in injury time.
The previous meeting between the sides was a dreadful 0-0 draw at the Emirates in April. Arsenal had won at Ewood Park earlier in the season, 2-1, through goals from Theo Walcott and Andrei Arshavin.
Blackburn's last win at Arsenal came in 2002 at Highbury, by a 2-1 scoreline. Before last year's draw, Arsenal had won seven straight home league meetings against Blackburn.
The Referee
The referee is West Midlands-based Andre Marriner. Marriner actually worked the reverse fixture of this match at Blackburn in September. As dreadful as that match was, I'm pretty certain Marriner was not at fault for Arsenal's defense forgetting how to play the sport. That was his first of two Arsenal matches this season. The other was the 5-3 win at Stamford Bridge, which was a significantly better early Saturday morning. Odd that Marriner is working yet another early Saturday match for Arsenal. Also, given these trends, you'd expect seven or eight goals to be scored in this match, but I'm not sure if Arsenal knows how to do that anymore.
For Blackburn, Marriner has taken charge of their win over Arsenal and a 3-3 draw with Wigan, in which David Dunn was sent off. Rovers salvaged a draw at the death in that match, when deep into injury time, goalkeeper Paul Robinson, pushing forward for the equalizer, was pulled down in the area to draw a penalty, which Yakubu converted. Marriner was highly criticized for allowing a Blackburn goal from a corner when Yakubu never touched the ball to set it into play, allowing Morten Gamst Pedersen to dribble down the line to set up David Hoilett to score. Marriner was punished severely for the error: this match happened on November 19 and he has worked just two Premier League games since, the second of which was this midweek. He worked the Swansea-Chelsea game, meaning Ashley Cole became the second player he has sent off this season, after Dunn was the first.
Around the League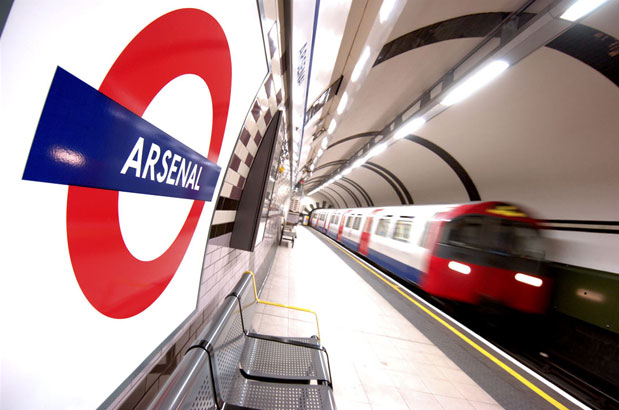 Arsenal's match was moved early due to construction on
the Victoria line. The Arsenal stop isn't on the Victoria
line, it's on the Piccadilly line. I've just used this image to
mess with you. Photo: Morgan Driscoll.
Arsenal had their game moved to the pseudo-early time slot due to concerns about the public transport in London (there's construction on the Victoria Line.) I wish they'd move game times when there's construction on the L train in Brooklyn, but what are you gonna do? This match was not moved to the early time slot for Sky Sports (otherwise it would have been at 7:45;) Sky is showing the East London derby in the Championship between West Ham and Millwall, and possibly coverage of the riot that will inevitably ensue. The move to an earlier time means that in the U.S., the match will air on ESPN2.
Afterward, while we hang out at the pub afterward, hopefully not doing as many shots in commiseration as we did the last time Arsenal played Blackburn, five matches will kick-off in the 10:00 a.m. time slot. They include Norwich City hosting Bolton at Carrow Road, Queens Park Rangers welcoming Wolves to Loftus Road, Stoke City hosting Sunderland in a battle of red-and-white stripes (fine, Sunderland will have to wear their change kit) at the Britannia, West Brom welcomes Swansea to the Hawthorns, and Wigan hosts Everton at the DW Stadium. Saturday's late game will see Manchester City host Fulham at Eastlands. Fulham nicked a 2-2 draw from City at Craven Cottage earlier this season.
It's Super Sunday in the United States, with the Super Bowl later at night. In England, Sky Sports calls every Sunday they air doubleheaders Super Sunday. Kinda takes the specialness out of the term, doesn't it? Sunday's early match sees Newcastle United host Aston Villa at OMG MIKE ASHLEY IS THE BEST Stadium (give it time, he'll call it that soon enough.) The late game sees Chelsea (without Ashley Cole) host Manchester United at Stamford Bridge. Then, it's Super Monday (no, that doesn't have the same alliterative effect... how about Mega Monday?) as Liverpool hosts Tottenham Hotspur at Anfield.
These are the reverse fixtures of those played the weekend of September 17 and 18.