Stadio Giuseppe Meazza (San Siro), Milan
Wednesday, February 15
2:45 p.m. EST, 7:45 p.m. GMT
Match Officials: from Hungary

Referee: Viktor Kassai
Assistants: Gabor Eros and Gyorgy Ring
4th Official: Tamas Bognar
Additional Assistants: Istvan Vad and Mihaly Fabian

All-Time in All Competitions: 1 Arsenal win, 1 Milan win, 2 draws
Arsenal in the Group Stage: Group F Winner
AC Milan in the Group Stage: Group H Runner-Up
Arsenal's Premier League Form: L-L-L-D-W-W
AC Milan's Serie A Form: L-L-W-L-D-W
I spoke on Friday about how essential it was for Arsenal to win at Sunderland at the weekend in order to continue moving forward. And what we saw was nearly perfect (aside from the injury to Mertesacker.) A comeback win capped off by a final Premier League goal for a legend in Thierry Henry. Coupled with a Chelsea loss, Liverpool loss, and Newcastle loss, Arsenal managed to climb back into fourth place after they were seventh two weeks ago. Remarkable, really.
But again, winning isolated games doesn't mean much if they remain isolated occurrences. After the hole this team dug themselves at the start of the season (and then again in January,) Arsenal have to keep winning games. They don't play again in the league until February 26 in the North London derby, so now it's time to focus on some silverware. The FA Cup obviously remains Arsenal's best shot at winning something this season, but let's not worry about that until the time comes this weekend. It's time to head back to Europe!
When you play in the Champions League, it's best for the players to face big teams. Games like this in Milan are the reason why top quality players make moves to Champions League teams. It's a big reason why Arsenal was able to snatch Mikel Arteta from Everton. But this instant is not the time to worry about not finishing fourth in the league; save that worry for the league games.
Arsenal have played well at the San Siro in recent years, winning two unforgettable matches: 5-1 over Inter and 2-0 over AC Milan. Today, there may be a third chapter added to the story.
Arsenal Squad News
Out:
Mertesacker (ankle), Frimpong (knee), Santos (ankle), Diaby (hamstring), Jenkinson (back), Wilshere (ankle)
Africa Cup:
Gervinho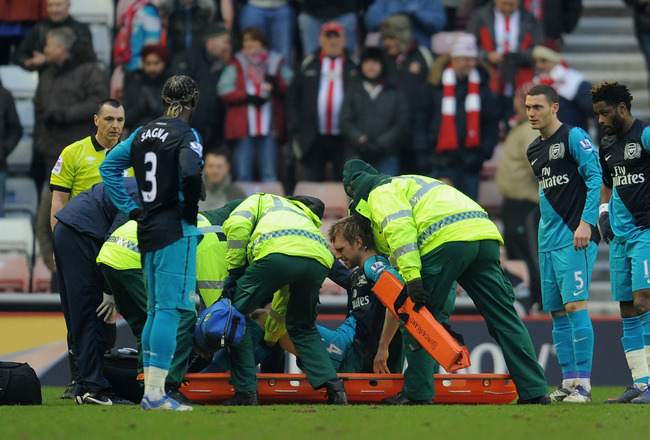 Per Mertesacker doesn't even fit on the stretcher!
Photo: Daily Mail.
What I love about European road ties in terms of writing in this space is that by the time I'm ready to publish the article, it's already been announced which 18 players are making the trip. It removes a lot of the guesswork for me, though often times, there isn't much of that anyway. Still, anything to make the work easier. That said, I wrote down my predicted line-up plus seven subs yesterday morning before the presser and indeed, they were the 18 names on the squad list. Because I'm amazing. Even though I can't really prove I did that. You're just going to have to take my word for it.
I've also, after almost a year of writing this feature, decided on how to order the list of Arsenal injuries at the top. It now goes by how long they've been out, with the most recent injury first and the oldest injury last.
Per Mertesacker's season could very well be over after looking like he snapped ankle ligaments in a crater on the pitch at the Stadium of Light. He has gone to Germany to be evaluated by the national team physios there (to get a second opinion,) though Arsene Wenger has said he'll be out for "months." Every time someone gets injured, I tend to say, sometimes out loud, "oh, well, his season is over" in order to mentally prepare myself for the worst case scenario. More often than not, they're fine ten seconds later and I look like an idiot. I wish that were the case this time.
Kieran Gibbs's return to fitness means that he'll now start at left back, with Tom Vermaelen sliding back into the center to replace the injured BFG. Obviously, it would have been nice for Gibbs to get some playing time before being thrown right into the fire. Had Arsenal been winning at the time Mertesacker was injured, Gibbs probably would have been the substitution. But down 1-0 (because of the injury,) Wenger had to make an offensive substitution, Aaron Ramsey came on, and the rest is history. Meanwhile, scans on Jack Wilshere look positive and now word is he could be back in a month. I've heard that before.
There are no new injuries to report, so the remaining line-up questions surround team selection in two places. Tomas Rosicky has started two straight in place of Ramsey, and has been excellent in midfield, but at his age, does he start again today four days after the Sunderland match or does the young Welshman return to the XI? Also, will Alex Oxlade-Chamberlain get another start on the left wing in what is likely the biggest match of his career to date, or do you start someone else and bring the Ox on later when you need more pace in the final twenty minutes?
Predicted XI:
Szczesny, Gibbs, Vermaelen, Koscielny, Sagna, Song, Ramsey, Arteta, Oxlade-Chamberlain, Walcott, van Persie.
Subs from:
Fabianski, Djourou, Coquelin, Rosicky, Benayoun, Arshavin, Henry.
Milan Squad News
Out:
Merkel (knee), Aquilani (ankle), Yepes (ankle), Strasser (ankle), Cassano (heart), Flaimini (knee), Gattuso (cranial nerve)
Doubts:
Muntari (Africa Cup)
Kevin-Prince Boateng, returning from injury, does not
think Arsenal can win titles. Nice glasses, douchebag.
Photo: Ghana Movie.NET.
The Rossoneri will be boosted by having a whopping four players return from injury for this match. Goalkeeper Christian Abbiati, defenders Alessandro Nesta and Kevin-Prince Boateng, and striker Alexandre Pato all will return from their individual thigh injuries to play today. This is a huge boost for AC Milan, who were without these players and suspended Zlatan Ibrahimovic in their 2-1 comeback win over Udinese at the weekend.
There are still plenty of players out injured for Milan, including ankle injuries for Mario Yepes and Alberto Aquilani (did you know he's still a Liverpool player out on loan?) Both are back working with personal trainers, but have not returned to full training. Ex-Arsenal Mathieu Flamini has been out since the summer after suffering ligament damage in his knee; he's back in training but has been dropped from Milan's Champions League squad.
Also dropped from the Champions League squad are long-term injured players, like Antonio Cassano, who had heart surgery in November, and vice-captain Gennaro Gattuso, who has been diagnosed with paralysis of the sixth cranial nerve, which controls eye movement and has resulted in double vision. Rodney Strasser, out for another month or so after ankle surgery, was also dropped.
Alexander Merkel is out another month and a half with a knee injury, though he is making "great improvement." Sulley Muntari was on international duty with Ghana in the Africa Cup and may not return in time to feature.
Current Form
A.C. Milan also came from 1-0 down to win 2-1 on the
road on Saturday. Photo: Fox Sports.
Arsenal's 2-1 win at Sunderland on Saturday marked the first time the Gunners have won consecutive league fixtures since December (over Wigan and Everton,) and the first time they have won two across all competitions since November (over Norwich and Dortmund.) It was also Arsenal's first road win in three tries, after losses at Fulham and Swansea and a draw at Bolton.
The overwhelming statistic you will see online is that Arsenal have won just three of their last 12 away matches in the Champions League. Keep some perspective though; they've won twice away from home this season (including once in Italy,) drawn once, and their loss at Olympiacos came after the group was clinched.
AC Milan are winless in their last five matches against English competition; their last win over an English team was in the 2007 final against Liverpool. The Rossoneri have been eliminated by English sides in each of the last two Rounds of 16, losing three of four matches in the process. In 2010, it was Manchester United who won 3-2 and 4-0 and last year, it was Tottenham Hotspur who won 1-0 in Milan and drew 0-0 at the Lane. The fifth match in the winless run was a 2-2 draw at Portsmouth in the 2008 UEFA Cup.
Overall, Milan had been winless in three across all competitions before doing exactly what Arsenal did on Saturday: they came from 1-0 down on the road to win 2-1. They did this at Udinese, which is a feat Arsenal also did in August. Prior to that, the Rossoneri lost the first leg of their Coppa Italia semifinal tie with Juventus, which had followed a league draw with Napoli and a loss at Lazio.
Match Facts
Arsenal have fond memories of playing at the San Siro.
Photo: Free Kicker.
Arsenal and AC Milan have met twice in official European competition: in the 2008 knockout stage of the Champions League and in the 1994 European Super Cup (which comes from having won 1994 competitions, but was played in February of 1995.)
Arsenal have had some fine moments at the San Siro, including the 5-1 win against Internazionale that saw Thierry Henry pick up a hat trick. It was in the second leg in 2008 that Arsenal picked up their only competitive win against Milan. It was Cesc Fabregas's amazing long range goal six minutes from time that put Arsenal ahead in the tie, and Emmanuel Adebayor put the final nail in the coffin with another goal in injury time.
Milan won their only other meeting with Arsenal at the San Siro in the 1994 Super Cup. That cup tie pit Milan, the Champions League holders, against Arsenal, the previous year's Cup Winners' Cup winner (wow, now that's a phrase...) In that second leg, Milan won 2-0 on goals from Zvonimir Boban and Daniele Massaro.
Arsenal and Milan have played 0-0 draws in both competitive meetings in North London, both of which were the first legs of the aforementioned two European ties. They also played a 1-1 draw in last season's Emirates Cup, when Alexandre Pato canceled out Marouane Chamakh's opener.
The Referee
Viktor Kassai shows Lionel Messi where the
ball is during the 2008 Olympic gold medal
game. It's right there, Lionel. God, that guy's
hopeless at this sport. Photo: Origo.
The match officials are from Hungary and the referee is Viktor Kassai. Kassai has only worked one Arsenal match in his career, their Matchday 5 loss at Braga last season. This is his first AC Milan match.
The fact that Kassai has not worked much with these two teams before does not mean he has little experience. In fact, Kassai was the man in the middle of the final last year at Wembley, as Barcelona beat Manchester United. In the 2010 World Cup, Kassai worked four matches, including the match that saw Ghana eliminate the United States and the semifinal that saw Spain eliminate Germany. He also refereed the gold medal match of the 2008 Beijing Olympics, which saw Argentina defeat Nigeria 1-0. Earlier this season, Kassai worked the Euro qualifier playoff between Estonia and Ireland that saw Estonia end the match on nine men and down 4-0 on aggregate.
In his native Hungary, Kassai works as a travel agent and his principle interests are sports and film. He originally hails from Tatabanya. His wife's name is Eva. His favorite food is squash. He is a black belt in tae kwon do. He once survived a wolf attack in the Hungarian wilderness. Okay, fine, I completely made the last four things up, but everything before the wife's name is true.
Around the Champions League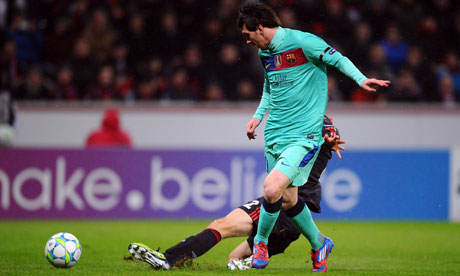 Colgate Toothpaste F.C. defeated Bayer Leverkusen with
ease, 3-1, yesterday. Photo: Guardian.
This is the first week of Champions League Round of 16 action. Two of the eight ties started yesterday, two more (including this one) start today, and the remaining four will begin next week.
Yesterday's action did not see much in the way of surprises. Cypriot side APOEL Nicosia was the shock of the first round as they won their group, but they'll head home for the second leg of their tie with Lyon trailing 1-0, after losing in France. Meanwhile, Barcelona took care of business (which is more than you could say about the first leg of the round of 16 last year!) as they beat Bayer Leverkusen 3-1 in Germany.
Before the Milan-Arsenal match today, the other tie is in St. Petersburg, so it kicks off at an earlier time, as Zenit hosts Benfica at the Petrovsky Stadium.
Next week, on Tuesday, CSKA Moscow hosts Real Madrid on the artificial turf of Luzhniki, Russia's largest stadium, where you may recall John Terry famously slipped on the imported grass surface in the 2008 final. Also next Tuesday, Napoli hosts the only other English side still in the tournament, Chelsea, at the Stadio San Paolo, where the home side has already beaten Manchester City this season. On Wednesday, Marseille, the runner-up from Arsenal's group, hosts Inter Milan in France, and Basel, who famously eliminated Manchester United, hosts Bayern Munich in Switzerland.
And remember, Manchester City and Manchester United play on Thursday.