Liberty Stadium, Swansea
Sunday, January 15
11:00 a.m. EST, 4:00 p.m. GMT
RSVP on Facebook!
Match Officials

Referee: Michael Oliver
Assistants: Peter Kirkup and Mike Mullarkey
4th Official: Lee Probert

Reverse Fixture: Arsenal 1 - 0 Swansea
This Match, Last Time: Swansea 1 - 2 Arsenal (November 20, 1982)
All-Time in All Competitions: 6 Arsenal wins, 3 Swansea wins, 1 draw
Arsenal's League Form: W-L-W-D-W-L
Swansea's League Form: W-D-L-D-D-W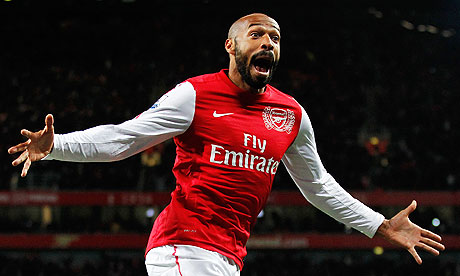 What do you think Henry is yelling here? I think it's
something along the lines of AHHHHHHHH I SCORED
FOR ARSENAL AGAIN AHHHHHHHH I'M THE BEST
AHHHHHHHHHH!!! That's gotta be it. Photo: Guardian.
Did you hear that Thierry Henry scored on Monday!? Yes? Oh. Well, okay then...
We here at The Modern Gooner have already
waxed
poetic
about the Henry goal and the match that saw Arsenal through to the fourth round of the FA Cup, where they will face Aston Villa at the Emirates at the end of this month. It's time to get back to business: the league.
Tottenham played their game in hand on Wednesday and won it, meaning Arsenal sits nine points back of their North London rivals. I, of course, started to get really depressed about how wide that gap looked, then thought, Spurs still have to play Arsenal away home from, which could cut the gap back to six. They also have trips to Chelsea, Liverpool, and Manchester City ahead of them. As our recap writer Sean said to me, "until proven otherwise, they're still Spurs."
Meanwhile, Arsenal's main battle of concern at the moment is for fourth place and the Champions League qualification that comes with it. Let's face it, dropping three points from a winning position at Fulham was not good news in this endeavor. Arsenal are one point back of Chelsea for fourth. They are two points ahead of Liverpool, who are in sixth. Newcastle, in seventh, is fading. There are still 18 matches to play. There's a lot of points still left to be earned, so let's start taking them.
United comes to town next week, but over the next five fixtures, the other four opponents are Swansea, Bolton, Blackburn, and Sunderland. Nice, on paper, though three of those four are away from home. Arsenal have done well to turn around their away form this season and had won four of five league matches away from the Emirates before the set back at the Cottage. Swansea are tough at home, conceding a joint-best four goals at Liberty Stadium.
It boils down to simply this: if you want to finish in the Top 4, you have to win the games you're expected to, plain and simple. Repeat performances such as those against Fulham will not be tolerated. Thankfully, those players who are still fit (unlike the entire defense) should be well rested for this match. Three points. Let's do it.
Arsenal Squad News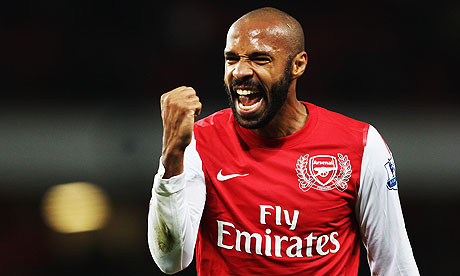 Here, Henry shows how he wants to squash Spurs with
his fist. More of this, please. Photo: Guardian.
Out:
Vermaelen (calf), Coquelin (hamstring), Gibbs (groin), Sagna (leg), Jenkinson (back), Wilshere (ankle), Santos (ankle), Diaby (hamstring)
Africa Cup of Nations:
Gervinho, Chamakh
Wow, look at that list. Francis Coquelin joins the list of the wounded, with a classic hamstring pull he suffered in the first half of Arsenal's 1-0 FA Cup win over Leeds on Monday. As soon as it happened, I said "a month," but it sounds like it's more "2-3 weeks." Of course, when you have eight players injured and six of them are defenders, any amount of time spent out hurt is too much.
Among those hurt, it sounds like Thomas Vermaelen will be back the soonest, possibly as early as next week against Manchester United at the Emirates (one seriously hopes.) Arsene Wenger said on January 6 that the Belgian would be "the first to be back after Swansea." Kieran Gibbs says he could be back in 10 days, which would also put him in contention to play against United. It'll be the end of the month for Coquelin. It should be early next month for Bacary Sagna, maybe the end of this month if we hope really hard, and mid-February for Jack Wilshere. It's still March for the return of Andre Santos.
Abou Diaby remains out with a hamstring injury that has now required the visiting of a specialist in Qatar, according to Mohammed Saadon Al-Kuwari, an Al Jazeera sports reporter working from their headquarters in Doha, the Qatari capital. There's no time table for his return, nor is there a time table for the return of Carl Jenkinson from a stress fracture in his back.
Okay, so, after spending a good 250 words on who is out hurt, it's time to focus on who's available, and that includes THIERRY HENRY. Did you hear he scored a... oh, we've been through this already, haven't we? In any case, it's doubtful he has a full 90 minutes in the tank right now, so I feel like he's still going to be an impact sub rather than a starter right now. A well-rested Robin van Persie will start up front, as will Theo Walcott, but who starts in the place of Gervinho is the question. Seems like it would have to be Andrei Arshavin right now, and as poor as he's been this year, you can't disparage the fact that at least he was trying hard against Leeds.
I would think the midfield trio of Alex Song, Mikel Arteta, and Aaron Ramsey will remain intact.
Predicted XI:
Szczesny, Djourou, Koscielny, Mertesacker, Miquel, Song, Ramsey, Arteta, Arshavin, Walcott, van Persie.
Swansea Squad News
Out:
Tate (bizarre golfing accident), Bodde (knee)
A re-enactment of the scenario which has seen Alan Tate's
season come to a halt. Photo: Some Law Firm.
This section allows us to return to the ridiculous story of Alan Tate, who is just as out injured as he was in September when Swansea first played Arsenal. Basically, Tate was out golfing during the last week of August and was the passenger in a golf cart that crashed. Tate broke his leg.
Meanwhile, Ferrie Bodde is out with a knee injury. Bodde, plagued by injuries throughout his career, has not played a league match since February 27, 2010. His injury woes date back to the fall of 2008, when he suffered ACL damage after a tackle from ex-Gunner Sebastien Larsson, then with Birmingham.
Both of these long term injured players are on the mend, however, and both started a reserves practice match on Wednesday. Tate's return was particularly swift; he was expected to be out six months at the very least, but is now playing again after three. Either of these players could theoretically make the bench on Sunday, though I'd be surprised to see either play.
Swansea has the rest of their side available.
Current Form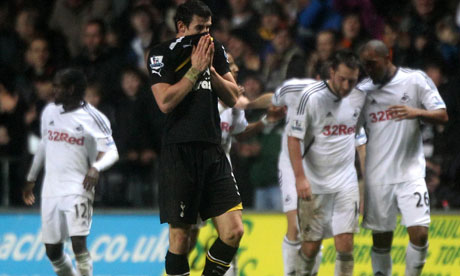 Sad Gareth Bale, after Swansea picked up a point from
Spurs at the Liberty Stadium New Year's Eve.
Photo: Guardian.
Since the end of November, Arsenal's form has been very up and down. After qualifying for the Champions League knockout round by beating Dortmund, their form, across all competitions is D-L-W-L-W-L-W-D-W-L-W. Since late November, over the course of 11 matches, Arsenal have not won consecutive games. Four times, they have dropped points somewhere following a win. First, it was the Olympiacos game, a blip on the radar from the second string. Then, it was 1-0 at Manchester City, hard fought and nothing to be ashamed of. But then, it was a 1-1 with Wolves at home. And after bouncing back by beating QPR, it was defeat from the jaws of victory at Fulham. The trend is worrying, so it would be nice to stop it now. Arsenal have lost three of their last four away from home across all competitions, a drop in form after they had won four straight away from the Emirates.
Arsenal's drooping form away from home does not bode well for this match, considering how formidable Swansea have been at home this season. In 10 league matches at Liberty Stadium, the Swans have conceded just four goals. Their only loss was a 1-0 match with Manchester United. They came back to draw Tottenham 1-1. QPR picked up a draw at the Liberty Stadium the day after Boxing Day, 1-1. Blackburn scored a goal at the Liberty but lost 3-1. Swansea have, therefore, picked up six clean sheets on home soil: 2-0 wins over Stoke and Fulham, 3-0 over West Brom, and 0-0 draws with Sunderland, Aston Villa, and Wigan Athletic.
Given Arsenal's defensive frailties, if they want to win on Sunday, they'll either have to become the first team to score more than once at that stadium this season, or they'll have to play for a good ol' fashioned one-nil to the Arsenal, something we've seen a lot in recent weeks.
Match Facts
Arsenal's winner against Swansea in September was from
such an odd spot on the pitch, finding Arshavin in this
photo is a bit like finding Waldo (or, Wally, if you're in the
U.K.) That said, there should be "Where's Arshavin?"
Photo: Daily Mail.
Arsenal's last match on Welsh soil came in the FA Cup in 2009's fourth round, when they played Cardiff City. That match ended 0-0 and Arsenal won in a replay at the Emirates 4-0. After that, the reverse of this fixture was their most recent match against a Welsh side. That was a 1-0 win for Arsenal, their first league win of this season, in the first match played after Arsenal finally decided it was time to buy some players at the end of the summer transfer window. The win was, of course, a bit fluky; this team was not there yet, as evidenced by losing at Blackburn a week later. Andrei Arshavin had the game's lone goal, which came from a poor clearance by Swansea's goalkeeper Michel Vorm, from an impossibly tight angle. It was a bit of a gift, but at that time, and of course, even now, you'd take it. That considered, Danny Graham had the chance to equalize deep into injury time, but fired over the bar.
In previous league meetings all-time, Swansea won both in the 1981/82 season and Arsenal won both in the 1982/83 season, when the Swans were relegated. Swansea won 2-0 at home in October of 1981 (Swansea was top of the league as late in the season as March 20 that year and finished 6th) and lost 2-1 at home in November of 1982 (when they finished 21st and relegated.) In North London, Swansea won 2-0 in February of 1982 and lost 2-1 on New Year's Day 1983.
Swansea's record home attendance at Vetch Field came in a cup tie against Arsenal on February 17, 1968. Arsenal won that FA Cup fourth round tie, 1-0.
The Referee
The referee is Northumberland-based Michael Oliver. Oliver has taken charge of only one Arsenal match thus far this season, the comfortable 3-0 win over West Bromwich Albion in early November. He has also taken charge of only one Swansea match this season, a 2-2 draw with Wolves at Molineux.
Oliver appeared out of his depth in the two Arsenal matches he worked last season, both losses for the Gunners. Those were the 3-2 loss to West Brom and the 2-0 loss to Aston Villa; both of those came at the Emirates. For as terrible as Oliver seemed with Arsenal last season, having made numerous dubious decisions, especially in a failure to give a penalty in the loss to Villa, he wasn't very noticeable in Arsenal's win with him in the middle earlier this year, which bodes well.
Oliver took charge of one Swansea match last season in the Championship: a 2-0 win at Millwall.
In 18 games this year, Oliver has shown 49 yellow cards and three red cards; one of those red cards was to a QPR left back you might have heard of named Armand Traore.
Around the League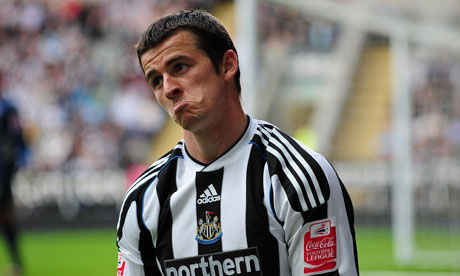 This sad sack is suspended for what would have been his
return to his old team, removing the only possibly
interesting sub-plot to this weekend's round of fixtures.
Photo: Guardian.
Oddly, no games were moved for television on Saturday this weekend, meaning a whopping seven fixtures will kick-off in the standard 10:00 a.m. Eastern / 3:00 p.m. England time slot. Sky Sports 1 has Heineken Cup rugby on all day. Watford v. Reading occupies the late time slot on Sky Sports 2.
Anyway, those seven matches include: Chelsea hosting Sunderland at the Bridge, Manchester United hosting last place Bolton at Old Trafford, Spurs host Wolves at the Lane, Liverpool welcomes Stoke City to Anfield, Aston Villa plays host to Everton in Birmingham, Steve Kean Out Rovers host Fulham in Blackburn, and Norwich City pays a visit to the Hawthorns to face West Brom. Wow, this isn't really a weekend for big matches, is it? Perhaps that's why Swansea v. Arsenal is in the prime Super Sunday time slot.
Before Arsenal's match kicks off, Sunday's early game will see suspended Joey Barton not back at his old stomping ground, whatever the hell Mike Ashley is calling it these days. Newcastle hosts QPR, is what I'm getting at. On Monday, Manchester City faces Wigan at the DW Stadium.
Seriously, are any of these matches can't miss viewing for a neutral? These are the reverse fixtures of those played on the weekend of September 10-11.