Emirates Stadium, London
Sunday, January 22
Match Officials

Referee: Mike Dean
Assistants: Stuart Burt and Adam Watts
4th Official: Phil Dowd

Reverse Fixture: Manchester United 8 - 2 Arsenal
This Match, Last Year: Arsenal 1 - 0 Manchester United
All-Time in All Competitions: 79 Arsenal wins, 89 United wins, 46 draws

Arsenal's League Form: L-W-D-W-L-L
United's League Form: W-W-W-L-L-W
I was at an open mic comedy night (not performing myself) in Bushwick, a few blocks from my apartment, on Wednesday night and the host, in between performers, went into a joke about watching the Premier League. Basically, he stated the obvious about how the sport makes it more socially acceptable to shout profanities and drink booze in the mornings. He also made some comparisons to watching American football, and commented on the New York Giants' demolition of the Green Bay Packers from last Sunday's NFC Divisional playoff game. He talked about how the Packers were terrible in that game and lost by 17, but they looked great in comparison to Arsenal from earlier that day.
So, that's where we stand right now, after last week's loss to Swansea. Arsenal is a punchline. It's familiar territory after what happened between Arsenal and Manchester United in the reverse of this fixture in August. And from there, Arsenal slowly picked themselves up, went on a nice run of form in October and November, and by New Year's Eve, they were sitting in fourth place.
But, 2012 has brought about some disastrous results, and the Gunners are falling back down the spiral again. The performances have been poor. The dedication doesn't seem to be there from everybody on the pitch, and in other cases, players are trying to do too much and end up failing to succeed at anything. For as much as pundits may call this a one man team, it is not just the Robin van Persie show. There have been solid performances from many others, game in and game out, like Wojciech Szczesny, Alex Song, and Laurent Koscielny. But there have not been enough, and if that trend continues, then Arsenal can kiss Champions League football goodbye.
Lapses in concentration are costly at this level; it is inexcusable to concede a goal just seconds after scoring an equalizer, like Arsenal did for Swansea's winner last week. The confidence is low and results are showing it. This is not the time to dwell on past errors. It's time to turn things around.
And there's no better situation to help turn it around than a good revenge game. The players should not need any extra motivation than what is being presented to them right now. A chance to right the ship and get some level of retribution for August's embarrassing loss at Old Trafford. Both teams are light at the back right now, conceding goals at a higher clip than ever before. Maybe somebody on this Arsenal squad can find their scoring touch again.
It's time to make a statement. It's time to get revenge. It's time to fight back into the battle for fourth.
It's time to stop being a punchline.
Arsenal Squad News
That's a handball, Robin! Photo: Citroen.
Out:
Arteta (calf), Gibbs (groin), Coquelin (hamstring), Wilshere (ankle), Sagna (leg), Diaby (hamstring), Jenkinson (back), Santos (ankle)
Doubts:
Henry (calf), Vermaelen (calf)
Arsene Wenger's press conference is on Friday, but as you have probably noticed, I like writing these on Thursday and having them posted on Friday mornings, because people are more likely to read them on a work day than early in the morning on a weekend. So, deal with it.
That means, at the time of writing this, there are some doubts over the inclusion in the squad of a few players. Mikel Arteta, out with a calf injury that I heard nothing about until he missed the Swansea game, looks like he won't be featuring. And that's a shame, because I thought the midfield was sorely missing him in Wales last week. The result of Arteta's absence was increased pressure on Aaron Ramsey to do too much, a situation in which the young Welshman did not exactly thrive. The good news regarding this pair of overplayed midfielders is that Jack Wilshere is returning to training next week. Rejoice! It's like a new signing! I wonder who will babysit Archie...
Thierry Henry picked up a calf strain in training and now faces a late fitness test to feature against United. Meanwhile, it'll be another late test to decide if Thomas Vermaelen will pass fit to return from his calf injury. His return for this match would be a huge boost to Arsenal's back line, but the last I heard on him was "doubtful."
So, what back four do you select for a test like United? One hopes Vermaelen can start on the left, otherwise it'll have to be Ignasi Miquel again, no? Nobody can be worse at left back than Armand Traore and his chewing gum were at Old Trafford in August. The other three pick themselves: Johan Djourou, Laurent Koscielny, and Per Mertesacker.
In the midfield, if Arteta's not available, then I would imagine it would be Yossi Benayoun to start again, alongside Alex Song and Aaron Ramsey. Benayoun was a bit invisible against Swansea last week, but experience can't hurt in a match like this. Alternatively, it could be Tomas Rosicky. Up front, the trio will likely again be Andrei Arshavin, Theo Walcott, and Robin van Persie, though I know there are a ton of people that would be thrilled to see Alex Oxlade-Chamberlain get a start.
Predicted XI:
Szczesny, Djourou, Koscielny, Mertesacker, Vermaelen, Song, Ramsey, Benayoun, Arshavin, Walcott, van Persie.
Manchester United Squad News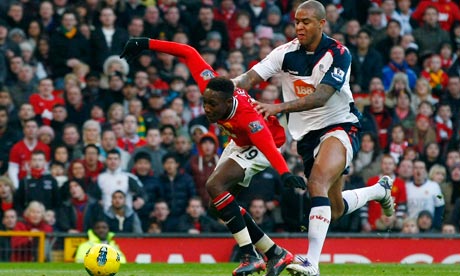 Danny Welbeck drew a penalty last week, which was
eventually saved, then left with a knee injury. He's a
doubt for the trip. Photo: Guardian.
Out:
Cleverley (foot), Owen (thigh), Young (ankle), Fletcher (illness), Vidic (knee)
Doubts:
Jones (knee), Smalling (thigh), Welbeck (knee), Anderson (knee)
United have been decimated by injuries all season, just as Arsenal have, though with a little more depth in their line-up, they have masked it well. They currently have five players who are certainly out for this match. Nemanja Vidic's season ended the same day as United's Champions League campaign in Basel in December. His knee ligament damage will keep him out until August. Darren Fletcher is still missing for an indeterminate period with illness. Ashley Young, who had a brace in the reverse fixture, is out until next month with an ankle injury. Also out until February are Michael Owen (thigh) and Tom Cleverley (foot.)
A number of players are doubtful for this week's match, as well. Danny Welbeck, who opened the scoring in the 8-2 fiasco, left last week's match with Bolton after hyper-extending his knee. He could possibly return for this encounter. Chris Smalling is doubtful with a thigh injury and fellow defender Phil Jones is a doubt with a knee injury. Last week, United's back four included Patrice Evra, Rio Ferdinand, Jonny Evans (himself returning from a calf injury,) and Rafael. It was the Brazilian defender's fourth appearance of the season. His twin brother Fabio returned from a hamstring injury to make the bench last week. Also a doubt is fellow Brazilian Anderson, who returned from a long term knee injury on New Year's Eve in the loss to Blackburn, with a knock as he returns to full fitness.
Current Form
I know how you feel, Arsene. I'm just glad Pat Rice is
wearing pants in this picture. Photo: This is London.
We all know Arsenal's form has tanked a bit since the middle of December, starting with the hard fought loss at Manchester City, and we've obviously touched ad infinitum on the fact that the injuries to the back line are a major contributing factor. As such, I'm going to use this opportunity to point to a particularly disturbing trend involving Arsenal's result in this specific time slot, and what it means about their ability to perform in big games.
4:00 p.m. on Sundays (that's 11:00 a.m. here in New York) is the time slot where Sky Sports usually puts their biggest match of the weekend, on "Super Sunday," with very few exceptions. When Arsenal takes on a big opponent, whether it be United, City, Liverpool, Chelsea, Spurs, etc., it's usually played either in this slot or in the early slot on Saturdays (7:45 a.m. in NYC.) Arsenal have a mixed bag of results in those early Saturday matches, but in the later slot on Sundays, the Gunners are now without a win in ten consecutive matches. They've lost seven of them.
The last time Arsenal won in this time slot was October 24, 2010, benefiting from a fifth minute red card to see off Manchester City 3-0 at Eastlands. Since then: they drew Leyton Orient in the FA Cup 1-1 (that wasn't on Sky, but it was still a late Sunday kick-off,) they lost the Carling Cup final, they imploded late to draw Liverpool 1-1 in the eight billionth minute of added time, they lost late to Bolton 2-1, they lost at home to Aston Villa 2-1, drew Fulham in the final game of last season (when every game is in that time slot,) lost
that game
to Manchester United in August, lost the North London derby at the Lane 2-1 in October, lost to City in December, and lost last week in Swansea.
I'm not really sure what this might tell you specifically, though ten matches is certainly enough of a trend to warrant concern and mention. Not all of these matches were against the top of the table competition, so it's not just that they can't win "big games;" they've been alright playing top competition at earlier times (like the 5-3 win at Stamford Bridge in October.) Maybe it's all just coincidence. It's not like Arsenal was winning much in other time slots at the end of last season anyway. Just something to ponder, considering this and Arsenal's FA Cup tie next week with Aston Villa are at 11:00 a.m. Eastern Sunday.
As for Manchester United's recent form, they had lost two in a row against Blackburn Rovers and Newcastle United before rebounding with a win over Manchester City in the FA Cup. They benefited from hosting relegation candidate Bolton Wanderers at home in the last round of fixtures, which they ended up winning comfortably 3-0, despite a shaky start and having a Wayne Rooney penalty saved.
Match Facts
Don't forget. Arsenal won this fixture last year.
Photo: Daily Mail.
In 2006/2007, Arsenal did the league double over Manchester United. They won 1-0 at Old Trafford, thanks to an 86th minute winner from Emmanuel Adebayor. At the Emirates in January of 2007, Arsenal won 2-1, thanks to late goals from Robin van Persie and Thierry Henry to cancel out Wayne Rooney's second half opener.
Since that season, Arsenal have played Manchester United 13 times. The Gunners have won just twice. They've picked up a draw twice. United have beaten Arsenal nine times. The first match of that stretch was one of the two draws: William Gallas had a goal late to cancel out a first half own goal, as the Gunners pulled level to draw 2-2. Later that year, United thumped Arsenal out of the FA Cup 4-0, then won 2-1 at Old Trafford. In 2008/09, Arsenal won the meeting at the Emirates, behind a brace from Samir Nasri. Then, United thrashed Arsenal out of the Champions League before only needing the 0-0 draw at Old Trafford to win the title. In 2009/10, a Rooney penalty and ridiculous Abou Diaby own goal canceled out Andrei Arshavin's opener to give United a 2-1 win, then the Red Devils coasted to a 3-1 win at the Emirates in January. Last year, United won twice at Old Trafford (once in the FA Cup) before Aaron Ramsey gave Arsenal a 1-0 win at the Emirates in May. Then, some embarrassment happened for Arsenal in August.
The Referee
Mike Dean sends off Arsene Wenger on the advice of
fourth official Lee Probert and that guy from "Lost."
Photo: BBC/Getty.
The referee is Wirral-based Mike Dean, which I consider to be the worst case scenario for Arsenal, due to a trend that, like the one I talked about with losing on Sundays, has been going on for far too long to be coincidence. Arsenal have won once in their last 12 matches with Dean as the referee. This set of games goes back to 2008. After beating Chelsea 2-1 at the Bridge with Mike Dean in the middle, Arsenal's form with the balding man is: 0-0 draw at Spurs, 0-0 draw at Manchester United (where the Red Devils won the title,) 2-1 loss at Manchester United (where Arsene Wenger was sent off,) a 1-1 draw at Burnley (where Cesc Fabregas first had an occurrence of the hamstring injury that plagued the end of his Arsenal career,) a 2-0 loss at Chelsea that was never competitive, a dreadful 0-0 with Manchester City at the Emirates, another 2-0 loss at Chelsea, a 1-0 loss at home to Newcastle, the lone win in the string in an FA Cup replay at Leeds, 3-1, the Carling Cup Final loss to Birmingham, this year's 2-1 loss at Tottenham, and the 1-1 draw at home to Fulham. One win, six losses, and five draws.
Let's look at his form for United, then, shall we? His most recent United match was their shock 3-2 home loss to Blackburn Rovers on New Year's Eve. Before that, his only other United game this year was their 1-0 win at Swansea (still the only league team to win at Swansea.) Last year, he worked the season ending match at Old Trafford as United beat Blackpool 4-2 to send the Tangerines down. Before that, Dean worked their FA Cup loss to City at Wembley in the semi-final. It was a 0-0 draw at Spurs before that (United were reduced to ten men in both that match and the cup loss to City.) Going back further, there was a 2-2 draw at Aston Villa, and a 5-2 win over Scunthorpe United in the Carling Cup. That's not the best run of form either, though it's not as bad as Arsenal's.
I hate Mike Dean.
Around the League
Arsenal v. United, as mentioned at length in the Current Form section, is the final match of the weekend, in the 11:00 a.m. on the East Coast time slot. It's the second of two games on Sunday, just as it was in late August. Just like then, the early match sees another North London vs. Manchester battle, as City hosts Spurs at Eastlands.
That means there's a full slate of eight matches on Saturday, complete with an early game and a late game this week! It's almost like a normal schedule! The early match will see Chelsea visit Carrow Road to face Norwich City. The late game will see another team battling Arsenal for the top four, Liverpool, travel to next-to-last place Bolton Wanderers.
Speaking of last place, that's now Wigan Athletic, who play a relegation six-pointer in one of the six 10:00 a.m. matches. They visit West London to face QPR at Loftus Road, who are now in the drop zone after Blackburn's win last weekend. The Rovers, meanwhile, are at Everton. Elsewhere, Fulham hosts Newcastle at the Cottage, Stoke welcomes West Brom to the Britannia, Sunderland hosts Swansea, and Wolves host Aston Villa in a bit of a local derby at Molineux.
These are the reverse fixtures of those played August 27-28.