Monday, January 9
2:45 p.m. EST, 7:45 p.m. GMT
Match Officials

Referee: Mark Clattenburg
Assistants: Jake Collin and Simon Bennett
4th Official: Peter Walton

All-Time in All Competitions: 45 Arsenal wins, 41 Leeds wins, 32 draws
All-Time in the FA Cup: 6 Arsenal wins, 2 Leeds wins, 7 draws
Arsenal's Premier League Form: W-L-W-D-W-L
Leeds's Championship Form: W-D-L-L-L-W
The Magic of the Cup! Time to forget about dropping points at Craven Cottage on Monday and focus on... ummm... magic! MAAAAAAAGIC!
AHHHH! MAGIC! WHIMSY!
BUDWEISER!
It's actually called "The FA Cup with Budweiser" now. Don't forget that in casual conversation. For example, "I can't wait to head to the pub and drink some Fuller's London Pride while watching The FA Cup with Budweiser." Seriously, try to confuse as many people as you can with this.
The FA Cup (with Budweiser!,) to be more serious, represents Arsenal's best chance at silverware this season, so this match is not to be taken lightly. Leeds have other things to focus on this season, and their push for promotion back to the Premier League is in serious danger due to the number of injuries to their squad. They're like the Championship's version of Arsenal. As such, Arsenal need to go for the jugular in this match. The last thing either of these side's sick bays needs is a replay at Elland Road.
... MAAAAAAGIC!
Arsenal Squad News
Out:
Vermaelen (calf), Sagna (leg), Gibbs (groin), Jenkinson (back), Diaby (hamstring), Wilshere (ankle), Santos (ankle)
Africa Cup of Nations:
Gervinho, Chamakh
Suspended:
Djourou (one match)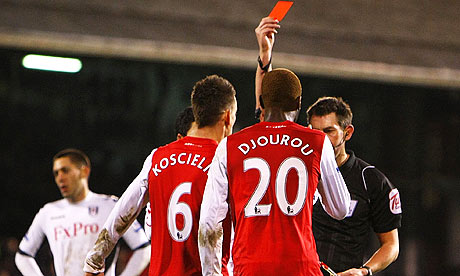 Let's see how few defenders we can get by with...
Photo: Guardian.
If you thought it was bad news that Arsenal was without five defenders against Fulham on Monday, then consider the fact that they are now without six defenders for this match. Johan Djourou serves a one match ban for being sent off against Fulham, which adds to the list of defenders unavailable. All five existing injured players will remain out for at least two more weeks. At this time, I would like to point out that I played right back in high school. Sign me up!
What this means for the line-up in a match where there will be rotation, I have no idea. There are now only so many defenders who can play at all, let alone be rested. There's good news in that the timing of this match marks seven days since the Fulham game and there will not be another game until Swansea on the 15th.
This is going to be a huge chance for players on the fringes to impress: Ignasi Miquel, Alex Oxlade-Chamberlain, Park Chu-Young, and Ryo Miyaichi all played in the reserves on Wednesday, when a strong Arsenal squad lost 2-0 to Sunderland.
Gervinho and Marouane Chamakh will be gone for the Africa Cup of Nations, which does not even begin until January 21 and runs until February 12. I'd prefer Gervinho back sooner rather than later, but the Ivory Coast are favored for the title; they play group matches on January 22, 26, and 30. Their training starts tomorrow.
In order to get Thierry Henry available for this match, the loan paperwork must be completed by lunchtime today.
Leeds Squad News
Out:
Kisnorbo (knee), Bruce (hamstring), Howson (knee), Bromby (calf), Somma (knee)
Doubts:
O'Dea (hip), Lees (concussion), Snodgrass (appendix)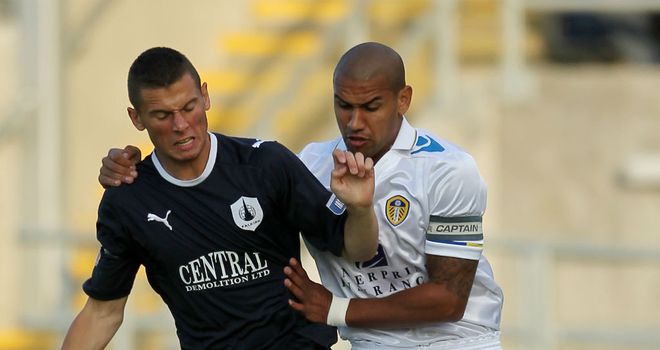 Aussie Paddy Kisnorbo is now out for the season. Leeds
somehow has fewer fit players than Arsenal. Photo: Sky.
Leeds are also decimated by injuries, and like Arsenal, have a highly depleted back line. With captain Jonathan Howson out with a knee injury, vice captain Patrick Kisnorbo took over wearing the armband. On Monday, he suffered a knee injury which will require surgery and his season is over. Alex Bruce is now out for a few weeks with a hamstring problem, Leigh Bromby is out two to three weeks with a calf injury, and Davide Somma has returned to light training after knee surgery.
Darren O'Dea, on loan from Celtic, is one of Leeds's only available defenders, and even still, he's battling and playing through a hip injury. Tom Lees has missed time with a concussion, and could return, though it's a question of whether he passes fit in time. Robert Snodgrass, who scored from a penalty at the Emirates last year, underwent appendix surgery and is doubtful to return just yet.
For Leeds, their biggest goal is promotion rather than silverware, which means Simon Grayson may use caution in selecting his squad for this match. One Leeds blog I used to gather this injury information referred to this cup tie as "pointless" and said Leeds could "afford to lose by several goals." They need their players to mend for the league run-in rather than chase giant killings, is the train of thought. "The Whites simply can't afford additional fixtures." In a lot of ways, neither can Arsenal.
Current Form
Leeds won on Monday in similar fashion to how Fulham
stunned Arsenal late, which probably does not bode well
for this cup tie. Photo: Football 365.
Well, Arsenal certainly have been all over the place lately, haven't they? The holiday fixtures, starting with Aston Villa and culminating with Fulham saw Arsenal pick up just seven of a possible 12 points. Add the City game before that and it's seven points out of the last 15, which came after a string where Arsenal had picked up 22 of a possible 24. Ah, but the holiday period is always difficult. Arsenal may be dropping points, but United have now lost two straight, City and Spurs each have three wins from their last six, Liverpool have one win in four, and Chelsea had gone four without a win before a late winner against Wolves on Monday. Everyone sucks!
Leeds currently sit eighth in the Championship, on goal difference behind Blackpool. They are one point behind Hull City for sixth place and final play-off spot. Their 2-1 win at home over Burnley on Monday marked their first win in four and snapped a three match losing streak, during which they had lost to Reading, Derby, and Barnsley. Leeds won that match with an 88th minute equalizer and a 97th minute winner, which sounds a lot like how Arsenal lost on that very same day. When Leeds met Arsenal in the FA Cup last year (it wasn't with Budweiser, yet,) they had three more points in the table but had played one more match (that extra match, however, was a loss to Cardiff last year,) and sat fifth in the table, rather than eighth. At that time last year, they were seven points behind first place QPR. Now, they are nine points behind first place Southampton and West Ham.
Match Facts
Cesc's penalty earned Arsenal a replay at Elland Road
last year. Let's take care of business more easily this time,
shall we? Photo: Daily Mail.
Leeds United have not been in the top flight since the Invincibles year, as they began their tumble through the English football pyramid. Three years in the Championship saw relegation again thanks to a points deduction in 2007. Leeds were promoted from League One in 2010 and finished seventh in the Championship last year, three points behind Nottingham Forest for the final playoff spot.
Despite not having played a league match against each other in eight years, Arsenal and Leeds did, of course, meet in this very same round of last year's FA Cup. The initial tie, at the Emirates, ended 1-1, when Arsenal's late penalty (drawn by a diving Theo Walcott, seconds after Phil Dowd waved off a more obvious penalty) canceled out Robert Snodgrass's penalty in the 54th that had been conceded by Denilson. Arsenal won the replay 3-1 at Elland Road, as Samir Nasri scored in the 5th minute, Bacary Sagna added another in the 35th, and Robin van Persie sealed the match in the 76th. Leeds's goal was a beautiful strike from Bradley Johnson in the 37th.
This will be the ninth tie between Arsenal and Leeds in the FA Cup all-time. Arsenal have won six of the previous eight, with Leeds advancing on two occasions (including a victory in the 1972 final.) Four of the eight required replays; the 1991 tie required three replays.
The last time Leeds United beat Arsenal, it was May 4, 2003 and Leeds won 3-2 at Highbury. That was Arsenal's last league loss before the Invincibles run.
The Referee
Well, that's good. Does anybody remember us mocking his
poor hair style at the bar during the Wigan game last
month? Also really bad: that pun. Photo: Daily Mirror.
The referee is Tyne & Wear-based Mark Clattenburg. Clattenburg has been the man in the middle for two Arsenal matches this season, they were two of Arsenal's three most comfortable victories: 3-0 at home against Bolton Wanderers and 4-0 away at Wigan Athletic (the third I'm thinking of is the win over West Brom.) I've said this plenty of times in previews before, but over the last two seasons, Clattenburg is the only referee that hasn't appeared to royally screw Arsenal over at some point. Last year, Arsenal won all four matches Clattenburg took charge of: 3-0 at Manchester City, 4-2 at Aston Villa, 3-1 over Chelsea, and 2-1 over Huddersfield Town in the FA Cup's fourth round. It's six wins from their last six for Arsenal with Clattenburg as the referee.
Clattenburg has not worked a match in the Championship this season, but did take charge of two Leeds matches last spring. On February 22, he worked a 3-3 draw with Barnsley that saw Bradley Johnson sent off in the 52nd minute for a second yellow card. The match was 2-2 at that point. Leeds converted a penalty to lead 3-2 late, but Barnsley scored the equalizer in the 82nd. The other match was a 2-1 win at QPR on May 7. That was the final day of the season in the Championship and QPR had already secured first place by kick-off, then scored in the first minute before Leeds came back to win in what was by that point, a meaningless match.
Around the Third Round
Chris Hoy is the referee for the Manchester derby on
Sunday. ... No, wait... I think that's wrong... maybe
some Spurs fans have an idea...
There are 64 teams still involved in the FA Cup (with Budweiser! Is that annoying yet? I'll stop) as we enter the third round proper, down from the 763 that were still alive as of the start of the competition in August's extra preliminary round. Obviously, this is the first round of the single elimination tournament to include teams from the Premier League and Championship. That means 44 teams enter the tournament here, to be added to the 20 teams who won ties in the last round. Arsenal v. Leeds is the final tie of the 32 total to be played, having been moved to Monday night in England for television.
The round begins tonight in Liverpool, as the Reds host League One's Oldham Athletic at Anfield. Oldham's last win at Liverpool came in 1914. This is their first meeting since Oldham were last in the top flight, in 1993/94.
26 matches take place on Saturday, with 23 of them coming in the 10:00 a.m. Eastern time slot. In the early matches, Birmingham City host Wolves in a West Midlands derby. That match starts at 7:30 on the East Coast. At 8:00, Dagenham & Redbridge welcome Millwall to Victoria Road in an East London derby that has never before been played. Bear in mind that Dagenham & Redbridge were formed in 1992, after a merger between Dagenham and Redbridge Forest. Millwall met Dagenham once in the 1981/82 FA Cup and won 2-1. The Lions never played Redbridge Forest. The late game, at 12:30 Eastern time, sees League Two's Bristol Rovers host Aston Villa at Memorial Stadium.
Alright, now on to the 23 10:00 a.m. matches, to be listed alphabetically by home side: Barnsley hosts Swansea, Brighton and Hove Albion hosts Wrexham from the Conference, Coventry hosts Southampton in a bottom vs. top battle of Championship sides, Crawley Town (who nearly took Manchester United to a replay last year) hosts Bristol City, Derby County hosts Crystal Palace, Doncaster Rovers host Notts County, Everton welcome non-league Tamworth to Goodison Park, non-league Fleetwood Town will host Blackpool at their stadium which happens to be named Highbury, Fulham hosts Charlton in a London derby, League Two's Gillingham hosts Stoke, Hull City hosts Ipswich Town at the KC Stadium, League Two's Macclesfield Town will host bottom-of-the-Prem Bolton, Middlesbrough hosts Shrewsbury Town, who you may recall were knocked out of the League Cup by Arsenal, MK Dons host QPR, Newcastle hosts Blackburn in an all-Prem match up (only one of two in this round,) Norwich hosts Burnley, Nottingham Forest hosts Leicester City (which is an East Midlands derby, though Forest's main rival is usually considered to be Derby,) Reading hosts Stevenage, Sheffield United hosts Salisbury City, the lowest remaining team in the tournament (from Conference South,) Wigan face a trip to Swindon Town, Tottenham gets to host Cheltenham Town from League Two, Watford hosts Bradford City, and West Bromwich Albion hosts Cardiff City. Phew.
That leaves four more matches, to be played on Sunday, before Arsenal v. Leeds on Monday. Sunday kicks off with the Manchester derby, as City host United at Eastlands in what is clearly the glamor tie of the round. After that, Chelsea hosts Portsmouth at the Bridge, Sheffield Wednesday hosts West Ham at Hillsborough, and Peterborough United hosts Sunderland at London Road.