Emirates Stadium, London
Sunday, January 29
Match Officials

Referee: Michael Jones
Assistants: David Richardson and Dave Bryan
4th Official: Neil Swarbrick

All-Time in All Competitions: 73 Arsenal wins, 65 Aston Villa wins, 44 draws
All-Time in the FA Cup: 6 Arsenal wins, 3 Aston Villa wins, 3 draws
Arsenal's Path Here: 3rd Round: 1-0 win v. Leeds United
Aston Villa's Path Here: 3rd Round: 3-1 win at Bristol Rovers
Arsenal's League Form: W-D-W-L-L-L
Aston Villa's League Form: L-D-W-L-D-W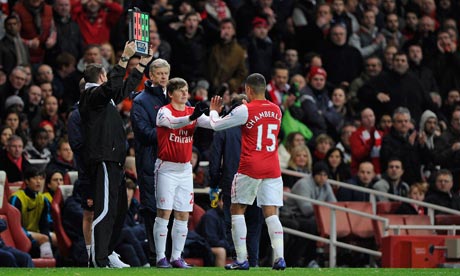 "Substitution? Well, I could do a better job than that,"
says a fan in Block 3, Row 15. Sure you could...
Photo: Guardian.
At the end of August, Arsenal were three games into their season and had just one point. They were coming off an embarrassing loss at Old Trafford and things looked grim. They were already six points back of the top four. 16 matches later, as the season reached its halfway point after a New Year's Eve win over Queens Park Rangers, Arsenal were sitting in fourth place with 36 points, two points clear of Chelsea in fifth. Arsenal had made up the six points and gained two more in 16 games. Those 16 matches still included three losses and two draws.
Three games into the second half of the season and Arsenal still have 36 points. They lost at Fulham, they lost at Swansea, and they lost at home to United. They are five points back of the top four. So why now are people talking as if Arsenal has no shot at Champions League football next year? There are 16 matches left. Over the final 16 matches in the first half of the season, Arsenal picked up an eight point swing on Chelsea. Is five completely unmanageable? Arsenal gets to play Chelsea at home within these 16 fixtures. Win that and the point swing is just two.
Everybody relax, it's January. The sky is not falling. Arsenal's world is not ending. But they do have to start beating the teams they're supposed to.
We'll worry about that for Wednesday's game at Bolton, but for now, it's the FA Cup once again. Arsenal will play host to an Aston Villa team that pretty much just has this trophy to play for this season. They're good enough to not have to worry about relegation, but not good enough to be in serious contention for European qualification through their spot in the table. So really, you can bet Alex McLeish will throw everything he has at Arsenal on Sunday, because this is what Villa are playing for. This game has no direct ramifications on Arsenal's top four aspirations, but a win is required to turn the ship around and to, quite honestly, shut the doom-and-gloom fans up.
Onwards and upwards and all that. AND RELAX!
Arsenal Squad News
Look at little Nico Yennaris as the club mascot from this
Arsenal - Coventry game in 2000. Also, I'm freaked out
that Mike Dean was the referee that day and then a
decade later in Yennaris's debut. Photo: Flickr.
Out:
Gibbs (groin), Sagna (leg), Jenkinson (back), Wilshere (ankle), Santos (ankle), Diaby (hamstring)
Doubts: Arteta (calf), Henry (calf), Coquelin (hamstring)
Africa Cup: Gervinho, Chamakh

Arsenal play on Sunday and then again on Wednesday in the league, so the question of whether or not there will be squad rotation will obviously come up. Maybe if this cup tie were against lesser competition, there would be some, but this is a must-win game against mid-table Premier League opposition, and it's followed by a must-win league game to halt Arsenal's losing streak in the Prem at three. As a result, I honestly can't see there being that much squad resting in two matches that Arsenal absolutely must win to bounce out of the downward trend in which they are currently engulfed.

The Gunners have sorely missed Mikel Arteta in the midfield over their past two losses; speaking before the Manchester United game, Arsene Wenger said "the earliest for him" in terms of returning from a calf injury "is Aston Villa," so before any official team news comes out, Arteta looks to be on the more positive side of 50/50 for a return. Thierry Henry did not pass fit before the United match, but could return this week from a calf injury of his own. Meanwhile, it's been about three weeks since Francis Coquelin injured his calf, so he could be in line for a return as well.

Most of Arsenal's long term injuries are now "a few weeks away" from their respective returns. Bacary Sagna is back in full training and will return in "2-3 weeks." It's a similar time frame for Kieran Gibbs, while both Carl Jenkinson and Jack Wilshere are back running. They could all be back around the same time, possibly by the fifth round of the FA Cup. An optimistic return for any of them would be the first leg of the Champions League against Milan on February 15.

Lukasz Fabianski has returned from his knee injury to play for the reserves, so he could feature in this cup tie. Andre Santos will miss two more months as of about last week, while there is no longer anything close to a time frame for a return of Abou Diaby.

I won't try to predict an XI for this match, because I could be dead wrong about the rotation thing. My biggest stretches in terms of guesswork would be Fabianski starting in goal (even that could be doubtful) and Nico Yennaris getting the nod at right back. Other than those choices, I think Wenger will pick the strongest squad available for both games this week.
Aston Villa Squad News
Arsenal killer Darren Bent missed December's fixture
through injury, but should start Sunday. Damn it!
Photo: Daily Mirror.
Out: N'Zogbia (heel), Cuellar (hip), Herd (ankle), Lichaj (hip)
Doubts: Ireland (hamstring), Agbonlahor (illness), Heskey (Achilles)
Charles N'Zogbia visited a specialist on Wednesday in an attempt to treat a heel injury which has kept him out of action since January 2. He's missed three straight matches for the Villans and Tim Abraham of the Midlands-based evening newspaper Express & Star has stated that he's "definitely out."
Villa hope to be boosted by three potential returns to their squad. Stephen Ireland and Emile Heskey both missed last week's 3-2 win over Wolves with hamstring and Achilles injuries, respectively. Both returned to training at the end of this week. Meanwhile, Gabriel Agbonlahor was removed from that match at halftime with an illness, but he has recovered, and returned to training.
Carlos Cuellar has been out for the month of January with a hip/thigh injury, while Chris Herd has ligament damage in his ankle that will keep him out until next month, and Eric Lichaj is on the cusp of returning from a hip injury, having returned to training a few weeks ago.
Aston Villa have been flipped out of the FA Cup by the
eventual champion for the last two years.
Heh, see what I did there? Photo: Zimbio.
Well, as you may know, Arsenal have lost three straight league matches for the first time since March-April of 2007 (a streak which included West Ham becoming the first opposing team to win at the Emirates.) But you know what?! This isn't a league game, so let's toss all of that negativity aside for a bit. Sure, it's still a late Sunday match, which I first mentioned last week has seen Arsenal fail to win in now 11 tries after the loss to United, losing eight of them. No time like the present to snap that streak, right? Law of averages, etc...
Even though Arsenal struggled in the league earlier this season, their form in other competitions wasn't bad, which means this is the first time all season that Arsenal have lost consecutive matches across all competitions.
The last time Arsenal lost an FA Cup tie on home soil was in Arsene Wenger's first season, 1996/97. On February 4, 1997, they lost in the fourth round to Leeds United, 1-0. In 15 previous seasons under Arsene Wenger in the FA Cup, Arsenal have never lost in the third round and have only been eliminated in the fourth round on four occasions: the aforementioned loss to Leeds, to Leicester on penalties in a replay in 2000, to Bolton in 2006, and to Stoke in 2010. Arsenal have won the FA Cup on the same number of occasions in the Wenger era.
Aston Villa's form has been a bit up and down in the league. After losing to Arsenal just before the festive period, they drew Stoke, but then beat Chelsea at the Bridge, then lost at home to Swansea, drew Everton, and beat ten-man Wolves at Molineux after Emmanuel Frimpong left hurt. You try to make heads or tails of that form. It's all over the place.
Last year in the FA Cup, Aston Villa lost to the eventual champion Manchester City, 3-0. Villa reached the semi-final in 2010, losing 3-0 at Wembley to the eventual double winner, Chelsea. So, basically, if Arsenal wins this match 3-0, recent history suggests that Arsenal will win the FA Cup. In 2009, the Villans were knocked out by Everton, 3-1, in the fifth round. The last time Villa did not progress from the fourth round was 2008, when the draw pit them against Manchester United in the third round. Villa lost at home, 2-0.
Over their last 26 meetings in the league, Arsenal have lost to Aston Villa just twice, though that includes the last time these two sides met at the Emirates, when Darren Bent scored twice in the early going to see off Arsenal 2-1 in the Gunners' final home match of last year. Villa have actually won two of their last three trips to Arsenal. The Villans also won 2-0 in November of 2008, with goals coming from a Gael Clichy own goal and Gabriel Agbonlahor.
Arsenal won the only league meeting between these two sides so far this year, 2-1 at Villa Park, just before Christmas. Robin van Persie opened the scoring from the penalty spot, Villa equalized when Marc Albrighton scored the 20 millionth goal in Premier League history (oh, 20 thousandth,) and Arsenal won when Yossi Benayoun headed in a corner late in regular time.
Arsenal and Villa have met for nine FA Cup ties in their history; this is the first since 1983, when Arsenal won 2-0 in sixth round. Arsenal have won six of those cup ties (1926 in a replay, 1928, 1931 in a replay, 1954, 1956, and 1983,) Villa have won three (1929, 1934, and 1974 in a replay.) In matches played at Arsenal, Villa won once (in 1934) and have earned a draw twice, winning the most recent of those replays.
"Relax, I've got this."
The referee is Cheshire-based Mike Jones, working his first Arsenal match of the campaign. He took charge of four Arsenal matches last year: their 6-0 thumping of Blackpool in August, the 1-0 win over West Ham in late October, won late by Alex Song's diving header, the 0-0 draw with Manchester City in early January, and the exasperating 2-1 loss at Bolton in late April. I remember Jones calling a terrible penalty for Bolton in that last game, but then it was missed and Arsenal came back the other way to score the, at that point, equalizer.
This is Jones's first match of the season for Aston Villa as well. Last year, he worked a 1-0 win over Everton, a 2-1 Carling Cup win over Burnley, a 3-1 FA Cup win at Sheffield United, a 2-2 draw at Everton, and a 1-1 draw with Wigan. Despite wins in both of those cup ties, Villa ended each of those matches with ten men following red cards.
For the second straight round, the Arsenal match will be the final match of the weekend to be played. Thankfully, for the sake of my own ability to get to the pub, it wasn't moved to a Monday this time.
As in the third round, fixtures start on Friday this time around, too. It all starts with those boys from up the road you love to hate; that's right, Watford. Oh, and, I guess Tottenham Hotspur fits that description too. In any case, it's kind of like a North London derby, except that Arsenal's not playing... and Watford is a few miles too far north... yeah... anyway, Everton hosts Fulham as well on Friday.
12 matches will be held on Saturday, starting off with the two bigger of the glamour ties of this round. The fact that both are rematches of the two big racism incidents of this season proves interesting as well. At 7:00 a.m. Eastern time, QPR hosts Chelsea in a West London derby, while at 7:45, it's Liverpool and Manchester United.
Nine matches will kick-off in the 10:00 a.m. slot, and honestly, I'd be at a loss if I were an executive at Fox to choose which two to air on Fox Soccer and Fox Soccer Plus. So, what did they end up picking? Well, it's Derby County and Stoke City on Fox Soccer and it's Leicester City and Swindon Town on Fox Soccer Plus. Really? Because there were two all-Prem ties that you could've chosen... Anyway, the other seven matches are: Blackpool hosting Sheffield Wednesday, Bolton hosting Swansea, Hull City hosts Crawley Town, Millwall hosts Southampton, Sheffield United hosts Birmingham City, Stevenage hosts Notts County, and West Brom hosts Norwich.
Saturday's late game sees Brighton & Hove Albion host Newcastle at the Amex. Sunday's early match is an enthralling North East derby that has not been contested in a while, as Sunderland hosts Middlesbrough at the Stadium of Light.