Sunday, December 18
11:10 a.m. EST, 4:10 p.m. GMT
Match Officials

Referee: Phil Dowd
Assistants: Mick McDonough and David Richardson
4th Official: Michael Oliver


This Match, Last Year: Manchester City 0 - 3 Arsenal
All-time in All Competitions: 92 Arsenal wins, 46 Manchester City wins, 40 draws
Arsenal's League Form: W-W-W-D-W-W
Manchester City's League Form: W-W-W-D-W-L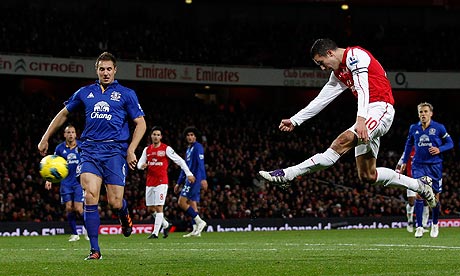 It's seven wins from eight in the league for Arsenal, thanks
to Robin van Persie's perfect volley. Photo: Guardian.
As the match at Chelsea was in late October, this is a huge, defining match for Arsenal. For the terribleness that was the first month and a half of this season, the Gunners have turned their form around, and have worked themselves back into the Top 4 discussion. The 5-3 win at Stamford Bridge was a turning point for Arsenal. This match at Eastlands can instill further confidence into a side that has gone unbeaten in eight league fixtures. It could also do some damage to the psyche if things don't go well. Critical fixture, this.
The onus is going to be on everybody here. The back four plus Szczesny has to keep things under control, the midfield probably has the most important job of controlling possession, and the offense has to create chances and then score on them, damn it! This is not the type of game where Arsenal can afford to waste opportunities like they did so many times against Everton.
This could be a season defining match. City are showing some cracks in the armor, but they have been lethal at home this year. Arsenal have found themselves a bit and can't afford to take any steps backward. It's going to be a massive battle.
Arsenal Squad News
Out:
Santos (ankle), Fabianski (knee), Mannone (shoulder), Gibbs (hernia), Jenkinson (back), Sagna (broken leg), Wilshere (ankle)
Doubts:
Diaby (hamstring)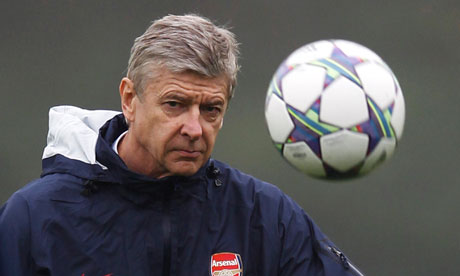 That's right. Arsene Wenger can make things levitate
with his mind. Photo: Guardian.
When Arsenal plays on Sundays, normally I have to wait until Friday to find out all of the team news, and that, in turn, pushes the posting of this post until Saturday morning. This week, however, there was no midweek game. So really, how much team news is going to be a surprise?
The bad news this week is that Andre Santos needed surgery to repair ligament damage in his ankle. That will leave him out until mid-March, at least. Until Kieran Gibbs returns, Arsenal will still be without a natural fullback. At least by January, Arsenal should have Carl Jenkinson and Bacary Sagna back, right? Right?
It sounds like another week of playing four center backs across the entire back line. Thankfully, with a midweek to rest, they should all be ready to go. Honestly, I can't foresee any changes to the starting XI. Things are clicking right now; why mess with it?
As one last thought, Alex Song is one yellow card away from a one match accumulation ban. He had picked up that fourth at Wigan two weeks ago, so thankfully he didn't get number five against Everton last week. Arsenal will really need Song to put in a good performance in this match.
Predicted XI:
Szczesny, Djourou, Mertesacker, Koscielny, Vermaelen, Song, Ramsey, Arteta, Gervinho, Walcott, van Persie.
Manchester City Squad News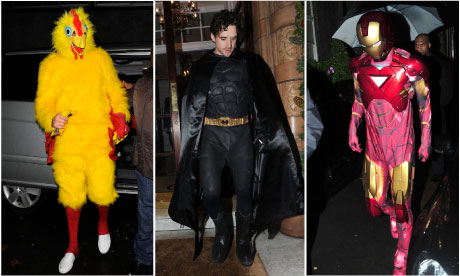 Manchester City at their Christmas party.
Note to City: Christmas is not Halloween.
Photo: Guardian.
Out:
Kolarov (groin)
Suspended:
Clichy (one match, two yellows)
Gael Clichy was the last remaining member of the Invincibles, the Arsenal squad that went 49 matches unbeaten, before he left for Manchester City this summer. On Monday, he did his part to ensure that the record once again remained with Arsenal. With City's unbeaten run at 17 dating back to last season, there were rumblings of discussions of just how far this expensively assembled squad could go without a loss. Then, Clichy's red card meant City, in a 1-1 game, were forced to play at Stamford Bridge with ten men. They tried to park the bus for the draw, it didn't work, and Frank Lampard's penalty ensured that there would be no unbeaten side in the league this season. Clichy's red card also means he is suspended this week and will not face his former club.
In addition, City have two players out through injury (which is more than the zero players they had out through injury when these sides met in the Carling Cup in late November.) Aleksandar Kolarov is out until January with a groin strain (he's been playing more in midfield, though he's naturally a left back that could have deputized for the banned Clichy.)
Micah Richards had been listed as out an indeterminate length with a calf injury, but he is back in training, and got into a minor bust-up with Mario Balotelli at training yesterday. From everything I've heard from a source that was there on a Manchester City blog, the spat was minor but they fully expected the media to sensationalize the story. CLUB IN CRISIS! TRAINING GROUND BUST-UP! WHY ALWAYS MARIO? IMAGE OF LOGO CRACKED IN HALF!
Current Form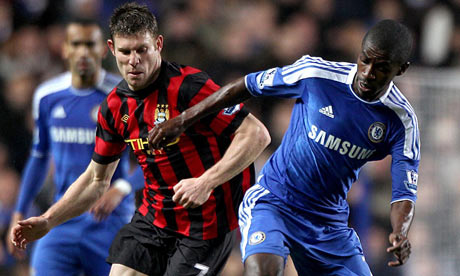 AC Milan Manchester City lost for the first time in 17
league games on Monday. Let's hope for two L's in a row.
Photo: Guardian.
Arsenal are unbeaten in their last eight league fixtures, which stands as the longest unbeaten run in the league after Manchester City and Tottenham Hotspur both lost last weekend. Manchester United's unbeaten streak, at six matches, is the second best form in the league right now, behind Arsenal. After losing 2-1 at White Hart Lane, Arsenal had picked up seven of a possible 21 points up to that point in the season. Since then, they have picked up 22 of a possible 24, with the only blemish being the 1-1 draw with Fulham which followed a hard fought Champions League midweek victory.
In terms of Arsenal's road form, they had a four match road winning streak snapped in Greece last week, but have still won three straight league fixtures away from the Emirates (at Chelsea, Norwich, and Wigan.) Aside from winning at the Bridge, that's not a very impressive list, but it's also the first time Arsenal won three straight league games away from the Emirates since last October-November, a streak that started with a win at Eastlands. That streak ended at Old Trafford after four road wins, though during that time period, they also managed to lose twice at home.
Prior to Monday's loss at Chelsea, Manchester City had 38 points from their first 14 games. The last team to do that was Liverpool in 1990/91. Liverpool lost game 15 that year, as City did this year. Liverpool's loss in 1990 came 3-0 to the eventual title winners, Arsenal.
While Manchester City's league form hit a bump in the road on Monday, their form at home is still superb, to the tune of 12 consecutive victories in the league. That ends up sounding a little less impressive when you read the list of teams they've beaten in those 12; the most difficult fixture was their battle with Spurs for the last Champions League slot last April... which... basically ended up going to Arsenal, thanks to the Gunners' late season collapse. In any case, the list of 12 teams they've beaten consecutively at home (dating back to a 1-1 draw with Fulham): Wigan, Sunderland, West Ham, Tottenham, Stoke, Swansea, Wigan again, Everton, Aston Villa, Wolves, Newcastle, and Norwich. Among those played this year, the win over Newcastle is probably most impressive, but they've fallen to seventh. This is the first time this year Manchester City will welcome a side currently in the Top 6 to Eastlands, where they only lost twice in league play last year: to Everton and to Arsenal.
That's not to say the streak isn't impressive, of course; it is. City haven't played a top side at home yet this year, but they've also won 5-1 at White Hart Lane and 6-1 at Old Trafford. But, they've also drawn 1-1 at Anfield and lost 2-1 at Stamford Bridge. They've won once in the league in their last three (at home to Norwich) and dropped out of the Champions League in the same time frame. Perhaps this is the best time for anybody to be playing City away.
Match Facts
I use this photo as much as I can when Arsenal plays City,
even if Adebayor is at an even worse club now. This photo
is, of course, from City's 4-2 win in September of 2009.
The caption is from me, obviously.
How interesting can this section really be this week, considering Arsenal just played Manchester City half a month ago and you probably know all of this already? In that Carling Cup meeting at the Emirates, Arsenal held strong with their second string against Manchester City's admittedly more expensive second string, before an 83rd minute winner from Sergio Aguero gave City the 1-0 win. It was a much more impressive performance from the Arsenal second string than they showed in Greece the following week, so part of me wonders just how that match would have gone if it were at Eastlands.
Arsenal won at Eastlands last year, 3-0, aided by Dedryck Boyata's fifth minute red card. Boyata didn't play for City's first team again for six months. Samir Nasri, Alex Song, and Nicklas Bendtner had Arsenal's goals. City parked the bus at the Emirates and received a 0-0 draw for their efforts.
Before last year's win, Arsenal had lost three straight at Eastlands across all competitions. In the fall of 2009, City won the league meeting 4-2 before a Carling Cup tie that saw City through with a 3-0 win. The year before that, Manchester City also won 3-0.
Arsenal have won 33 league meetings at Manchester City. City have won 30 times at home against Arsenal in the league. 20 meetings have been drawn.
The Referee
The referee is Staffordshire-based Phil Dowd. He's from Stoke! This sends me into some convulsions; it's worse than Howard Webb (note that he was fine on Saturday,) but it's not as bad as Mike Dean, in terms of Arsenal's history with him. And, to be fair, after an entire season of dreadful results with Phil Dowd in the middle last year, Arsenal has won the only game he's taken charge of this season, 2-1 at Norwich last month.
But, it's that string of bad results last season involving Phil Dowd that will, of course, leave a sour taste in your mouth. Most specifically, his efforts in the second half at Newcastle in February. In addition that 4-4 last year, he also worked for Arsenal a 1-1 draw at Sunderland where the Black Cats equalized in the 95th minute, a 3-2 loss at home to Tottenham, a 0-0 draw with Blackburn at home, and a 1-1 draw with Leeds in the FA Cup, where he actually saved Arsenal with a late penalty. No wins from five last year involving Phil Dowd; I'd like to forget most of those games.
For Manchester City, Phil Dowd was at the center of this summer's Community Shield, in which they blew a 2-0 lead and lost to Manchester United 3-2, thanks to Nani's late goal. In league play, City have won both of their matches with Dowd as the referee, both on the road, and both by four goal margins. Those include the 5-1 win at Tottenham and the 4-0 win at Blackburn.
This is Dowd's first match between these two sides.
Around the League
Sky's coverage of European Cup rugby has meant no
early kick-offs on Saturday for the past two weeks.
As arguably the biggest match of the weekend, Arsenal's trip to Manchester City is the final match of the ten game slate of games. There are three other matches kicking off before it on Super Sunday, with six matches scheduled for Saturday.
For the second straight week, Sky Sports is not airing an early match, so there's no 7:45 a.m. Eastern kick-off. They are once again airing Heineken Cup rugby in that time slot on Sky Sports 1. That means there are five matches scheduled for 10:00 a.m. Eastern on Saturday, and none of them are particularly interesting. Blackburn hosts West Brom at Ewood Park, Norwich City is in Liverpool to face Everton, Fulham hosts last place Bolton at the Cottage, Newcastle faces Swansea at Mike Ashley's Ridiculously Named Stadium, and Wolves is home at Molineux to face a Stoke side that played in Turkey on Wednesday. The late match sees Chelsea travel to the DW Stadium to face Wigan.
Sky's Super Sunday culminates with Manchester City v. Arsenal, but before that, it'll show Manchester United's visit to Loftus Road to face QPR at 7:00 a.m. Eastern (that's the second time United have had to play that early this year,) then Liverpool's visit to Birmingham to face Aston Villa at 9:00 a.m. Eastern. Meanwhile, Tottenham hosts Sunderland at 10:00 a.m. Eastern, though that match is not on Sky Sports in England, nor will it be televised live in the U.S. So, take that, Tottenham!